Win RECOIL on Blu-ray, a 46" TV and a Blu-ray Player!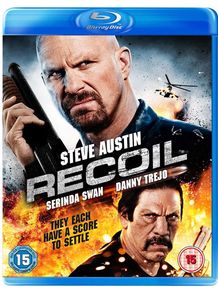 Former Pro Wrestling World Champion turned actor, Steve 'Stone Cold' Austin (The Expendables, The Longest Yard, Damage) and Danny "Machete" Trejo (Planet Terror, Grindhouse) star in RECOIL, an action-packed, must-see for adrenaline junkies and wrestling fans out on Blu-ray and DVD now courtesy of Entertainment One.

When honourable police officer Ryan Varrett's (Austin) entire family is viciously murdered, the one-time good guy cop is forced to go rogue - breaking the laws he once swore to uphold - in his quest for justice. The primary targets for Varrett's revenge are a murderous biker gang, a corrupt local police, and a cold-hearted crime lord named Drayke (Trejo).

RECOIL is out now on Blu-ray and DVD.

© 2011 NGN PRIMA PRODUCTIONS INC. All Rights Reserved. Packaging © Entertainment One UK Limited 2012. All Rights Reserved.
CLOSING DATE: Monday 30th April 2012
Enter Competition
Latest Competitions