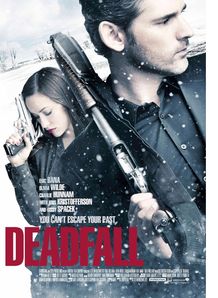 Tense action thriller DEADFALL, starring Eric Bana, Olivia Wilde, Charlie Hunnam, Kate Mara, Treat Williams and directed by Stefan Ruzowitzky, is released in cinemas on 10th May. To celebrate we have teamed up with outdoor fitness experts Polar to offer you the chance to win a state-of-the-art RC3 GPS HR watch!

Siblings Addison (Eric Bana) and Liza (Olivia Wilde) are on the run from a casino heist gone wrong. When a car accident leaves their wheel man and a state trooper dead, they split up and make a run for the Canadian border in the worst of circumstances - a near whiteout blizzard. While Addison heads cross-country, creating mayhem in his wake, Liza is picked up by ex-boxer Jay (Charlie Hunnam), en-route for a Thanksgiving homecoming with his parents, June (Sissy Spacek) and retired sheriff Chet (Kris Kristofferson). It's there the siblings are reunited in a terse and thrilling showdown that pushes the bonds of family to the limit.

To celebrate the release of DEADFALL, we are giving you the chance to win a Polar RC3 GPS HR watch.

WATCH THE TRAILER



Renowned as the market leader in heart rate monitoring, Polar has launched the all-in-one RC3 GPS training computer in a stylish new red/orange colour. Aimed at runners, cyclists and outdoor fitness enthusiasts, this stylish GPS device is one of the lightest (58g) and slimmest (1.4cm in depth) devices of its kind. Product highlights include cutting edge heart rate functions, Polar's Smart Coaching features, highly accurate integrated speed/pace and real time altitude measurement, helping users to make the most of any training session. Whether you are looking to get fit, training for your first race or a dedicated athlete, use the Polar RC3 GPS HR to listen to your body and help you along the way.

© 2013 Warner Bros. Ent. Inc. All Rights Reserved. © 2012 Kin (U.S.) Productions, LLC.
CLOSING DATE: Thursday 23rd May 2013