Win a 32" LED Smart TV and LAST RESORT: THE COMPLETE SERIES on DVD!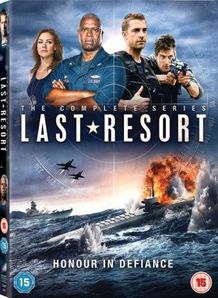 Originally airing on Sky 1 in the UK, LAST RESORT: THE COMPLETE SERIES follows the crew of the U.S. ballistic submarine Colorado. When they are ordered to fire nuclear missiles at Pakistan, both Captain Marcus Chaplin (Andre Braugher) and XO Sam Kendal (Scott Speedman) question the legitimacy of the order and are then attacked by another U.S. submarine. Left for dead on a remote island, they must clear their names and solve the mystery behind the attack.

To celebrate its release on DVD on July 1st we're giving away a 32" LED TV and a copy of the series to one lucky winner, plus 5 runners-up can win the series on DVD. To be in with a chance of winning simply answer the question below and enter your details.

© 2012, 2013 Sony Pictures Television Inc. All Rights Reserved.
CLOSING DATE: Friday 12th July 2013
Enter Competition
Latest Competitions