Win Copies of Martin Brundle's Scrapbook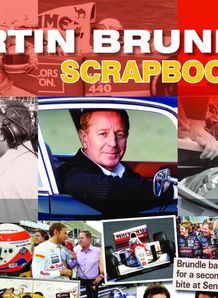 If the phrase 'seen it, done it, got the T-shirt' applies to anybody in Formula 1 then it's surely Sky Sports F1's Martin Brundle.

A career behind the wheel at the top level of motorsport spanning 12 years, 158 starts and eight teams; World Championship and Le Mans -winning successes in sportscars and of course now 16 years and counting as an award-winning TV commentator and analyst.

It's been quite a career to date and Martin has now combined all of his achievements and recollections in a fascinating newly-released book. 'Martin Brundle Scrapbook' takes you on a journey through his 40-year-plus years in motorsport across 256 pages packed full of honest and revealing anecdotes from both the man himself and the people who know him best. The scrapbook also contains over 500 images and documents from Martin's career along with plenty of his famous one-liners!

Read about how Martin caught the bug for racing at a young age, his famous F3 duels with Ayrton Senna, his huge sportscar successes and the ups and downs of his F1 career, including memories of his season alongside Michael Schumacher at Benetton in 1992.

To celebrate the book's publication skysports.com have two copies of Martin Brundle Scrapbook to give away!

Visit www.porterpress.co.uk for more details on the book.
CLOSING DATE: Wednesday 28th August 2013
Enter Competition
Latest Competitions