Win the Family Rain Album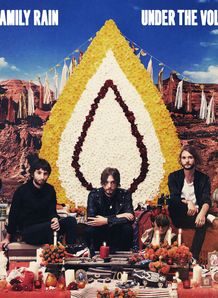 The Family Rain have just unleashed their brilliant debut long player, "Under The Volcano" released 3rd February 2014 on Vertigo/Virgin EMI and we have copies up for grabs!

The album was produced by Jim Abbiss and recorded at Hansa Studios in Berlin. Its ten tracks of primal rock 'n roll. From barnstorming singles such as the current track "Feel Better (Frank)", and the crunching "Reason To Die", the noise and intensity of this record could "only be produced by three brothers who work on another level, a higher state of consciousness. Nagging melodies combine with heavy, metallic riffs to produce a searing rock record of intelligence and wit.

Three brothers from Bath, The Family Rain are Will Walter (vocals & bass), Ollie Walter (guitar & backing vocals) and Tim Walter (drums & backing vocals). They are a classic British rock band in the best tradition, a heady mix of hard rock and blues. Live they are something else - a three pronged attack. Their ferocious intensity and focus, streamlined sound blended with insidious melodies has crowds in raptures and their support dates with Miles Kane and Jake Bugg have seen them spreading the message further still.

Latest single "Feel Better (Frank)" spawned the unofficial, Jakes Hunt-starring video which proved such a viral hit that James Hunt's fan club, run by his eldest son, found it and began retweeting it and they are plans to put something together which is more official.
CLOSING DATE: Monday 03rd March 2014
Enter Competition
Latest Competitions