Win a Pair of Limited Edition 'Augusta-Inspired' FJ D.N.A Golf Shoes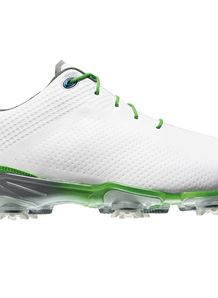 In celebration of the season's first Major Championship we have teamed up with the #1 Shoe and Glove in Golf, FootJoy to offer three lucky golfing enthusiasts the opportunity to win a 'limited-edition' pair of its innovative new D.N.A. golf shoes. The Augusta inspired green D.N.A. colour way represent the perfect prize for FJ enthusiasts who stand in awe at the stunning golf course and magic that lies down Magnolia Lane.

D.N.A. (DryJoys Next Advancement) features the most comprehensive feature package ever delivered by FJ and is sure to be one of the most worn & trusted shoes amongst the competitors at the 2014 Masters. The most proven elements of the world-renowned DryJoys footwear family have been expertly combined with all-new, cutting-edge componentry and construction methodology to deliver wearers the very best in performance, comfort & fit. Designed for you to Feel Advanced, this stunning, athletic golf shoe has already propelled a number of FJ Ambassadors to high profile wins, including defending Masters Champion Adam Scott, who claimed three victories down under at the end of 2013.

Good Luck! For further information on all FJ golf shoes, gloves, socks & accessories visit www.footjoy.co.uk

Whether it is the all-round excellence and superior comfort of FJ ICON™, the reliability and consistent performance of the DryJoys family, the advanced feel of D.N.A., the athletic-infused performance of the FJ Sport, the minimal construction and maximum feel of the innovative FJ M:PROJECT™ or the multi-functional Contour Casual, FootJoy remains the overwhelming favourite for golfers of all abilities around the world.
CLOSING DATE: Monday 14th April 2014
Enter Competition
Latest Competitions