Win copies of the new album from the number one World Cup artist!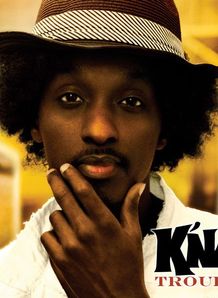 So what if England are out, there is still hours of beautiful football to look forward to over the next 2 weeks and this album should be your soundtrack! K'Naan has released his new album 'Troubadour' which features the hit single and Official Coca-Cola Anthem for the 2010 FIFA World Cup 'Wavin' Flag' and we have copies to be won!

Born in Mogadishu, Somalia, just as the civil unrest that rocked the country was beginning, rapper K'NAAN spent the early years of his life trying to avoid death and listening to the hip-hop records sent to him from America by his father, who had left Somalia earlier. When K'NAAN (whose name means "traveler" in Somali) was 13, he, his mother, and his two siblings were able to leave their homeland and join relatives in Harlem, where they stayed briefly before moving to Rexdale, Ontario, where there was a large Somali community.

As soon as his English started improving, he began rapping, and in tenth grade he dropped out of school and travelled around North America for two years, performing occasionally. His amazing story then took him to the stage performing at the United Nations' 50th anniversary concert in Geneva, tour spots with Mos Def and Talib Kweli, as well as a performance at Live 8. In 2007 K'Naan released the live album On the Road and won Best Newcomer in the prestigious BBC Radio 3 Awards For World Music.

K'NAAN has since collaborated with Keane, whilst his own track 'Waving Flag Celebration Mix' has been made Coca-Cola's official world cup anthem for the 2010 FIFA World Cup. The song is on all TV and online commercials for the World Cup. Collaborations on Troubadour include Damian Marley, Mos Def, and Kirk Hammett from Metallica.
CLOSING DATE: Sunday 11th July 2010
Enter Competition
Latest Competitions