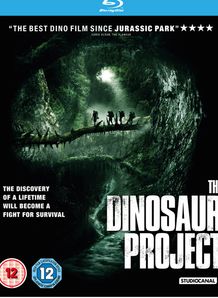 The Dinosaur Project features previously unseen footage from the ill-fated, eponymous 2011 expedition to the Congo in search of the Mokele Mbembe. Pre-order your copy here

Studiocanal are delighted to finally bring this astonishing story of the missing Congo expedition to UK audiences, and the findings of the Cryptozoological Society to audiences around the world. The film features stunning recovered footage of creatures thought to be extinct for 65 million years. As the search for the missing crew continues, questions remain about the source of the missing footage and the manner in which it was discovered. For more information visit www.cryptozoological.co.uk

Watch The Trailer to help find the answer to the question below.



To celebrate the release we have teamed up with Vango to offer you the chance to win a family camping kit that will provide you with everything you need to experience your own adventure. Vango is an outdoor and camping specialist that has been catering for the needs of everyone who enjoy camping since 1963. Vango offers high quality design and innovation for any camping trip from Everest expeditions to family camping holidays and walks along local nature trails. Every tent, rucsac, sleeping bag and accessory designed is packed full of experience, reliability, quality, innovation, design and usability. For more information www.vango.co.uk

© Dinosaur Productions Limited / Moonlighting Dino Productions cc 2012. All Rights Reserved.
© Distributed by STUDIOCANAL LIMITED.
CLOSING DATE: Tuesday 04th September 2012