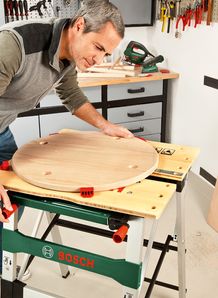 You'll tackle most jobs around the house; now you can take on even more and save money on hiring professionals, with the latest innovations from Bosch. Designed to cope easily with even the toughest jobs, their power tools are robust, precise, and won't let you down.

As the cornerstone of any project, the Bosch PWB 600 Work Bench is ready to use in just 5 seconds, and is ideal for almost any job. High precision drilling is easy with the PBD 40 Bench Drill; while your sawing needs will be easy covered by the PCM 7S Sliding Mitre Saw, the PPS 7S 2-in1 Table & Mitre Saw, the PCM 7 Compound Mitre Saw and/or the PTA 2400 Mitre Saw Stand.

Learn simple techniques for even the toughest jobs at http://www.youtube.com/BoschDIYpowertoolsUK and visit http://www.boschtoolschool.co.uk to play the fantastic new game where there are hundreds of DIY prizes and vouchers to be won.

In the meantime, make short work of even the toughest jobs and enter this competition to win a selection of Bosch tools including a PMK All Rounder, an IXO IV Cordless Drill, PSB Combi-Drill and a PWB 600 Work Stand, plus four runners up receive a Bosch IXO IV Cordless Drill.

Just visit http://www.boschtoolschool.co.uk and answer this question to be in with a chance of winning...
CLOSING DATE: Monday 10th September 2012