Win Copies of F1 Race Stars For Xbox 360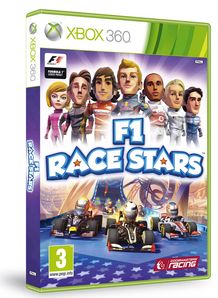 To celebrate the launch of F1 Race Stars™, Codemasters have given us ten copies of this blockbuster game to give away to our lucky readers.

Get ready to experience F1 cars, teams and circuits like never before with F1 Race Stars - F1 Race Stars is an action-packed racing game with all the F1 stars as you've never seen them before; personality-packed, toonified heroes. Battle as Lewis Hamilton, Jenson Button, or any other of your favourite F1 drivers in frenzied powered up racing. Play multiplayer in exhilarating splitscreen and online modes to take on the world in fast and frenetic racing.

Utilise a range of unique power ups as you battle it out in stunning F1 locations that have become exhilarating racing theme parks designed for speed and wheel-to-wheel competition. With a range of teams, drivers and personalities to choose from as you strive for the all important win, will you be able to keep your pedal to the metal and come out victorious?

F1 Race Stars is out from 16th November 2012, on Xbox 360, PS3 and PC.


CLOSING DATE: Tuesday 27th November 2012
Enter Competition
Latest Competitions