Win with Devlin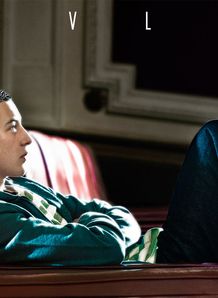 Following our exclusive interview with Devlin last month, check it here, we now have copies of his brand new album up for grabs.

Devlin's current single, 'Rewind' featuring Diane Birch, and previous Top 10 hit '(All Along The) Watch Tower' featuring Ed Sheeran, both feature on his second album, A Moving Picture, which is released this week through Island Records.

Devlin; "The journey I've been on these past few years, I wish they could be here to witness it," he says. "A couple of relatives, and friends I've lost from the manor I grew up in - it upsets me that they're not here to enjoy it with me."

The general feel of the new album is epic and, not surprisingly given the title, cinematic. The music is huge, filling every scene, a blend of grimy images and orchestral grandeur. And the songs are anthemic and dramatic, bittersweet symphonies of synths and strings over which Devlin offers a sometimes sweepingly panoramic, sometimes up close and grittily personal, perspective on life in the capital and its dead-end satellite suburbs.
CLOSING DATE: Tuesday 19th February 2013
Enter Competition
Latest Competitions