Your Chance To Train With a Professional Cricket Team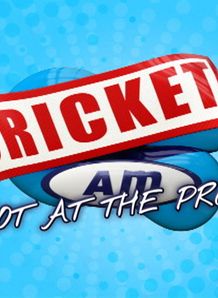 Every cricket league has the "guy who didn't quite make it". Every club has a talent who never really got a fair shot. On Cricket AM this summer we're looking to unearth these gems and give them... a shot at the pros. Our two lucky winners will get the chance to live the life of a pro-cricketer picking up tips and pointers from world famous coaches and players.

If you think you deserve a "shot at the pros" then we want to hear from you. Record a short video telling us about your career in cricket so far, why you love the game and why you deserve... a shot at the pros.

What we're looking for:

A selection panel will choose the 10 videos that they judge to be the best based on: the cricketing credentials of the individual candidate which includes the standard of cricket at which they have played and any personal achievements they have had. Videos will also be judged on the reasons they have given for wanting to win the prize.

Submission Rules:

Please make sure that the video you submit complies with these rules. If you breach them, your entry will be disqualified: so please make sure you stick to these.

DO tell us about your cricketing ability, including the standard of cricket at which you play, the league you play in and any personal achievements you have had in the game
DO be honest, original and creative.
DO ensure that your video doesn't feature anyone other than you.
DO make sure you comply with the YouTube Community Guidelines
DO make sure you submit your video on time, in a format which is capable of being viewed on YouTube.
DON'T breach the YouTube Community Guidelines. If it's offensive, racist, sexist, rude, defamatory, breaches anyone's rights, depicts irresponsible behaviour, contains anything unlawful or any nudity or anything we consider to be inappropriate, we don't want to see it! If you breach this rule, your entry will be disqualified.
DON'T feature anyone other than you in your video. If there are people milling around in the background or your best mate is on the video, your entry will be disqualified.

Once you have posted this video to You Tube, paste the URL below and complete the entry form.

The closing date for entries is 9th June 2013

The best 10 entries will be selected to go forward to a trial stage at the national cricket academy in Loughborough on 14th June. They will be put through their paces using some of the latest equipment and technology available, before our panel of cricket experts pick out the top two players to have their "shot at the pros". One of our winners will get to train with Yorkshire C.C.C. and the other with Warwickshire C.C.C. Both the trial stage and the winners time with Yorkshire and Warwickshire will be televised on Cricket AM.

This is a unique opportunity for talented cricketers across the country, so make sure you don't miss out!


CLOSING DATE: Sunday 09th June 2013
Enter Competition
Latest Competitions