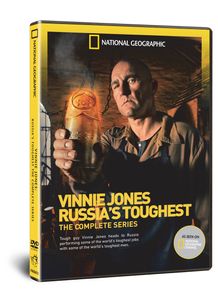 To celebrate the release of Vinnie Jones: Russia's Toughest on DVD, you could win a Toshiba 32" Full HD LED TV and copies of the DVD.

Russia often conjures up visions of harsh terrain, unforgiving winters and intriguing espionage, but Russia just got a whole lot tougher with the introduction of actor, athlete and infamous British hard-man, Vinnie Jones.

In National Geographic's Vinnie Jones: Russia's Toughest, out on DVD on 21st October from FremantleMedia International, witness Vinnie in his most challenging role to date. Travel, culture and action collide as Jones tackles a variety of risky and punishing tasks, pitting himself against wild men and extreme landscapes. In doing so he hopes to answer a life-long personal calling - and establish why Russia really is the toughest place on the planet to live, work and play.

This 2 disc DVD set comprises all 6 episodes of the series plus additional material including deleted scenes and video biographies. The series will also be available to download in the UK on 21st October from iTunes.

Episode Synopses

Russia's Toughest..... Cowboy
Vinnie embarks on daring challenges including joining a team of American cowboys transplanted to Russia, hoping to strike it rich as they get down & dirty on a livestock ranch.

Russia's Toughest..... Trawler Men
Signing up to be a true Russian seadog with trawler men in Russia's Far East, Vinnie experiences the 'last remaining wilderness', and lives life the hard way on Russia's freezing seas.

Russia's Toughest..... Railroad Men
Befriending the men committed to a gritty life working on the line maintenance of the 'Polar Express' is demanding. This train from Moscow to Vorkuta powers north into the very depths of Siberia - a hellish memorial to the prisoners who built it. Vinnie discovers there's no rest and relaxation to be found here, just unrelenting tests of physical and mental fortitude, as his hard-core colleagues challenge him to join them in their hobby of powerlifting.

Russia's Toughest....Bodyguard
Moscow is booming - and so is the protection business. Vinnie will be needing his hard-man credentials as he gets the low-down on essential firearm skills, hostage and vehicle hold ups, fast driving skills and martial arts, as he signs up to protect Russia's richest on the mean streets of Moscow - but will Britain's toughest export make the grade?

Russia's Toughest..... Poacher Squad
Battling the brutal effect of poaching on the local economy the poacher police are out in force with Vinnie at their side, using speedboats and Soviet multi terrain vehicles they navigate this bleak area of Siberia and the murky underworld of poaching.

Russia's Toughest..... Trucker
Known as one of the world's most dangerous roads - The Kolyma Highway aka The Road of Bones traverses some of Russia's harshest but most scenic terrain. Battered by arctic blizzards, remote villages survive on the bare essentials. This is a battle against the elements and the toughest of journeys.

Vinnie Jones tackles each challenge in his own inimitable style, proving tough jobs call for tough men, and that he's undoubtedly one of the best.

Click here to like the National Geographic DVD Facebook page

Click here to pre-order the DVD on Amazon

Click here to visit the official Toshiba site

To be in with the chance of winning the 32" LED TV and a copy of the DVD, plus one of ten copies of the DVD for runners-up, please answer the question below and enter your contact information.
CLOSING DATE: Thursday 31st October 2013