Win Merlin Annual Passes with the Cinema Release of Bad Grandpa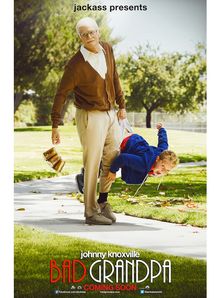 To celebrate the release of 'Jackass Presents: Bad Grandpa', in cinemas October 23 (cert 15), we are offering you the chance to win one of two pairs of Merlin Annual passes for you and your adrenaline junkie friend.

86 year-old Irving Zisman is on a journey across America with the most unlikely companion, his 8 year-old Grandson Billy in "Jackass Presents: Bad Grandpa". This October, the signature Jackass character Irving Zisman (Johnny Knoxville) and Billy (Jackson Nicholl) will take movie audiences along for the most insane hidden camera road trip ever captured on camera.

Along the way Irving will introduce the young and impressionable Billy to people, places and situations that give new meaning to the term childrearing. The duo will encounter male strippers, disgruntled child beauty pageant contestants (and their equally disgruntled mothers), funeral home mourners, biker bar patrons and a whole lot of unsuspecting citizens.

Real people in unreal situations, making for one really messed up comedy.

Visit the official site at www.jackassmovie.co.uk

Like on Facebook at www.facebook.com/JackassMovie.UK

The Merlin Annual Pass brings together 31 top attractions, making it the UK's biggest attraction. With over 100 Roller Coasters and other rides, 45 million LEGO bricks, 80 Waxworks, hundreds of marine creatures and more. From thrillseekers to families with young children, there's something for everybody to enjoy. Attractions include THORPE PARK, Alton Towers Resort, The Dungeons and Madame Tussauds to name but a few.

Find out more and for terms and conditions please visit www.merlinannualpass.co.uk



© 2013 PARAMOUNT PICTURES. ALL RIGHTS RESERVED.
CLOSING DATE: Friday 25th October 2013
Enter Competition
Latest Competitions