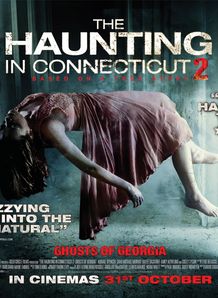 To celebrate the terrifying release of THE HAUNTING IN CONNECTICUT 2, coming to cinemas on 31st October, we are giving you the chance to win an amazing Spirit android tablet!

THE HAUNTING IN CONNECTICUT 2 is the ONLY must-see horror to experience this Halloween and tell us the true story of the Wyrick family - Lisa, Andy and their young daughter Heidi - who moved to Pine Mountain, Georgia, in 1993. Upon moving into their new home, the Wyrick women begin experiencing disturbing visions. Do the visions hint at the onset of a shared family madness, or are they clues to a real-life nightmare that once took place on the property?

WATCH THE TRAILER


This super lightweight Spirit touch screen ,7" Android 4.0 Tablet, has just as many features as the some other well-known tablet PCs but in a slim, compact casing which is also around half the weight of all other well-known tablet PCs.

HE HAUNTING IN CONNECTICUT 2 is in Cinemas 31st October. Join the fright at www.facebook.com/FrightClubUK if you're brave enough!
CLOSING DATE: Friday 01st November 2013