Win an awesome 42" TV with Roland Emmerich's explosive action thriller WHITE HOUSE DOWN!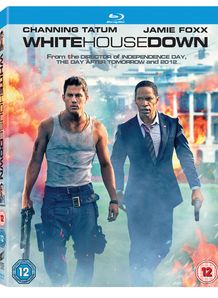 Roland Emmerich's new action thriller WHITE HOUSE DOWN explodes onto Blu-ray and DVD this January 20th and to celebrate we've got a 42" TV, BLu-ray player and Blu-ray copy of the movie to give away completely free!

From Roland Emmerich, director of Independence Day, The Day After Tomorrow and 2012, comes the hard-hitting, non-stop thrill ride WHITE HOUSE DOWN, available on Blu-ray¿ and DVD with Ultraviolet¿ on January 20 2014, from Sony Pictures Home Entertainment. Two of Hollywood's most sought-after actors, Channing Tatum (21 Jump Street, Magic Mike) and Academy Award® winner Jamie Foxx (Best Actor, Ray, 2005), team up in this explosive action thriller about a capitol policeman (Tatum) trying to protect the U.S. President (Foxx) during a hostile takeover of the White House. Featuring breathtaking action sequences and special effects, WHITE HOUSE DOWN also stars a top-notch supporting cast, including Maggie Gyllenhaal (The Dark Knight), Jason Clarke (Zero Dark Thirty), Richard Jenkins (Jack Reacher), Joey King (The Conjuring) and James Woods (Casino).



WHITE HOUSE DOWN is out on Blu-ray, DVD and digital download January 20th.

© 2013 Columbia Pictures Industries, Inc. All Rights Reserved.
CLOSING DATE: Monday 03rd February 2014
Enter Competition
Latest Competitions