Win Paul Greengrass' action-packed thriller CAPTAIN PHILLIPS and a 42" TV!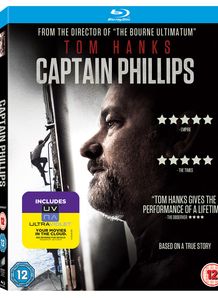 The Oscar and BAFTA nominated thriller CAPTAIN PHILLIPS comes to Blu-ray, DVD and digital download this February 10th and to celebrate we've got an amazing 42" TV, Blu-ray player and Blu-ray copy of the movie to give-away completely free!

Directed by Paul Greengrass (The Bourne Ultimatum, United 93), CAPTAIN PHILLIPS is based on the true story behind the first American cargo ship hijacking in 200 years, the Maersk Alabama, and its U.S. Navy rescue in 2009. The emotionally charged and critically acclaimed film focuses on the relationship between the ship's captain, Richard Phillips (Tom Hanks), and the Somali pirate captain (breakout actor Barkhad Abdi) who takes him hostage 145 miles off the Somali coast, with both men at the mercy of forces beyond their control.

CAPTAIN PHILLIPS stars two-time Academy Award® winner Tom Hanks (Best Actor, Forrest Gump, 1994; Best Actor, Philadelphia, 1993) and first time actor Barkhad Abdi (nominated for a Golden Globe, BAFTA and Oscar for his performance).



CAPTAIN PHILLIPS is out on Blu-ray, DVD and digital download February 10th.
© 2013 Columbia Pictures Industries, Inc. All Rights Reserved.
CLOSING DATE: Tuesday 25th February 2014
Enter Competition
Latest Competitions