Jonathan Trott: England need Warwickshire man's seniority to bolster batting line-up at number three
But 32-year-old should only return when he feels ready for rigours of international cricket
By Rob Key
Last Updated: 21/03/14 3:21pm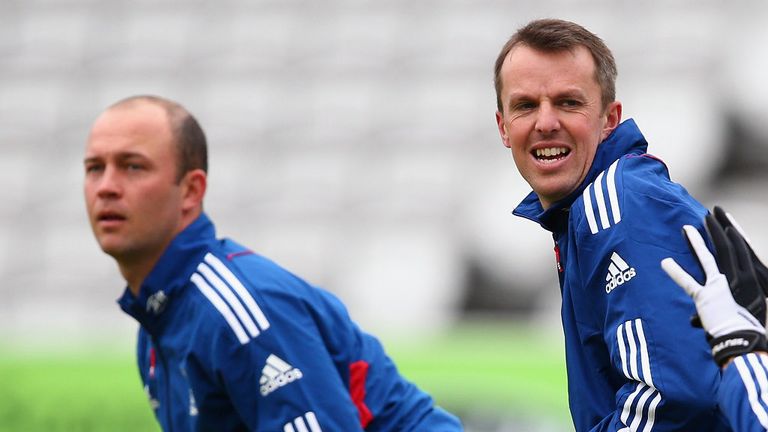 Batsman Trott headed home from this winter's Ashes tour with a stress-related illness prior to the second Test at the Adelaide Oval in December.
However, as the 32-year-old explained in Burn Out - his first televised interview since his departure from Australia - he is itching to get back into cricket.
Trott hopes to feature in a friendly for county side Warwickshire on April 1 and has earmarked England's one-day international with Scotland on May 9 as a potential return to the national team.
Sky Sports pundit Key says that if the right-hander is in the right frame of mind to don an England shirt once again, he should earn a call-up to a batting line-up still reeling from the 5-0 Test humbling Down Under.
"There is nobody on that Ashes tour - with the probable exception of Alastair Cook - that has a right to go and play for England," Kent captain Key, who has featured in 15 Tests, said on Sunday's ICC World T20 Zone.
"So if Trott says that he is right and the medical team give him the clean bill of health, you have to look at whether he is the best man to bat three.
"My guess is that he probably is and having lost people like Kevin Pietersen and Graeme Swann, he becomes an even more senior player for England.
"I don't believe you build a new era by throwing in youngsters. The young guys need to be offset by seniority and Trott, who has been a rock in the past, could be the man."
Scrutiny
Trott has notched nine tons - including one on debut against Australia at The Oval in 2009 - and 18 half centuries in his 49 Tests for England, helping him post an average of 46.45.
But Key says Trott must be sure he can deal with the pressure of international cricket before he initiates a comeback, while West Indies all-rounder Kieron Pollard explained how globetrotting can negatively affect sportsmen.
"If you talk to international players it's not the cricket [that's the issue] over a period of time, it's the goldfish-bowl environment and the scrutiny that they are under," said Key.
"So only Trott really knows if he has still got what it takes for international cricket, not just whether he can play and score runs but everything else that goes with it.
"But I think he is certainly a good enough player to come back."
Pollard added: "You see the good parts [as a cricketer] and you talk about the money, going here and there, and staying in five-star hotels.
"But you are still a human being and have to give your best in front of the world and that's pretty tough."