World T20: Sri Lanka look like title contenders, says Dominic Cork
Sri Lanka look like potential World T20 champions after destroying the Netherlands, says Dominic Cork.
Last Updated: 24/03/14 4:59pm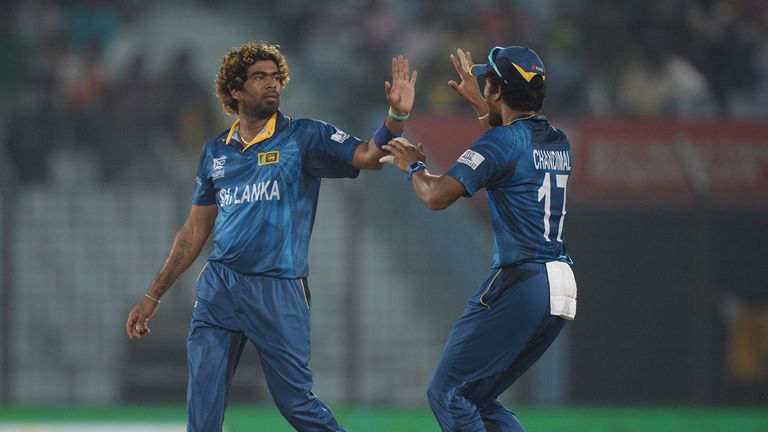 After winning the toss and putting their Dutch opponents in to bat, Sri Lanka tore through the associate side for just 39 runs - the lowest total ever recorded in T20 internationals.
It then took Sri Lanka just five overs and the loss of one wicket to chase down the meagre total and former England quick Cork reckons the Netherlands paid for over-confidence, following their impressive defeat of Ireland in the qualifying stages.
"Holland came out with the confidence of chasing that target against Ireland - but perhaps they should have respected the bowling of Sri Lanka a little bit more," he said.
"They should have given themselves time to adjust to those conditions. But in the end they were outclassed and Sri Lanka look a force to win the competition.
"Unless something drastic happens to them against England and they get bowled out very cheaply you'd expect them to go through [to the semi-finals]. We always knew the likes of India and Sri Lanka were going to adjust to conditions easily."
Pressure
However, Mark Butcher stopped short of being too critical of the defeated Dutch, despite captain Peter Borren labelling their performance as 'embarrassing' after the match.
Instead, Butcher pointed out the Netherlands outfit would be feeling the pressure of representing the associate nations on the world stage and says he fully expects them to show their true strength as the tournament progresses.
"If we can step back and avoid the temptation to scoff at their performance today, there was a lot of pressure on them," he said.
"They have a lot better cricket in them than we saw today. The first time out, in a position they never really thought they'd be in, with the spotlight on them, they froze a little bit.
"But I think they'll become more dangerous through this group, simply for the fact they'll learn and because they have nothing to lose.
"England, New Zealand, don't take these boys for granted because they can play and that sort of stinging defeat will make them more dangerous. I don't think we'll see them play as badly as that again."
Tight
Earlier in the day South Africa had edged a fascinating encounter with New Zealand by two runs.
The Proteas, who had lost their tournament opener to Sri Lanka, were facing a second straight defeat before Dale Steyn (4-17) produced some heroic bowling to help his side defend their total of 170.
The result leaves Group 1 tightly packed, aside from early pace-setters Sri Lanka, and Butcher says England, New Zealand and South Africa will be locked in a tense battle for the second semi-final qualifying spot.
"Before we even started Sri Lanka were the absolute favourites to go through out of Group 1 and it just means, particularly after South Africa pipped New Zealand, it's going to be incredibly tense for England and the rest of the teams for who is going to get that second spot," said Butcher, before praising the performance of Proteas quick Steyn.
"He bowled absolutely magnificently. Sometimes you think it's the force of a player's personality - he is such a star, such a force when he gets the ball in his hand and that look in his eye that he could run up and bowl virtually any delivery and be successful with it.
"Slightly wide length balls from Morne Morkel are going out of the park for six but for Dale there's a sort of magnetism about his bowling in the moment that means not only does he get away with them but he also picks up wickets with them."