ICC World Twenty20: George Bailey offers no excuses for loss to West Indies
George Bailey said his side had "no excuses" for being outplayed in the ICC World Twenty20 semi-final with West Indies.
Last Updated: 06/10/12 8:16am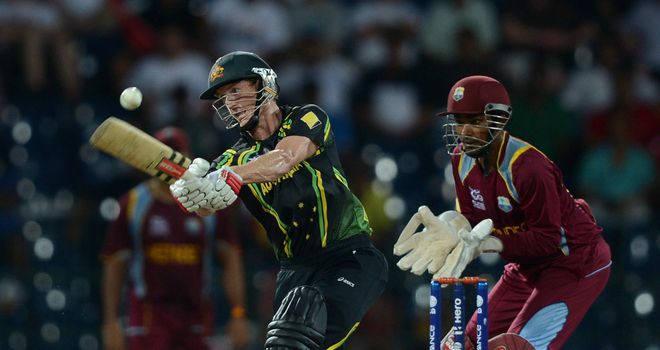 The Windies booked a final showdown with Sri Lanka after a crushing 74-run win over Australia in Colombo, with an unbeaten 75 from Chris Gayle providing the inspiration.
And Bailey, who made an admirable 63 as his side tried in vain to chase down a huge target of 206, admitted that the better side won.
"Were we helpless? Probably Chris Gayle can do that to you. When he did go, he went beautifully. In hindsight you can do things differently, but the fact is that we just got outplayed," he said.
"There are no excuses. The best team absolutely won the game tonight. There is a gap between your best and worst cricket, and we did not play good cricket at all.
"Anything can happen in this game. You can bowl full tosses and get hit down mid-wicket's throat, or the good ball will go for a six."
Man of the match Gayle, who smashed six sixes in his innings, said that his side did not expect to post such a spectacular total after winning the toss and choosing to bat.
Gayle said: "To be honest it was a slow track, but it was important not to panic.
"I waited for the bad balls and when they came in my slot I hit them. Frankly we did not expect this big a total. We were looking at 140-150, but we got 50 runs as a bonus.
"We had to get the top three Australians early and that helped to win the game."
Gayle was ably supported by Kieron Pollard (38), Dwayne Bravo (37) and Marlon Samuels (26) but Bailey insists the big-hitting opener was always the man Australia were targeting.
"The plan always was to get Chris out early. His record speaks for itself, so the key is to get him out early," Bailey said.
He added of Sunday's final: "If Sri Lanka can get Gayle out for under 20, they will win. But if they don't, the West Indies will prove too strong.
"With the West Indies attack, you can chase down 160. I am sitting on the fence a bit. But the two best teams got into the final."