Cricket Expert & Columnist
ICC World Twenty20: England fielding and bowling a concern but batting brilliant, says Nasser Hussain
'They got a lesson from South Africa on how to field and catch under lights'
Last Updated: 31/03/14 9:11am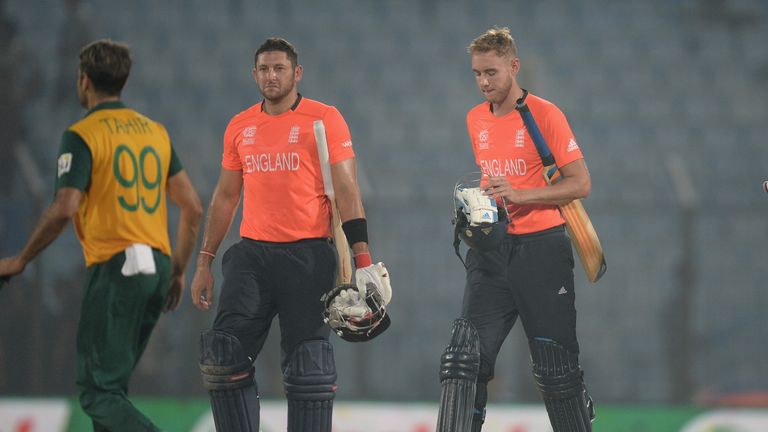 England fell three runs short of the 196 target set by South Africa after a brave chase from the once again impressive Alex Hales (38). But the fight back was not enough to repair the damage caused by the 55 runs scored in the final three overs of the Proteas' innings, after an incredible performance from their captain AB de Villiers who hit 41 off his last 14 balls.
Nasser Hussain told Sky Sports that the death bowling in those crucial overs and some sloppy fielding have left England with much to work on.
"I think they got a lesson today from South Africa on how to field and how to catch under lights," said the former England skipper.
"De Villiers played brilliantly but I'd question their death bowling; I'd love to know the thinking from Stuart Broad.
"To change suddenly from bowling back of the length to Miller - and he was really struggling and England were going well - to suddenly going yorkers and full tosses when you've got a wet, slippery ball.
"To go yorkers is very dangerous with a short boundary in that direction and Miller's eyes lit up the moment they suddenly went full."
Examine and change
England's bowlers once again failed to make their mark with Jade Dernbach being hit for 44 from three overs without a wicket. Nasser believes England may have 'overestimated' the Surrey fast bowler.
He said: "Maybe they've just overestimated Jade Dernbach, I have to say.
"I like to give someone a good long run but this lad at the moment - he doesn't bat much, he's not had a great tournament in the field, so he's going to have to be a seriously good bowler if he's going to play in this side and from what we've seen in the last year he hasn't nailed death bowling at all.
"Some of the fielding and some of the bowling; they've really got to examine how they are going about it because these are England style conditions, these are conditions they should thrive in.
"It looked a weak bowling line-up and Bob Willis said that right from the word go and I'm afraid in the end that was proved right."
Proud
Despite not progressing from the group stages Nasser believes England should be 'proud' of their batting performances in each of the three games played, with Alex Hales the star of the squad.
"I think a lot of the batsmen should be proud," added Hussain.
"Alex Hales, with the way he played against Malinga and the rest, the way he played Steyn today; he's a serious talent and they should start thinking about him for 50 overs cricket.
"I don't like building people up too much but he's a serious talent.
"I think they should be very proud with the way they've batted, not only in this game but in the tournament.
"They got 172 against New Zealand, they chased 190 against Sri Lanka and they've got 193 here tonight.
"They should be very proud of the way they went about that chase today. They could easily have panicked but what they should be really concerned about is the way they bowled and also the way they fielded."
Watch highlights of England v South Africa - and New Zealand v Netherlands - in Saturday's World T20 Zone show from 8pm on Sky Sports 3 and repeated at 10pm.