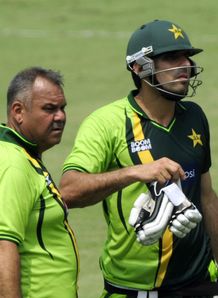 At his age Misbah needs to play his remaining cricket with a big heart.
Wasim Akram
Quotes of the week
Related links
Teams
Also see
Pakistan captain Misbah ul Haq has been attacked by former players for his role in the country's one-day international series defeat to Australia.
Pakistan lost the series 2-1 when they were beaten by three wickets in the deciding match in Sharjah on Monday.
Mishbah and co had levelled the series in the previous game in Abu Dhabi and set up a great opportunity to beat Australia in a limited overs series for the first time in a decade.
And in the wake of the loss former captain Wasim Akram, a member of the team that won 2-1 in Australia in 2002, accused the present incumbent of being too soft.
"You need aggression to beat Australia," Wasim. "Misbah is not batting well and not showing aggression in captaincy."
Misbah,38, has now led Pakistan to three one-day series defeats in a row and Wasim said that it was time he showed some courage.
"At his age Misbah needs to play his remaining cricket with a big heart," he added
Exposed
Wasim, who took 502 one-day and 414 Test wickets, also criticised the decision to promote an out-of-form Shahid Afridi to bat at number three in the last match.
"Afridi is playing as a bowler these days as he is not in the best of form with the bat," he said. "So sending him at number three was a mistake
"And I don't understand the strategy of sending Kamran Akmal low in the order when he can be good as (the) opener."
Misbah also came under fire from former paceman Sarfraz Nawaz, who placed the blame for the series defeat squarely on his shoulders.
"It was his defensive approach that cost Pakistan the series," said Nawaz. "Pakistan had a good chance of beating Australia but they lacked planning and aggression."
But former batsman Basit Ali said that coach Dav Whatmore must also take his share of the blame after a poorly planned series.
"I think Whatmore's ability as a coach has been exposed in this series," said Ali. "I used to think that he was a good coach but his planning was not up to the mark."
Sky Bet Odds:
Click Here for Your Free Bet