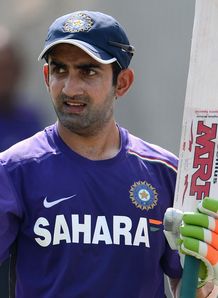 Related links
Teams
India batsman Gautam Gambhir has dismissed Alastair Cook's suggestion that England are underdogs despite the tourists taking a 1-0 lead in the current one-day series between the sides.
England ended a near seven-year wait for a one-day victory in the sub-continent by claiming a nine-run win in Rajkot on 11 January.
Afterwards, touring captain Cook claimed India should still be expected to win the five-match series, but Gambhir was unmoved.
"I think there are no favourites when two good teams play against each other," said the left-handed opener ahead of Tuesday's second ODI in Kochi.
"There are no underdogs either. Whoever does the best on that particular day will end up winning the match, like England did last time.
"There are no favourites. I think he is just trying to underplay (England's chances in) the series. England are a good side and whoever plays better will win the series."
India have come under some strong local criticism of late following the Test series defeat to England and a 2-1 reverse in a three-game limited-overs series with Pakistan.
However, Gambhir was keen to stress that the home side remain a force in world cricket.
"We're a team who has done very well in one-day cricket as well. We're the
number three side in the world and we need to look at the areas where we have strength and minimise the weaknesses," he said."It is a new start, a new game. Rather than take what happened last game we
want to go out there as if it was a four-match series rather than think we are
1-0 down.
"England have done well but we can't forget last time they were here they lost 5-0."
India v England - 2nd ODI. Click here to bet.