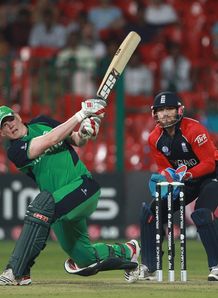 Related links
Teams
Also see
The International Cricket Council have confirmed there will be two automatic 2015 World Cup spots to play for among the associate nations.
The news, delievered at a meeting in London on Monday, is a massive boost to Ireland who had initially been frozen out by the original ruling which was to restrict the tournament to the 10 full member nations.
But the Irish - who stunned England in this year's event after a blistering Kevin O'Brien century - will be back in the frame in the next edition in Australia and New Zealand, as long as they finish in the top two places in the qualifying competition.
Spice
"It certainly gives all the one-day games in the league some extra spice, and there's sure to be some high-pressure games as the league progresses," said Ireland coach Phil Simmons.
The competition has already begun, and Ireland are up and running.
"We've got off to a good start beating Namibia twice, and we'll be looking to add to that with wins against Canada," said Simmons.
"We've tried to schedule the games to give ourselves the best chance of having everyone available, which isn't always easy."
Former captain Trent Johnston has recovered from a knee injury and will be in Ireland's squad to face Canada in back-to-back matches at Clontarf next week.
Simmons added: "We've been boosted by the return of Trent, who always gives the squad a lift by his very presence."
World Cup. Click here to bet.