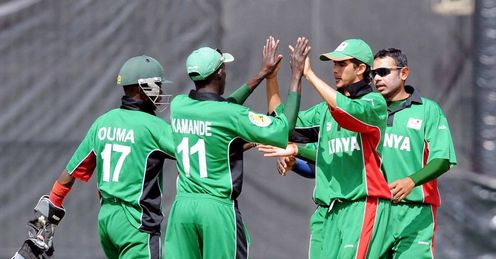 Kenya squad
Jimmy Kamande (capt)
Seren Waters
Alex Obanda
David Obuya
Collins Obuya
Steve Tikolo
Tanmay Mishra
Rakep Patel
Morris Ouma
Thomas Odoyo
Nehemiah Odhiambo
Elijah Otieno
Peter Ongondo
Shem Ngoche
James Ngoche.
Overview
While undoubtedly among world cricket's minnows, Kenya have enjoyed their share of World Cup joy after beating the West Indies in 1996 and then, seven years later, defeating Sri Lanka en route to the semi-finals.
However, until about 2007, a gradual decline due to strikes, retirements, lack of sponsorship and general shortage of top-flight competition saw them struggle to keep pace with the likes of Ireland.
A new lease on life thanks to the employment of stronger backroom staff and better results in the Intercontinental Cup has since seen them rise above their off-field challenges.
Former West Indies fast bowler Eldine Baptiste now heads the coaching contingent, with former South Africa star Jonty Rhodes recruited to aid their fielding and batting.
While this is not entirely a new dawn for Kenyan cricket, fleeting signs at least point to them giving the big guns a run for their money in the near future.
Strengths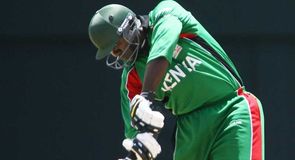 Baptiste and Rhodes' collective wisdom and experience will go a long way in fine-tuning and calming a young unit potentially overawed by such a hefty occasion.
Steve Tikolo and Thomas Odoyo - both five-time World Cup veterans - have seen it all before. Through occasional joy and plenty of disappointment, they can guide the youngsters along a familiar road.
The recent arrival of a major sponsor in Indian conglomerate Karuturi Global offsets Kenya's travel worries for the time being. A couple of weeks ago saw them contemplating exactly how they were to get their 15-man squad and modest entourage around the sub-continent.
To a minor degree, they still possess the X-factor that stunned the Windies and Sri Lanka. Rakep Patel, Elijah Otieno, Shem Ngoche, James Ngoche - their list of unknowns don't have much of an international background for their homework-happy opponents to explore and exploit.
Weaknesses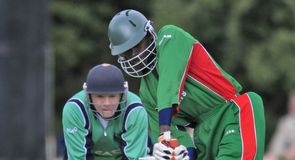 Their brief tour to India recently to acclimatise to the weather and adapt to the conditions bodes well for their return. The five losses from five matches to Gujarat and Baroda XIs they garnered along the way, though, doesn't do their confidence a lot of good.
Jimmy Kamande, only recently appointed to the captaincy, doesn't sport much leadership experience. Former skippers Steve Tikolo and Maurice Ouma are along for the ride, but the isolated pressures of leadership might just tell on him.
In Sri Lanka and surrounds, where turn will prove pivotal, Kenya lack anything close to a class spinner. James Ngoche seems their most promising pick, but even he lacks enough tweak and variety to truly test savvy opposition.
Six-hitter - Tanmay Mishra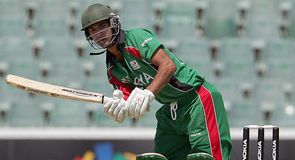 What Ryan ten Doeschate is to Holland or a Mohammad Ashraful occasionally can be to Bangladesh, Mishra is to the African side.
Adept at orchestrating innings of two halves - calculated ones and twos before swinging for the fences - the attacking right-hander needs to control his oft-impetuous approach to develop into a genuine match-winner.
Strike bowler - Peter Ongondo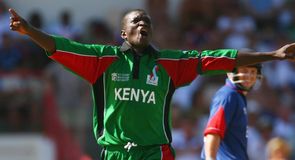 Seventy-seven ODIs into his decade-long international career, the stalwart right-armer stands head and shoulders above the rest of the Kenyan seam attack.
Accurate and capable of finding swing in the right conditions, the 34-year-old struggled on the recent domestic tour of India but will dig deep to find the form that saw him top the wicket-taking stakes in the Intercontinental Cup.
Likely to enjoy decent support from Nehemiah Odhiambo and Elijah Otieno.
Look out for...Seren Waters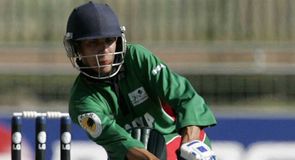 Fresh from a consolation century in a one-day final loss to Baroda and free of his Durham University studies, the 20-year-old scholar has what it takes to thwart any attack.
Seasons with Surrey's second-string across a competitive circuit and a top ODI score of 74 against a strong South African attack typify this. His part-time leg-spinners are sure to do their bit in spin-friendly conditions too.