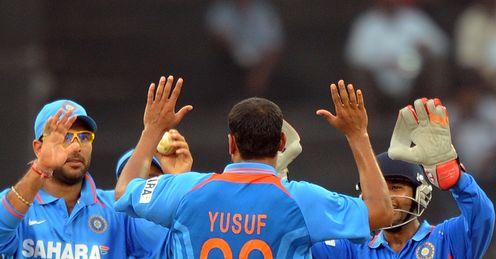 India squad
Mahendra Dhoni (capt)
Virender Sehwag
Ravichandran Ashwin
Piyush Chawla
Gautam Gambhir
Harbhajan Singh
Zaheer Khan
Virat Kohli
Ashish Nehra
Munaf Patel
Yusuf Pathan
Suresh Raina
Shanthakumaran Sreesanth
Sachin Tendulkar
Yuvraj Singh
Overview
Runners-up in 2003 and semi-finalists at home in 1987 and 1996, India are on a mission to avoid a repeat of 2007's first-round exit and rather replicate the campaign that brought them World Cup glory in England in 1983.
For now, their Test ambitions and Indian Premier League shenanigans take a back seat to their sole focus: send Sachin Tendulkar, who'll be playing in his sixth and surely final tournament, off with a win.
Should they not go all the way, the knives will be out at the turn of the final. Coach Gary Kirsten has already announced that he won't renew his contract regardless of the outcome. The last thing a team on the precipice of dominating world cricket needs is the exit of a coach and fall in popularity of their captain.
Strengths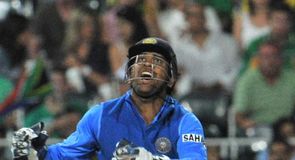 Homeground advantage is always going to be with India. Playing in front of their tens of thousands of hysterical fans gives them a psychological edge incomparable to playing host anywhere else across the planet.
Their Bangalore fixture against England should provide a stunning spectacle.
Tendulkar, Virender Sehwag, Gautam Gambhir, Mahendra Dhoni and Yuvraj Singh - ODI batsmen don't come much intimidating than these. With the likes of Virat Kohli, Suresh Raina and Yusuf Pathan gradually penning their names in alongside the bigger guns, India boast a most prolific batting unit.
While numerous other teams will rely on 'horses for courses' selection, India have an entirely balanced senior attack, with Zaheer and Munaf around fronting the seam charge before Harbhajan Singh leads the spin ranks. Whereas many have scoffed at the plethora of part-time slow bowlers India have used in the recent past, their ongoing development offers the side a two-fold benefit: opportunity for one freelance bowler to step up in another's absence and the choice to load the XI with additional batsmen.
Weaknesses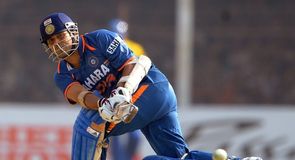 The pressure that comes with being tournament favourites can be insurmountable and, as much as Dhoni professes that it's more of a 'responsibility than a pressure thing', it's on the field where his team will have to prove as much.
India would've fancied one-upping South Africa in the one-dayers after clinching a draw from the jaws of defeat in the Tests. Instead, they head into the World Cup on the back of an ODI series loss, albeit marginally so, and shy of the extra confidence a win would've brought.
Dhoni is short of runs of late and, should he continue to fail at the end of the middle order, a lot more of an ask is squared on the shoulders of Harbhajan Singh and the tail-enders.
Piyush Chawla is a peculiar pick and a genuine weak link in an otherwise well thought-out squad. As much as his decent leg-spin and lower-order hitting brings to the team, one can't help but feel finger spinner Pragyan Ojha would've been the better bet.
Six-hitter - Yusuf Pathan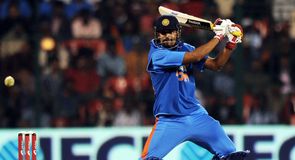 As shown in the recent ODIs against South Africa, Yusuf is arguably world cricket's most savage striker at the moment.
Particularly fond of cow corner or thereabouts, the belligerent right-hander has risen to the top of the pile in terms of finding the fence and, with the backing of his captain to play his natural game no matter what, can only go bigger.
Sehwag and Dhoni don't hold a candle to him for the time being.
Strike bowler - Zaheer Khan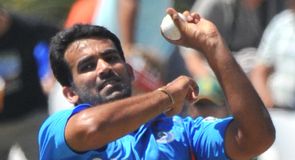 The epitome of the perfect southpaw seamer, Zaheer approaches from over the wicket to trouble the left-handers and around to set the skids under the right-handers. India's attack is, by and large, impotent without his presence.
Injury free, with right-armer Munaf Patel around as a complementary force and Ashish Nehra weighing with some left-armers of his own, Zaheer can do no wrong at the moment.
Look out for...Virat Kohli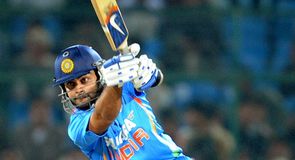 While Rohit Sharma does his bit on the fringes of selection and Suresh Raina weighs in with fleeting innings of substance, Kohli has developed into the leading scholar of India's newer school.
With a telling temperament to match his superb technique, the young right-hander has secured the number three berth in the batting order for himself.
When Tendulkar and Sehwag go, India are, indeed, in good hands.