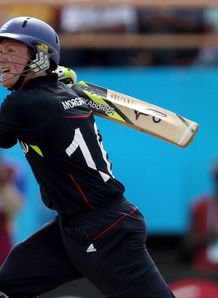 All over England have qualified from Group D alongside West Indies. The rain is still coming down and play has been abandoned. This is tough on Ireland who have paid the price for a woeful batting display against the Windies in their opening match. Both England and Ireland end on one point, but the former's net run-rate was superior so they progress. Thanks for your patience and keep it here for reports and reaction.
Still raining Ireland's place in the competition is hanging by a thread. This would be a cruel way to bow out having bowled and fielded so well
Time is ticking If a ball is not bowled again by 9.59pm the match will be abandoned. The covers are on as it stands but there is blue sky about. Fingers crossed... if you're Irish I guess
Oh no... More rain is pouring down and the covers are on yet again! The prospect of any more play looks bleaker than the sky surrounding the Providence Stadium. The cut off point to resume is 10pm.
Update We are looking at a 9.45pm restart if there is no more rain. Sit tight.
Delay Still mopping up the ground. No news on start time as yet.
Covers coming off Progress. Now let's hope that's the last of the rain!
Calculators Get them out folks! We are nine deliveries away from having a completed 'game'. Remember, a no result puts England through
Over 4 Sidebottom 4-4-0- 14-1 - O'Brien eases the pressure first ball off Sidebottom's second over with a neat clip over square-leg for four. His next shot is even better, straight over mid-on for a couple of bounce four. Rain is falling again here.. pure drama. The covers are coming on again!
Over 3 Bresnan 0-1-0-0-0wd-0-0 6-1 New man Niall O'Brien, playing his 100th international, gets off the mark with a scrambled single second ball. Bresnan is bang on the money with the next two deliveries before throwing one down leg for an extra. Just two off it though and England have started well here.
4-1 - Play and Siddy continue, and there is a bit of zip on the surface now. A huge appeal for caught behind is turned down and replays prove inconclusive. WICKET! Sensational catch from Lumb on the boundary does for Stirling who trudges off for a six-ball duck! He absolutely crunched a pull towards the midwicket fence and Lumb ran across and dived to claim the catch. England strike.
Update Play will resume very shortly. No overs have been lost and Ireland still need 121 to win.
Covers off Good news folks. The rain has stopped and the groundstaff are out repairing the damage. Keep it here for updates
Or maybe not... That blue sky has quickly turned into black sky! This does not look good and a lenghty delay looks likely...
Blue sky I should point out that the players need to be off the field for half an hour before we start losing overs. There is plenty of blue sky around and this could just be a heavy shower. I'll keep you in the loop.
Over 2 Sidebottom 0-1 4-0 - A bit of movement for Sidebottom also and he passes the outside edge of Porterfield's bat first up. A single through point follow. Would you believe it?! The rain is coming down in bucket-loads! The players have raced off the field and this is not good for England. Andy Flower is seen throwing his hands in frustration. As it stands Ireland would require just 35 to win from five overs should Duckworth-Lewis get involved.
Over 1 Bresnan 0-0-0-3-0-0 3-0 - Bresnan kicks off proceedings as Collingwood goes with two slips and plenty of men saving one. Captain Porterfield gets his men up and running with a crisp drive for three through the covers. Stirling is opening alongside his skipper and is beaten all ends up by the final ball of a tight first opening over.
Have England got enough? Get in touch to Joe.drabble@bskyb.com
Ireland need 121 runs to qualify It's as simple as that - unless D or L get involved of course. A fantastic effort from Ireland and pretty shambolic one from England. The pitch and outfield has made scoring tough, however only Morgan and Wright can come out of that innings with any credit.
120-8 - Swann does his job first ball and works a single to get Morgan back on strike. A club over midwicket brings him two more. WICKET! Morgan's brave stay is over. He couldn't add to his 45 off 37 balls, Wilson catching well at long-on. Swann works another couple behind square on the leg-side. WICKET! Yardy has gone without facing a ball, selfless running and brilliant fielding from Johnston ending his stay! A direct-hit catching him short of his ground. Two runs off the final ball see England labour to 120-8.
112-6 - Brilliant improvisation from Morgan results in four more first ball. Moving across to off-stump he deftly flicked the ball over fine-leg for four. WICKET! England are six down as Bresnan tamely picks out Mooney on the long off fence! A single would have done fine to keep Morgan on strike but he went for the big shot and failed badly. Swann is in. A wide and single complete another tight over. Swann has the strike.
Over 18 Botha 1-4-1-0-0-4 104-5 - Botha is back and Morgan welcomes him with a fizzing flay over extra cover for four. The England hundred comes up next ball off 106 balls. A slice of luck follows when Bresnan edges through keeper O'Brien's legs for four. England needed that.
Over 17 Rankin 1-W-2-2-0-0 94-5 - WICKET! Wright has gone at a crucial stage of the game! 20 off 24 he made and it was a decent effort to be fair. He didn't get hold of this low full toss though, and Porterfield claimed easily at extra cover. Bresnan is in for England but will have to wait before facing as Morgan collects another couple of couples behind square. Rankin finishes well though and Bresnan would have perished had Porterfield's direct hit been on target.
Over 16 O'Brien 2-0-1-1nb-1-1-6 89-4 - A brilliant diving stop from Mooney on the midwicket fence saves a couple first ball as Ireland continue to perform brilliantly in all facets. Well, just as I type that, O'Brien oversteps to give England a free-hit. Wright picks out Mooney with it though and runs just one. Morgan swats another single before Wright finishes the over with a flourish with England's first six - straight back over the bowler's head. A very expensive no-ball from Ireland!
Over 15 Dockrell 0-0-0-0-0-1 76-4 - A fantastic final over from Dockrell bamboozles a rather clueless Wright. The promising left-armer concedes just one run and finishes with 4-0-19-0. He could have the makings of an England player in the near future...
Over 14 Botha 1-1-0-2-0wd-0-3 75-4 - Wright continues to pick up the singles before s crisp punch down the ground brings him a couple. A much-needed wide follows and England make use of the extra ball when Wright turns it past fine leg for three more.
Over 13 Dockrell 0-0-1-1-4-2 67-4 - Dockrell, after another tight start to the over, drops short and Morgan rocks back and pulls hard through midwicket for four. Neat placement through sqaure-leg brings him a further two to end the over. If ever England needed Morgan, it is now!
Over 12 Cusack 1-1-4-0-0-1 59-4 - Alex Cusack, another medium-pacer, is on, and a fantastic diving stop from Dockrell prevents four first ball. Morgan doesn't miss out when back on strike, deftly turning the ball away to the fine-leg fence. A better over for England yields seven runs.
Over 11 Botha 0-1-0-1-1-0 52-4 - Botha is on with his gentle medium-pacers. England are shell-shocked here and simply can't break loose. A superb over costs just three. 100 looks a long way off...
49-4 - O'Brien takes over from Johnston but drifts onto Morgan's pads early in the over and he milks him for three. WICKET! Brain-dead from Pietersen - there's no other way to describe it! His painful innings of nine off 18 balls comes to an end in an exact repeat of last night's dismissal. He pulls a rank long-hop straight into the hands of Mooney on the midwicket fence. Wright enters but remains on nought. England on the ropes...
Over 9 Dockrell 1-4-0-1-1-0 45-3 - Morgan breaks the shackles with a trademark reverse hit through point for four. A cheeky sweep for one follows before KP chips straight for an unconvincing single of his own. Seven off the over.
Over 8 Johnston 0-1lb-0-1-0-1 38-3 - No surprises to see Trent bowling through. He hits KP flush on the toe and continues to keep things exceptionally tight. He ends with superb figures of 4-0-14-1 to his name and England will be pleased to see the back of him.
Over 7 Dockrell 1-1-0-0-1-0 35-3 - 17-year-old slow left-armer Dockrell is on as the field disperses. England need a big partnership from Pietersen and main man Morgan now. Both men nudge early singles but another fantastic over costs just three. This slow, low wicket is playing right into the hands of the Irish.
32-3 - Trent continues and after KP nudges one, Kieswetter drives firmly through extra cover for two - Porterfield has got his field spot on here. WICKET! Both openers have gone for England as KP sends Kieswetter back and despite his dive, he is run out centimetres short of his ground for 13. England are wobbling here while Ireland are cock-a-hoop! Captain Collingwood marches out... WICKET! and is out! He lasted just three balls before edging straight to Botha for a duck! Fantastic stuff from Johnston and Ireland as England finish the powerplay overs on 32-3.
29-1 - A bowling change has brought immediate reward for Ireland as Lumb departs for 14 off 11 balls! Medium-pacer Kevin O'Brien does the trick as the left-hander flicks the ball straight to Rankin at short fine-leg. Pietersen is in and gets himself off the mark three balls in with a scampered single. Subdued start from England thus far. Kieswetter nudges through midwicket for three next ball before KP adds another. One powerplay over remaining...
Over 4 Johnston 0-0-1-0-0-2 24-0 - Johnston is back and has an early lbw appeal on Lumb rightly turned down by Billy Bowden. His full length troubles England's openers as the first five balls cost just one run. DROP! Another let-off for Kieswetter and this one really should have been taken! A genuine edge carried through to Botha at first slip but he failed to grasp the chance diving to his left. Two runs follow.
Over 3 Rankin 4-1lb-0-2-0-2 21-0 - Rankin returns and drops the first ball of the over short and Lumb rocks back and pulls him over fine-leg for four. Another leg-bye follows as his second over takes a similar course to his first. DROP! Kieswetter is handed an early reprieve but it was a very hard chance in fairness. A top-edged pull sent both Dockrell and wicketkeeper O'Brien sprinting backwards however the latter failed to cling on to a diving effort. Kieswetter then hits powerfully over mid-off for two more to end an eventful over.
Over 2 Johnston 0-1-0-4-1-0 12-0 - Evergreen medium-pacer Johnston shares the new ball for Ireland and is right on the money for the opening three balls. His fourth offers width though, and Lumb cuts hard past backward point for his second four. Just six off the over though - solid start from the Irish.
Over 1 Rankin 4-1lb-0-0-0-1 6-0 - A fantastic start for England as Lumb works Rankin's first ball of the match off his hip for four down to fine-leg. A leg-bye follows before Kieswetter brings out a rare succession of leaves. The England gloveman then waits until the last ball of a tight over to get off the mark with a scampered single to cover.
Hold tight The players are making their way out onto the field. Play will begin shortly, with England batting first.
Phil Venables has asked: "Who would progress to the next stage if it was called off due to rain?". I can tell you Phil, and anyone else wondering, that England would due to their superior run-rate against West Indies.
Teams Both sides are unchanged from their previous fixtures meaning no place for England's James Anderson yet again.
Toss Ireland have won it and will bowl first. Captain William Porterfield admits the weather is a factor in that call. Paul Collingwood, still looking angry after last night's debacle, admits to Bumble that he would have bowled first also.
Scenario England are through unless they lose, Ireland are out unless they win. I'm just praying for all our sakes messrs Duckworth and Lewis don't get involved at any stage!
Get in touch Just awaiting team news, while we do, just a reminder that this is a two-way street tonight and I would appreciate any views you have on the game. Fire all cricketing thoughts my way at Joe.drabble@bskyb.com and i'll post the pick of the bunch.
Update New Zealand have progressed from Group B alongside Sri Lanka after beating Zimbabwe in their rain-affected match here at the Providence Stadium. Despite the weather, we should get underway at the scheduled 6.30pm start time.
Good evening Welcome along everyone to interactive over-by-over commentary of tonight's sudden-death shootout between England and Ireland in Guyana.
Sky Bet Odds:
Click Here for Your Free Bet