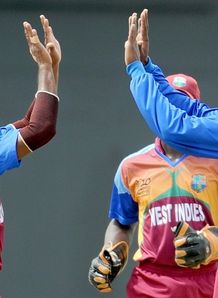 Sri Lanka win by 57 runs A fantastic performance by Kumar Sangakkara's men who have romped home in the second of two utterly one-sided matches here in Barbados. Jayawardene contined his fabulous start to the tournament with an unbeaten 98, and when Gayle and Chanderpaul fell early, West Indies were never in the chase. Thanks for your company, keep it here for reports and reaction.
Over 20 Kulasekara 1-4-0-1-4-2 138-8 - Final over! Taylor clubs a single before big Benn gives the crowd something to cheer with a classy cut through point for four. Taylor, who has a Test hundred to his name, then produces one of the shots of the day as he steers the ball past short third-man for four. Drop! And the match finishes with a drop as Mathews drops a skier in the deep - matter it does not though!
126-8 Wicket!Exhibition stuff here from Malinga. A dipping slower ball full toss has Sammy wincing and the ball wraps him on the pads bang in front. Unplayable! Mr Benn is in now and he gets off the mark first ball. Taylor then claims another couple down the ground - we are going through the motions somewhat here. Malinga finishes with fine figures of 4-0-24-3.
121-7 - Wicket! Mendis has given old Hinds a right working over here before putting him out of his misery! After three attempts at playing, but missing, Mendis traps him in front for five. Taylor comes in and cuts hard through point for a classy boundary first ball (where has he been hiding?). A single ends the action.
Over 17 Malinga 1-4-W-0wd-0-4-1 116-6 - Malinga gets an attempted yorker horribly wrong and Fletcher smacks the full toss away through midwicket for four. Wicket! Revenge for the slinger! Fletcher departs for 16 off 18 balls as this time the yorker is spot on and the stumps are dislodged. Hinds is in, and asks what the fuss is all about as he crashes Malinga over extra cover for a one-bounce four and then a single.
105-5 - Wicket! After slicing Mendis through the slips for four, Pollard departs. Looking for the big blow straight down the ground, he could only pick out Kapugedera who caught with ease at long-on. What is all the hype surrounding this guy? Fletcher squeezes another four off the final ball of the over.
Over 15 Malinga 1-1-1-0-1-0wd-1 95-4 - As the above reads really... Sri Lanka look a real force to be reckoned with on this showing. Their bowling trio of Malinga, Murali and Mendis are so hard to get away. RR 20.20...
Over 14 Murali 1-1-1lb-0wd-2-0-0 89-4 - RR is around 16 an over and if this was a boxing match it would have been stopped long ago. Very little to report - thank goodness for the over-exuberant musician in the crowd who is providing the bulk of the entertainment.
Over 13 Mendis W-0-0-1-0-0 83-4 - Wicket! Its gone from awful to shambolic for West Indies as Sarwan limps off having made 28 off 33 balls. It was a 'i'd better give my younger brother a turn at batting in the back garden' dismissal as he chipped the ball straight back to Mendis as if it was pre-rehearsed. Pollard is in and away off the second ball after being bamboozled by a googly first up. What an over - just one off it!
Over 12 Murali 1-0-0wd-0-1-1 82-3 - More calamity out in the middle and a direct-hit from Sangakkara would have sent Fletcher packing first ball. There is no urgency here at all and the Kensington Oval is silent. Yawn.
Over 11 Malinga 2-0-1-0wd-W-1-1 78-3 - The slinger is on and Sarwan drives crisply through the covers for two first ball. A single brings Bravo on strike. Wicket! Another one bites the dust! This time it's Bravo who toe-ends a drive straight to Mathews at extra cover to depart for a run-a-ball 23. Fletcher is away first ball but this is pretty painful stuff to be honest. The Windies need a miracle!
Over 10 Murali 4-1-1-1-1-0 72-2 Bravo shows better intent at the start of the 10th over when he charges at Murali and slaps him straight back to the mid-off fence. Four singles follow, a decent over, but the rate continues to rise. We are halfway there.
Over 9 Perera 1-0-0-1-0-4 64-2 - The run-rate is getting out of order but another boundary, this time from Sarwan backward of square, relieves the pressure a little. Required rate is 12 an over though...
Over 8 Murali 0wd-1-2-1-1-0-4 58-2 - Murali is on at the Malcolm Marshall end after shrugging off his groin injury in some style. Sarwan and Bravo milk him for singles before the latter finishes the over with a flourish by launching him over midwicket for a one-bounce four - cracking shot! 10 off the over.
Over 7 Perera 0-1-0-1-4-1 48-2 - Medium-pacer Perera is introduced as Sangakkara tries to squeeze in an over from one of his 'lesser' bowlers. The tactic looks to have worked after the first four balls yield just two runs, however Sarwan ups the ante at the end of the over with a crunching four over extra cover and a single through square-leg.
Over 6 Mendis 1-1-0wd-1-4-0 41-2 - Mendis will bowl the last of the powerplay overs... Sarwan sweeps the first ball for a single before Bravo gets the fans on their feet with an extravagant back-foot punch over extra-cover for four. That's more like it!!
Over 5 Kulasekara 1-1-0wd-1-0-1-0 33-2 - Another superb over from Kulasekara. West Indies need boundaries but they are struggling to hit the ball off the square at present!
Over 4 Mathews 0-0-1-1lb-1-1 28-2 - The Windies are shellshocked here and Bravo and Sarwan have a major task on their hands. There were only fours runs off a tight Mathews over as the required rate moves towards 11 an over...
24-2 - Sarwan is the new man in and he is immediately off the mark with a powerful cut which Dilshan gets a hand on at backward point. Sangakkara is stood up to the stumps now... Wicket! Massive blow for Windies as Gayle departs! Attempting to work the ball to leg he only succeeded in getting a leading edge, and Mathews gobbled it up at mid-off. The ground is in stunned silence. Only two runs off a fantastic over by Kulasekara.
Over 2 Mathews 0-6-0-4lb-4-W 22-1 - After fizzing a drive straight to mid-off, Chanderpaul makes no mistake next ball when he gets down on one knee and flicks Mathews over fine-leg for six of the best! He tries the same shot two balls later and it flicks his pad and flies past Sangakkara for four more. Shiv continues with his attacking intent next ball and slaps a third boundary through the covers as the fielders stood and watched. Wicket! But it's a case of one shot too many for Chanderpaul as he loops the ball up tamely to Kapugedera at backward point off the final ball. Sri Lanka strike!
Over 1 Kulasekara 0-0wd-4-1-0-0-0wd-1 8-0 - Gayle takes strike to the medium-fast pace of Kulasekara. After drifting down leg for a wide, the same line allows Gayle to flick the ball off his hip for four runs. The Windies skipper brings Chanderpaul on strike with a single before another wide and a first run for Shiv complete the over.
Here we go... Gayle and Chanderpaul are out in the middle and ready to kick off the chase. Kulasekara has the ball...
West Indies need 196 runs to win It's as simple as that. Stay tuned for the chase...
Over 20 Roach 1b-1-2-4-W-4 183-2 - Wicket! Kapugedera found the fence but departed the following delivery when he was clean bowled by a Bravo slower ball. Dilshan then came in for the final ball and swatted it away for yet another four. Agony for Jayawardene as he is left stranded on 98 off 56 balls - fantastic effort from him yet again. Sri Lanka finish with 195-3 from their 20 overs and West Indies face a massive chase.
183-2 - Bravo is charged with the penultimate over of the innings. Sangakkara is timing the ball beautifully now and only fine fielding (and I haven't said that much tonight) prevents him hitting back-toback boundaries early on. Wicket! Sangakkara is walking back to the pavilion having made a superb 68 off 49 balls. Eyeing up another six, he could only pick out Pollard on the long-off fence. There is no stopping Mahela though and he moves closer to back-to-back centuries with a thumping six over midwicket. He then moves onto 97 with a classy drive through the covers for four more - fantastic batsmanship to end the over.
Over 18 Roach 2-4wd-1-0-0wd-1-1-1 169-1 - Roach is back and so are the boundaries. Seven runs effectively come off the first ball when a quick two is followed up by four wides down the leg-side! More sloppy work from Flecther behind the stumps there. Roach loses his radar with another wide but pulls it back well and the over costs 12.
Over 17 Benn 2-2-6-0-1-4 157-1 Quite brilliant batting here by Jayawardene! He moves into the 80s with a flurry of runs at the start of the over. After manipulating the off-side field for a couple of couples, Mahela then smashes Benn back over his head for six more. Then, after handing the strike over to Sangakkara, Kumar ends another over with another boundary as he finds the long-off fence.
Over 16 Pollard 1-1-1-0-1-6 142-1 - The singles continue to tick over with ease but West Indies have pegged it back fairly well here. This is a cracking pitch with 160 around par for the course. Unbelievable batting from Sangakkara off the last ball yet again! He dances down the pitch and effortlessly hits Pollard back over his head for six more!!
Over 15 Benn 1-0wd-1-1-1-1-2. 132-1 - Another chance goes begging for the Windies! After dancing down the pitch to Benn, Jayawardene missed the ball and was stranded out his ground. However, part-time keeper Fletcher dropped the ball and Mahela made it back. Sangakkara brings up his 50 with a single next ball (38b,4x4s, 2x6s). Jayawardene then spoons a delivery straight up until the air, but no West Indies fielder moved and it bounced safe. Remarkable.
Over 14 Pollard 1-1-0-1-2-4 124-1 - A rather subdued offer this, the 14th. That is until... Jayawardene flicks Pollard past short fine-leg for yet another four. How many times have we seen Sri Lanka finish an over with a boundary?
Over 13 Taylor 2-1-4-1-1-0 115-1 - Gayle brings back Taylor and, despite a dramatic dive from Bravo, Sangakkara chips two more off the first ball. Another single brings Mahela back on strike, and he gets down on one knee and swats Taylor past fine leg for his seventh four - Windies don't know where to bowl to him here! 42 balls remaining and Sri Lanka will be eyeing up 180+
106-1 - Mahela receives a let-off midway through the over when Bravo's shy at the stumps misses with him well short of his ground. The Sri Lanka 100 comes up the next delivery off just 69 balls. The locals are getting restless, and their mood worsens when Pollard serves up a full toss that Sangakkara hammers back down the ground for four more! Another great over for Sri Lanka.
Over 11 Sammy 6-1-1-4-1-0 95-1 Sammy's woes continue first ball back when Jayawardene hits through the line and clears the long-off rope in some style. Singles keep the scoreboard ticking before Mahela brings up his third half-century in as many games with an improvised flick over the wicketkeeper's head (29 balls, 6x4s, 2x6s). Extraordinary stuff from the Sri Lanka opener here.
Over 10 Pollard 1-1-1-1-0-4 82-1 - Drop! A hard return chance for new bowler Pollard goes to ground when the big fella sticks out a hopeful hand after Sangakkara punches the ball back at him firmly. Yet again Sri Lanka finish the over with a boundary though, this time somewhat fortuatously as Sangakkara top-edges the ball over the vacant slip region for four more. Gayle is not happy.
Over 9 Sammy 2-4-4-0-0-0 74-1 - Medium-pacer Sammy is into the attack but he too is helpless to stem the flow of Sri Lanka runs. After a cheeky couple through leg, Jayawardene then chops back-to-back fours behind square on the off-side. The first is hit firmly, the second a deft open-bat shot which he plays under his eye-line in order to direct it as fine as possible. Sammy recovers well thereafter.
Over 8 Benn 1-0-1-1-0-6 64-1 - Mr Benn is back and continues to dart the ball in to these great batsmen. After missing out on an inviting full toss off the penultimate ball, Sangakkara makes no mistake next up, rocking back and swatting Benn over midwicket for six! Great end to the over. Sri Lanka moving along at eight runs an over...
55-1 - After a couple of routine singles pushed back down the ground, Sangakkara then explodes into life with a towering six over extra cover - unbelievable shot that simply can't be played by us mere mortals! That aside, a decent over from Bravo.
Over 6 Benn 0-0-4-1-1-1wd-1 47-1 - Lanky left-arm off spinner Benn is into the attack to bowl the last powerplay over. He starts well with two dots, however the third delivery is short and wide, and Jayawardene milks him for four through his beloved point. A flurry of singles follow and the fielding restrictions are now eased.
Over 5 Bravo 1-4-0-1-4-4 38-1 - Bravo is on in place of Roach. He gives Mahela some width though, and the elegant right-hander clinically cuts him behind point for four second ball in. He misses out the following delievery before rotating the strike with a quick single on the leg-side. Sangakkara then finishes the over with a flourish with two boundaries - one over point, the second over midwicket. Sri Lanka are in the groove now...
Over 4 Taylor 1-6-4-0wd-0-1-1 24-1 - Drop! Oh no, another drop from the Windies and this time it is the captain who is the guilty man!! A genuine edge from Sangakkara goes through to Gayle at first slip but he puts it down and Sri Lanka scramble a single. Jayawardene then rubs salt into the Windies' wounds with a towering six over mid-on and a classy pull over square leg for four more - he looks in great touch. Taylor, under pressure, then throws in a wide down the leg side before beating the outside edge. A couple of singles finish an expensive over.
Over 3 Roach W-0-0-0-1lb-2 10-1 - Wicket! Windies have struck! Jayasuriya's luck has run out as he tamely pulls Roach straight to Taylor on the edge of the fine-leg circle. The home fans are dancing! Sri Lanka captain Sangakkara is the new man in and he gets off strike with a leg-bye. Jayawardene, the leading run-scorer in the tournament, then gives himself room and cuts the ball away for two behind point. Another great over for the hosts nevertheless...
Entertain me Kirk Grant is hoping for a long-awaited win. He says: "I have been a windies fan since 1982. Hope for some good entertainment and a West Indies win. The last live win I saw was 1991!"
Over 2 Taylor 4-0-0-0-0-1 7-0 - Taylor playing his first international match for six months is welcomed back with a four as Sanath punches hard through mid-on. Drop! He so nearly got his revenge though, but Pollard, fielding at backward point, grassed the chance after Jayasuriya had cut firmly. That was travelling, but still a real chance. Huge appeals follow again two deliveries later as the ball pops up and is claimed comfortably by Gayle at first slip. Umpire Taufel deems it not out though and replays suggest it may have hit the arm guard. An lbw appeal is then turned down, before Sanath ends an action-packed over with a single.
Over 1 Roach 0-1-0-1-0-0 2-0 - Hometown boy Roach kicks off proceedings from the Joel Garner End. There is plenty of pace and bounce first up and Jayawardene gets off the mark second ball with a sharp single behind point. That run brings veteran opener Jayasuriya on strike... and he too gets off the mark behind square. Just two off the first over though - fine start for the Windies.
Get ready The players are on their way out on to the field folks and play will begin any moment now. Sit tight.
Divine intervention Carena from Jamaica is the first to get in touch and she is praying for a Windies win, she says: "Go on Windies, I am a long way from home but I am praying that they have this one in the bag!"
Get in touch Any West Indies, Sri Lanka or just purely cricket fans out there tuning in this evening? Get in touch with all your views to - Joe.drabble@bskyb.com and i'll post the pick.
Windies team news Batsman Narsingh Deonarine has been ruled out through injury and off-spinner Nikita Miller has been dropped by the hosts. Fast bowler Jerome Taylor and left-handed batsman Wavell Hinds come into the side.
Murali returns! After ruling himself out of the tournament just days ago, spin king Murali magically finds himself in the starting XI here! Elsewhere for Sri Lanka, Jayasuriya will open the batting while out-of-sorts Dilshan drops down to No.4 in the order. The only change in personnel sees Dinesh Chandimal miss out, and Nuwan Kulasekara is back in.
Toss Kumar Sangakkara has won the toss and Sri Lanka will bat first. Opposite number Gayle admits he too would have had a bat
Aussies on fire Australia have laid down a marker in Group F with a resounding win over India earlier today. Defeat for either side here will leave them a mini-montain to climb...
Hello Good evening everyone and welcome to interactive commentary of tonight's Super Eight showdown between West Indies and Sri Lanka in Barbados
Sky Bet Odds:
Click Here for Your Free Bet