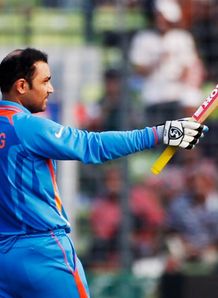 India Win By 87 Runs Bangladesh would've needed a miracle to successfully land 371 runs for triumph. As it was, they at least got within double figures of their target so it's not an all-out humiliation in front of their homeground. Very trying conditions for the bowlers, these. Man of the Match will surely go to Sehwag for his mammoth 175, while Kohli can rest assured in his 100 not out. If India were to pick on a negative, it would be the day Sreesanth had. He really didn't come to the party, even if the conditions didn't help him. His line needs tweaking if he is to avoid making way for Ashish Nehra in the starting XI. Thanks for joining us for the tourney opener. Catch you again for Sunday's double-header.
Over 50 Harbhajan 1-0-1-0-1-0 283-9 - All and sundry go through the motions of three singles and that, ladies and gentlemen, is the ball game.
Over 49 Munaf 0-1-W-0-0-0 280-9 - WICKET! Lazy backing up from Shafiul sees him run out at the non-striker's end. Handy direct-hit from Harbhajan and things have really fallen apart for Bangladesh, who have gone from making a game of it to being utterly thumped in front of their home crowd.
Over 48 Zaheer 0-1-1wd-1-0-1lb-W 279-8 - Bit of a mixed bag of an over from Zaheer, but there's enough trickery in it to send Razzak packing. Another lbw, this one also pretty plumb. Late seam movement into the left hand and going on to strike middle- and leg-stump. Shafiul in now.
Over 47 Munaf 6-3-W-0-0-0 275-7 - WICKET! That's a four-for for Patel, but not before Hasan has violently cranked him over midwicket for six. Naeem's the one to perish, out lbw as plumb as they come. Height might've been a factor, but not enough to stave off the umpire's finger. No referral from the batsman. Rightly so. Razzak in now.
Over 46 Zaheer 0-0-0-1-1-0 266-6 - Unable to predict Zaheer's line nor length, Naeem and Hasan hack their way through an over riddled with batting errorts. Ugly end to this game. Tigers making an utter mess of their batting Powerplay.
Over 45 Munaf 1-1-W-0-1-2 264-6 - WICKET! Patel has his third scalp of the day - all of 'em bowled - as Mahmudullah runs down the crease to effectively york himself. He misses, the ball doesn't and the stumps are castled. Naeem in now.
Over 44 Harbhajan 1-1-0-1-1-1wd-2 259-5 - Bhajji races through another over, looking to combine with Dhoni for a quick stumping down the leg-side. Hasan, using his feet to the spinner as much as possible, manages to get some bat on a quicker delivery down the leg-side for two runs. Handy dive from Sreesanth on the fine-leg fence to stop a possible four.
Over 43 Zaheer 1-2-W-2-1-1 252-5 - WICKET! Bangladesh opt for their batting Powerplay but it gets off to a horrible start, with Rahim's attempt to go over the cover cordon instead holing out straight to 12th man Raina. Mahmudullah in now. 250 up for the Tigers. That'll count for something if Group B ever comes down to net run-rate.
Over 42 Harbhajan 1-0-2-1-1-1 245-4 - Just biding their time ahead of the batting Powerplay. A couple of handy not outs up for grabs for the batting duo. Bhajji though will have other ideas. His attempts to beat Rahim in particular with a couple of quicker balls don't work.
Over 41 Yuvraj 1-0-1-0-1-0 240-4 - No time to steady ship really, but that's exactly what Raqibul and Rahim decide they'll do for this over. Three singles between 'em and Yuvraj raking up some pretty impressive economy for it.
Over 40 4-1-1-W-1-1-1 237-4 - WICKET! If Iqbal's departure wasn't the final nail in the coffin then Shakib's surely is. Down on one knee and looking to go large over midwicket, the right-hander doesn't have the carry and it's an easy catch in the deep for Harbhajan. Raqibul in now and Bangladesh can at least bolster their net run-rate from here on in. Batting their full 50 overs must be the aim.
Over 39 Yuvraj 1-4-1-1-1-0 228-3 - Easy pickings for Shakib, who merely gets bat to ball as Yuvraj's rank leg-side full toss brings four past fine-leg. Then Shakib's 50, with a dink to point for one taking the Tigers captain to his milestone. He's not done yet, and will have to kick onto three figures if his side are to stand any chance whatsoever of pulling off a near impossible upset.
Over 38 Pathan 4-1-0-1-0-1 220-3 - Yusuf gets to turn his arm over again. As was the case earlier in the day, he's a touch too wide on one occasion and has to watch in frustration as Rahim spanks four to the fence.
Over 37 Yuvraj 1-0-0-1-1-1 213-3 - Just more singles, then, with Yuvraj back into the attack and pegging back the run-rate at will. More than a dozen to the over needed from Bangladesh from here on in.
Over 36 Zaheer 1wd-0-0-1-1-1-0 209-3 - Much better from Zaheer, who, bar a wide, sticks to that metronomic line and length we have all become so accustomed to. Rahim and Shakib left to collect the string of singles on offer.
Over 35 Munaf 0-4-2-0-1-0 205-3 - 200 up for Bangladesh as Shakib orchestrates the finest piece of timing and placement witnessed all day. Backward point puts in the dive but isn't anywhere close to preventing a superb cut from fetching four.
Over 34 Zaheer 1wd-1-1-0-1-4-0 198-3 - Dhoni wants this result wrapped up before the Tigers get even marginally close to a quite mammoth task. He's all set for a good return over on an economy front at least, until a rank short ball must be sent to the fence. Rahim obliges on the pull, with the boundary rider unable to triumph over bat speed.
Over 33 Munaf W-0-1-1-0-0 190-3 - WICKET! Early doors, yes, but this is one of the first nails in Bangladesh's coffin. Iqbal, their lone hope, has to go. Looking to launch Patel's return delivery through midwicket, he instead spoons it to Yuvraj, who snaps a good low catch. Rahim in now.
Over 32 Sreesanth 2-0-2-1-3-1 188-2 - Sloppy fielding in the deep from India affords Bangladesh some bonus runs and again Dhoni has to call on his charges to up their game rather than just go through the motions. Sreesanth, it must be said, hasn't come to the party today and India might want to consider drafting Nehra into the side at his expense next time around.
Over 31 Yuvraj 1-1wd-0-0-1-6-1 179-2 - Here it is, then. The big over Bangladesh needed to get them back on track, somewhat. Tamim caps it off with a large six over midwicket, leaving Yuvraj to lament another quicker ball not quite up to scratch.
Over 30 Sreesanth 1-1-0-1-1-4 169-2 - Dhoni hauls his animated fast bowler back into the attack for a bit of variety through the middle overs. Shakib and Tamim adjust their sights accordingly, with the former pouncing on a poor string of length to close the over with four driven through the covers. Dhoni isn't pleased, and asks better of his seamer the next time around.
Over 29 Yuvraj 0-1-1-1-1-2 161-2 - Iqbal looks to use his feet to the spinner, who sees him coming down the track and darts in a belated quicker delivery. The part-timer, as is the case more often than not, proving a very useful option for India. Remember the pinch-hitting Aftab Ahmed? The Tigers could really do with him in next.
Over 28 Pathan 1-0-0-1-3-1 155-2 - 150 up for Bangladesh eventually and how badly they need Tamim to really kick into gear. It's pretty clear that the opener is determined to bat through the innings, but he really needs to do it at a better pace than this. For now though, he moves to his 50. 69 balls and three fours to get there. Shakib, meanwhile, is content to nudge, nurdle and dink his way through a typically industrious innings.
Over 27 Yuvraj 1-2-0-1-0-0 149-2 - Another dry over for the Tigers, whose asking rate is now only a couple of whiskers shy of 10 runs to the over. They're really struggling to get the slow bowlers away.
Over 26 Pathan 1-4-1-1-1-0 145-2 - Boundary drought well in the past now as Tamim punishes something far too wide from the spinner through backward point for four. More than one four per over need for Bangladesh, though.
Over 25 Yuvraj 0-4-0-2-0-1 137-2 - Pathan has bowled four overs for 20, and now Yuvraj Singh enters the fray with his left-arm floaters. Shakib loves the sweep shot, but when he hits the first one straight to square leg he adjusts his plans. First he deftly guides one to third man for four, then he dabs down to fine leg for a couple when his natural instinct would have called for another sweep.
Over 24 Harbhajan W-0-0-1-0-0 130-2 - WICKET! Superb delivery from Harbhajan - beautiful flight to lure Siddique forward before the ball dipped and turned past the outside edge. The back toe was out of the crease and Dhoni uses the quickest hands in cricket to stump the left-hander. The third umpire was called for but the replay had Siddique's toe on the line. Shakib Al Hasan gets a big cheer as he comes to the middle with his side needing some sort of miracle - the required rate is nine an over as he joins the action. After being beaten by another fine delivery from Harbhajan, Shakib gets off the mark with a cut to deep point for one.
Over 23 Pathan 1-1-1-1-1-1 129-1 - Still just singles, so it's now almost 10 overs since we last had a boundary. India's spinners are doing exactly what's been asked of them here.
Over 22 Harbhajan 0-0-0-0-1-1 123-1 - Harbhajan and Tamim get themselves in a real tangle as the bowler throws himself around the man at the non-striker's end to stop a single to mid-on. Harbhajan somehow ends up with the bat having tackled Tamim, but they both get up with a smile and dust themselves off. Just two runs from the over though, and the crowd has gone very quiet. That says it all really.
Over 21 Pathan 1-0-0-1-1-0 121-1 - Things just drifting along at the moment, which suits India rather more than the Tigers. Just three from the over, and something's got to give. Surely Bangladesh need to start having a go. They currently need another 250 runs to win from 29 overs at 8.62 per over.
Over 20 Harbhajan 0-2-1-1-1-1 118-1 - Really appreciative crowd here, applauding even the singles when a good stroke is played. There is a bit more nervous tension about now as the hosts struggle to keep up with the required run rate though. It's been six overs since the last boundary.
Over 19 Pathan 0-1-wd-wd-1-0-1-1 112-1 - One of these batsmen is going to have to take on the responsibility of going big I think. At the moment they're both playing the patience game and the run rate has slipped below six an over because they're not taking enough ones and twos. With Tamim perhaps the more valuable wicket, it might make sense for Siddique to start playing the aggressor's role. A couple of wides down the leg side prop up an otherwise ordinary over for the home side.
Over 18 Harbhajan 0-1-1-0-0-1 106-1 - Top bowling from Harbhajan, who is changing his pace cleverly here so that neither batsmen can premeditate anything. Another tidy over, and the required run rate inches up even further.
Over 17 Pathan 1-1-1-0-1-1 103-1 - Yusuf Pathan into the attack now. With Piyush Chawla and Ravichandran Ashwin left out by India we can expect Pathan and Yuvraj Singh to make up at least 10 overs between them. Pace off the ball seems to be doing the trick for now, as the batsmen settle for nudging five singles in Pathan's first over.
Over 16 Harbhajan 1-1-0-1-1-1 98-1 - While the players took drinks there were some seriously large rags brought out to mop the dew off the field. So far Harbhajan hasn't had any problem gripping the ball but the fast bowlers could struggle towards the back end of the innings. The required run rate has risen above eight for the first time, but if these two can keep the scoreboard ticking over and set up a massive push in the second half of the innings then anything's possible, even if a home victory seems highly unlikely.
Over 15 Munaf 1-0-0-2-0-0 93-1 - Munaf's done a great job of bowling very straight and sticking to a back-of-a-length habit. Tamim gets a bonus run when a shy at the stumps ricochets away and allows an overthrow, but it's still a very cheap over to take us to drinks. India looking more and more in control, but it's not yet a forgone conclusion given the number of wickets Bangladesh still have in hand.
Over 14 Harbhajan 0-1-4-0-0-1 90-1 - Streaky boundary for Siddique, who continues to ride his luck. Big bottom hand involved as he gets an inside edge past his stumps for four to relieve a little bit of the pressure, although there aren't enough singles to make it a really useful over.
Over 13 Munaf 1-1-0-1-2-0 84-1 - Dropped! Tough chance, but Yusuf Pathan got two hands underneath it and should have held on. Siddique got a leading edge which popped over the bowler's head, Yusuf did well to get across and get underneath it, but then undid all that good work by failing to control it. Boy did he slide a long way though - there's clearly several buckets of dew on the outfield. Siddique whips one past short fine leg for a couple later in the over, but there aren;t any boundaries in that over and so the required run rate has risen to 7.75.
Over 12 Harbhajan 0-0-1-0-1-0 79-1 - Spin comes into the attack for the first time, and the batsmen really struggle to get him away with the field up. It's a good over from Harbhajan, who knows he can't be too full or otherwise the batsmen will have the opportunity to loft him over the top. Just a couple of singles.
Over 11 Munaf 1-0-4-0-0-4 77-1 - India take the bowling powerplay, and sure enough we see a biggish shot from Tamim as he picks up a length ball and chips it over mid-on for four. He finishes the over with the shot of the innings, getting onto the back foot to drive a lifting delivery through the packed cover region for four.
Over 10 Zaheer 0-1-0-1-0-2 68-1 - Another fine over from Zaheer, who's showing that you can bowl seam economically on these pitches. His first five overs have gone for 17, and Bangladesh are just starting to struggle now. Part of the problem is that Tamim is yet to get going in the fashion we know he can.
Over 9 Munaf 0-0-6-0-0-0 64-1 - Drama here, as Siddique just clears the rope at midwicket with a fine pull shot, and Yusuf Pathan injures himself after hovering underneath it. The fielder tripped on the rope as the ball sailed over his head and crashed into an advertising hoarding. He needs some medical attention but after a moment he's good to go again. Think it was a shock more than anything.
Over 8 Zaheer 0-0-0-1-1-0 58-1 - Zaheer has a decent shout for lbw against Tamim turned down by Steve Davis, with the replay suggesting it was a reasonable call - hawkeye had it just clipping the leg stump as it angled towards the leg side. It's another good over from Zaheer, and it's all calmed down since that wicket for India.
Over 7 Munaf 0-0-1-0-W-0 56-1 - WICKET! To absolutely no-one's surprise, Sreesanth is taken off and on comes Munaf Patel. Where Sreesanth is all fire and fury Munaf is a model of calm, and some metronomic line and length gets the better of Kayes as he becomes frustrated and unwisely takes on a good delivery. The result is that he chops on as he tries to force the pace and India can breathe a sigh of relief. Junaid Siddique clips his first ball to midwicket when the action resumes.
Over 6 Zaheer 2-0-2-0-0-0 55-0 - Zaheer does well to quieten things down a bit. Kayes does well not to get carried away unnecessarily, squeezing a couple of twos to the leg side but otherwise playing some good bowling on its merits.
Over 5 Sreesanth 1-4-5nb-4-0-4-5wd-1 51-0 - Well it's all happening out there. Kayes gets four in untidy fashion, under-edging a delivery that finds Dhoni wrong-footed and unable to dive back to his right to stop, and then a no-ball is flicked through square leg for four. Free hit is signalled, the stadium goes wild, and Kayes pulls it over midwicket leg for four more. The noise level just gets higher and higher and Sreesanth loses his head. Kayes strokes one through extra cover for four, and Sreesanth fires the next ball so far down leg side that Dhoni can't reach it. Five wides, and a single to third man finally ends the over after 24 runs have been taken off it. Well then.
Over 4 Zaheer wd-0-1-0-0-0-4 27-0 - Zaheer has some suave highlights in his hair, and has gone from looking like a somewhat grouchy old man to the sort of youngster you'd see hanging out in car parks showing off the enormous sound system in his flashy vehicle. After a wide outside off, Zaheer straightens up to bowl stump-to-stump and proves difficult to get away, until the final ball is just an inch too short, allowing Kayes to pull over midwicket for four. He didn't time it all that well but got enough on it to secure the boundary.
Over 3 Sreesanth 4-0-4-0-0-0 21-0 - Short from Sreesanth, and Imrul lifts it over backward point for four in somewhat unorthodox fashion. And two balls later there's another boundary as another big swinger catches the inside edge of the left-hander's bat and misses leg stump to go to the fine leg rope. At this early stage of the innings Bangladesh remain on course and their fans are going absolutely berserk. It's bedlam out there.
Over 2 Zaheer 0-0-4lb-0-1-0 13-0 - Zaheer Khan shares the new ball as expected, but loses his line and concedes four leg-byes down the leg side as Imrul is unable to get bat on it. A thick outside edge follows but second slip can only get a fingertip on it and the ball runs down to third man for a single.
Over 1 Sreesanth 2-4lb-0-0-2-0 8-0 - And they go even more mental when six runs are accumulated from the first two balls. First Tamim drives through the covers for a couple, then the second delivery flicks the pads on its way past Dhoni for a boundary. Sreesanth straightens up though, and bowls fuller with the result that he gets some swing into the left-hander. An absolute beauty pins Tamim on the toe and knocks him over because it's swung so far, and India ask for the first review of the World Cup after Kumar Dharmasena rules the lbw shout not out. Hawk-eye has it hooping down the leg side, just missing leg stump, so India lose one of their two referrals, but boy did that swing. Play resumes with Tamim driving through extra cover off the back foot for a couple.
Welcome back The crowd are going absolutely nuts as Tamim Iqbal takes strike to Sreesanth. Imrul Kayes is the other Bangladeshi opener.
India Finish On 370 For Four Mammoth. Huge. Colossus. All of this and more from India, namely Sehwag and Kohli. Bangladesh will be lucky to get half this score on a pitch that is offering the bowlers some help despite the monstrous nature of the Indian's final score. Ladies and gentlemen, the World Cup has truly arrived. As you expected, it's going to be a batting-fest throughout. Hope you can stomach the ride.
Over 50 Shafiul 1-2-0-1-1-W 370-4 - Poor Shafiul is asked to bowl the final over of the innings. Pathan middles his loft over extra cover, but it plugs for two. Then - would you believe it? - bat beats ball for a dot delivery. Wonders never cease. And with that, Kohli is left to move to his century. It's the fifth of his ODI career and first of the World Cup. Second against Bangladesh. 83 balls, eight fours and a couple of sixes to get to this one. WICKET! Yusuf goes and edges behind off the last ball of the knock. A belated smile for the bowler.
Over 49 Rubel 2-1-1-1-0-2 365-3 - Wonderful return to some decent economy for Rubel, is so very happy to see the back of Sehwag. Pathan not finding the fence despite his numerous swings across the line.
Over 48 Shakib 0-1-W-0-1wd-2-0 358-3 - Wicket! It takes a lame ball and a tired shot to get rid of Sehwag, with the centurion's severe lack of footwork seeing to it that a thick bottom edge chops onto his stumps. Gary Kirsten's highest World Cup score and Sachin Tendulkar's one'n'only ODI 200 stay standing. Yusuf in now to crank the cover off the ball in the closing throes of this innings.
Over 47 Rubel 1-4-1-1-1wd-1-1wd-4 354-2 - A full toss and it must travel, with Kohli obliging down the ground for four. A delivery later sees wicketkeeper Rahim putting in a valiant dive to prevent an edge from fetch four, but he's gone and nurdled the ball into his face. That's going to hurt and maybe bleed. Treatment needed. India, it must be said, have scored a tremendous amount of runs in the midwicket to mid-on region today. Bangladesh, meanwhile, have sent down faaaaaar too many wides. And full tosses. 200 partnership arrives.
Over 46 Shakib 1wd-1wd-0-0-1-0-6-0 340-2 - Shakib is rattled and coughs up two wides on the trot. At least Sehwag can't smack those far and wide. Kohli, meanwhile, reads the 'arm' ball to perfection and simply laces it over the bowler's head for a hefty six. He'll be eyeing a ton now.
Over 45 Razzak 1-1-1-2-6-1 331-2 - Sehwag dances down the track for the umpteenth time of this sublime knock, clobbering a massive six into the sightscreen down the ground. Long-on could do nothing but rubberneck it to watch the ball sail from the arena. Vintage Virender, this.
Over 44 Shakib 1-2-1-2-4-1 319-2 - Sehwag taking plenty of chances now. He wants at least four runs from each delivery, but he is pretty tired and his arm strength is not what it was two hours ago. So, miscued singles left, right and centre will have to do. Kohli, though, is finding the middle more and more, with four again screaming through mid-on.
Over 43 Razzak 2-0-1-1-1-2 308-2 - Razzak's return to the attack, at least, manages to stifle the flow of boundaries for now. Kohli running Gambhir ragged out there. Sehwag happy to just watch from the comfort of his crease.
Over 42 Mahmudullah 2-2-1-6-4-1 301-2 - 150 up for Sehwag, who planks a rank full toss to midwicket for a couple to go to the fat milestone. Kohli won't be left out of the action, duly cranking six and then four down the ground. Bangladesh simply have no idea where to pitch the ball or at what length. Nothing they cough up is good enough to stave off this bonkers onslaught. 300 up for India.
Over 41 Shakib 0-6-1-0-1-1 285-2 - Six more, then. This one hoisted into the stands beyond the midwicket fence. This is old hat for Sehwag. If there were eights on offer he'd take 'em too. He now has his highest ODI score - 147 not out. The 146 he landed against Sri Lanka some years ago is out the window.
Over 40 Mahmudullah 1-1-0-0-1-1 276-2 - In the context of the slew of fours and sixes, the spinner churns out a quite brilliant total, with centurion and sidekick left to make do with just a couple of singles each.
Over 39 Shakib 0-1-1-1-0-4 272-2 - The captain and star spinner brings himself back into the attack, but he can't stop the onslaught from Sehwag, who pins a four high and hard down the ground to go to 137 not out - the highest ODI score by an Indian against Bangladesh. It's all happening, folks.
Over 38 Rubel 0-1-1-1-0-1 265-2 - Amid all the Sehwag theatre, Kohli accepts his lot and goes to a mere 50 off 46 balls. He duly celebrates his milestone and resumes his guard only to chop a fat inside edge into his crotch. Ouch, indeed. Rubel the pick of the bowlers by a long shot today. One more over of the batting Powerplay to come.
Over 37 Razzak 1-4-6-4-0-1 261-2 - Painful return to the attack for Razzak, who fetches four past long-off, six over Cow Corner and four more down the ground. Sehwag, in considerable discomfort because of some niggle or another, is on a mission to go big or get out now. So arrives the century partnership off just 83 balls. Meanwhile, a runner - Gambhir - heads out to the middle for Sehwag.
Over 36 Rubel 0-1-0-1b-1-0 245-2 - Hacking at the ball more than looking to time it properly, Kohli is again left to scamper singles off a couple of inside edge. Sehwag, meanwhile, is cramping up and needs treatment out in the middle.
Over 35 Shafiul 4-1-0-2-2-2nb-1wd-6 242-2 - In full swing now, Kohil and Sehwag decide now is the time for the batting Powerplay, which will run across the 35th over to the 39th over. Sehwag gets it going with a savage blow down the ground for four and later betters that with a mammoth six high and hard down the ground. I by no means want to put the pox, but Sehwag is certainly on course for an ODI double-ton here. Strap in for the ride, folks.
Over 34 Rubel 0-1-2-0-1-1 224-2 - That's enough spin from this end for the time being, decides Shakib, bringing seamer Rubel back into the attack. Quite a bit of verbal theatre from this over, with the umpire having to step in as the bowler and Kohli share an unsavoury exchange. Not too much cause for alarm though, with all and sundry left to the drinks break and mandatory change of ball at the turn of the 34th over.
Over 33 Naeem 4-1-1-0-4-4 219-2 - Slight dip in concentration from the centurion, as a couple of aerial shots balloon into no-man's land on the off-side. Kohli, though, isn't about to throw his start away and duly spanks fours through cover, extra cover and then backward square-leg. Naeem's line and length all over the place now.
Over 32 Mahmudullah 1-1-1-1-2-1 205-2 - We've seen this all before as Sehwag raises his arms to the sky in appreciation of his century. Nine fours, a six and 94 balls to get to this one, which is the 14th of his ODI career and second in the World Cup. 200 up for India as well. Kohli, meanwhile, really looking to kick on. All sorts of heaves across the line and drives through the length coming from the talented right-hander now.
Over 31 Naeem 1-1-0-1-0-1 198-2 - Sehwag rocks onto his backfoot to cut the ball through the off-side, doesn't quite middle it and later decides to make do with one tucked through the leg-side. Bangladesh really rollicking through their overs here. Offering the batsmen precious little time to set their respective sights on the gaps in the outfield.
Over 30 Mahmudullah 4-0-0-0-1wd-1-0 194-2 - Wonderful placement from the impending centurion, who uses the pace and turn of the ball to simply splice it through backward point for four. A slight tweak in length and pace then has him bobbling one to the on-side, where the bowler is just a touch too slow in moving to his right to orchestrate what could have been a cracking catch. All-round decent over from the spinner.
Over 29 Shafiul 1-4-1-1-3-1wd-1 188-2 - Kohli rides his luck off the inside edge, fetching four runs looped past the wicketkeeper, with the boundary rider unable to stop the boundary despite a decent dive'n'slide. Kohli then gets to that lovely straight drive of his. Too straight, in fact, with the stumps at the non-striker's end stopping a near certain four. So, later, he is left to opt through extra cover for the gap. Three runs the result, with Naeem's dive stopping the fourth.
Over 28 Mahmudullah 1-1-1-3wd-0-4-0 176-2 - Kohli and Sehwag unsportingly steal an overthrow as a direct-hit from the cover cordon, leaving the bowler with his hands on his head in frustration. Mahmudullah late coughs up a poor length, with no turn to boot, leaving Kohli to drive four down the ground as straight as an arrow. 10 runs off the over and India are well and truly set to go big here today.
Over 27 Shafiul 0-0-1-0-1-0 166-2 - Slight surprise as Shakib brings back Shafiul, whose bowling has been a train wreck thus far. His line is better to Kohli to start off with though, and his first ball to Sehwag is a terrific yorker. A short ball to Kohli comes on so slowly that the batsman nearly drags it on as he looks to pull, so all in all it ends up being a good comeback which will hopefully give him confidence going forward.
Over 26 Mahmudullah 1-1-0-0-wd-0-1 164-2 - Mahmudullah continues to bowl around the wicket to try and turn the ball back into the right-handers off a tricky angle. Kohli gets a bit tied down as he's unable to find a gap in the leg side, but eventually drives wide of mid-off for a single to keep strike for the next over.
Over 25 Razzak 0-1-2-0-4-0 160-2 - Razzak serves up a couple of half-trackers, and while the first keeps low to prevent Sehwag getting hold of it, the second is even shorter and is pulled viciously over midwicket for four. Sehwag closing in on three figures now without having taken any big risks.
Over 24 Mahmudullah 1-W-0-0-1-0 153-2 - WICKET! Mahmudullah comes on and strikes with his second ball. The right-arm offspinner was bowling round the wicket to Gambhir, who looked to use the angle to flick to the leg side but poor foot movement meant he was relying entirely on hand-eye coordination. When the ball kept a bit low it evaded the bat to hit middle stump, and that looks a soft dismissal at the end of it all. Virat Kohli is the new man, and he's off the mark with a single as Mahmudullah bowls around the wicket to the right-handers as well. Great start for him.
Over 23 Naeem 4-1-1-1-2-1 151-1 - Super shot from Gambhir, who waits on a slightly short ball outside off stump and uses a little wristy tweak as he cuts to beat backward point and get the ball through the gap for four. The singles follow, and then Sehwag hammers a drive wide of the fielder in the deep to pick up a couple. The 150 comes up with 27 overs still to come.
Over 22 Shakib 0-1-1-1-1-2 141-1 - The field is fairly spread now, so the singles are easy to pick up. And Sehwag takes advantage of the bad ball - a long hop down the leg side - to get a tickle past short fine leg for a couple of runs. Still a festive atmosphere in the crowd though - they're not letting a tough situation on the field spoil the big day.
Over 21 Naeem 1-1-0-2-1-1 135-1 - Gambhir using his feet quite frequently now to get to the pitch of the ball, driving to wide long-on and over extra cover to make the fielders work hard. India picking up the ones and twos with ease, and the odd boundary is enough to keep them going at better than a run a ball.
Over 20 Shakib 4-1-1-1-1-1 129-1 - Gambhir has been patient thus far, but now he skips down the pitch to loft one over midwicket for four.Mahmudullah tries to go in feet first to prevent the boundary when he would have been better off sliding head first and using his hands, especially as the surface is green enough to dive on.
Over 19 Naeem 1-1-1-1-0-1 120-1 - A little bit lucky for Sehwag, who moves to pull one that keeps low on him. He manages to scoop it out but only just clears Shakib at short midwicket. Five singles from the over, and India are still scooting along at better than six an over.
Over 18 Shakib 0-1-0-1-0-0 115-1 - So spin from both ends here, the overs flying by. But this is Bangladesh's strength, and their wily left-arm spinners have the chance to try and put a bit of pressure back on the batsmen. Sehwag throws himself at one which dips on him and catches the edge, but it falls short of short third man. Good over from Shakib.
Over 17 Naeem 1-0-1-1-1-2 113-1 - Bangladesh have had a moment to discuss the way forward, and offspinner Naeem Islam is introduced. As a short man he tends to skid the ball through, which works well on this pitch because the ball is keeping fairly low. The batsmen bide their time, pushing singles and then Gambhir drives through extra cover off the back foot for a couple.
Feedback So, quite a crazy start to the World Cup here, but more worrying than how lopsided it's been so far between the two teams is how lopsided the contest between bat and ball is. The pitch has been sluggish so far but still true enough for the batsmen to dominate quite easily. Remember you can send your thoughts on the action through - I'm available at Tristan.Holme@365.co.za.
Over 16 Shakib 1-1-0-0-1-0 107-1 - Quite a bit of turn for Shakib, who uses it well to keep Gambhir pegged down for a couple of deliveries. Just three from the over, and it's time for a drinks break.
Over 15 Razzak 6-1-1-2-2-0 104-1 - Fifty for Sehwag, and he brings it up in style as the ball disappears over long-on. Razzak returned to replace Shafiul, but Sehwag picked up the length early and hammered it. He uses his feet well later in the over to give himself room to chip over extra cover for a couple of twos, so the runs really are ticking over here.
Over 14 Shakib 1-1-1-1-1-0 92-1 - So, probably fair to say that the decision to bowl first has backfired for Bangladesh, particularly with a lot of balls keeping low, suggesting batting second will be difficult. Dew might be a factor later, but that said if Bangladesh are chasing 300-plus then India would fancy their chances of defending the target even if they were bowling with a bar of soap.
Over 13 Shafiul 4-1-0-4-3-1lb 87-1 - Oh dear. Shafiul Islam, whose first two overs went for 20, returns. And needless to say his first ball back goes for four as he's whipped off the pads by Sehwag. Too easy, in spite of the low bounce, and it's same again when Gambhir's allowed to get off the mark with a flick off his hips for a boundary. Shafiul has some serious issues with his line, which leaves Shakib with a headache as to whether he can make up Shafiul's overs using someone else.
Over 12 Shakib 4-1-0-0-0-0 74-1 - Shakib Al Hasan - who was the man who threw the ball in for the run-out - brings himself on, but his first delivery is square-driven past point for four by Sehwag. Shakib comes back well though, getting Sehwag off strike and then not allowing Gambhir to get off the mark.
Over 11 Razzak 4-4-1-0-W-0 69-1 - Bangladesh elect to take the bowling powerplay straight away, but it doesn't start well. Razzak's full toss is flayed over midwicket for four by Sehwag, who then dances down the pitch to drive gloriously past cover for another boundary. The crowd goes a bit quiet again. WICKET! But that's set them off! Awful mix-up between the two batsmen, with Tendulkar hitting to mid-on and taking off. Sehwag doesn't respond at all, both batsmen are at the same end and Sehwag nonchalantly slides his bat into the crease to make it clear that Tendulkar will be the one trudging off as the ball is thrown to the keeper and the bails are whipped off. Massive breakthrough for Bangladesh just when they needed it, and Gautam Gambhir is the new man in.
Over 10 Rubel 2-1-1-1-0-wd-1 60-0 - After that furious start, Sehwag is looking calmer now - clearly content to spend some time in the middle and accumulate without necessarily dominating. India clearly realise that 300 will be a good total on this pitch and they're happy to nudge their way to it if it's that easy. If they keep wickets in hand then they can always aim higher later on.
Over 9 Razzak 0-0-0-0-4-1 53-0 - Tendulkar is successfully stifled for the first four deliveries, but then he comes down the pitch and Razzak panics, serving up a full toss which Tendulkar thumps over wide mid-on for four. Bangladesh need to keep building pressure if they're to make the breakthrough they need here to back up a few cheap overs.
Over 8 Rubel 0-1-1-0-0-0 48-0 - Rubel continues to use the bouncer to good effect, forcing Sehwag to duck under a couple even though they don't get up as high as expected. The ball isn't coming onto the bat at all here, so spin is certainly the key yet Rubel has worked out how to bowl seam cheaply. Run rate back to normal levels now.
Over 7 Razzak 1-1-0-wd-0-0-1 46-0 - Left-armer Razzak is doing a good job of cramping Sehwag, bowling round the wicket so the ball angles in but turns away. Sehwag looks desperate to get hold of one but just can't, and he very nearly hits a simple return catch off the last ball but it lands just short of the bowler and skips past him for a single.
Over 6 Rubel wd-0-0-0-1-1-1 42-0 - Another good over from Rubel, who's worked out a better length for this pitch and is being much more disciplined about it. Just four from the over, and after that tearaway start India are slowly being reeled in here. The run rate has dropped from 12 to seven.
Over 5 Razzak 1-0-0-0-0-1 38-0 - Spin is indeed introduced then as Shafiul is replaced by Abdur Razzak, who's a crafty enough spinner to bowl during the powerplay overs. He starts with a low full toss which Tendulkar nudges down to long-off for a single, but then he varies his flight and pace beautifully to prevent a very-obviously-eager Sehwag from bludgeoning him out the ground. Just a single off the last over so that's very well bowled indeed.
Over 4 Rubel 1lb-1-1-0-0-1 36-0 - For the most part these two seamers have bowled too straight, offering a lot of easy runs down the leg side. That continues here with a leg-bye and two easy singles to fine leg, but then Rubel bangs in a couple of short balls to force Tendulkar onto the back foot. That works rather better, because Rubel has some decent pace about him.
Over 3 Shafiul 4-0-0-0-4-0 32-0 - The runs continue to flow, with an exquisite flick off the pads from Tendulkar racing to the midwicket boundary. Three good deliveries follow, which are afforded due respect by Tendulkar, but then Shafiul drifts onto the batsman's toes again and he's flicked down to fine leg for another four. Shakib might have to think about introducing the spinners already because the fast men are flailing.
Over 2 Rubel 0-4-0-wd-1-4-2 24-0 - Rubel Hossain shares the new ball, and Tendulkar bunts his first ball to midwicket. Sehwag fails to hear his partner's calls of 'no' in the din and gets halfway down the pitch before turning back, but he's okay. Tendulkar clips the next ball off his hips through backward square leg for four to get his World Cup under way, so Bangladesh's seamers are really under the pump here. And to be honest they do look a little overwhelmed by the occasion. A single switches the strike, and Sehwag plays an unorthodox shot to get the ball back down the ground for four more - a kind of straight pull shot really. Two more through square leg make it another over of 12.
Over 1 Shafiul 4-2-0-0-2-4 12-0 - Bang! Superb atmosphere as Shafiul runs in for the first ball, but it disappears through the off side for four! A sign of the tournament to come I suspect - this will be a batsman's World Cup. The delivery was a bit short, and although it was slow to come on Sehwag waited nicely before playing off the back foot. He repeats the shot next ball but it wasn't as short and so he only gets a couple of runs. There's a little bit of swing available later in the over when Shafiul finally pitches the ball up, but it's straight and whipped through wide mid-on for two by Sehwag. The final delivery is wide of off stump and flayed through point for four more, so that's brutal start for India. Twelve from the opening over.
Here we go Sehwag and Tendulkar on their way out to the middle, with the former to face first, and Shafiul Islam will be the man to bowl the first ball of the 2011 World Cup.
Anthem time Both teams lined up out on the pitch with children for company, and the stadium rises to hear the national anthems. Just a few minutes until the tournament gets under way in earnest then.
Scene is set Massive crowd in as you would expect, and very vocal. Must say this is a huge moment for Bangladesh as they host their first World Cup and it's showed both during the opening ceremony and the build-up to this game. They might fall a bit silent if Sehwag gets going here but hopefully the Bangladesh bowlers will be able to rein the Indian batsmen in to set up a competitive game.
India Sachin Tendulkar, Virender Sehwag, Gautam Gambhir, Virat Kohli, Yuvraj Singh, MS Dhoni (capt, wk), Yusuf Pathan, Harbhajan Singh, Zaheer Khan, S Sreesanth, Munaf Patel
Bangladesh Tamim Iqbal, Imrul Kayes, Junaid Siddique, Mushfiqur Rahim (wk), Shakib Al Hasan (capt), Raqibul Hasan, Naeem Islam, Mahmudullah, Abdur Razzak, Shafiul Islam, Rubel Hossain
Teams Some tough decisions for India, but they've left out Piyush Chawla and Ravichandran Ashwin. Meanwhile Bangladesh have omitted Mohammad Ashraful.
Curious Interestingly, Sunil Gavaskar in his pitch report reckoned that batting second will be tough because the pitch will get lower and slower, but history suggests bowling first is the thing to do. During their home series against Zimbabwe late last year Bangladesh were generally effective in limiting the Zimbabwean batsmen and chasing, although that was obviously against inferior opposition. Dhoni says he would have bowled first as well, while Shakib says he'll be happy to chase anything under 260.
Toss Bangladesh have won the toss, with Shakib Al Hasan electing to bowl first.
Morning Welcome to the opening game of the 2011 World Cup. There's a heck of a long way to go from here until we crown a champion on April 2, and the format and schedule is far from ideal, but we do at least start with a tasty one. Bangladesh are a tough team to beat on their own patch and India can hardly afford to lose their opening match. Should be an interesting one.
Sky Bet Odds:
Click Here for Your Free Bet