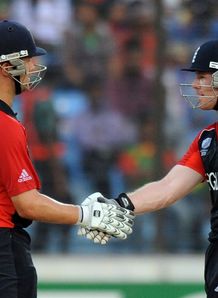 Bangladesh win by two wickets Astonishing. Bangladesh were crusing to victory before five quick wickets appeared to have sealed the game for England. But an outrageous ninth-wicket stand between Mahmudullah and Shafiul took the home side to victory and left this group wide open once again as Bangladesh give themselves renewed hope of qualification from this group. England - who could quite easily have won five or lost five in this tournament - now need to beat West Indies or face an early exit.
Over 49: Bresnan 1lb-0-1-0-0-4 227-8 - A scrambled leg-bye brings roars from the crowd, which have barely subsided by the time Shafiul slices to third-man for a single. All over! Mahmudullah drives to the cover boundary, and Bangladesh have recorded a quite extraordinary victory in Chittagong.
Over 48: Anderson 1-0-4-1lb-0-1 221-8 - Shot! Shafiul slaps a gingerly delivered half-volley from Anderson straight back past the bowler for four and Bangladesh's target is down to single figures. There were plenty of people leaving the ground when the seventh and eighth wickets fell; clearly, these people had not been watching England's previous games in this tournament. Bangladesh need five to win with two wickets in hand. Not that anyone cares right now, but the 50 partnership is up between this pair. Sensational.
Over 47: Bresnan 0-4-1lb-1-4-0 214-8 - Shafiul swings himself almost right off his feet and slices the ball high over point to find safety. Then the spin on the ball takes it skipping away from the fielder and into the rope. The crowd are up again as Shafiul slams a full-toss from Bresnan past Collingwood at point for four more. Just 12 to win, and another thriller from England, the World Cup's great entertainers.
Over 46: Anderson 4wd-1-1-0-0wd-0wd-0-1-1lb 204-8 - Horrible start to the powerplay for England as Anderson fires the ball down the legside, Prior can't gather, and five runs go on the Bangladesh score. Two more wides down the legside from Anderson cause real damage for England as the hosts are presented with a route back into the game. England have donated 23 runs to their opponents in wides alone here. Could still prove decisive.
Powerplay Mandatory powerplay as we reach the last five overs of the innings.
Over 45: Bresnan 0-0-0-0-1lb-0 193-8 - A genuine edge from Mahmudullah bounces well short of Prior before a scampered leg-bye leaves Shafiul one ball to survive. He tries to do rather more than that, unleashing a powerful drive, but it's well stopped at cover by Bopara.
Over 44: Anderson 1-0-0-1b-1-0 192-8 - Anderson back into the attack, and two scampered singles and a stolen bye inch Bangladesh closer to their target.
Over 43: Shahzad 0wd-0-0-0-1-0-0 189-8 - Bangladesh survive Shahzad's last over. Thirty-seven to win from 42 deliveries.
Over 42: Swann 0-0wd-4-1-4-0-0 187-8 - Not done yet here. It's an England game after all. Mahmudullah gets four for a reverse-sweep before Shafiul responds to the field being brought in by smashing a one-bounce four over mid-off and then a huge six over midwicket. Happily, we can close this increasingly silly pizza correspondence because we have a winner. Wally Hammond-pineapple. Thank you, Eddie Revell.
Over 41: Shahzad 0-0-0-1-0-0 171-8 - Some of you lot eat some right weird pizzas, that's all I can say. Paul Collyflower? Stuart Broad Beans? Just a single from Shahzad's ninth over as he conspicuously fails to produce a world-class delivery that clips the off bail.
Over 40: Swann 0-0-0-0-0-0 170-8 WICKET! Never mind all that nonsense. Razzak takes an almighty mow at Swann and sends a steepler high into the Chittagong sky. As it falls towards the earth a sprinting Bresnan dives under it and takes a fine catch. It's the sort of chance England have spent much of this World Cup dropping shambolically.
Onions Yes, Graham Onions. Very good - congratulations to all 327 of you. Pepperonnie Irani is a bit more inventive from Matt Aldridge. Vikram Salami, suggested Ray Jones, is also not without its charm.
Over 39: Shahzad W-0-0-0-1-1 168-7 WICKET! Ajmal Shahzad is undoubtedly my favourite stump-bothering wild-eyed Ian Holloway lookalike. Another truly unplayable delivery from the Yorkshire paceman, a carbon copy of the previous two: pitching on off from wide on the crease, and then straightening dramatically to hit the top of the off stump. Mushfiqur's ability to get the outside edge of his bat to the ball that did him truly noteworthy. Razzak is the new bowler, and he exchanges singles with Mahmudullah, who now carries much of a nation's hopes on his young shoulders.
Pizza the action "What about cricketers who could also be pizza toppings?" asks Neil Rees for some reason. "Erm I haven't actually got any yet. Oh wait a minute Ian Bell Peppers." Amazing. Those of you who enjoy a pun to go along with your edge-of-the-seat ODI finishes get to work. Mails to Dave.Tickner@bskyb.com, he typed with some trepidation.
Over 38: Swann 0-0-0-0-0-0 166-6 - Maiden over from Swann to keep the pressure on.
Over 37: Shahzad 4-W-0-0-0-0 166-6 WICKET! Shahzad here proving a microcosm for England's enormously entertaining World Cup campaign as a whole, combining the sublime and the ridiculous to dizzying effect. So far today he's made a horlicks of an easy stop on the boundary, ripped out Raqibul's off stump, run out Kayes with a bullet throw and bowled a load of absolute rot. But, after a half-volley that's smashed through the covers for four he produces his second unplayable delivery of the day that decks away from the batsman off the seam. Mushfiqur does well to nick it, and Prior does well to take it tumbling away to his right. England settle back into the favourites' chair, but shouldn't get too comfy just yet. Naeem is the new batsman, with a slip in and the field up. Can't overstate how good that ball was. Hawk-eye shows if it hadn't moved it would've hit leg stump. Had Mushy not nicked it, it would've hit off stump. One way or another, that ball gets you out.
Over 36: Swann 0-0-1-1-0-W 162-5 WICKET! Big wicket, and there's the pressure. Shakib goes for a big slog-sweep against Swann and only manages to drag the ball into his off-stump. It's another England thriller, guys and gals.
Over 35: Collingwood 0-1-0-0-0-0 160-4 - Collingwood trusted with the precious dry ball after the mandatory change. He produces a couple of good deliveries to Mushfiqur, who just about manages to get bat on ball. Just five runs in four overs since the run out.
Over 34: Bresnan 0wd-0-0-0-0-0-0 159-4 - Bresnan starts the over with a wide down the legside, Prior doing well to save four more runs diving away to his left and taking one-handed. Much better for the rest of the over from Bressie Lad, but it's doubtful dot balls will have any effect in this game. Never know, though. Pressure can be a funny thing.
Over 33: Collingwood 0-1-0-0-0-1 158-4 - England use up a review as Collingwood gets an inswinger past Mushfiqur's inside edge and into the pads. Looks like it's sliding down leg at full speed, and Hawk-eye confirms that suspicion.
Over 32: Bresnan 0-0-1-0-0-0 156-4 - No need for panic after that momentary brainwrong from Kayes. Mushfiqur is the new batsman, and he's a capable keeper-batsman
Over 31: Collingwood 1-1-0-2-1-1 155-4 WICKET! Bangladesh obviously don't want to be known as the only team to play out a non-thriller against England, so Kayes takes an absolutely mental second run to Shahzad's bullet arm and is run out by a yard despite getting the full dive out.
Dew process The groundstaff once again use the break to drag ropes and hessian mats across the sodden outfield. Suspect it's making only minuscule differences but one has to admire the effort.
Over 30: Bopara 0-1-1-1-4-0wd-2lb 149-3 - The Chittagong crowd are starting to believe. Kayes drives a floaty half-volley from Bopara to the fence before an attempted slower ball goes horribly wrong and adds another run to the total. England need wickets, and need them soon. They will be nervy as they take drinks.
Over 29: Collingwood 1-1-1-0-0-1 139-3 - Kayes and Shakib doing this brilliantly at the moment, picking up singles at a good enough rate to steer their side home. The partnership's up to 66.
Over 28: Anderson 1-0-2-0-1-0 135-3 - Anderson back into the attack with a long-hop that Shakib swivel-pulls to long-leg for a single. Kayes brings up a crucial half-century with a guide to third-man for a couple. Already a good innings, now needs to make it a match-winner.
Peacemaker Strauss turns diplomat to try and placate Harper, who is increasingly losing patience with Swann's histrionics. Harper may be a truly appalling umpire, but he's in the right here. Swann needs to get a grip about the lack of grip.
Over 27: Collingwood 0-0-0-3-1-0 131-3 - No run-rate pressure at all here. Bangladesh getting the three or four an over they need with no trouble at all. Too much width from Collingwood, and Kayes back-cuts to third-man for three runs.
Over 26: Swann 0-0-1-0-1-2 127-3 - Swann about to get himself in trouble here. He's keen to get the ball changed again and is given short shrift by umpire Harper. Swann not happy at all, and ends the over with a rank long-hop that is cut away for two. Swann admonishes himself with a foul-mouthed critique before snatching his cap from the umpire at the end of the over. Bangladesh's target down to two figures.
Over 25: Collingwood 0-1-0-0-0-2 123-3 - As this partnership grows, the crowd noise is returning to its earlier levels. The hosts certainly favourites now.
Over 24: Swann 1-0-0-1-0-1 120-3 - Swann looking far happier with this new ball (if still unhappy with umpire Harper) but can't find the breakthrough for England. Strauss' men will reckon they need a wicket in these precious 'dry ball' overs.
Over 23: Collingwood 2-0-0-0-2-0 117-3 - England's second spinner for today, Collingwood, comes into the attack and immediately gets the new ball all wet with a wide piece of filth that Kayes slaps to deep point for an easy two. Kayes picks up two more after a misfield at cover.
Over 22: Swann 0-0-1-0-0-0wd-0 113-3 - Swann straight into the attack with the dry ball, and he gets the ball to spin sharply. There's an appeal for a catch down the legside, but Daryl Harper gives a wide. That's the one thing it definitely wasn't: the ball certainly hit something. Replays show it was pad.
New ball Good work from England, who have managed to convince the umpires the ball needs changing. They've got a small window of opportunity now with a ball that isn't (yet) a lump of useless wet leather mush.
Over 21: Anderson 0-0-4-1-1-0 111-3 - England's adorable Barmy Army may have to turn the "He bowls to the left, he bowls to the right" chant on their own here. Wet ball or not, England's lack of control here is alarming. Anderson back into the attack, and serves up a wide half-volley that Shakib slaps through the covers in uncomplicated fashion. Morgan makes a couple of vital tumbling saves at mid-off to prevent too much further damage in the over. This is Bangladesh's match to lose: run-rate no problem. damp ball making spin bowling difficult and reverse-swing impossible, England having one of their bad days. It would revitalise a group that was heading towards predictability.
Over 20: Shahzad 0-1-1-0wd-4-0-0 105-3 - Eleven percent of Bangladesh's runs coming in wides. Wayward. Another big one down the legside from Shahzad here, followed by a glorious straight drive for four from Kayes. Shot of the day - no more than a push, but it raced over the dew-covered outfield.
Over 19: Bopara 0-1-4-0-0-1 98-3 - This would have been a good over from Bopara but for the rubbish legside delivery that's flicked away for four by Kayes. Close lbw shout gainst Kayes after that boundary is turned down, the ball pitching just outside leg stump.
Over 18: Shahzad 0-1lb-0-1-0-2 92-3 - Really good over from Shahzad, almost sneaking a fast yorker under Kayes before a thick outside edge squirts wide of backward point for a couple.
Wide berth Ten wides in 17 overs. England's control not what it might be here.
Over 17: Bopara 0-1-0wd-1-0wd-1-0-0 88-3 - Bopara comes into the attack, but he too catches the legside disease. This time Prior, up to the stumps, keeps the extras down to a minimum.
Over 16: Shahzad 0-1-4wd-0-0-0-0wd-1 83-3 - Poor cricket from England as Shahzad bungs one down the legside and Prior makes a complete hash of a relatively routine stop to allow the ball through to the boundary. Another wide before the over ends sees Shahzad chuntering back to his mark in a mild huff.
Rope trick All sorts of ropes and matting being swept across the outfield during the drinks break. Dew factor.
Over 15: Bresnan 0-0-1-0-0-0 75-3 - Shakib gets a single for a bottom-edged cut that bounces short of a diving Prior, who can only parry. Kayes then plays a loose, careless drive and is lucky not to make contact. You can see the pressure building here, and the crowd - so noisy when Tamim was filling his boots - has gone very quiet.
Over 14: Shahzad 0-0-0-1wd-W-0-1 74-3 WICKET! Good bowling change from Strauss, getting Shahzad back on after a poor first spell. This time he produces an absolute jaffa to new batsman Raqibul Hasan that jags past the outside edge before clipping the top of off. A nightmare of a delivery to get at the start of your innings. Shakib is in the middle, with his wobbling side in need of a captain's knock.
Over 13: Bresnan 1-0-0-0-1-0 71-2 WICKET! Brilliant stuff from Anderson, whose pinpoint bullet throw from midwicket knocks the middle stump out of the ground with Siddique a fraction short of safety. A couple of magic moments from England to check Bangladesh's progress towards their 226-run target.
Over 12: Swann 1-2-0-0-1-0 69-1 - Swann still far from his impish best and looking unhappy with the damp ball he's been left to bowl with, but he gets through a better over here.
Over 11: Bresnan 4-0-0-1-2-0 65-1 - No slip in place for Bresnan, which means Siddique's thick edge flies safely away to the boundary for four. England could rue that; Siddique was, after Tamim, Bangladesh's most effective batsman against them last year.
Powerplay England take the bowling powerplay straight away, reasoning that they cannot possibly continue bowling as poorly as they have thus far.
Over 10: Swann 0-4-1-0-0-0 58-1 - Swann unhappy with the wet ball after lobbing a full-toss at Siddique which is smacked to the midwicket boundary.
Over 9: Bresnan 0-2-0-W-0-1 53-1 WICKET! Bresnan gets the big and much-needed wicket of Tamim, beating the left-hander for pace and knocking back the off pole with one that just offered to come back a touch. Fine delivery that. Junaid Siddique is the new batsman, and he gets off the mark with a single from the last ball of the over.
Over 8: Swann 4-0-0-0-0-0 50-0 - Strauss turns to Swann... and his first ball is slapped through the covers for four by Kayes to bring up the half-century. England are getting worked up about the dew (or 'the dew factor' as it's invariably known in cricketing circles for some reason) but they have to get on with it. The dew hasn't been bowling leg-stump filth.
Over 7: Anderson 0-4-0-2-0-4 46-0 - Tamim loves playing England. Two stunning shots in the over scream to the boundary, the first a Caribbean-style on-one-leg pull shot and the second a booming cover-drive. Iffy bowling again, but lovely batting. The only good thing to say about the wide half-volley to finish the over from Anderson is that at least it wasn't on the pads. England are going to have to go to spin early here. Seamers getting tap.
Over 6: Bresnan 0-4-0-1-1-0 36-0 - Bresnan into the attack. He at least forces Kayes to play a top-class shot to pick up four runs as the Bangladesh opener drives gloriously on the up between bowler and mid-off for four.
Over 5: Anderson 3-0-0-0-1-4 30-0 - An effortless, wristy flick through midwicket brings Tamim three runs. Kayes gets a single to long-leg to allow Tamim to whip the last ball of the over off his hip through square-leg for four. Runs flowing through the legside as England continue to get their new-ball lines all wrong.
Over 4: Shahzad 1-4-0-0-1-0 22-0 - Shahzad bowls into Tamim's pads from round the wicket with long-leg wide. Four inevitable runs follow. Jaunty start for Bangladesh, helped on their way by some shoddy England bowling.
Over 3: Anderson 0-1-0-0-1-4 16-0 - This is not a particularly impressive start from England. Anderson ends the over with a duff ball down the legside. Tamim clips it to fine-leg, where Shahzad makes a mess of the fielding. Four runs the result.
Over 2: Shahzad 0-2-3-1-1-0 10-0 - Not the best of starts for Shahzad. Bowling too straight, both Tamim and Kayes are able to whip him through square-leg without any trouble. Shahzad gets it right with the final ball of the over, though, getting one to jag away from Kayes from a much better line and beat the outside edge.
Over 1: Anderson 2-1-0-0-0-0 3-0 - Tamim Iqbal up and running straight away as he works a short ball from Anderson round the corner for a couple.
History The highest winning chase here in Chittagong? 222-9, Bangladesh v Zimbabwe.
Permutation SPOILER ALERT: If you don't want to know the result of West Indies v Ireland, look away now. West Indies have won by 44 runs, meaning that if England can defend this total they will book their quarter-final spot as what once looked like being a fascinatingly unpredictable pool descends into Group A style conformity.
Power I'm declaring the powerplay correspondence closed, if only to spare my poor struggling email inbox. There's e-steam coming off its virtual motors. Anthony Hill's Powerstruggle is the winner for me. Well done, Anthony. Your prize is the warm but empty satisfaction gained from amusing a stranger.
England 225 all out Hard to judge that score from England. Certainly it doesn't appear to be the easiest pitch to force the pace on, with only Morgan able to bother the boundary boards with any regularity. The Tamim Factor is the unknown quantity here.
Over 50: Rubel 1-2-2-1 225 - Anderson does his bit by getting a single from the first ball of the over and then scampering like a good 'un to get back for successive twos as Collingwood miscues slogs down the ground. WICKET! Another miscue from Collingwood, and again the batsmen look for two. But Mahmudullah's direct hit easily beats Collingwood's dive as England leave two deliveries unused.
Over 49: Shafiul W-0-0wd-0-0-1-0 219-9 - Somewhere, Michael Holding is approvingly purring "You miss, I hit" as Shafiul sends Shahzad's middle stump on a short but dramatic journey to the floor. Shahzad went for the big shot when he should really have been looking to get Collingwood on strike. Shafiul then embarks on a game of catch with Mushfiqur in which Jimmy Anderson's bat is a nominal contributor as it hangs around somewhere in the general area. Anderson spoils the game by edging a single to third-man. Collingwood can't get a single from the last ball of the over before there's a belated appeal for caught behind. It's a bump ball anyway, but there's a couple of problems with this as it's taken upstairs: 1) the umpire had, as far as I can tell, called over. Certainly they were on their way to their positions for the final over. 2) Bangladesh have no reviews left, yet clearly asked for it to be taken upstairs. The umpires seem to fudge it by using an umpire's review not a player's review. After the not out, dead ball implications of the call of over, I'm not sure that's quite right. Still, no harm done in the end.
Over 48: Rubel 2-1-W-1-0-1 217-8 WICKET! England would've been hoping for some late muscle from Bressie lad, but he skies a knee-high full toss to short third-man to give Shafiul a simple catch. Not the best ball Ruby's bowled today, but a deserved breakthrough. Bresnan hangs around reckoning the ball may have been above waist height. Maybe above the Mighty Atom's waist height, but not Bresnan's. Hard to know what England need here: if Tamim Iqbal comes off, this won't be enough. If he doesn't, this is probably plenty. Collingwood gets a single down the ground, and new batsman Shahzad picks up another to keep the strike. Two overs left for England to get whatever they can get. A late bid for powerplay honours comes from Anthony Hill: the Powerstruggle. Might be my new favourite. Very nicely done.
Over 47: Shakib 1-0-1-W-1-2 212-7 WICKET! The Dourplay (Ken White) is over, but the wickets continue to tumble. Swann goes for another switch-hit targeting the gap at cover (or midwicket if you prefer) but gets a big top edge to give Shakib a straightforward return catch. Tim Bresnan the next on the England all-rounder conveyor belt.
Over 46: Rubel 0-1-2-1-4-1 207-6 - Swann lands one final crowd-silencing blow during the Sourplay (Ben Murray) by biffing Rubel over mid-off for four. England stumble to 33-2 during the five overs if Powderpuffplay (Graham Watson).
Nice Knew you wouldn't let me down. Ray Jones suggests Slowerplay, while Steve Hollis nominates Showerplay. Both strong contenders.
Over 45: Razzak 1-1-4-2-W-2wd 198-6 WICKET! Bopara finally manages to get Razzak away for a boundary through the offside before picking out cover trying to repeat the trick. Paul Collingwood comes in to bat at number eight as Razzak slightly spoils his excellent figures with a wide down the legside from what should have been his final ball.
Over 44: Shakib 0-0-1-W-1-4 187-5 WICKET! Trott holes out to long-off in vaguely depressing fashion after being jolted from his comfort zone by the taking of the powerplay. Suggestions, please, for a more appropriate name for the batting powerplay when taken by England. The powercut, or the collapsyspell, or the drain-circler. Or something not rubbish. Mails to Dave.Tickner@bskyb.com ta. Graeme Swann is promoted up the order and plays himself in by switch-hitting his first ball over cover/midwicket for four. The loon.
Over 43: Razzak 1-0-0-0-1-1 181-4 - Much scampering and intent, but little end product. England and the powerplay are not easy bedfellows. In fact, they seem to actively despise each other.
Over 42: Shakib 1-0-1-1-0-1 178-4 - Good start to the powerplay for Bangladesh, with only singles coming from the over despite Bopara's crease-wandering efforts. Roqibul's wild throw spares Trott after Bopara takes a dodgy single to end the over.
Powerplay England spring a minor surprise by taking the batting powerplay. It has not been their friend in this tournament, but this is a much better time to take it than right at the death. Only downside is the fact Bopara has not had long to get himself in.
Over 41: Razzak 3-0-0-0-1-1 174-4 - A clever reverse-sweep from Trott and some impressive scampering from Bopara bring England three runs. Razzak drags the over back pretty well after that start, though, with Bopara eating up three dot balls before collecting a single.
Over 40: Shakib 0-1-4-0-0-1 169-4 - Does anyone in world cricket play better off the back foot through midwicket than Trott? The astonishing power he generates off such a languid shot is remarkable as he picks up a boundary here. Shakib dropped just the tiniest fraction short and paid the price. Ten overs to go, England will want 80 runs. They should defend 250 on this.
Over 39: Naeem 0-0-1-W-0-1 163-4 WICKET! Brilliant catch from Imrul Kayes at deep square-leg to pick up the key wicket of Morgan. The left-hander's top-edged sweep looks like it may land safe, but Kayes sprints in 20 yards from the rope and dives forward to scoop the ball up just above the turf. Morgan waits momentarily to seek confirmation from the fielder that the catch was clean, but there's no doubt about it and England's number five is on his way. Ravi Bopara is the new batsman, and gets off the mark with a single down the ground.
Over 38: Shakib 1-0-2-1-0-1 161-3 - No-nonsense accumulation from Trott and Morgs. This is the point at which a team really full of confident would take the batting powerplay. Prediction: England take it in the last five overs of the innings.
Over 37: Shafiul 1-1-1-0-2-4 156-3 - More superb batting from Morgan. First he uses his feet to get to the pitch and work the ball into a legside gap for two before he chips effortlessly once more over midwicket for a boundary. The partnership moves into three figures.
Over 36: Shakib 0-1-1-0-1-0 147-3 - Trott follows Morgan to 50. Not as eye-catching an innings, but another crucial one from England's Mr Reliable. Another hundred runs from here, and England should be pretty content. England still have a batting powerplay up their sleeves, but history suggests they'd rather leave it there if they could.
Over 35: Shafiul 1-0-1-1-0-2 144-3 - Morgan cuts hard to deep point for a single to bring up his 11th ODI half-century and, all things considered, one of his best. He can celebrate the staging post with a well-earned drink.
Over 34: Shakib 0-1-1-0-1-2 139-3 - A sloppy misfield at cover turnsa dot into two to take Morgan to 49 and slightly spoil a good Shakib over. Lovely innings this from Morgan, though. England's best ODI batsman.
Over 33: Shafiul 1-0-1-0-0-0 134-3 - Bangladesh's seamers have been good here, even the average-looking Shafiul.
Over 32: Shakib 1-0-2-1-2-0 132-3 - Both batsmen try a reverse-sweep. Trott plays it better, and gets his single. Morgan goes back to orthodoxy and cuts hard for a couple before Trott continues the copycat theme by playing the same shot with the same result. Shakib gets one to spin away from Trott and hit the back pad, prompting a huge lbw shout. It's a far better shout than the earlier review and Shakib instantly reviews Harper's not out verdict. Hawk-eye shows the ball hitting a good chunk of off stump, but not the 50 per cent required to overturn an on-field decision. Bit lucky there, is Trott. No reviews left now for Bangladesh in this innings.
Over 31: Shafiul 0-0-1-1-0-1 126-3 - Both seamers on now looking for any reverse swing available before the ball change. Insert own comments about how it's a batsman's game here. Not much shape for Shafiul, but a tidy enough over anyway.
Over 30: Rubel 1-0-0-0-4-0 123-3 - Rubel bowling to Morgan. This causes confusing feelings. Morgan wins this round, using his feet and placing a cover-drive through the covers for four. Morgan's placement today has been exemplary. For a chap returning to the game after an injury lay-off it's been a superb little innings. If he's still there at the end, England will have a total they'll be pretty comfortable with.
Over 29: Naeem 2-1-4-0-0-0 118-3 - Morgan gets a bottom-edged sweep away fine on the legside and picks up four thanks to a bit of Keystone Cops fielding on the boundary. Spare a thought for James Tredwell, whose one moment of World Cup glory is snatched away from him as he comes sprinting eagerly onto the field bearing lovely drinks for the England batsmen but is shooed away by Daryl Harper.
Ruby, Ruby, Ruby, Ruby (Ah-ah-ah-ah-ah-ah) "I'm very comfortable with you having 'a thing' for Rubel Hossain," says James Dark. "But please can you provide us with a guarantee that it will not affect the objectivity of your commentary." I can only do my best. Luckily, he's bowled really well today anyway. At least until that awful meanie Trott whacked him for four in the last over. Probably just jealous.
Over 28: Rubel 4-1-0-0-2lb-0 111-3 - Stunning shot from Trott who, as is customary, is going along nicely now after a watchful start. Admittedly not much of a delivery, angled in to the hip, but it's flicked away in dismissive manner to the square-leg boundary. Rubel - who's getting enough reverse swing here to keep Jimmy, Bresnan and Shaz interested - then beats Morgan with a beauty that jags back between inside edge and body.
Over 27: Naeem 1-0-1-0-0-3 104-3 - Suspect you'd have got decent odds on Trott playing the first reverse-sweep of this partnership, but there it is. Nicely played, too, getting the ball fine down to third-man for three runs. Fifty partnership comes up, and this pair looking a good combo for England at the moment.
Over 26: Rubel 4-0wd-0-0-0-0-0 99-3 - Good move from Shakib getting a seamer back on with Morgan looking hugely comfortable against the spinners. Almost instant return on the decision as a genuine outside edge from Morgan bounces short and wide of Mushfiqur and runs away from four. Fine over from Ruby, as he's affectionately known to me, with just a wide coming from the rest of it. Morgan plays and misses attempting a cut, giving just about the first clue that this is a chap who's barely picked a bat up for two months.
Over 25: Mahmudullah 1-0-4-1-1-1 94-3 - One of the great truths of cricket: the more shots you play, the more bad balls you get. Morgan's given Bangladesh something to think about it, and it's no surprise he's on strike for the first genuine bad ball in a while. It's dragged down by Mahmudullah, and Morgan biffs it through midwicket for four. Sort of ball he was skying to fielders in Australia, but this time he keeps it on the ground. Close! Morgan calls Trott through for a dodgy single, and a direct hit would've done for the Warwickshire man. Even with the Mighty Atom having to remove the bails it's a frame-splitter but Trott - unlike on England's last tour of Bangladesh when a very similar decision went against him - survives.
Over 24: Shakib 1-0-0-2-1-0 86-3 - Trott plays that punch through midwicket of his - never know how he times that so well - and picks up two. Good little partnership developing between Trott's chalk and Morgan's cheese. Or something. Anyway, England need much more of their chalky, cheesy goodness.
Over 23: Mahmudullah 0-1-1-0-4-1 82-3 - Wonderful batting again from Morgan. Having arrived at the crease with England struggling, he's calmly collected 22 at a run a ball with three superb boundaries. Another effortless flip over midwicket perfectly splits the two men out on the fence.
Over 22: Shakib 4-0-1-0-0-0 75-3 - Morgan does his bit for fans of "like London buses" type references by greeting Shakib's arrival in the bowling attack with a gorgeous lofted drive that almost carries for six. I think I speak for all England fans when I say this: welcome back, Eoin, you rubber-wristed freaky genius you.
Over 21: Mahmudullah 0-1-0-4-0-1 70-3 - Morgan ends an almost hour-long wait for a boundary by nonchalantly chipping Mahmudullah over midwicket for a one-bounce four. Morgan's ability to hit boundaries with no apparent effort or difficulty remains a source of wonder.
Over 20: Razzak 0-2-1-1-1-0 64-3 - In times of strife, it's natural to fall back on old favourites. The cosy familiarity of reliable trusties is reassuring when all is not well. Trott gets on the back foot and whips the ball through midwicket for a two and a one.
Over 19: Mahmudullah 1-0-1-1-1-0 59-3 - Four singles from the over. Based on Bangladesh's last game, England now already have enough. Hurrah!
Over 18: Razzak 0-0-1-0-0-0 55-3 - Razzak continues to wheel away to good effect. Never looks the most threatening of spinners does Abdur, but he's a very effective one. Especially in one-day cricket.
Belly Ache Tony Stevens is not happy. "If there is not a better option to him in our one day side then we have got problems. 5 off 23 is pathetic and it just puts more pressure on the batsmen coming in after him."
Over 17: Mahmudullah 0-1-3-W-0-1 54-3 WICKET! A bowling change brings instant rewards for Bangladesh as Bell chips Mahmudullah tamely to Naeem at midwicket. England have ground to a halt and given away a couple of outrageously cheap wickets here. Big trouble now for the team that has, since arriving for the World Cup, squeeked victories over Canada and Holland, lost to Ireland, beaten Pakistan and South Africa and tied with India. The returning Eoin Morgan is the new batsman, and England are in some need of one of his masterclasses. He soon picks up his first run of the tournament with a wristy flick into the legside. Like he was never away.
Over 16: Razzak 1-0-0-0-1-0 49-2 - Excellent stuff this from Razzak. He knows England are on the back foot now, and gives them nothing to get after.
Over 15: Naeem 0-1-1-1-0-0 47-2 - Three singles from the over as Bell and Trott continue their patient rebuilding process.
Over 14: Razzak 0-0-0-0-1-0 44-2 - Four overs of powerplay for seven runs. Excellent stuff this from the Bangla spinners.
Over 13: Naeem 1-1-0-1-0-0 43-2 - England's decision to pick one spinner already looks interesting. Given that James Tredwell appears to be more likely to discover intelligent life on Mars than play a game in this tournament, there are awkward questions to be asked about England's squad selection.
Over 12: Razzak 0-0-0-0-0-0 40-2 - Already looking a good toss to win for Bangladesh, with England now facing the challenge of gauging what exactly is a decent score on this wicket. It's a challenge they have not always met well in the past. Bell edges on the bounce to slip and takes a step out of his crease. In a clever move, though, he quickly puts his bat back behind the line instead of standing still and looking confused. Another maiden over for Razzak.
Over 11: Naeem 1-1-W-0-1-0 40-2 WICKET! The cut shot proves Strauss' undoing as he edges a cut to slip where Junaid Siddique holds a good sharp catch. The England rollercoaster is whizzing around the World Cup track once more as Ian Bell comes to the crease.
Powerplay Bowling powerplay taken instantly, a move only fractionally more predictable than Prior's failure at the top of the order.
Over 10: Razzak 0-0-0-0-0-0 37-1 - This already has the look of being another England nerve-jangler. Pitch doesn't seem to be conducive to high-scoring; suspect Strauss would take 250 now if offered it. Razzak ends the mandatory powerplay with a maiden. Just 12 runs and a wicket in the last five overs.
Over 9: Naeem 0-0-0-0-1-1 37-1 - Strauss likes to cut as much on length as line but gets himself in a tangle here trying to play the shot to a ball that's just far too close. Off bail missed by the narrowest of margins.
Over 8: Razzak W,wd-1-0-1-0wd-0-0-0 35-1 WICKET! I thought Bangladesh's early review would stand unchallenged as the single most brainless piece of cricket today. In fact, its record lasted just seven overs. There really are no words - not clean ones anyway - to describe this shambles from Prior. Abdur Razzak starts with a wide down the legside, and Mushfiqur removes the bails. After the bails are removed, Prior overbalances and stands looking at the umpire without regaining his ground. So quick-thinking Mushfiqur whips the stump out of the ground, and Prior is stumped and rather embarrassed one would imagine. Breathtakingly poor piece of cricket from one keeper, excellent work from the other. In comes Trott, who immediately gets off the mark before managing to stay in his crease as Razzak sticks another one down the legside.
Trott "Surely Trott should have been opening the batting with Strauss this morning?" asks Shaun Tiley. "Trott has been the most consistent and high-scoring players England have had throughout the Ashes and the World Cup so far. I have respect for Prior as a middle order batsmen and strong wicketkeeper but I don't think he's a good opener." I think England were reluctant to move Trott from three, which is understandable.
Over 7: Naeem 0-0-0-0-0-4 31-0 - Just one expensive over of seam bowling is enough for Shakib to go with spin as Naeem 'From The Halfway Line' Islam comes into the attack, bowling round the wicket to Strauss. Bit of spin for the offspinner. Strauss misses out on his favourite shot as he cuts a long-hop straight to point with no man sweeping on the fence. He won't miss out twice, though, and when given another chance to cut he gets it down to third-man for four. Poor end to the over.
Over 6: Rubel 0-0-2-0-0-0 27-0 - More width to Prior, who cuts away past point for an easy two. But Rubel's line is as immaculate as his chiselled cheekbones for the rest of the over. Swoon.
Over 5: Shafiul 1-0-2-4-1-4 25-0 - Bangladesh have generally been pretty good today at not bowling wide to Prior, but both times they've erred he's cashed in. Full, flowing cover-drive this time races away to the rope. Strauss picks up his first boundary of the day in streaky style as a genuine outside edge flashes through the recently-vacated second slip area.
Over 4: Rubel 0-0-0-0-1-0 13-0 - Good over from Rubel again. And Bangladesh show they can learn from their mistakes after managing not to review a silly lbw shout against Prior.
Over 3: Shafiul 1-1-4-0-0-0 12-0 - Doesn't matter whether he's batting at one, five or seven; bowl wide to Prior and you're in trouble. Long half-volley well wide of the off stump gets smacked through point for the first boundary of the day in Chittagong. I've come up with a reason why Bangladesh reviewed that lbw: the umpire was Daryl Harper. Assuming Harper is always wrong is not a bad code to live by for an international cricketer, but there have to be limits.
Over 2: Rubel 0-0-2-0-0-0 6-0 - The unnervingly handsome Rubel Hossain shares the new ball and starts well, twice beating attempted pull shots from Strauss and appealing for lbw. Both appeals are hugely optimistic, but Bangladesh inexplicably decide to review the second one. Shakib, big fan of your work, but this is craziness. The ball pitched a foot outside leg and wouldn't have hit a second set. Replays do confirm it wasn't a no-ball, though. Comical review apart, excellent start for Rubel.
Over 1: Shafiul 0wd-1-0-0-0-1-1 4-0 - Shafiul Islam starts with a wide down the legside and an easy leg-stump delivery that Andrew Strauss clips away for a single. But he maintains that line to the right-hander and beats Matt Prior with two fine deliveries that whistle past the outside edge. Looks like there's decent carry through to the keeper, but almost everything carries through above waist height to Mushfiqur. He's so dinky. Prior gets bat on ball to the fourth ball he faces and guides it behind point for a single to get off the mark. Shafiul still apparently hasn't spotted Strauss is a southpaw and gives another ball on the legs to work away for one. Shafiul summary: bad to the left-hander, good to the right-hander.
Warming "It looked like England were warming up nicely for this world cup after the win against SA," says Ben Bregazzi. "I only hope that with Pietersen and Broad going home we can keep going! Highly optimistic I know." Well, the replacements are high quality at least. Morgan for Pietersen is an improvement for me. We've missed his coolness and quality in the later overs. And we swap one unconvincing makeshift opener for another. Broad's a bigger loss; he's been England's best one-day bowler for some time now.
Anthems The players out in the middle for the national anthems. I only like to be overly negative (ha!), always looking for the positive me. So here's my verdict on Prior to open: it causes minimal disruption to the rest of the order, I suppose.
Feedback Usual drill. Bung your nonsense at Dave.Tickner@bskyb.com
Bangladesh Tamim Iqbal, Imrul Kayes, Junaid Siddique, Raqibul Hasan, Shakib Al Hasan (c), Mushfiqur Rahim (wk), Mahmudullah, Naeem Islam, Abdur Razzak, Shafiul Islam, Rubel Hossain
England AJ Strauss (c), MJ Prior (wk), IJL Trott, IR Bell, EJG Morgan, RS Bopara, PD Collingwood, TT Bresnan, GP Swann, JM Anderson, A Shahzad
Toss Bangladesh have won the toss and chosen to bowl first. England make three changes. Shahzad for Broad, Collingwood for Yardy, Morgan for Pietersen. Prior will open the batting...
Opening The big decision for England is who replaces Kevin Pietersen at the top of the order. By my reckoning, there's a safe option, a brave option and a bad option. I'll leave you to decide which is which.
Welcome It's another crucial clash in The Interesting Group. Victory for mercurial England all but seals a quarter-final spot; defeat for Bangladesh will mean a disappointing campaign ends at the first hurdle. What'll happen? No-one knows. But England are playing, so it's guaranteed to be a corker.
Sky Bet Odds:
Click Here for Your Free Bet