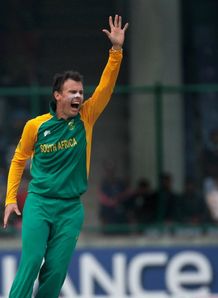 South Africa win by seven wickets Very, very impressive victory for South Africa who have shown they are major contenders for this title. Tahir was superb with the ball, De Villiers magnificent with the bat and with plenty of others playing handy support roles we managed to complete a whole commentary on the Proteas without using the word choke. Until just then.
Over 43: Smith 1-2-1-0-1 223-3 - Devon Smith into the attack - and I use the word quite incorrectly there - with what appear to be some entirely gentle off-breaks. Duminy and De Villiers help themselves to the five runs needed to secure an impressively comprehensive victory for South Africa with 43 deliveries to spare.
Over 42: Gayle 0-0-1-1-2-1 218-3 - Excitable young keeper Thomas - whose been mightily impressive with the gloves tonight by the way - hasn't given up. "Ooh, bowling, bowling, bowling" he muses as Gayle delivers consecutive dot balls. The post-rain binary streak is broken by a punch through the covers that brings Duminy two.
Over 41: Benn 1-1-0-1-1-1 213-3 - AB and JP content to get these in ones. Neither man will want to needlessly surrender a nice red-inker.
Over 40: Gayle 0-1-1-1-0-0 208-3 - And still the field is spread.
Over 39: Benn 1-1-1-1-1-1 205-3 - Sure enough, De Villiers eases through to a sensational century in just 97 balls - the fastest ever by a South African in the World Cup. Truly wonderful knock, and a matchwinning one as South Africa cruise towards a West Indies total that was just never sufficient.
Ready to go Play all set to resume, and no-one will be happier about that than AB de Villiers.
Covers off The commentators' pessimism appears to have been unfounded: the rain backs off, and the covers are being removed.
Bleak The commentators out in Delhi are not hopeful of any further play here, with the local view very much that the rain will only get heavier.
Rain Stopped Play The umpires wave on the groundstaff to get the pitch covered as the rain comes down. For what it's worth, the D/L par score at this stage is 141 so South Africa are miles ahead, and we're safely into the territory where a result can stand. So South Africa either have won or are about to; the only thing in doubt is whether the rain will stop to give AB the chance to get the three runs he needs for a splendid century.
Over 38: Sammy 1-0-0-0-1-1 199-3 - The rain won't rob South Africa of victory, but it may yet deny De Villiers a century. He's on 97 and the rain is getting heavier...
Over 37: Benn 1-0-1-1-0-0 196-3 - Bit of drizzly stuff starting to come down in Delhi. Not heavy at this stage, but the groundstaff are poised.
Over 36: Sammy 1-2-1-1-1-2 193-3 - De Villiers will clearly and deservedly take the plaudits for his exemplary role in this run-chase, but Duminy has come in at a time when things could still have got dicey and ensured that was not the case. He's eased himself to 26 off 27 without taking a single risk and has assisted De Villiers in another 50 partnership. Since the early drama, it's been a rock-solid run-chase from the Proteas.
Over 35: Benn 0-1-1-0-1-1 185-3 - Talk of some thunderstorms not to far away from the Feroz Shah Kotla, which may explain why the pictures keep coming and going rather. Won't have any undue effect on this match: even if rain should arrive before South Africa complete the formalities here, I'll wager their margin on Duckworth-Lewis is wide.
Over 34: Sammy 0-0-1-4lb-2-1 181-3 - West Indies cutting off neither boundaries nor singles at the moment. Their far from alone in persisting far too long with 'standard' one-day fields, but it's staggering to me that teams still do this even after all the evidence we've seen from batting powerplays that bringing the field up for an over or two can actually make good things happen for the bowling side. Something for Sammy and co to ponder at DRINKS.
Over 33: Benn 2-1-1-2-1-0 173-3 - Seven runs off Benn's comeback over with no risk, alarm or fuss. Why do teams wait until there are two or three runs to win before bringing the field up? By then it's pointless. If West Indies have any ambition remaining to win this match, then they need to start cutting off some of these singles now. Too easy at the moment.
Over 32: Roach 1-1-4lb-1-1-1 166-3 - Duminy getting his traditional short-ball peppering, but he's having little trouble with it on this relatively slow track. And when Roach does pitch the ball up, he gets his line wrong and the ball flicks off Duminy's pads and away for four leg-byes.
Over 31: Pollard 4-0-2-1-0nb-1-1 157-3 - Duminy gets South Africa past 150 with a crunching pull shot that Darren Bravo can't cut off on the boundary. There's a humorous moment as Pollard makes a complete mess of his run-up and ends up at least two feet over the popping crease in his delivery stride. Taufel actually calls no-ball but Pollard, knowing he'd got it badly wrong, holds on to the ball. There is a no-ball in the over, though, as West Indies 'do an England' and fail to get four men in side the circle.
Over 30: Roach 1-4-1-0-0-1 147-3 - Sammy quite rightly gets his strike bowler back into the attack with a new batsman in his sights, but the problem for West Indies is that De Villiers keeps getting on strike and playing glorious shots. This time it's a punch through point that races to the fence.
Over 29: Pollard 1-0-W-0-1-0 140-3 WICKET! Pollard ends Smith's troubled stay at the crease with a good slower ball that finds its way through the gate and into the top of off stump. Smith missed it by a long old way in the end. Duminy is the new batsman,
Over 28: Benn 1-0-4-6-1-0 138-2 - Spinner Benn back into the attack, perhaps in the hope that De Villiers might be tempted into doing something silly. He isn't. He's tempted into doing something brilliant as he gives himself room to drive inside-out over cover for four before dancing down the pitch to hit the next one 15 rows back over long-off. De Villiers' brilliance today has taken all the pressure off Smith, who has been some way short of his best but is battling away in that way of his.
Over 27: Pollard 0-0-1-0-0-1 126-2 - This game is drifting to an inevitable conclusion unless something dramatic happens. Smith and De Villiers patiently, methodically getting the job done.
Over 26: Roach 0-1-0-0-0-2 124-2 - A firm punch down the ground from Smith brings two more as he bellows "run hard" quite unnecessarily. De Villiers knows no other way to run, and gets back for the second run easily. Another Roach over negotiated, and the game starting to slide away from West Indies.
Over 25: Pollard 1-0-1-1-1-0 121-2 - Another tidy enough over but not much threat and West Indies need wickets. Partnership up over 100 now.
Over 24: Roach 0-0-0-2-1-0 117-2 - Roach back into the attack with West Indies aware this partnership needs breaking and breaking soon. No joy in this over, but it's a good one from Roach ending with the ball beating De Villiers' optimistic drive.
Over 23: Pollard 0-1-1-2-1-4 114-2 - Slice of luck for De Villiers as he plays back to Pollard and gets a genuine edge past the keeper's gloves for four.
Over 22: Gayle 1-0-1-1-0-6 105-2 - De Villiers goes to his half-century in fittingly splendid fashion as he skips down the track and flicks Gayle over midwicket for six. Great footwork and deliberately targeted the short boundary.
Over 21: Pollard 0-1-0-0-1-0 96-2 - Good steady over from Pollard, back into the attack after filling in to complete the unfortunate Bravo's over earlier.
Over 20: Gayle 1-1-0-1-1-0 94-2 - Time now for the traditional sightscreen malfunction. Can't have an ODI without a sightscreen malfunction. Once the large rotating-slatted irritant is convinced to halt hawking scooters and TVs the game continues with Gayle doing his level best to recover the last time. Bravo has left the ground for a scan on his injured knee, and will take no further part in this match.
Over 19: Sammy 4-0-0-0-1-1 90-2 - De Villiers strokes his fifth glorious boundary of the day, adding precise placement through a packed offside field as the cherry on top of a lovely cover-drive cake.
Over 18: Gayle 0-1-0-1-1-0 84-2 - A complete mishit from De Villiers sails out towards midwicket and seems to hang in the air for an absolute age before landing just short of the inrushing Benn. Just seemed to skid on to De Villiers and get to him a crucial split second quicker than he expected.
Over 17: Sammy 1-2-1-0-1-1 81-2 - Even the false shots are bringing De Villiers' useful runs now as a genuine edge flies through the unpopulated slip region before being cut off just inside the rope.
Over 16: Gayle 1-0-0-0-1-0 75-2 - Gayle into the attack. Always a test of an OBOer's fingerwork. Doesn't waste any time getting through his overs.
Over 15: Sammy 2-0-1-1-0-0 73-2 - Tidy enough over from Sammy to complete the powerplay, but the 50 partnership comes up between Smith and De Villiers as the Proteas ship heads for less choppy waters.
Over 14: DJ Bravo/Pollard 0-1-1-0-0-1 69-2 - Massive problem for West Indies here as Dwayne Bravo collapses in agony after bowling the first ball of the over. As he receives treatment and is helped from the field, the players take DRINKS. Not sure exactly what he's damaged - could be knee or ankle - but it seems doubtful he'll play any further part tonight. And if he's out for any serious length of time it's going to have a serious impact on the balance of this side. After the break, Pollard completes the over tidily enough.
Over 13: Sammy 0-2-0-2-0-0 66-2 - This all looks rather too easy for De Villiers at the moment, as he works the ball into the offside for a pair of twos. Seemed to have about a week to decide precisely where to place each of them.
Over 12: DJ Bravo 1-1-0-4-1-1 62-2 - Not been much loose stuff from the West Indies bowlers here, so when Bravo offers up a wide half-volley, Smith leaps on it with glee to crunch a drive through the covers for a welcome boundary.
Over 11: Sammy 1-1-0-1-1-1 54-2 - With De Villiers at one end batting gloriously, Smith is at the other batting... Well, Smith is batting. A few singles take him to a pretty painful 11 from 24 balls.
Powerplay Bowling powerplay taken instantly, as is customary.
Over 10: DJ Bravo 0-0-4-0-0-0 49-2 - De Villiers picks up his fourth outrageously gorgeous boundary with a picture-perfect cover-drive. It is phyiscally impossible to play the shot better than this. Front foot to the pitch, body weight transferred, elbow high and the blade's arc unimpeachably straight. Magnificent.
Over 9: Benn 0-2-1-1-0-1 45-2 - De Villiers miscues a drive but slices it wide of the man at mid-off and picks up a couple of runs. Chance! Bad mix-up between Smith and De Villiers, and the former would've been run out by a yard had Thomas' throw found the target. Even if Benn had managed to gather the ball at the stumps there would've been a chance.
Over 8: Roach 4-0-4-0-4-1 40-2 - Outrageous batting from De Villiers. After announcing himself by hitting a forward defensive through cover for four, the talented blighter, he then plays majestic square-drives off first front and then back foot to collect further boundaries. Within his first six balls at the crease, AB has played the three best shots of the day.
Over 7: Benn 1-1-0-0-0-0 27-2 - True story: a colleague has just excitedly burst into the office wielding a packet of chicken breast slices. "I'm just going to put them between a couple of pieces of bread," he announces breathlessly. Interesting idea, but I don't think it'll ever catch on. De Villiers, meanwhile, is off the mark first ball before Smith is beaten trying to cut a ball that was never short enough.
Over 6: Roach 0-4-0-0-0-1 25-2 - Having watched some unexpected and unwelcome drama from the non-striker's end, Smith calmly whips Roach through square-leg for four before pinching the strike from the last ball of the over.
Over 5: Benn 0-2-0-1-1-W 20-2 WICKET! Now then. Could be game on here after all. South Africa have a pretty lengthy tail these days and have lost two of their gun players early here. Kallis departs now as Benn gets the ball to spin quite sharply to find the outside edge of the right-hander's attempted drive, and Sammy just gets his fingers under the ball before it hits the turf. Kallis just asks the fielder whether it carried before accepting the answer he didn't want to hear and departing.
Over 4: Roach 0-0-W-0-1-0 16-1 WICKET! What a catch! Sensational cricket as Roach finds Amla's inside edge with a ripping delivery, and keeper Thomas dives away to his left to cling on to a stunning one-handed catch inches off the turf. There's a delay while the third umpire checks whether it was a legal delivery. Roach dangerously close to the front line. Too close; can't see anything behind the line there. But the decision stands. That delivery and catch were simply too good to be sullied by such trifling matters as whether or not it was a legal delivery. Kallis is the new batsman, and he immediately has to dig out a splendid yorker from a fired-up Roach.
Over 3: Benn 4-2-0-1-0-0 15-0 - Gorgeous batting from Amla. He's actually done for length by Benn, playing back to a pretty full delivery, but his outrageously fast hands allow him to flick a back-cut down to the third-man boundary. That... is a man in form.
Over 2: Roach 0-2-4-1lb-0-0 8-0 - Roach must quickly learn that bowling the ball on Amla's padsis liable to cause distressing damage to his economy rate. Six runs and a leg-bye from three leg-stump deliveries actually represents something of a result for the bowler given Amla's current form.
Over 1: Benn 0-0-0-1-0-0 1-0 - If it was good enough for the Proteas, it's good enough for the Windies. Again the first over of the innings bowled by a spinner, and again it's a very good one. No wicket this time, but the world's top-ranked ODI batsman Amla is beaten outside the off stump and Benn repeats the trick against Smith to complete the over.
West Indies 222 all out Can't see it being enough against a powerful South Africa batting attack. The big concern for West Indies after that two-man effort with the bat is that batting is by a wide margin their stronger suit.
Over 48: Steyn 1-1-W 222 WICKET! Benn tries a big shot against Steyn, with predictably disastrous consequences. The ball sails high in the air towards where third-man, where Morkel comes running in to take a smartly-judged catch. South Africa's catching very impressive in the latter stages here, while their bowling was impressive throughout. For the Windies, the two Bravos were worthy of ovation, the rest deserve the catcalls..
Over 47: Morkel 1b-0-4-0-0-1 220-9 - A fumble from wicketkeeping-glove-owner De Villiers allows a bye before Big Sulieman Benn manages to get the ball away behind point for a boundary. He's then beaten by a good one that jags back at him before picking up a single from the final ball of the over to keep the strike. Probably for the best.
Over 46: Steyn W-0-0-0-1-0 214-9 WICKET! The batting powerplay causes wickets at the best of times for the batting side. This, it's fair to say, is not the best of times for the batting side. So no surprise, then, that Steyn slings another missile into the batsman's pads and this time the correct decision is made on the field as Sammy departs plumb lbw for a duck. Mmm... plum duck. Kemar Roach is the new batsman.
Powerplay When is a powerplay not a powerplay? When you're forced to take it for the last five overs of your innings with just two wickets in hand.
Over 45: Tahir 0-0-0-0-0-W 213-8 WICKET! Even for a young player, this is spectacularly brainless batting from Thomas. After seemingly and understandably deciding that it was best to just see out Tahir's final over and see what can be picked up in the final five-over powerplay, he inexplicably has an almighty slog at the final ball and sends the ball high into the sky to be well caught by a back-pedalling JP Duminy. Good catch, good bowling, dreadful batting.
Over 44: Steyn 0-1-W-0-0-0 213-7 WICKET!Huge roars from the crowd as Pollard gets on strike for the first time, but after all the big build-up he's gone first ball! Typically full, fast and straight from Steyn and Pollard - trapped on the crease - is hit in front of everything. Amiesh Saheba for some reason says not out, but the review system ensures justice is done with Hawk-eye confirming the middle stump would've been going on a journey were it not for the pad's intervention. West Indies have now lost their two best hitters - Dwayne Bravo and Pollard - and have not taken the powerplay, which will instead be left to an inexperienced keeper and the bowlers. Not great. Darren Sammy is the new batsman, and he just about manages to get his bat down on a full delivery zeroing in on off stump.
Over 43: Tahir 4-W-2-0-0-1 212-6 WICKET! Another setback for West Indies as Chanderpaul falls soon after completing his gear change. An in-to-out drive over extra-cover brings four, but the very next ball is hit straight down long-off's throat. That does bring Pollard to the crease though, and four or five overs of him could alter the complexion of this innings. Thomas gets completely stuffed by another googly - fair to say he doesn't pick it - and there's a big leg-before shout but it's comfortably missing leg.
Over 42: Botha 4wd-0-2-1-1-0-4 205-5 - Botha exposes De Villiers' limitations as a keeper by firing one down the legside. AB barely gets his gloves in the same postcode before the ball runs away to the boundary. That gets the over off to a good start for the Windies, and it becomes an excellent over when Thomas shows deft touch to back-cut the ball past short third-man for four. He's struggled a bit against Tahir, but looks a suitably busy and well-organised keeper-batsman
Over 41: Tahir 0-0-1-1-0-0 192-5 - Another fine over from Tahir. He's going to make a huge difference for South Africa in this tournament.
Over 40: Peterson 1-0-1-6-1-0 190-5 - Chanderpaul has always possessed the striking ability to change gears at a dramatic rate. Here he goes from reverse to about fourth with a slog-sweep over the ropes. Despite that setback, Peterson bowls out his allocation having conceded a satisfactory 49 from his 10 overs.
Over 39: Tahir 0-0-0-1-0-1 181-5 - Tahir toys with Thomas for three balls, bamboozling the youngster so entirely with one googly that it hardly seems fair, before a single gets the keeper away from the strike.
Over 38: Peterson 2-0-0-1-0-1 179-5 WICKET! Shambles. Chanderpaul middles a reverse-sweep and, so impressed is he with the shot, that he decides it deserves a run. Even though he's hit it straight to short third-man. Bravo gamely responds to his partner's call but is left a good yard short of his ground when AB whips off the bails. It's a double victory for silliness, because if a batsman was to be sacrificed it should surely have been Chanderpaul given how well Bravo was striking the ball. Surprisingly it's rookie keeper Devon Thomas who comes in ahead of the explosive Kieron Pollard.
Over 37: Morkel 4-1-1-0wd-1-0-0 175-4 - The time has come, Bravo decides, to launch at everything. He almost swings himself off his feet trying to whack the ball out of Delhi, but gets a thick outside edge that's very nearly as good as it sends the ball spinning away to the third-man boundary.
Over 36: Peterson 2-0-1-6-1-0 167-4 - Something had to give in this over after two quiet ones, and Bravo takes the initiative by launching Peterson high over long-on for an enormous six. Massive strike.
Over 35: Morkel 0-0-0-1-0-0 157-4 - Excellent stuff from Morkel, back in the attack and straight on the spot.
Over 34: Peterson 1-0-0-0-1-2 156-4 - Big appeal for leg-before against Chanderpaul after he misses an attempted sweep, but the wily left-hander got himself safely outside the line. Which was just as well, 'cos it was middling middle.
Over 33: Botha 6-1-0-1-0-1 152-4 - Bravo looking to launch a counter-attack here, and skips down the track to Botha before planting the ball over midwicket for six. Actually beaten in the flight there and didn't get to the pitch, which is why the ball ended up at midwicket rather than long-on, but he got hold of it well enough. Time for DRINKS,
Over 32: Peterson 0-0-1-0-1-1 143-4 - Peterson not posing the same sort of threat as Botha and Tahir, but he's doing a fine job of keeping a lid on the run-rate.
Over 31: Tahir 6-1-1-1-1lb-1 140-4 - First real bad ball from Tahir as he drags down a long-hop and gets clobbered over midwicket by Bravo. Tahir also picks up a warning from the umpire for running down the wicket. Does get right in front of the stumps after his delivery stride.
Over 30: Peterson 1-0-1-0-0-1lb 129-4 - Peterson returns to the attack and gets another tidy over in. All three of the Proteas' spinners doing a grand job here. West Indies in deep trouble.
Over 29: Tahir 0-0-0-1-0-1 126-4 - Smith, giddy at the novelty of having a proper aggressive spinner to captain, is right on the attack here. Hashim Amla comes in under the helmet at silly point to join the slip already in place. Chanderpaul and Bravo between a rock and a hard place here; can't afford to lose another wicket but can't let these overs leak away.
Over 28: Steyn 0-0-0-1-0-0wd-0 124-4 - Cracking over from Steyn. Seems strange to describe a bloke sending the ball down at 148km/h as playing a support role, but that's what he's doing. Tidy overs in between Tahir's wicket-taking antics at the other end.
Over 27: Tahir W-1-1-0-0-0 122-4 WICKET! Calypso Collapso in Delhi as Sarwan falls to a brave but correct leg-before verdict from Taufel. Sarwan was forward and squeezed the ball between bat and pad. But, crucially, the ball hit pad first and Hawk-eye confirms it would've gone on to hit the top of middle stump. Sarwan understandably reviews but an on-field amber light won't spare him and West Indies have no further recourse to technology in this innings. Dwayne Bravo is the new batsman. Drop! And he almost joins the procession as, deceived in the flight, he bunts the ball back towards Tahir who can't hold on with his right hand as he tries to change direction in his followthrough. Could he have got two hands on it? Possibly. No real pace on the ball. So difficult, though, once you have to change direction like that after delivery.
Over 26: Steyn 0-0-0-1-0-1 120-3 - Spin is working well for South Africa. There's an unusual sentence, but it's certainly true here: 3-53 from 14 overs for the twirlers today, while the quicks have found things tougher. Steyn is back into the attack now with two new - albeit vastly experienced - batsmen at the crease. Gets a good cheap over in, but the plan is clear: get one of these two quickly and West Indies are in major strife.
Over 25: Tahir 1-0-1-W-1-0 118-3 WICKET! One brings two as both West Indies' set batsmen depart inside two overs. Big moment for Tahir as he picks up his first international wicket, deceiving Smith with flight and getting the left-hander to chip back a simple return catch. Bad news for the Delhi bails now as Shiv Chanderpaul joins fellow bail-botherer Sarwan at the crease and immediately starts hammering the stump-toppers into the turf.
Over 24: Botha W-0-1-1-0-0 115-2 WICKET! Bravo departs for a beautifully constructed 73 after playing all round a ball from Botha that straightened enough from round the wicket to convince the umpire to raise the finger. Bravo decides to review, but you can tell from his body langauge he knows he's struggling. And Hawk-eye confirms the ball hitting middle-and-leg two thirds of the way up. Three red lights, plumb as they come. Ramnaresh Sarwan is the new batsman, and he's soon off the mark with a single.
Over 23: Peterson 0-1-1-2-0-0 113-1 - Lovely delivery to end the over from Peterson, an arm ball delivered from round the wicket that slides past Smith's outside edge.
Over 22: Botha 1-2-0-2-0-0 109-1 - Eager for the strike, Bravo takes a slightly iffy single but some high-quality scampering gets him home. He then shows the guile to go with his style by placing the ball into large gaps on both sides of the wicket to pick up twos.
Over 21: Peterson 0-1-1-0-0-0 104-1 - Good end to the over from Peterson, sneaking in three dot balls at the end.
Over 20: Botha 0-1-1-1-1-1 102-1 - Textbook middle-over fence construction from Bravo and Smith brings up a 100 partnership. Fine effort after the early setback of losing Gayle.
Over 19: Peterson 1-0-1-4-0-2 97-2 - The pressure's been building on Smith here, but he releases it in good style with an arrow-straight drive over Peterson's head for four. Almost carried for the full count but hit the boundary cushion on the half-volley.
Over 18: Botha 0wd-1-0-0-0-0-1 89-1 - Botha returns and bowls another tidy, probing over of off-spin. Smith - who has had all sorts of problems against Graeme Swann in the last couple of years - still doesn't look too comfortable against the twirly stuff.
Thought so Helena Badenhorst in Cape Town reports: "Just spoken to my 81-year-old Dad as his memory goes further back and he said that we were lucky if we could field one spinner in a match. So five is a record."
Over 17: Peterson 0-1-1-0-0-1 86-1 - Smith turns to another of his many spin options, Robin Peterson this time, as he bids to stem the tide. Three singles from the over represent a successful start to this bid. He'll celebrate with a DRINK.
Over 16: Tahir 2-2-6-1-0-0 83-1 - The legspinner under pressure now as Bravo picks up a pair of twos to go through to a quite wonderful half-century before smashing a huge six over long-on despite taking his bottom hand off the handle. So, just to confirm, Bravo is now tonking South Africa around with one hand.
Over 15: Morkel 4-0wd-0-0-1-1-1 72-1 - Against admittedly woeful opposition, this is already the highest-class match of the tournament. Proper cricket at last. Bravo drives dismissively straight back past Morkel for four all along the ground, and the bowler responds by snaking successive deliveries past the otuside edge before Bravo ends the over with another perfect cover-drive that's superbly stopped by a diving mid-off. Best over of the tournament is my snap judgement.
Over 14: Tahir 1-0-1-0-0-0 64-1 - Tahir bowls his first ODI over for South Africa, and does it pretty well. Confident enough to try the googly just second ball, and he lands everything pretty much where he wants to. "Bowled, Immy" is De Villiers' fair assessment.
Over 13: Morkel 0-0-0-0-4-0 62-1 - Four dot balls from Morkel put some pressure on Bravo, who responds by fetching the fifth delivery from outside off stump and over mid-on's head for another boundary. It was a slower ball; not sure whether he genuinely picked it or had already decided that ball was going anyway.
Over 12: Kallis 1-1-4-1-1-1 58-1 - Glorious again from Bravo, pouncing once more on a short ball from Kallis and pulling it over midwicket for four with total authority and real class. The 50 partnership comes up, with Bravo contributing the lion's share.
Over 11: Morkel 0-0-1-0-4-0 49-1 - Smith's been nowhere near as fluent as DM Bravo today, but he has shown the quality of his cut shot a couple of times. This one races to the boundary behind point. Wasn't that far away from third-man, but he had no chance.
Powerplay The inevitable instant bowling powerplay.
Rank "If the West Indies are ranked 9th, which team have gone above them in the rankings?" asks Shaun Tiley. Bangladesh are eighth. Just. Think there's a decimal point involved or something. Like all people without a mathematics degree, I don't understand the ICC rankings. Incidentally - and embarrassingly for the ICC and their desire to make the World Cup a 10-team closed shop - Ireland are currently and inconveniently 10th above Zimbabwe.
Over 10: Kallis 0-1-1-0-0-0 44-1 - Better second over for Jacques the Thatch, who whistles a corking bouncer past Smith's grille. Can still crank it up when the mood takes him.
Over 9: Morkel 0-1-1-0-1-0 42-1 - Morkel raps Smith's pads and, with the left-hander on the back foot it's a desperately close shout. Simon Taufel says not out and, with only one review in reserve, South Africa opt against using it. They should have, though, with Hawk-eye producing three red lights and the leg stump out of the ground.
Over 8: Kallis 4-0-4-2-0-0 39-1 - Sensational batting from Bravo as Kallis comes into the attack. Bravo immediately pulls high over mid-on for four before another murderous yet glorious cover-drive scorches the turf on its way to the fence. I think, as commentator, I am contractually obliged to describe it as Laraesque. Whatever, it was brilliant. Kallis struggling in his first over, though. Perhaps his hair got in his eyes.
Over 7: Morkel 1-0-0-0-0-0 29-1 - The successful Botha new-ball experiment comes to an end as Morkel finally gets his hands on the ball. Decent start for the big fella as well, reeling off five dot balls after Bravo scampers a single from the first.
Over 6: Steyn 0-4-0-0wd-0-1-0 28-1 - Bravo flays a cover-drive to the boundary with awesome power and great style. One doesn't wish to get bogged down by lazy comparisons, but it really did look like the great man. Steyn decides to see just how short he needs to bowl to get the ball over head height on this pitch. The answer is very short indeed as he sends the ball ballooning over Bravo and way down the legside. Not, it must be said, the best bouncer Dale has ever sent down.
Over 5: Botha 4-1-0-0-1-0 22-1 - Botha offers Devon Smith just the tiniest hint of width, and the Windies opener is on it in a flash to cut behind point for four. Smith takes a sharp single to Morkel at mid-on but gets home safely before Bravo repeats the trick.
Over 4: Steyn 0-0-0-0-0-0 16-1 - Much better from Steyn. Line and length immaculate this time around, and a maiden is the result.
Over 3: Botha 0-0-0-1-0-1 16-1 - Botha continues. You can tell he's full of confidence after that early wicket because he's giving the ball actual genuine flight.
Over 2: Steyn 1-0-0-4-2-4 14-1 - Now we do see some pace from Steyn, but although he gets a bit of swing here he doesn't get his line quite right. Searching for the lbw he drifts just too far into Bravo's pads and twice is clipped away for legside boundaries by the Brian Lara tribute act.
Over 1: Botha 0-2-W-0-0wd-0-0 3-1 WICKET! That, it's fair to say, has worked. Classical offspinner's wicket against the left-hander as Chris Gayle props forward and the ball spins just enough to take the outside edge. Jacques Kallis takes a smart low catch at slip. Darren Bravo is the new batsman and he survives a huge lbw shout after being hit on the pad by a slider from Botha. It's hitting the middle of middle no problem, but the left-hander may have just got outside the line. South Africa go for a review, and an amber 'on-field call' light spares Bravo by the slenderest of margins. Stunning over from Botha, doing the batsmen on both edges and picking up the dangerman Gayle. Job done.
Spin in South Africa have, by common consent, the best new-ball attack around in Dale Steyn and Morne Morkel. Smith, though, has thrown the ball to Johan Botha. Interesting.
Six hit "Six spinners not five if you count Smith also..." notes Sunith. Alas, I think those days are now behind us.
Sing song The PA system cut out halfway through the South African anthem. Undeterred, the players bellowed out the rest of it a capella. Stirring stuff.
Clean up Just had a lingering close-up of the World Cup trophy itself. Fittingly, it's looking rather tarnished and in need of renovation.
Five star Can anyone ever remember a South Africa side that contained five spinners? Mails to Dave.Tickner@bskyb.com
Pitch Report The pitch has the tingiest tinge of green but should basically be pretty decent for batting.
Teams The big team news, although it's in no way a surprise, is Imran Tahir making his ODI debut for South Africa. More of a surprise perhaps is the absence of Lopsy Tsotsobe who was hugely impressive recently against India. But with a proper spinner, South Africa's puzzle now appears to have all the pieces. Although for this tournament they seem to have dropped the wicketkeeper-shaped piece down the back of the sofa, so they're making do with AB de Villiers - a wonderful fielder with a pair of keeping gloves knocking about in his kitbag.
South Africa GC Smith (c), HM Amla, JH Kallis, AB de Villiers (wk), JP Duminy, F du Plessis, J Botha, RJ Peterson, M Morkel, DW Steyn, Imran Tahir
West Indies CH Gayle, DS Smith, DM Bravo, RR Sarwan, S Chanderpaul, DJ Bravo, KA Pollard, DJG Sammy (c), DC Thomas (wk), KAJ Roach, SJ Benn
Toss Graeme Smith wins the toss and then, grinning, tells Robin Jackman it was a good one to lose. He's decided to bowl first, anyway.
Welcome The last two of the traditional 'big eight' (although West Indies are currently ranked ninth...) enter the World Cup fray today in Group B, or the interesting group as it's also known. Toss and team news to follow shortly.
Sky Bet Odds:
Click Here for Your Free Bet