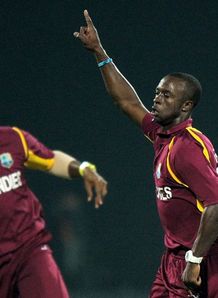 Close So that's your lot from the Cricket World Cup today. New Zealand thumped Zimbabwe by 10 wickets, and I'm not quite sure how to describe this win for the West Indies in Mirpur. One-sided is the mother of all understatements. Bangladesh were bowled out for 58 - their lowest ever ODI score - in what turned out to be a mismatch in Group B. Please join us again on Saturday for coverage of Sri Lanka v Australia - you'd imagine that game should be a little more competitive than the stuff we've been served up today!
Over 13: Shakib 0-1- 59-1 - Shakib comes on and from his second delivery Gayle gets the winning run with a long, easy single out to long-on (why did Bangladesh need a man on the boundary?). The West Indies win in Mirpur by nine wickets with no less than 226 balls to spare. Gayle finishes up unbeaten on 37 from 36 deliveries, with Bravo alongside him at the end on nine not out.
Over 12: Naeem 0-0-0w-0-1-0-1 58-1 - A single by Gayle down to long-on finishes the over and brings the scores level. Bangladesh could have had a second wicket, though, had 12th man Shuvo been able to hang on to a difficult chance low down at cover off of Bravo's bat. He dived forward but simply couldn't cling on to a firmly-struck back-foot drive.
Over 11: Ashraful 1-0-0-1-4-0 55-1 - The West Indies' 50 comes up and the lights are now on! They shouldn't have bothered, as a back cut from Gayle for four takes his side just one blow away from glory - they now need four runs from the next 39 overs. What a win this will be for the Windies, and what a boost for their run-rate too.
Over 10: Naeem 0-0-1-0-1-0 49-1 - And now we wait for this non-contest to finish, for the Bangladesh team to be put out of their misery. Bravo is in no rush to do it, defending solidly to anything that looks dangerous from Naeem, before pushing a single to deep square leg. A run follows for Gayle in the same region, meaning 10 more are needed to clinch the easiest victory you will ever see in one-day international cricket.
Over 9: Ashraful 4-0-0-0-0-1 47-1 - Ashraful starts off what will be a fairly short spell with a rank long hop, allowing Bravo to pick his spot. The left-hander eventually chooses the gap in between extra cover and cover to get his first four of the day. The boundary also results in an increase in the number of fans heading for the exits - at least the hosts will save some money on electricity, as the lights aren't even on yet. A single off the last for Bravo means he keeps the strike.
Over 8: Naeem 0-0-1-0-0-4 42-1 - Bravo finally gets off the mark from the eighth ball he faces, pushing into the cover region and calling his batting partner through for a quick single. It allows Gayle to continue his onslaught, the final ball of the over being thumped back over the bowler's head for another boundary. Patrick has an issue with the points system, suggesting sides should receive bonuses for winning games quickly, or bowling opponents out. He's not sure it's right that the West Indies will get the same number of points as Ireland did for their win over England. Why's that wrong? They bowled a Test-playing nation out for 58.
Over 7: Razzak 0-1-0-2w-4-0w-0-0 37-1 - Razzak gives us a mixed bag of a first over (as Rubel quickly makes way after conceding eight runs). There's some turn when he flights it, but too often the left-arm spinner is looking to dart them in at Gayle's legs. He's punished with several wides and a boundary off the bat, Gayle clipping away a half volley in the air but well wide of the man at mid-wicket. The West Indies require another 22 from 43 overs.
Over 6: Naeem W-0-0-0-0-0 29-1 - WICKET! - Well, at least it won't be a 10-wicket defeat for Bangladesh. Smith plays all around a full ball from Naeem and is bowled, the delivery going on to clip the top of middle stump. The left-hander was caught playing for the angle of the delivery and, with a little bit of turn, was done comprehensively on the outside edge. Darren Bravo pats back the next five balls to make it a wicket maiden for the off-spinner.
Over 5: Rubel 0-1-1-2-4-0 29-0 - Poor Abdul is fighting back the tears at his desk in Wokingham having seen his team fail to last 20 overs, let alone 50. I'm afraid Gayle is trying to rub salt in your wounds, Abdul, by finishing this in a hurry. He comes down the wicket three times to the slingy-action of Rubel, lofting a drive out into the deep at mid-off for two first time around. The next two deliveries, however, both reach the boundary rope on the leg side. The first of the two fours looked like providing mid-on with a catch but the fielder there didn't fancy losing a hand and, instead, waved it on through.
Over 4: Naeem 2b-0-2-0-0-1 17-0 - The first ball of Naeem's second over rips past the outside edge of Gayle's bat and also beats Rahim's gloves, leading to two byes. It's deliveries like that which show just how hard a run chase of 210-220 would have been for the Windies against Bangladesh's plethora of spinners. A single off the final delivery at least means Gayle keeps the strike, though it won't be against Shafiul. Rubel Hossain instead takes over from the Press Box End of this ground.
Over 3: Shafiul 4-1-0-0-4-0 12-0 - Gayle leans on the front foot and smacks Shafiul away through the covers for the first boundary of what is going to be a very short run chase for the Windies. The next ball would also have gone for four in the same region, had it not been for a diving stop. Smith gets in on the fun with a square drive to the point fence, making it nine runs from the third over. They can play as much Taio Cruz as they like over the loud speakers, it isn't going to lift the mood of this crowd.
Over 2: Naeem 0-0-0-0-1-0 3-0 - Shakib springs a bit of a surprise, giving Naeem the second over instead of either himself or Razzak. There's not much turn for the right-arm offie, who bowls from a wide angle, and there's not much interest in Gayle in taking a risk. And why should he? The only thing he can do here is lower his average by getting out cheaply.
Over 1: Shafiul 0-1-1-0-0-0 2-0 - Both Smith and Gayle get off the mark with singles. The one run is significant for the latter, as it takes him through to 8,000 runs in one-day cricket. Only Brian Lara, Desmond Haynes and current team-mate Shiv Chanderpaul have scored more for the West Indies. Marc reckons Gayle could go out with a pool cue and make these 59 runs - it is a strange situation to be in. I'd fancied this game to be a low-scoring thriller. I suppose I got one of those things right.
Booed on The Bangladesh team take to the field to a chorus of boos from their own fans, who normally cheer at the mere sight of one of their players. This is not a happy bunch in Mirpur.
Lowest total Today's effort of 58 is Bangladesh's lowest score in one-day cricket. The previous lowest ODI total seen at this venue was 80, which was actually made by Zimbabwe against Sri Lanka, back in 2009. Stunned, absolutely stunned. The crowd are not taking it well either, launching paper onto the field.
Over 19: Benn 0-1-W-0-W 58 - WICKETS! - Shafiul goes without troubling the scorers, prodding a thick edge straight to Pollard at second slip. It takes him just two balls to end the innings, a quicker, fired-in yorker beating Rubel's flimsy defences and knocking over the furniture. How Bangladesh must be wishing they'd made any kind of total to give their spinners a chance on this bunsen burner.
Over 18: Roach W-0-0-0-1-0 57-8 - WICKET! - Great move from Sammy, bringing back the slippery-quick Roach to try and end this innings. It takes the paceman just one ball to strike as well, Ashraful going for an ambitious drive that merely results in an inside edge through to the wicketkeeper. That was a poor shot to play against the West Indies' premier bowler, but you can hardly blame Ashraful for having a go - what else can those left do? Razzak gets off the mark with a single, but ones aren't enough.
Over 17: Benn 0-W-0-0-0-0 56-7 - WICKET! - Naeem - who once hit six sixes in an over in domestic cricket - continues the procession of wickets, pushing away from his body at a ball that turns from Benn to provide a simple catch for wicketkeeper Thomas behind the stumps. That was a good ball by Benn, but the Bangladesh batsmen look like rabbits in the headlights. Now Ashraful has to decide what to do with the tail for company after a wicket maiden from West Indies' tall left-armer.
Over 16: Sammy 0-1-0-4-0-0 56-6 - The crowd come alive again when Ashraful cleverly steers a short ball away past point for four. That's the first boundary Bangladesh have managed for 30 balls, such has been the dominance of the West Indies attack. The end of Sammy's seventh over (he has stunning figures of 3-21 so far) brings about DRINKS in Mirpur.
Over 15: Benn 0-0-0-0-0-0 51-6 - A fine maiden from Benn that includes an appeal for a stumping. Ashraful makes no contact with the ball when attempting an ambitious cover drive, but it turns out his back foot had never actually slipped out of the crease. Further signs of turn for Benn too, how Bangladesh may live the regret their shoddy batting in the opening 15 overs of powerplay cricket.
Over 14: Sammy 0-0-0-2-0-W 51-6 - WICKET! - There's shouts of 'CATCH IT' from the West Indies fielders when Raqibul gets an inside edge onto his front pad. Thankfully for the batsman, the ball loops just short of the short cover fielder. However, after clipping away two down to wide third man, the right-hander perishes playing an ambitious drive on the up. While he makes good contact, the shot only finds the rather large and safe hands of Pollard at backward point, giving Sammy his third wicket of the day.
Over 13: Benn 0-1-0-0-0-1 49-5 - With the scoreboard in his favour, Benn can flight the ball up to try and tempt the batsmen. Two deliveries in this over almost come down with snow on them, such is the air the left-armer gives them. Although he doesn't have to, Sammy has placed a slip in for his first-choice spinner, although he's now removed himself from silly point.
Over 12: Sammy 0-0-0-0-1-0 47-5 - Even the normally aggressive Ashraful knows the match situation calls for some restraint, meaning he decides to only flick a short ball from Sammy down to fine leg for a single. Had the score been a little different, he would have gone after that delivery. Abdul is hoping Ashraful proves him wrong and comes up with the goods today - his place in the team may well depend on him doing so.
Over 11: Benn 1-W-0-4-1-0 46-5 - WICKET! - Oh dear, oh dear. Bangladesh are crumbling under the pressure of an expectant home crowd. Shakib has just been bowled by the returning Benn in rather strange fashion - the skipper seemed to get caught in two minds (possibly Laurel and Hardy) to a full ball outside off, playing neither back nor forward to it after initially contemplating a slog-sweep. In the end it only turns off the pitch, through between a rather horizontal bat and pad and onto the stumps. Ashraful is in at seven and no matter what the match situation, he only knows one way of playing. After playing over the top of his first ball, the right-hander drives his second to the cover boundary.
Over 10: Sammy 0-4-0-0-0-0 40-4 - Nazma has borrowed a Stevo-ism from the world of rugby league...he wants someone to "get the message out" to the Bangladesh batsmen to calm down! Abdul is already worried about the match situation, fearing that this partnership is the last real hope for the co-hosts. Perhaps a Shakib boundary through point will help your mood, Abdul, as an eventful first powerplay comes to an end.
Over 9: Roach 0nb-0-W-0-0-0-0 36-4 - WICKET! - Roach over-steps but escapes unscathed when a yorker is only booted to Siddique to Gayle at short mid-wicket, wasting the free hit. He decides to deliver the same ball again next up, and again Siddique is hit on the boot, only this time his right foot is bang in front of all three. Umpire Davis agrees with the West Indies' loud appeals for lbw and despite using up a referral, more in hope than expectation, the sparky Siddique is gone for 25 from 27 deliveries.
Over 8: Sammy 0-0-1-0-1-1 35-3 - Sammy has posted a deep square leg, just where Siddique hit the boundary in the last over. Seems a bit of a pointless fielder; the seamer's not quick enough to test top-order batsmen with a bouncer, particularly on this sluggish pitch, and the gap in the field twice allows Siddique to pick up easy singles on the leg side.
Over 7: Roach 0-0-2-0-0-0 32-3 - Shakib plays and misses at the first ball of the over - there's been a bit of early swing for the seamers here in Dhaka, making it even more foolish for Benn to have opened the bowling. Credit, though, is due to Sammy for realising the early error and whipping the spinner out of the attack. A push through mid-wicket gets the Bangladesh captain a couple of runs in an otherwise impressive over from Roach.
Over 6: Sammy W-1-4-0-0-0 30-3 - WICKET! - Rahim's gone now, and without troubling the scorers, clipping Sammy's seventh ball straight to Sarwan at short mid-wicket. It seems it's Siddique or nothing for Bangladesh today after the stunned crowd has enjoyed another verse or two of Rihanna's 'Rude Boy' to welcome new man Shakib to the middle. Siddique cashes in on a short ball to pull away four more before getting a round of applause for a solid forward defensive.
Over 5: Roach 2-0-4-0-2-0w-0 25-2 - Siddique's not worried about the match situation - he's going to continue to play shots. He pulls away the first ball of Roach's third over to backward square leg for a couple and then drives superbly straight down the ground, his firm push beating the diving mid-off and running away for four. A further two runs follow with a flick off the hip and even a wide gets a cheer from the crowd. Runs aren't a problem for Bangladesh, but the loss of two wickets so early is a worry.
Over 4: Sammy 1-0-W-0-0-0 16-2 - WICKET! - Sammy strikes with his third ball! Kayes is the batsman to depart, opening the face at the last moment in defence to get a thin nick through to wicketkeeper Thomas, who takes the catch no more than an inch from the turf. It's like someone has turned off the volume at the Shere Bangla National Stadium, the crowd are stunned into silence. Excellent change from Sammy to bring himself on.
Over 3: Roach 1-0-1-0-0-0 15-1 - Mothiur Rahman calls for Bangladesh to remember that this innings should be a marathon, not a sprint! He'd be happy to see Kayes showing the full face of the bat in defence then, the Tigers would do well to play safe against Roach, who is the only West Indies bowler of a serious pace (except for Benn's arm ball). Speaking of Benn - he's off after one over. Skipper Sammy has decided to take over from the left-armer.
Over 2: Benn 1-0-0-4-1-3 13-1 - West Indies continue their policy of opening with spinner Sulieman Benn (I might have gone for a bit of seam here, particularly as the ball is still hard). Imrul Kayes gets off the mark from the first delivery of the over and Siddique then drives away off the back foot for four through the covers. With three runs also coming off the final ball from the bat of Kayes in a similar area, Bangladesh manage to pick up nine from an expensive first over from Benn.
Over 1: Roach 0-0-W-0-4-0 4-1 - WICKET! - What a start for the Windies! Fresh off a hat-trick against the Netherlands, Roach strikes in his opening over...and it's Tamim too. The left-hander can't help himself but have a dart at a full, wide ball outside off, but his lazy drive only results in an edge carrying to Sammy at second slip. The catchers behind the wicket had only just moved up a pace or two, having seen the opening two deliveries die through to the wicketkeeper. Junaid Siddique is in early at three and quickly playing shots, though this time an outside edge from another ambitious drive roars through where a third slip would have been and away for four runs, opening Bangladesh's account.
Feedback If you want to share your thoughts on this game - or anything else to do with the World Cup, or cricket in general - then fire in an e-mail to Rob.Lancaster@bskyb.com.
Crucial As already mentioned, this game is vital for both nations as they bid to reach the quarter-finals. Having lost their opening fixtures, both teams won last time out, Bangaldesh beating Ireland here a week ago, while the Windies demolished the Dutch, but Ireland's shock win over England has thrown this pool wide open. Time for the anthems...
Toss Those already in the ground - and there are plenty - give the first loud cheer of the day with the news that Bangladesh have won the toss. Shakib is quick to tell Windies counterpart Darren Sammy that the Tigers will be batting first. Both sides are unchanged from their last outings, both victories.
Pitch Dry is an understatement. It's baking hot in Mirpur and this pitch is now on the side of well done. There's some cracks to make use of if you're a spinner too, so the home side will be happy.
Hello and welcome to over-by-over coverage of the crucial Group B clash between Bangladesh and West Indies in Mirpur.
Sky Bet Odds:
Click Here for Your Free Bet