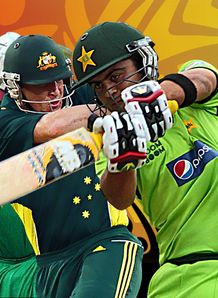 Result: NZ win by 10 wickets New Zealand bounce back from their loss against Australia as they hammer Zimbabwe by 10 wickets. Brendon McCullum and Martin Guptill never looked in trouble as they chased down 163. The bowlers set the victory up though with some disciplined bowler. Zimbabwe didn't help their cause with poor cricket. This victory almost ends Zim's hopes of qualifying for the quarter-final while NZ should go onto the next stage now. Thank you for your company.
Over 34 Panyangara 0-0-4 166-0 - Panyangara will bowl the final over of this game. He delays the inevitable with a bouncer. There it is as Guptill goes over midwicket for four.
Over 33 Lamb 1-1-4-0-0-1 162-0 - Greg Lamb is back in the attack. This could be the final over with just eight more needed for victory. Guptill slashes it away for four. Just two more needed. The scores are tied as Guptill takes one to long-on.
Over 32 Panyangara 6-1-0-0-1-0 155-0 - The ball sits up and McCullum says 'thank you very much' as he goes over the square leg fence for six. Only 10 more runs to go.
Over 31 Cremer 0-1-1-1-1-1 147-0 - This is a bit of a yawn fest at the moment.
Over 30 Panyangara 1-nb+1-0-0-1-1 142-0 - Panyangara comes back into the attack. This could be over in an over or so as he took some tap earlier. He oversteps the popping crease and Guptill fails to take advantage of the free-hit. Big heave-ho for nothing.
Over 29 Cremer 1-0-4-1-1-0 137-0 - McCullum looks to step things up as he cracks it down the ground for a boundary.
Over 28 Chigumbura 1-1-1-0-0-1 130-0 - The target is now below 40. Will they do it in singles or will they go all out now? It's singles for now. Guptill calls his partner through for a risky one, but the bowler can't kick it onto the stumps.
Over 27 Cremer 1-4-0-1-0-0 126-0 - Graeme Cremer will continue as New Zealand continue their march towards victory. They only need another 43 runs. McCullum steps up the gas by going down the ground for four.
Over 26 Chigumbura 1-1-1-4-1-1 120-0 - McCullum goes aerial through midwicket, but the man on the fence takes the ball on the bounce. McCullum goes to his 50 off 74, 4x4, 1x6 with a four down the ground.
Over 25 Cremer 0-1-0-0-1-1 111-0 - Chigumbura is keeping the slip in. Well, he's being forced to keep a man there. Nelson comes on the board as Guptill and McCullum milk three singles through the midwicket region.
Over 24 Chigumbura wd-4-1-1-1-0-0 108-0 - Elton Chigumbura needs a wicket so he decides to bring himself into the attack. After starting with a wide he bowls a half volley which Guptill puts away through the covers. Productive over for the Kiwis without much effort.
Over 23 Cremer 0-1-4-1-0-0 100-0 - Things are really not going Zimbabwe's way. Cremer gets an outside edge as Guptill plays well away from his body, but it goes wide of slip for four. The 100 comes up which means Zimbabwe need just another 63 to win.
Over 22 Lamb 1-0-1-0-0-0 94-0 - Guptill gets a single through cover to go to his 50 off 68b, 3x4, 3x6. Just what the doctored ordered for Guptill and the Kiwis. Guptill takes one on the pads and there's a big appeal, but the umpire turns it down. Zimbabwe refer it, why not?, but it's not out.
Over 21 Cremer 4-1-1-1-2-1 92-0 - This game and probably the tournament is over for Zimbabwe. They still have games against Pakistan and Kenya to come, but you can't see them qualifying for the quarter-final. A reverse sweep brings Guptill a boundary.
Over 20 Lamb 1-0-0-1-1-0 82-0 - Zimbabwe's bowlers have managed to bring the run rate down, but with an asking rate of under three, that's never going to win them the game.
Over 19 Cremer 1-0-0-0-0-0 79-0 - Apologies. Greg Lamb was the man to come into the attack earlier. Cremer Cremer is only coming on now. The field is spread and there are runs everywhere. It's just about picking your spot.
Over 18 Lamb 1-0-0-0-0-1 78-0 - It's pretty boring cricket at the moment, to be honest. Not much to say as they are picking off the singles.
Over 17 Utseya 1-1-0-1-1-1 76-0 - Zimbabwe are starting to run of options here as the milking of singles off the spinners continues.
Over 16 Lamb 0-0-0-1-2-1 72-0 - Price won't bowl out as Greg Lamb comes into the attack. The target is below the 100 mark after that big over from Utseya. McCullum gets it between short fine leg and square leg for a couple.
Over 15 Utseya 1-1-0-1-6-0 68-0 - The two New Zealand batsmen are determined not to throw their wickets away so they are happy to rotate the strike. I spoke to soon. McCullum is down the track and clears the long-off fence for six.
Over 14 Price 1-0-0-0-1-0 59-0 - Price continues. Wonder if Chigumbura will bowl him out. McCullum and Guptill take a couple of singles to the leg-side. The second one was a bit risky but the throw was a bit high.
Over 13 Utseya 0-nb-0-1-0-0-1 57-0 - New Zealand are going at almost six to the over. This will help their net run-rate nicely. Not they actually need it. Utseya bowls a beamer over the batsman's head. That one slipped out of his hand.
Over 12 Price 4-0-1-4-0-1 53-0 - It the moment it's difficult to see where the wickets will come from for Zimbabwe. Things are not going for them at the moment. To prove the point, Guptill gets an outside edge but there's no slip. McCullum is done biding his time and marches down the track to go inside out over extra cover for four.
Over 11 Utseya 0-0-0-2-0-0 43-0 - Zim take the bowling Powerplay straightaway and Utseya does the decision justice by conceding just a couple to McCullum.
Over 10 Price 0-0-0-1-0-0 41-0 - Dan Vettori will hope McCullum will spend as much time as possible out in the middle as they need an inform McCullum for the game against Pakistan. Another good over from Price.
Over 9 Utseya 0-0-0-0-1-1 40-0 - The spinners have done a very tidy job so far where runs are concerned, but Zimbabwe need wickets, and plenty of them. McCullum is happy to take his time here and allow Guptill to play all the big shots.
Over 8 Price 1-0-0-0-1-0 38-0 - McCullum takes another single down the ground while Guptill gets one through square leg.
Over 7 Utseya 0-0-0-0-0-2 36-0 - Panyangara has been shocking and Chigumbura throws the ball to Prosper Utseya. Plenty of yes, maybe and no between the batsmen. Guptill finally gets it wide of short third man for a couple. That one came off the edge of the bat.
Over 6 Price 0-0-1-0-4-0 34-0 - McCullum has had a look-in now and he feels it's time to get inventive. He goes for the reverse sweep and gets four. Slight inquiry for lbw off the final ball, but it's not out.
Over 5 Panyangara 1-0-0-6-0-1 29-0 - Here goes Guptill again. This time it's not as straight, but it's still a big one over the fence between long-on and deep midwicket. He's already into the 20s while McCullum has three at the other end.
Over 4 Price 0-1-0-0-1-0 21-0 - Guptill has looked very impressive throughout the tournament. I just love his straight-bat shots. They remind me of Jacques Kallis. No big shots though as Price keeps them down to a couple of singles.
Over 3 Panyangara 2-1-0-0-0-0 19-0 - A short cover and leg gully are the two men in catching position. Guptill looks to go down the ground again, but he gets it over backward point. He then pinches a single to cover. I hope Charles Coventry was taking notes. Shout for lbw against McCullum, but it probably hit him just outside the line.
Over 2 Price 0-0-1-1-0-0 16-0 - It's Ray Price opening again. This is a huge spell for Zimbabwe. He needs to pick up wickets if Zim wants to win this game. McCullum and Guptill take a couple of runs down the ground.
Over 1 Panyangara 0-4-0-0-6-4 14-0 - Tinsahe Panyangara, who is playing his first game in six years, will open the bowler. After a good first ball, he goes onto the legs and it's flicked away. The man on the fine leg boundary makes a meal of it and it's four. Wow! Guptill plays one of his favourite straight-bat shots down the ground for six. Yes, he did the pose afterwards. Next one is driven along the ground for four.
Welcome back This should be an easy chase for New Zealand, right? They have some powerful hitters in Brendon McCullum, Jesse Ryder and Ross Taylor in their team. Good news for Zim is those three haven't fired yet. There is hope for them.
Zimbabwe 162 all out A poor display with the bat from Zimbabwe with the top order failing miserably. Lamb, Cremer and Utseya down the order added some respectability to the score but New Zealand will feel they'll be able to chase down the target without too much trouble. Join us shortly for the second innings.
162 - Southree returns. Not for the first time Utseya tries a premeditated reverse scoop and the ball only narrowly misses both the edge and the stumps. Wicket! Southee does the job, wrapping up the innings. Utseya looks to heave the ball across the line but when he misses Southee hits, rattling the stumps.
Over 46 Bennett 0-1-0-4-0-0 162-9 - Bennett is back and it's batting powerplay time. Panyangara makes the most of the open spaces, launching the ball over mid on for four.
Over 45 Southee W-0-0-0-0-0 157-9 - Wicket! Southee gets his man! Price looks to turn the ball into the leg side but is rapped on the pads and umpire Erasmus has little hesitation in raising the finger. Southee greets the new man Panyangara with a hosts of full deliveries that are dug out.
Over 44 Ryder 0-1-0-1-4-0 157-8 - We're going to have more of Ryder, he's just switched ends. Utseya makes it three boundaries in three overs as he drives sweetly through the covers. The Black Caps will be frustrated not to have finished this off yet.
Over 43 Southee 0-1-4-1-1-wd-1 151-8 - Just the one from the part-timer Ryder as Southee returns. Utseya takes the ball from outside off stump and cracks it past Southee for another four. A profitable over for the men in red.
Over 42 N McCullum 1-1-1-1-1-4 142-8 - Having knocked the ball around for a handful of singles, Utseya picks up Zimbabwe's first boundary in just under ten overs as he comes down the track and chips the ball over midwicket.
Over 41 Ryder 1-1-1-1-0-0 133-8 - Time for something a little different with Jesse Ryder getting a chance to turn his arm over. Great fielding from Guptill at point nearly results in a run out as he dives and throws to the bowler's end in a flash but Utseya is back.
Over 40 N McCullum 1-0-0-2-1-0 129-8 - Price is frustrated with himself as he drives wide of mid off but just can't beat the fielder. Utesya gets underneath one and heaves it out into the midwicket region but wide long on runs around to cut it off.
Over 39 Mills 0-0-1-0-0-0 125-8 - Ooh, nearly another one as the ball flies off the outside edge of Price's bat as he looks to slash it into the off side. Bennett at third man dives forward but just can't get there in time.
Over 38 N McCullum 0-0-1-0-0--1 124-8 - It's taken long enough but Nathan McCullum enters the attack. Utseya drives the ball down the ground for a single to bring the new man Price on strike. McCullum promptly beats the outside edge of his bat.
Cremer is starting to score more freely now as he cuts behind square for two. Wicket! As I say that he departs the scene! Driving at one outside off, Cremer gets a thin edge behind to McCullum who makes no mistake.
Over 36 Bennett 1-1-1-2-1-1 119-7 - Utseya is really made to run fr his life as Cremer sneaks a single to mid off and Nathan McCullum is on it in a flash, throwing to the non-striker's end, but the batsman does well to get in the way of the throw. Two more to Cremer as he helps a short delivery into the leg side. Seven runs form the over without playing a dangerous shot, they need a few more overs like that.
Over 35 Mills 1-0-0-0-0-2 112-7 - Mills is back in the attack. Utseya scampers through for a well judged single into the leg side. Cremer is really struggling to get the ball away but he manages to end the over with a two flicked behind square.
Over 34 Bennett 0-0-0-0-0-2 109-7 - The players have had a drink and Bennett is ready to continue. Well bowled by Bennett as he beats the outside edge of Cremer's bat has he pushes forward. Cremer picks up two as he turns turns the ball wide of mid on, some good fielding kept them down to two, the Kiwis are looking sharp today.
Over 33 Vettori 0-0-1-0-0-1 107-7 - Utseya drives uppishly through the cover for a single. Powerfully swept from Cremer, but it's just just a single to the man at fine leg.
Over 32 Bennett 4-0-2-1lb-1-1 105-7 - We'll have some pace from both ends as Hamish Bennet is back into the attack. Cremer brings up Zimbabwe's century with a slap through the covers for four. Productive over for the Zimbos with a pull through square leg for two and a couple more singles.
Over 31 Southee 0-0-1-1-1-0 97-7 - The two tail-enders are doing well a they rotate the strike. The skipper will be pleased. Maybe they should take the Powerplay as well. Not too much batting to come.
Over 30 Southee 0-1-0-0-0-3 94-7 - We are yet to see Nathan McCullum with the ball. Not sure if he's still off the field. Utseya guides it to third man for a single. Cremer pushes it wide of mid-off and comes back for a third.
Over 29 Vettori 0-1-0-0-0-0 90-7 - After two maidens in a row, Utseya breaks the scoring drought with a single past cover.
Over 28 Southee 0-0-0-0-0-0 89-7 - Vettori is looking to go for the kill and he brings Tim Southee back into the attack. Another big shout for lbw as new man Graeme Cremer is hit on the pads. No review.
Over 27 Vettori 0-0-0-0-0-W 89-7 - Zimbabwe still have their batting Powerplay to come. They don't have too many batsmen left so they will have to be very calculated about when they take it. WICKET! The dot balls pile up and it builds some pressure. Utseya is desperate to take a single, but it's straight to cover and he sells his partner a dummy. Lamb has to turn back as Guptill picks up and throws. He dives, but Vettori is diving as well. The Kiwi skipper wins the contest as he breaks the stumps before Lamb makes it back into his crease.
Over 26 Styris 0-0-1-0-0-1 89-6 - Styris continues to throw in the odd off-cutter. A straighter one is driven to long-on by Lamb. His partner gets it past the diving square leg for one.
Over 25 Vettori 0-0-0-0-0-0 87-6 - Another big shout as Utseya runs down the track. Wasn't too different from the Chigumbura dismissal.Plays show it would've gtone on to hit to hit leg stump, but he was a long way down, more than 2.5m. A second maiden from Vettori.
Over 24 Styris W-0-0-0-0-1 87-6 - WICKET! Styris gets the big wicket for New Zealand. His yorker traps Taylor in front of the stumps and the umpire sticks him. Maybe there are questsion over whether it would've missed leg-stump, but Zimbabwe have no reviews left. Doesn't matter as replays show it would've been three red lights. I don't believe Hawkeye any more though. Prosper Utseya joins Lamb in the middle. He's away with a push to long-on.
Over 23 Vettori 2-0-1-0-1-0 86-5 - Taylor, on 44, has scored his runs at a decent rate of over 80 despite losing so many partners. The two batsmen continue to milk the singles.
Over 22 Styris 0-0-1-1-0-1 82-5 - This is a key partnership for Zimbabwe. This could be the difference between a score of 150 and a demorilising 90 or so. Lamb guides it third man for one and Taylor tucks it to fine leg.
Over 21 Vettori 0-1-1-1-0-1 79-5 - The reason why Nathan McCullum isn't bowling yet is because's off the field. Not sure why. Maybe he's still under the weather. Taylor and Lamb continue to rotate the strike. They'll be looking to ease Zim past the 100-run mark.
Over 20 Styris 1-1-4-1-0-1 75-5 - Scott Styris will have a bowl now. Surprise to see that Nathan McCullum isn't in the attack yet after Vettori's double-wicket maiden in his first over. The two batsmen are starting to rotate the strike nicely. Lamb decides to show some aggression and goes over midwicket for four.
Over 19 Vettori 1-0-0-2-0-1 67-5 - Slip in for Vettori as well. Taylor gets a single to the sweeper patrolling the cover boundary. Lamb picks up two through midwicket.
Over 18 Bennett 4-0-1-0-0-0 63-5 - Poor ball outside off and Taylor drives through extra cover for four. Push and run to mid-on. Vettori is keeping two slips in for Lamb.
Over 17 Vettori 4-0-0-2-1-0 58-5 - Taylor is losing some patience and he advances down the track to go through midwicket for four. Appeal for lbw from Vettori, but it's not out and he decides against the referral. Slapped across the line by Taylor and he picks up two.
Over 16 Bennett 1-0-0-0-1-3 51-5 - Taylor, who has watched the carnage from the other end, takes one down the ground and then cracks it through midwicket for a few. Lamb's also away with a single.
Over 15 Vettori W-0-W-0-0-0 46-5 - Time for some spin as Daniel Vettori comes into the attack. Pity for Zimbabwe that Ervine is gone as he's good against the spinners. WICKET! Chigumbura advances down the wicket, but he has to pad up when he gets there. The ball hits him on the inside of the pad and looks like it would've gone on to hit the stumps. Umpire Marais Erasmus sticks him, but Chigumbura refers it. Replays show it would've gone on to hit the stumps, but he was more than 2.5m done the track. The decision is upheld though, but Chigumbura is very unlucky. He was so far away done the pitch and it's not like the ball hit him well below the knee roll. The UDRS's 2.5m rule is starting to frustrate me. The umpires call for drinks so that the rest of the world can mull over that decision. WICKET! Regis Chakabva is the new man and he's gone after two balls. Chakabva plays well away from his body and gets a thick edge to Ross Taylor at slip. He was looking to push it into the covers, but the flight undid him. Greg Lamb is in. Can he survive for longer than two balls?
Over 14 Bennett 1-0-1-0-1lb-1lb 46-3 - Coventry drops his bat and sets off for a quick single. New man Elton Chigumbra has to get into fourth gear and he has to get out the dive after a direct hit. The umpire refers it, but the dive saved him. A quick one gets Chigumbura off the mark.
Over 13 Mills 0-0-0-4-0-W 42-3 - Mills continues which means he will only have three overs left for when the ball is changed/end of the innings. Ervine shows some aggression as he marches down the track. It's a swing and miss though. Shot! He times one through cover for four. Vettori tinkers with the field as he loads the already picked off side with more fielders. WICKET! Gone! The decision to keep Mills on for another over pays off. Ervine looks to go over the infield, but he slashes it straight to Jesse Ryder at backward point.
Over 12 Bennett 1-1-1-0-0-1 38-2 - We'll have the first change of bowling in this game as Hamish Bennet comes on for Southee. The two opening bowlers have laid an excellent platform and Vettori will hope Bennett can kick on. Nice rotation of the strike from the left-right combination.
Over 11 Mills 0-0-4-0-0-0 34-2 - New Zealand take the bowling Powerplay. The Kiwis will be delighted with their effort in the first 10 overs. Two wickets and Zim scoring at three to the over. Finally something for the Zim fans to cheer about as Ervine gets it through the point region for four. Shouts of 'catch' as Ervine plays it uppishly. Falls short of cover though.
Over 10 Southee 0-1-0-1-0-0 30-2 - This is the final over of the mandatory Powerplay. It's still slow going out in the middle. Southee bowls a good short one as Ervine has to get his head out of the way. The left-hander is up and running with an edge wide of second slip.
Over 9 Mills 1-0-0-0-0-0 28-2 - Good one from Mills as he gets some excellent seam movement across the left-hander. And again, but this time Ervine played well away from his body. Ervine finally gets bat to ball with some solid defensive shots.
Over 8 Southee 0-0-0-W-0-0 27-2 - Daniel Vettori will be delighted with his team's start. They've already picked up one wicket and Zimbabwe are going at just over 3.5 to the over. Dropped! Well, well, well. Vettori's mood will just have changed after he dropped a clanger. Taibu looks to go over the top, but he picks out Dan at mid-off. It went straight to him, but popped out of his hands. WICKET! Vettori's howler doesn't cost anything as Taibu is trapped in front. He looks to work it to the leg-side, but plays around it. The umpire has no hesitation. Taibu knows he's gone, but with his wicket so important to Zimbabwe, Taylor convinces him to refer it. Replays only confirms it though. Craig Ervine, one of Zim's heroes against Canada, is in. Southee goes past his edge.
Over 7 Mills 1-0-1-0-2-0 27-1 - Good ball from Mills as he gets one to nip back. Taibu plays with a straight bat, well he tried to, but it went past the inside edge and the wicket. After some quick singles, there's a big shout from Mills for lbw. Taylor looked to turn it to the off, but he missed the ball. Umpire shakes his head, but the Kiwis have referred it. It hit him on the knee roll so that will bring height into question. Hawk-eye says it would've clipped the bails so the umpire's decision stays. Taylor makes some solid contact next ball as he cracks it wide of backward point for a couple.
Over 6 Southee 0-1-4-0-0-1 23-1 - Another quick one to the right of mid-off. What a shot from Taylor. Short from Southee and he plays an upper cut/scoop shot in one. It goes over the keeper's head for four. More quick running between the wickets.
Over 5 Mills 4-0-0-0-0-1 17-1 - Shot! And I mean that. Half volley and Taibu cracks it wide of the man at short cover for four. There wasn't much foot movement, but it really was a cracking shot. He's looking in good touch. His wicket will be a big one for both teams.
Over 4 Southee 0-0-2-0-0-0 12-1 - This has been a very tidy start from the two New Zealand bowlers. They haven't given the batsmen any width. They've been down the leg-side a couple of times, but everything else are outside off. Another one that's too straight and Taylor works it through square leg for a couple.
Over 3 Mills 1-0-0-1-0-1 10-1 - Drop and run from Taylor. Taibu is off in typical fashion, playing with soft hands to mid-on before setting off for a quick single. Unlike Coventry, he scampers through.
Over 2 Southee 0-wd-W-4-1-0-0 7-1 - Tim Southee shares the new ball. He's had a decent World Cup so far. Southee also goes behind the batsman's back for an extra. Wides down the leg-side are a common problem in this tournament. WICKET! Disaster for Zimbabwe as Coventry goes after some pretty awful cricket. He plays it with softish hands to mid-on and gets called through for a single. He's slow to respond and then fails to put a dive in as Hamish Bennett hits the stumps directly. To make matters worse, he turned his head as he hit the crease. That really was a poor piece of cricket. I'd fine him if I was the manager. Tatenda Taibu is the new man, but he's not on strike. Down the leg side and Taylor glances it fine.
Over 1 Mills 0-0-0-wd-0-0-0 1-0 - Brendan Taylor and Charles Coventry are the two openers and Kyle Mills has the brand new cherry in his hand. Two slips next to the keeper. Mills gets some good movement, but Taylor makes solid contact as he drives to a fielder. Zim's first run comes after a wide down the leg-side.
Drop me a line If you want to chat about today's game, you are welcome to send your emails to shahida.jacobs@teamtalkmedia.co.za.
And breathe out I think most of the formalities are out of the way now and this game is ready for kick off. Time to take a deep breathe before the start of Zimbabwe's innings.
Anthem time Conquest of Paradise, which seems to be the ICC's official anthem at major tournaments, rings out and that will be followed by the anthems.
Starting XIs: Zimbabwe Brendan Taylor, Charles Coventry, Tatenda Taibu(w), Craig Ervine, Elton Chigumbura(c), Regis Chakabva, Gregory Lamb, Prosper Utseya, Graeme Cremer, Ray Price, Tinashe Panyangara
New Zealand Martin Guptill, Brendon McCullum(w), Jesse Ryder, Ross Taylor, James Franklin, Scott Styris, Nathan McCullum, Daniel Vettori(c), Kyle Mills, Tim Southee, Hamish Bennett
Team news Regis Chakabva and Tinashe Panyangara get some World Cup action as Sean Williams and Chris Mpofu are out injured for Zimbabwe. Big news for New Zealand as Kyle Mills makes his 2011 World Cup bow. Jamie How is the man to sit out.
Toss Zimbabwe captain Elton Chigumbura has won the toss and elected to make first use of the excellent Ahmedabad wicket.
Pitch report The outfield and the pitch are in magnificent condition. You want to win the toss and bat first. The odd one could hold up with some turn later in the day.
Importance of today's clash With the top three teams, Pakistan, Sri Lanka and Australia, looking like they'll progress with ease, today's clash is of imprtance as it could determine who goes through along with the 'big three'.
The state of the group Pakistan lead Group A with six points after their three wins on the trot. They are followed by Sri Lanka and Australia on four points. Today's teams, New Zealand and Zimbabwe, are next on the log with two points each after their single victories.
Greetings Welcome to our live over-by-over coverage of the World Cup Group A clash between New Zealand and Zimbabwe in Ahmedabad.
Sky Bet Odds:
Click Here for Your Free Bet