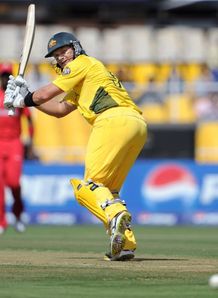 Australia won by 91 runs And that's their 24th World Cup victory on the trot, which is some record. They struggled a little bit up front against some tight spin bowling from Zimbabwe, but in the end the bowlers have come out and put in an impressive performance to ensure that Zimbabwe were never in the chase. We're yet to see a close match in this tournament, and with England v Netherlands tomorrow and Kenya v Pakistan on Thursday, we might as well pin our hopes on Australia v New Zealand on Friday. Do join us tomorrow though to see how the Kevin Pietersen opening experiment comes along, among other things of course. We'll see you then.
Over 47 Johnson 0-0-W 171 all out - WICKET! And that is that, as Mpofu nicks off and Johnson grabs a fourth wicket. The left-armer came around the wicket and angled the ball in before getting it to nip away, and Mpofu obliged.
Over 46 Tait 1-0-1-1lb-0-0 171-9 - With five overs left Zimbabwe have no choice but to take the batting powerplay as Tait returns. Mpofu ducks straight into one - practically headbutting the ball - as he takes his eye off of it, but luckily it's not one of Tait's quicker deliveries so he's alright.
Over 45 Johnson 0-0-0-0-0-0 168-9 - Another maiden, which is all a bit pointless really. Johnson switches between bowling over and round the wicket, but can't break through Price's defences.
Over 44 Hussey 0-0-0-0-0-0 168-9 - Big smile across Ponting's face as Australia head for yet another World Cup win. Hussey gives Mpofu a huge invite to swing as he tosses several up well above the eyeline, but Mpofu doesn't go for it and instead plays out a maiden.
Over 43 Johnson 1-0-1lb-W-1-0 168-9 - WICKET! Johnson's angle across the right-hander does the trick as Cremer nicks off and Haddin takes a fine one-handed catch diving to his right. Cremer is very annoyed to miss out on a half-century but he's done well to take Zimbabwe to a respectable total after they threatened to implode earlier. Just one more wicket for Australia to grab now.
Over 42 Hussey 0-1-1-1-0-1 165-8 - A couple of singles take Zimbabwe to within a hundred of their target, and Price starts to play some expansive strokes - a reverse sweep which goes straight to a fielder and a wandering slap down the ground. Just four runs from the over though.
Over 41 Johnson 0-0-1-1-0-4 161-8 - Johnson returns having bowled very well in his first spell (6-1-11-2). Cremer plays and misses the first ball, but absolutely murders the last one as he pulls away for four. He was expecting the short ball and timed his shot to perfection as he got it away in front of square.
Over 40 Hussey 2-W-0-1-0-1 155-8 - WICKET! A tame end for Utseya, as he clips a delivery straight to Ponting at short midwicket. Disappointing way to get out after putting up some sort of fight. Ray Price comes in and gets off the mark with a push down the ground. Might as well take the batting powerplay now and have a bit of a dip.
Over 39 Tait 4-0-0-2nb-0-4-0 151-7 - No slip in place, and this time Utseya gets bat on ball to guide it through that region for four. An overstep gives Cremer a free hit, but he backs away to leg and gives himself too much room. Tait fires it in short outside off stump and Cremer doesn't even try to reach it. He grabs four to end the over though, toe-ending one through the vacant slip region.
Over 38 Hussey 0-0-0-1-2-1 141-7 - David Hussey enters the attack for the first time, but any hope that Zimbabwe's batsmen might see that as an opportunity to have go a falls flat. Utseya places his drive well enough to grab a couple, but otherwise there's little to report.
Over 37 Tait 0-0-1-0-0-0 137-7 - Gunslinger Tait back on now to see if he can knock someone over. This partnership must be growing irritating for the Aussies even if it's not exactly threatening an upset. He's been difficult to get away and he beats Utseya by a mile as the batsman looks to run him down to third man, but still Australia can't find the breakthrough.
Over 36 Lee 0-0-2nb-0-0-1-1 136-7 - Lee oversteps to grant Utseya a free hit, but the slower bouncer sees Utseya swishing at fresh air. Looked suspciously like a wide actually because it bounced quite high, but Lee gets away with it.
Over 35 Smith 1-0-1-1-1-1 132-7 - Will be interesting to see how Zimbabwe go about this after the drinks break. They continue to work the singles for the moment but there does seem to be a bit more intent. Would be good to see them set the platform to have some sort of a go.
Over 34 Lee 4-0-0-0-1-0 127-7 - Some corking deliveries from Lee in this over - first a brisk bouncer which Cremer starts to take on, then thinks better of it before getting a top edge over the keeper as he runs out of time to make a decision. Then two balls later a fiery yorker sees the batsman fall in a heap as he does a good job of digging it out. Time for drinks.
Over 33 Smith 0-0-1-1-1-1 122-7 - Smith continues to wheel away, and the Zimbabwe batsmen milk the singles to keep the scoreboard ticking over. The match is up, but these two could at least add some respectability to the final scoreline.
Over 32 Lee 0-0-0-0-1-0 118-7 - With both batsmen handling spin reasonably well, without scoring much from it, Ponting brings back Lee to see if he can wipe out a couple of wickets and bring this match to a close. He can't, as Cremer does well to dig out a quick inswinging yorker.
Over 31 Smith 0-1-0-1-4-0 117-7 - Australia racing through the overs at the moment and doing so fairly cheaply, but Cremer gives Zimbabwe something to cheer as he comes down the pitch to whip over midwicket for four. The required run rate is up to 7.68 regardless.
Over 30 Krejza 0-0-0-1-0-1 111-7 - Krejza continues from around the wicket with a slip and leg gully in place - nice and attacking. Utseya pushes a single to long-on, and Cremer does likewise as the offspinner gives the ball lots of air.
Over 29 Smith 0-0-1-0-1-2 109-7 - Big shout for lbw, but only Haddin goes up. He thinks the ball hit pad before bat as it rushed onto Cremer but the replay shows he was wrong about that. Little wonder the bowler looks at him quizzically.
Over 28 Krejza 0-W-0-1-0-0 105-7 - WICKET! Odd shot from Chakabva, who tries to pull a full, straight delivery. It rushes onto him and traps him dead in front, leaving Richard Kettleborough with little choice but to give him out lbw. Krejza has another big shot for lbw later in the over as Utseya pushes forward, but he got far enough forward for there to be some doubt in the umpire's mind and Australia don't review it.
Over 27 Smith 1lb-2-0-1-1-1 103-6 - Steve Smith into the attack for the first time now, and Utseya squeezes him away behind square for a couple to bring up the hundred for Zimbabwe.
Over 26 Krejza 1-0-0-0-0-0 97-6 - Krejza bowls a loosener or two to mid-off mid-over and I can't say I agree with that. At the start of the over or nothing. Standard slip and leg slip in place for him now, but Chakabva is well aware of the potential edge and is deadbatting anything set before him.
Over 25 Tait 0-0-0-0-1-W 96-6 - Chakabva digs deep to keep out a rip-snorter of a yorker, which has the right-hander fearing for his toes. Marginally right and that would cracked the big one on his left foot. Then a couple of wild swing'n'misses outside the off-stump, and Tait is certainly winning this mini battle within the war. Wicket! As it turns out though, a casual single offers Williams some belated strike and it takes just one ball to get rid of him. Full and reverse-swinging, the batsman almost has no choice but to edge it to the lone slip in place. Watson hangs onto another good catch. The end is nigh for the Zimbabweans. Utseya in now.
Over 24 Krejza 0-1-0-1-0-1 95-5 - Short fine-leg is there for the beating, but Williams' placement is off the mark. So, he settles for one to deep cover. Chakabva, meanwhile, seems to think he has all day to score the runs, with textbook defence aplenty closing the over.
Over 23 Tait 0-2-1-1-0-0 92-5 - Ponting is keen to wrap this up well before the turn of the 50th over and brings his star pace ace back into the attack, with a slip in place to aid Tait. Williams holds his own though, even if it is entirely on the defence with the asking rate growing by the ball.
Over 22 Krejza 1-W-0-0-0-0 88-5 - Wicket! Chigumbura gets too cheeky for his own good, with his premeditated lap-sweep succeeding only in bobbling a simple catch to Haddin. The wicketkeeper whips off the bails for a stumping, with the batsman well out of his ground, just in case the umpire doesn't give the catch. The catch is quickly given though, and Zimbabwe slip further into the quagmire. Chakabva in now.
Over 21 Watson 0-0-2-0-1-0 87-4 - Although he'd be happier in ending this promising rearguard stand, the wicket-taking Watson will have to make do with this holding role for the time being.
Over 20 Krejza 0-1-3-1-0-4b 84-4 - Krejza explores the marginal rough outside the right-hander's off-stump and gets one to rip and fizz to beat everybody. Chigumbura doesn't have a clue on the drive, Haddin is a touch slow to react and the end result sees four byes trickle to the fence.
Over 19 Watson 0-1-0-1-0-1 75-4 - Watson shackling 'em in nicely here, with his latest conceding just three singles. He was on the lockdown with the bat earlier on in the day, and now he's repaying the favour to the Zimbabweans.
Over 18 Krejza 0-1-0-6-0-1 72-4 - Williams decides around about now is a good time to tee off, duly getting down to one knee to slog-sweep the spinner high and hard over Cow Corner for six. Not a fielder in sight to even marginally toy with the idea of stopping that one from sailing over the ropes.
Over 17 Watson 0-1-0-0-0-0 64-4 - Double bowling change, with the right-arm seam of Watson joining Krejza's spin. Tidy start from him, with Williams left to tend a good length on middle-stump and slight away swing.
Over 16 Krejza 4-0-2-0-0-0 63-4 - Spin into the equation for the first time this innings, with the right-armer drawing immediate error from the left-handed Williams, who fetches four lucky runs off the edge. There's a slip in place, and at this rate he'll be holding onto a dolly sooner or later.
Over 15 Johnson 0-3-0-0-0-0 57-4 - Shorter stuff from the southpaw seamer this time around, with Williams forced to flex his back while the fast bowler flexes his chest. So ends the bowling Powerplay. And with that it's the drinks break. Zimbabwe need 206 runs from 35 overs at a rate of 5.88 from here on in. Impossible is nothing, say Addidas.
Over 14 Tait 4-2lb-0-0-0-4 54-4 - More leg-side fodder from Tait, with Chigumbura happy to oblige four off the bat and a couple from the pads down to fine-leg to bring up Zimbabwe's 50. Then something a touch too wide, again sent to the fence by a lovely drive this time around. Tait again spent after a mere two-over spell.
Over 13 Johnson 0-0-W-0-0-0 44-4 - Ervine takes his eye off a short-ish length, duly landing a blow to the grill. He quickly walks it off, but he's rattled enough to miss the very next delivery and will have to go. Wicket! It's full, swings and strikes the left-hander dead enough in front of the stumps. But the umpire inexplicably keeps his finger down to the appeal. Johnson and Ponting are having none of it and want a referral, which soon relays that the ball pitched in line and was surely going on to hit. Umpire de Silva reverses his decision and off mopes Ervine. Williams in now. Wicket-maiden.
Over 12 Tait 0-W-4lb-0-0-0 44-3 - Wicket! Tait's return to the attack proves the undoing of Tayor, who has his stumps cleaned up by one that pitches and just tails off a bit, in turn jagging through the gate. Taylor could've played slightly straighter to that, but we'll forgive him on the back of a cracking length. Captain Chigumbura in now, with his side in a spot of bother. Easy opening delivery for him, with a piece of pad enough to send four leg-byes screaming down the leg-side.
Over 11 Johnson 0-1-W-0-0-0 40-2 - Australia call for their bowlign Powerplay. Taylor plugs one to mid-off and calls for a near suicidal single. It takes a dive at the striker's end to save Taibu's bacon, though Ponting's attempted direct-hit wasn't on target anyway. Wicket! Perhaps unsettled by the near run-out the ball before, Taibu perishes. He wanted to run a full length down to thirdman, but instead picked out the lone fielder in place to perfection. Ervine in now, who endures a couple of plays'n'misses to close the over.
Over 10 Lee 0-0-0-0-1wd-4-0 39-1 - Not quite the yorker he was striving for, but Lee rollicks in a low full toss that has Taibu throwing his bat down on at the last second. Taibu has the last word, for this over at least, punishing a wide ball through cove for four. Not a hang of a lot of footwork from the batsman, but the bat speed put it to the fence. So ends the mandatory opening Powerplay.
Over 9 Johnson 1-1-0-0-0-2 34-1 - Odd appeal for a run-out as Hussey insists his direct-hit at least deserves a second look from the third umpire, who quickly reveals that Taylor made it back to the striker's crease with a veritable era to spare.
Over 8 Lee 1-4-0-0-1-0 30-1 - Wonderful use of the pace from hand and elevation from the deck as Taylor merely puts his bat in the way of the ball to bobble a one-bounce four over the slip cordon. Some will call the shot risky, others calculated. I, for one, am in favour of the latter.
Over 7 Johnson 1-0-0-0-0-1 24-1 - Full and straight from big Mitch again, looking to target the stumps at every turn. Then the double bluff, with a short ball nearly knocking Taibu's block off. A batsman with slower reactions would've copped that straight to the grill. Australia's fast bowlers really digging deep for pace and bounce from this typically sub-continental track.
Over 6 Lee 0-0-0-W-0-0 22-1 - Halfhearted appeal for an edge behind from Lee, but Haddin and the slips don't join him in his shout as they know Coventry didn't get any bat on his weak waft at a short ball. Wicket! Lee coughs up the exact same ball the next time around, and again Coventry can't resist. This time there is bat, plenty of it. The top edge screams into the sky, ultimately falling into Lee's welcoming hands. Coventry fell for that hook, line and sinker. Taibu in now. Wicket-maiden.
Over 5 Johnson 0-0-0-0-1-0 22-0 - Tait doesn't last much longer than two- or three-over spells these days, so Johnson is into the attack pretty early. He succeeds in length where his fellow pace ace didn't, making sure to get the ball right up there in Coventry's half of the pitch.
Over 4 Lee 0-1-0-6-1-0 21-0 - Coventry wants more than just four from Lee's latest half-volley, blitzing it out of the screws for a fiery, flat six over point. India's Virender Sehwag would've been proud of that shot. Lee can't believe it. Neither can I, almost. Great shot. Shot of the World Cup thus far.
Over 3 Tait 2-0-0-1wd-1-2-0 13-0 - Fine-leg's pretty wide, so Taylor has plenty of time to get back for two runs in the wak of his glance down the leg-side. Then a cracking short ball, with the right-hander keeping his eye on the ball throughout to bob and weave out its way. Coventry, meanwhile, more than happy to see Tait off from the backfoot.
Over 2 Lee 1-4-0-0-0-0 7-0 - Rank half-volley from bomber Brett and it must travel, with Coventry lacing through the line to send it packing through cover for four. As was the case with Tait an over ago, Lee quickly realises his error in line to clean up and keep Coventry to the defence for the over's duration.
Over 1 Tait 1-1wd-0-0-0-0-0 2-0 - Two slips in place for the pace ace, but both rendered redundant as Tait balloons a horrible wide down the leg-side. Quick to correct though, he closes the over on the quiet with Coventry left to take in a host of sighters outside his off-stump.
Zimbabwe's Reply All and sundry back out in the middle under the floodlights and good to go. Zimbabwe are chasing 263 and Coventry and Taylor will open the batting. Tait and Lee to share the new ball, no doubt.
Betting Preview Australia 1/16 and Zimbabwe 7/1. A really solid effort from Zimbabwe has restricted to the Australians to an attainable score, the true test shall now lie with the Zimbabwe batsmen and how they cope with the pace onslaught of Lee and Tait. Zimbabwe look the value at this stage of the match, in-form batsmen Brendan Taylor can be backed at 11/4 to score the most runs for Zimbabwe.
Australia End On 262 For Six Watson and Haddin ground out a solid foundation on a trying track, which paved the way for Ponting and Clarke to pick up the pace through the middle overs. White and Hussey came and went, each doing their bit. But Australia's batsmen have again been found guilty of not converting good starts. At least one of 'em should've gone onto three figures. Zimbabwe won't mind this target, but they would've fancied restricting their opponents to around 230-odd at one stage. Great bowling from the bulk of the spinners, not so much by the seamers.
Over 50 Mpofu W-0-1-2-4-1 262-6 - Wicket! Arguably the worst ball of the day ironically gets the breakthrough, with Smith plugging a rank full toss straight down the throat of deep square-leg. So much space on either side of the fielder, yet the right-hander picked out the man to perfection. The left-handed Johnson in now. Mpofu decides to approach the new man at the crease from around the wicket, but is far too full and cops two on the drive, with a misfield at long-off adding the second run. Johnson then picks the ball on the up for four through midwicket and I'm, again, left to question why Mpofu was given the final over. Williams still had one in hand. He's been far more economical than the rest todday.
Over 49 Price W-4-6-1-0-2 254-5 - Wicket! Price strikes with the first ball of the penultimate over, with Hussey's head-in-the-sky dart down the wicket proving his demise. Hussey wanted that out the park, and perhaps off the sub-continent, but instead missed anything'n'everything as the ball raced through to the stumps. Smith in now and he ges straight to work with four planked through cover and six hoisted over midwicket to bring up Ausralia's 250.
Over 48 Mpofu 1-2-2-4-2-4 241-4 - Chigumbura putting plenty of faith in Mpofu, offering another over at the death of the knock. It's all going according to plan, until another one of those characteristic leg-side gifts affords Clarke the easiest of fours through fine-leg. Clarke goes to his 50 at a run a ball, including just three fours. This his 46th ODI half-ton and his sixth in World Cups. Four more plugged over cover courtesy the half-centurion concludes the over and Chigumbura is left to rue keeping the seamer in the attack for a touch too long.
Over 47 Utseya 0-1-1wd-4-1-1wd-1-1 227-4 - Superb shot, arguably the Stroke of the Day, as Hussey meets the ball down the pitch to guide it through extra cover with the most superb timing witnessed all day. Concludes his 10 overs for the day, and he won't be unhappy with his final spell, which included one too many boundaries and far too many wides.
Over 46 Williams 0-1-1-1-6-0 216-4 - The left-arm spinner is back into the attack against two right-handers, who pick off the singles on offer across a multitude of gaps in the outfield. They want more than ones though, and Hussey eventually obliges by dancing down the track to hoist six high and hard over the sightscreen beyond the long-on fence.
Over 45 Mpofu 4lb-1wd-1-1-1wd-0-1-W 207-4 - The seamer gets the last over of the batting Powerplay. Poor start for him, with Clarke's pads spooning some useless leg-side fodder through fine-leg for four. Then a wide, and Mpofu is on his way to the same expense that cost him 17 runs in a solitary over earlier in the day. Wicket! He promptly pulls things back tnough, undoing White with a slower ball. White is far too early on his attempt to swat one over midwicket. Bat misses ball, ball races through gate, ball strikes wicket, batsman mopes off. Hussey in now. Batting Powerplay is over - 35 for one from it.
Over 44 Price 1-0-1-1lb-0-1 198-3 - Clarke's eyes light up as he looks to take care of a shorter ball over midwicket, but he's far too early on the shot and has to make do with a bruiser to the thigh. White, meanwhile, is determined to work the ball down the leg-side, failing for the most part as Price generates an angle far too tough for the Aussie to play away with ease.
Over 43 Utseya 1-0-1-4-1-1 194-3 - Clarke misses out on a rank full toss, but then makes up for his error by dancing down the track to plank for over the bowler's head. Having meandered their way through the bulk of proceedings, the Aussies are really looking to pick up the pieces across the ongoing batting Powerplay. Half-century partnership arrives.
Over 42 Price 1-1-2-0-1-1 186-3 - Dropped White looks to force the issue over midwicket, doesn't quite have the carry but survives as Cremer in the deep can't hang onto what would have been a cracking catch. He put in the full dive forward, got both hands to it, yet watched in dismay as the ball spilled from his finger tips.
Over 41 Utseya 1-1-4-1-1-0 180-3 - The Aussies call for their batting Powerplay and they'll kick it off against Zimbabwe's best bowler of the day. Far too short from Utseya to start, and Clarke has all the time and space in the world to wield it through backward square-leg for four. Other than that, just milked singles as Clarke and White weigh up their options for the forthcoming four overs. Ervine, meanwhile, has to remove a rogue kite from the playing area.
Over 40 Taylor 1-1-1-2-1-0 172-3 - Taylor tries to steal a stumping down the leg-side, but White is quick to get his pads in the way. Then another quicker delivery, and White doesn't know much about that either. Taylor doing a good stopgap job before the frontline spinners resume the status quo. Drinks break.
Over 39 Williams 0-1-0-0-1-1 166-3 - Six overs collectively left in the bags of Price and Utseya and they're likely to be saved for the batting Powerplay. Mpofu has four more so Williams continues for the moment and concedes just three singles. The run rate hovering around 4.25 per over.
Over 38 Taylor 1-1-1-1-0-1 163-3 - Too soon for Price or Utseya, decides Chigumbura, instead asking a bit more of his part-timer. Milked for far too many singles for his liking, Taylor attempts a quicker ball. White wise to it though, simply dead batting it back to the thwarted bowler.
Over 37 Williams 0-0-1-1-1-0 158-3 - Clarke using his feet time and time again, yet unable to get to the pitch of the ball in time. Hence he has to make do with a couple of skewed singles. A touch more spin or rush for pace and the right-hander might be found wanting on the stumping.
Over 36 Cremer 0-0-1-0-1-0 155-3 - Cremer commences his final over of the day, errantly banging in a long-hop, which have been fewer and further between than is often the case with the lively leg-spinner. Clarke can't cash in on it though, instead slapping it to the fielder for just one run. Utseya or Price should return for an over or two from this end soon...
Over 35 Williams 1-0-0-0-1-1 152-3 - After a cranky first over, Williams has settled in nicely and this time around restricts the Aussies duo to a mere three singles. Bowling well to his field is the spinner. Bit of turn out there for him, but he's relying more on darters than floaters.
Over 34 Cremer 1-0-1-2-1-0 150-3 - Two new batsman at the crease and the Aussies have to steady ship somewhat for the time being. Clarke is determined to use his feet to the spinners, while White is content in staying rooted to his crease.
Over 33 Williams 1-0-0-1-1,W-1 145-3 - Sitting pretty a couple of minutes ago, the Aussies are suddenly in trouble again as Ponting goes and runs himself out. Wicket! Clarke plugs the ball to midwicket, calls for two and makes it home with comfort at the striker's end. The throw from the deep is to the non-striker's end though, and a direct-hit to boot. Ponting, full stretch, is short of his ground by a Country Mile and Mpofu's rocket from the ropes stuns all and sundry. White in now.
Over 32 Cremer 0-0-W-1-0-0 141-2 - Big appeal from Cremer for an lbw to Watson, but the tall right-hander has put in a big lunge forward and is given not out by the umpire. The bowler won't believe that that's not out though, and promptly gets his skipper to ask for a referral A couple of television replays reveal that umpire Kettleborough was in the wrong, and that the ball was indeed going onto hit. Wicket! No bat before pad neither. Off mopes Watson with the umpteenth unconverted 50 of his career. Clarke in now alongside his captain.
Over 31 Williams 4-0-1-1-1-0 140-1 - Chigumbura is trying everything now. He still needs seven overs out of the part-timers. Sean Williams is the latest to get a go and he drags his first ball down which gives Watson plenty of time to pull for four. Short again and pulled again, but this time it's along the ground to the man on the square leg boundary.
Over 30 Cremer 1-1-1-0-0-1 133-1 - Ponting and Watson take a couple of singles down the ground. Watson keeps the strike by slapping it to the man on the cover boundary.
Over 29 Chigumbura 1-1-1-1-2-4 129-1 - Problems on the horizon for the Zimbabwean skipper. He needs to get 10 overs out of the bit-part bowlers. The runs continue to flow. Watson clips another leg-sided ball to deep backward square leg for three. And again! This time it's four to fine leg.
Over 28 Cremer 1-0-1-3-6-1 119-1 - Cremer is into his sixth over and he's conceding under four per six balls. Ponting looks to change that by using his feet. Cremer is down the leg side and Ponting glances it fine for three. Watson finally plays an aggressive stroke against a spinner as he goes for a pull over square leg for six. Big over for the Aussies.
Over 27 Chigumbura wd-1-0-4-1-1-0 107-1 - Interesting wagon wheel from Watson. Only 16 per cent of his runs have come fron the on-side. Change in bowling sees Elton Chigumbura into the attack. Poor start as he goes down the leg. Again too straight and Watson clips it for four. And again, but this time it's just a single.
Over 26 Cremer 0-0-0-0-1-0 99-1 - The acceleration is in full swing now. Ponting is looking for the scoring shot, but he can't beat the fielders. He finally gets off strike with one to long-on. Great over for Zimbabwe after Taylor's expensive opening over.
Over 25 Taylor 1-2-3-1-1-4 98-1 - Brendan Taylor will have a bowl now. Australia have stepped it up in the last couple of overs. After one down the ground, Ponting backs away to get the ball through extra cover for a two. He then glances it wide of short third man for three more. Watson backs away to slap it through extra cover four. That takes him to 50 from 69b, 5x4.
Over 24 Cremer 1-0-1-1-3-1 86-1 - The runs rate has crept up to 3.4 per over. Tossed up, but Watson works it to the leg side for one. Tossed up again and Ponting presents the full face of the bat to go over the in-field. Shouts of 'catch it', but it doesn't carry to long-off. Glanced fine for three by Ponting.
Over 23 Utseya 1-0-0-1-4-1 79-1 - Watson has really not shown any interest in playing aggressive shots against the spinners. He went after Mpofu in his comeback over, but he hasn't tried it against the spinners so far. Finally some aggression from Watson as he backs away to smash it past the bowler for for.
Over 22 Cremer 1-1-0-0-0-1 72-1 - A misfield at midwicket gives Watson a single. The Zimbabwean fielding has been excellent so far. There's been one or two misfields, but they haven't made any major bloopers.
Over 21 Utseya 0-1-0-1-1-1 69-1 - Utseya has brilliant figures of 5-2-6-1 before the start of this over. Again the Australians are not interested in going for big shots, they keep it simple with the singles.
Over 20 Cremer 2lb-0-0-0-1-0 65-1 - Too straight and they take a couple of leg-byes. After defending a couple, Ponting goes to long-on for a single. Ponting is up and running with a shot in the same region.
Over 19 Utseya 0-0-0-1-W-0 61-1 - The strangling continues. Watson goes back to push it to long-off. WICKET! Big appeal from the wicketkeeper for lbw after Haddin goes back into his crease and gets hit on the pads as the ball spins back into him. The bowler wasn't that interested, but Taibu has convinced his captain to for the UDRS. Wow! Replays show it hit him right in front and the decision is reviewed. That really was some excellent work from Taibu. Ricky Ponting is the new man and the Zim skipper puts in a bat-pad.
Over 18 Cremer 1-0-0-1-wd-1-0 60-0 - Price gets a break as Graeme Cremer comes into the attack. He continues the good work, rushing through the over and keeping the scoring down to singles.
Over 17 Utseya 0-0-0-0-0-0 56-0 - The drinks break is something of the past and Utseya will continue. Once again Haddin is not interested in taking risks against the spinner. It's a second maiden from Utseya.
Over 16 Price 0-0-1-1-0-1 56-0 - Mpofu is out of the attack after his poor comeback over and back on comes Ray Price. Will Chigumbura bowl him out or keep one or two overs back? Price drags things back as they only get it away for singles.
Over 15 Utseya 1-1-1-0-0-1 53-0 - This is the final over of the bowling Powerplay. Australia's 50 comes up with a push down the ground. Their half-century looked far away just a few overs ago, but 17 from the previous over has given their innings impetus. Loud applause after some fine fielding from Craig Ervine at mid-off. Watson drives, but Ervine dives to his left to cut off a certain boundary.
Over 14 Mpofu 4-4-1-4-0-4 49-0 - That really was close shave for Haddin as the ball actually hit the stumps pretty hard, but the bails stayed on. We'll have some pace again as Mpofu returns for his second spell. Poor start and Watson flicks it wide of short fine for four. Wow! The onslaught has started as Watson pulls a short one through midwicket. The bowling change misfires as Haddin advances to go over mid-on for four. Another boundary as Haddin gives himself room to play it with a straight bat over mid-off.
Over 13 Utseya 0-0-0-1-0-0 32-0 - Long discussion between bowler and captain, but there's no obvious change is the field. Utseya finally drops one shot and Watson goes after it hard, but he can only hit it to long-off for one. Ooh! Haddin looks to flick it through the on-side, but the ball goes through his legs and onto his stumps, but the bails don't fall off. Lucky escape.
Over 12 Price 1-0-0-1-1-0 31-0 - Wow, the Aussie run rate is still below three. Zimbabwe have bowled well, make no mistake about that, but there the Aussie openers have shown no intent. Are they worried about their soft middle order? Couple of singles down the ground is all they can get off Price's sixth over.
Over 11 Utseya 0-0-0-0-0-0 28-0 - No surprise to see Zimbabwe taking the bowling Powerplay straight away. Chigumbura also makes his first bowling change as Prosper Utseya comes on for the fast bowler. He's also on target straight away. The pressure builds and there's a mix-up between the two batsmen. No harm done though.
Over 10 Price 0-0-0-0-0-1 28-0 - This is the final over of the mandatory Powerplay and Zimbabwe will be delighted with their effort so far. Price is too straight, but the man at short fine leg does the business. Good running off the final ball gives Haddin a single.
Over 9 Mpofu 0-0-1-0-1-0 27-0 - Australia's run rate is just under three to the over. Mpofu's line has been excellent. He bowled the one down the leg side and Watson glanced it fine for four. Again, he gives them no room and they can only get a couple of singles.
Over 8 Price 0-0-0-4-1-1 25-0 - Price continues to fire it in and Watson looks to work it past fine leg a couple of times, but he finds the fielders. Shot! Watson finally decides to come forward and drives it through the covers for four.
Over 7 Mpofu 1-0-1-0-0-0 19-0 - We still awaiting the first shot in anger from Watson and Haddin. Mpofu starts with an excellent yorker that Watson digs out for one. Ball is hit hard into the ground and Watson calls his partner through for one. Haddin has to motor, but the keeper can't hit the stumps.
Over 6 Price 0-0-1-1-0-0 17-0 - Really impressive stuff from Zimbabwe's opening bowlers. Haddin takes a few balls before getting it wide of short midwicket for one. On the legs and Watson takes one. Price applauds his fielders at backward square leg and short fine leg.
Over 5 Mpofu 1-0-0-0-0-0 15-0 - Elton Chigumbura will be delighted with the start from his bowlers. They haven't given the Aussies any room to free their arms. Haddin gets one through midwicket, but Watson is happy to get bat and pad behind the ball for now.
Over 4 Price 1-0-0-1-0-1 14-0 - Short cover and short midwicket in. No slips. Haddin goes down the ground for one. Price fires it in to Watson and the right-hander plants his front foot to defend. Price kicks the ground after a misfield gives Watson a single.
Over 3 Mpofu 4-1-0-0-1-0 11-0 - Plenty of noise coming from the drummers in the crowd. Too straight and Watson glances it fine for the first boundary of the game. He then takes advantage of a misfield at square leg to jog through for a single. Plenty of stuff on the legs and the Aussie openers are happy to pick up the singles.
Over 2 Price 0-1-0-wd-0-1-0 5-0 - Zimbabwe's team are loaded with spinners so it's no surprise to see Ray Price opening the bowling. This will be interesting as Haddin and Watson are not afraid to go over the top while Price won't be standing back. Couple of leg-sided balls are hit for singles. Some excitement as Watson goes back in his crease to defend.
Over 1 Mpofu 0-0-0-1-1-0 2-0 - Chris Mpofu has two slips in place to Watson. Shout for lbw second ball after Watson comes forward to defend, but it wasn't a close call. Watson and Australia are away with a cut to third man. On the hips and Haddin tucks it to fine leg. Decent start all round. Mpofu kept it tight and Watson and Haddin are off the mark.
We are ready to roll The Zimbabwe team have done their pre-match huddle and the players have made their way to their fielding positions. Shane Watson and opening partner Brad Haddin, wearing that bright yellow kit, have also arrived in the middle.
Time to get serious Clear your throats as it's anthem time. Zimbabwe's Blessed Be The Land Of Zimbabwe (Simudzai Mureza wedu WeZimbabwe) rings out and is followed by Advance Australia Fair.
The teams Shaun Tait is in the starting XI and Hastings is out. Greg Lamb is not feeling well so Regis Chakabva is playing.
Pitch report Ian Chappell: "A little more grass at one end of the track which means the spinners will favour one side and the fast bowlers the other side. The pitch is pretty hard and there will be plenty of carry. The bowlers will enjoy the pitch, but if you bat well there will be plenty of runs. Dew shouldn't be too much of a problem."
Confusion all around Who is actually playing? Some say John Hastings is in and Shaun Tait is others. While others claim Tait is in and Hastings is on the sidelines. Also confusion over Greg Lamb and Regis Chakabva. We'll clear it all up in a minute.
Starting XI: Australia Shane Watson, Brad Haddin(w), Ricky Ponting(c), Michael Clarke, Cameron White, David Hussey, Steven Smith, Mitchell Johnson, John Hastings, Jason Krejza, Brett Lee
Zimbabwe Brendan Taylor, Charles Coventry, Tatenda Taibu(w), Craig Ervine, Regis Chakabva, Sean Williams, Elton Chigumbura(c), Prosper Utseya, Chris Mpofu, Graeme Cremer, Ray Price
Team news Australia include Jason Krejza and John Hastings in their team, but the likes of Shaun Tait, Tim Paine and Callum Ferguson are left out. Zimbabwe, meanwhile, will be without Greg Lamb.
Toss Ooh! Are you excited? Are you? Here it is then. Ricky Ponting has won the toss and elected to bat first.
Yawn fest Joey Canterbury from Melbourne is clearly not happy with what he has seen thus far: "Apart from Sehwag's blitz on day one, the World Cup has been pretty boring and I fear it will be the same for the rest of the tournament. The minnows can complain all they like, but the ICC is heading in the right direction by cutting the teams down to 10." Although I have a soft spot for the Associate nations, I have agree with everything.
Defending champs in action Has Australia's demise been greatly exaggerated, in the ODIs at least, or will they prove they're still top dogs? Answers in an email to shahida.jacobs@teamtalkmedia.co.za.
Some excitement ahead? The first three games of the 2011 World Cup have been pretty one-sided affairs with India, New Zealand and Sri Lanka winning quite comfortably. Let's hope Zimbabwe can give Australia a run for their money, otherwise the knives will really be out for the minnows.
Greetings Welcome to our live over-by-over coverage of the Group A World Cup clash between defending champions Australia and Zimbabwe in Ahmedabad.
Sky Bet Odds:
Click Here for Your Free Bet