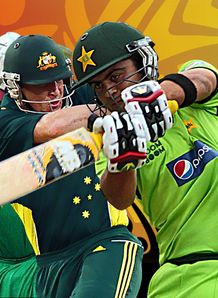 New Zealand beat Kenya by 10 wickets The Kiwis demolish minnows Kenya in the opening game of Group A. The Black Caps needed just eight overs to chase down Kenya's 70 as Martin Guptill (39 not out) and Brendon McCullum (26 not out) saw them home. Hahish Bennett did the damage earlier in the day with four wickets. Thank you for your company and do join us again in a couple of hours for the Canada versus Sri Lanka clash. See you then.
Over 8 Kamande 4-1-1-4-4-0 72-0 - Two shots over the ropes and this game will be over and out. McCullum goes over the bowler's head for four. After McCullum takes a single through midwicket, Guptill goes for a pull, but he doesn't middle it. A six can finish it. McCullum goes for a reverse sweep and it's four. That was powerfully hit. Another reverse sweep and it's all over.
Over 7 Odhiambo 1-wd-1-nb-0-1-0-0 58-0 - Double bowling change as Nehemiah Odhiambo comes into the attack. Guptill gets another easy single. He's looked class out in the middle. A front foot no-ball from Odhiambo. McCullum is bowled from the free hit, but he's not out of course. Pushed into the covers for one.
Over 6 Kamande 4-wd-1-1-0-2b-0 53-0 - We will have a bowling change as Jimmy Kamande comes into the attack. The spinner starts with a short one and it's put away to the midwicket fence by Guptill. The Kiwi 50 comes up with a single through the same region. Some turn for Kamande and it goes straight through. They takea couple of byes.
Over 5 Odoyo 6-1-4-1-wd-lb-1 44-0 - Slower ball from Odoyo and Guptill goes for another one of his straight shots and it's six more. McCullum charges down the track to a short ball and he gets another top edge, but this time it brings him four down to fine leg.
Over 4 Otieno 2-1-0-6-0-1 30-0 - Short and McCullum just clears midwicket with a pull shot. He's not timing the ball just yet. Guptill uses his feet again to go straight down the ground. This time goes all the way for six. Guptill nearly gives his wicket away as he edges it. The ball falls short of slip though.
Over 3 Odoyo 1-1-1-0-0-4 20-0 - McCullum gets a top edge to his attempted pull, but it goes over the head of the man at midwicket. Poor fielding though as he had a lot of time to get there. Nice rotation of the strike. Big appeal from Kenya as Guptill takes one on the pads. Kamande and co decides they will have a review, but the replays show it awas going down the leg side. Poor use of a review. Guptill plays a the shot of the day as he hits it straight over the bowler's head.
Over 2 Otieno 4-4-0-0-0-0 13-0 - Elijah Otieno will share the new ball and Guptill immediately cracks him through extra cover for four. Short and cut away for another boundary. Good comeback from the bowler as he keeps it full.
Over 1 Odoyo 0-0-0-0-4-1 5-0 - Martin Guptill and Brendon McCullum are the two openers and Thomos Odoyo will open the bowling. How quickly can the two openers chase this down. Slip and short cover in. Too short and Guptill pulls through midwicket for the first boundary of the New Zealand innings. Last ball is slashed to third man.
And we're back No time for a break as the players are out in the middle already.
Kenya: 69 all out Wow! New Zealand's fast bowlers annihilate the Kenyan batsmen as they are dismissed for an embarrassing 69 in the opening Group A game. Kenya's openers never got going and once Tim Southee picked up the first wicket they just kept falling and falling and falling. Hamish Bennett did most of the damage with his four wickets in few overs and Jacob Oram and Southee then wrapped up the innings. Seren Waters and Rakep Patel top scored with 16 each. Do join us again in about five minutes for New Zealand's chase.
Over 24 Oram 1-0-0-0-W 69-10 - Patel is happy to take a single off the first ball to put No 11 Elijah Otieno on strike. Otieno gets nicely behind the ball. WICKET! Tim Southee won't get a chance to send down his hat-trick ball as Otieno chips it gently to short midwicket. Oram actually acknowledge Southee after he took the wicket to say 'sorry'. That is that.
Over 23 Southee 0-1-0-0-W-0 68-9 - Vettori is looking to finish things up and he takes himself out of the attack and brings Tim Southee back on. Patel takes one to fine leg. Shout for lbw, but it was going down the leg side. WICKET! Rubbish stuff from Odhiambo as his off-stump flies back. He looks to go for a big shot over cow corner, but misses the ball. It's straight from Southee and goes onto his stumps. 68-8 turns into 68-9 as Shem Ngoche is hit on the boot with the first ball he faces. Umpire has no alternative but to send him on his way. Excellent bowling from the Kiwis' fast bowlers.
Over 22 Oram 1-0-W-0-0-4 67-7 - Oram finally concedes a run as Patel runs the ball down to third man. WICKET! All too easy for New Zealand. They don't even have to work for their wickets. Oram gets a bit of extra bounce and Odoyo gets a leading edge to Jesse Ryder at point. Nehemiah Odhiambo is the new man and he gets lucky with a inside edge for four.
Over 21 Vettori 0-0-1-0-2-0 62-6 - Wide from Vettori and Patel gets it to the sweeper on the cover boundary for one. Too straight and Odoyo can clip it through midwicket for a couple.
Over 20 Oram 0-0-0-0-W-0 59-6 - Hamish Bennett is off the field so on comes big Jake Oram. Bennett was struggling slightly in his previous over so it's no surprise to see him out of the attack. WICKET! Easy game this for Oram. Outside off and Kamande looks to run it down to third man, but he gets a gentle edge through to wicketkeeper McCullum. Thomas Odoyo can't get it away and it's a maiden from Oram.
Over 19 Vettori 4-1-0-1-0-0 59-5 - Vettori is keeping the slip in. Patel sweeps powerfully in front of square and he gets four. He follows it up with a paddle for one.
Over 18 Bennett 1-0-0-1-0-1 53-5 - Bennett continues and he'll be looking to complete his first five-fer in international cricket. Patel cips it fine leg. Inside edge onto the pads and Kamande is away with one. On the hips and it's flicked away.
Over 17 Vettori 0-0-1-0-0-0 50-5 - Vettori continues. His other fast/medium bowlers must be licking their lips. Kenya's 50 comes up with a risky single to the leg-side. Kamande looks to use his feet, but blocks when he gets to the ball.
Over 16 Bennett 0-1-W-0-0-0 49-4 - Bennett strives for another one that angles into the batsman's pads, but it's down the leg side and Patel clips it to fine leg for one. WICKET! Bennett gets another one and it's very similar to the other dismissals. It angles into the batsman's pads, Ouma misses the ball and is trapped right in front. Debate between the two batsmen about a review, but they decide against it. Replays show they should've gone for it as it hit Ouma outside the line. Time for drinks. Jimmy Kamade is greeted with, you guessed it, one that angles into him. He survives though. Swing and miss from Kamande.
Over 15 Vettori 0-1-0-0-0-3 48-4 - Vettori will send down the final over of the bowling Powerplay. Ouma takes a risky single down the ground, but the throw is poor. Tossed up from Vettori, but Patel's not interested in a big shot. He picks up three from the final ball after getting a bottom edge to his sweep shot.
Over 14 Bennett 2-W-wd-0-1lb-W-0 44-4 - Tikolo is up and running straight away as he guides it past backward point for a couple. WICKET! Full and straight and Tikolo is on his way. It was a good delivery, but Tikolo made a right mess of it as he played all around it. He was way too late with the shot. Maurice Ouma is the new man in, but he is greeted with a wide down the leg side. Another big appeal as Ouma is hit on the pads, but it's sliding down. WICKET! Obuya is the latest to be hit on the pads. It's one that's angling in and it hit him straight in front. The umpire lifts his finger, but Obuya decides to challenge it. Rubbish referral as it was straight in line. Kenya in all sorts of trouble as Rakep Patel strides out to the middle.
Over 13 Vettori 0-0-0-0-0-0 40-2 - Veteran Steve Tikolo is the new batsman, but he's not on strike. Obuya struggles to get Vettori away and it's the first maiden of the day.
Over 12 Bennett 1-0-1-1-2-W 40-2 - It's not very exciting cricket at the moment, I'm afraid. After Saturday's run fest in Bangladesh, runs are hard to come by today. Quick single to backward point while Waters gets it to third man. Short one from Bennett and Obuya has no idea where the ball had gone, but Waters calls him through for a single. Good stuff from the non-striker. Waters gets a couple after the ball runs away following a direct hit. WICKET! Full and straight from Bennett and it hits Waters low on the front pad. Massive shout and the umpire sends him on his way. Good stuff rom Bennett.
Over 11 Vettori 0-0-0-0-1-1 35-1 - The first Powerplay is out of the way and it wasn't a good one for Kenya. No suprise to see Daniel Vettori taking the bowling Powerplay straight away. Speaking of Vettori, he's coming on to bowl. Slip in for Vettori and he also has a short fine leg. Waters defends off the front foot. Plenty of excitement as Waters just gets bat to a couple of balls. He's finally off strike with a push down the ground. Obuya cuts for one.
Over 10 Bennett 1-1-1-0-0-1 33-1 - Change in bowling as youngster Hamish Bennett comes into the attack. He has a front-arm action. Short and Obuya pulls it for a single. Again leg sided and they take a quick one to short fine leg. Shy at the bowler's end and he would've been out if it was a direct hit.
Over 9 Southee 1-0-1-4-0-0 29-1 - Good running as Waters dabs and sets off. Can Obuya put some pressure on Southee with a couple of big shots? Southee starts with a shorter one to the new man. Another push and run. People, the runs are well and truly flowing now as Waters gets an inside edge that goes past the stumps and beats the keeper.
Over 8 N McCullum 1-0-0-4-0-4 23-1 - Waters takes a single to bring the new man Collins Obuya on strike. Obuya doesn't take too long to settle as he uses his feet to go over mid-off for four. Yeah, we have a boundary in this game!! Rejoice. Sweeps and he beats short fine. Wow! This is an onslaught from Obuya.
Over 7 Southee 0-1-1lb-0-0-W 14-0 - Slightly short and Obanda goes on the pull. No timing and it goes just wide of the diving fielder at short midwicket. Southee gets one to nip back into Waters. Polite inquiry for lbw, but it was missing the stumps by a few metres. Short one from Southee, but it's too high to bother Obanda. WICKET! The bowler set him nicely with the bouncer. He follows it up with one that's on the pads. Obanda looks to flick it away, but misses it and umpire Marais Erasmus gives him out. Replays show it would've gone over the stumps. Obanda though decided not to ask for the review.
Over 6 N McCullum 1-0-0-1-0-1 12-0 - It's all coming in singles as Kenya's two openers struggle to get the ball away. This is a superb start for the Black Caps. Nice and easy.
Over 5 Southee 0-0-0-0-1-1 9-0 - First widish ball from Southee and Waters looks to cut, but he doesn't get hold of it. Bat finally makes solid contact with ball, but he hits it to the man at backward square leg. He finally gets to the other end with a push and run. Obanda pushes to the leg side.
Over 4 N McCullum 0-0-0-0-1-0 7-0 - Waters comes down the track and pushes at it. The ball goes over the keeper's head and the leg slip takes the catch. Polite inquiry from teh Kiwis, but it's not out. Waters decides to push to midwicket for one. Some changes in the field as Vettori puts out a long-on following Obanda's attempt to go over the top the previous over. No big shot this time though.
Over 3 Southee 1lb-0-1-0-0-0 6-0 - It's all coming in extras for Kenya as a straighter one is tucked to the leg side. Waters is off the mark with a push to third man. Obanda looks to go big final ball, but he doesn't time it. Little smile from Southee.
Over 2 N McCullum 0-wd-1-0-0-0-0 4-0 - Well, well, well. The Kiwis will start with spin from this end as Nathan McCullum is on. Slip and leg slip in for McCullum. Too straight and it's a wide. The first run off the bat is a push down the ground by Obanda. Good start from the 'other' McCullum.
Over 1 Southee 1nb-1lb-0-0-0-0-0 2-0 - Two slips in for the first over. Poor start from Southee. First he makes a false start and then he over steps the popping crease. He atones somewhat for the no-ball as he cramps Obanda for room as he can't get the free-hit away. Shout for lbw, but it was too high. Real good comeback from Southee as he gives the batsman no room.
Let's get this party started Alex Obanda awaits the first ball of the match from Tim Southee. Seren Waters is at the other end.
Anthem time Kenya's Ee Mungu Nguvu Yetu or Oh God of All Creation rings out at the ground and that is followed by God Defend New Zealand.
Starting XI: Kenya Seren Waters, Alex Obanda, Collins Obuya, Steve Tikolo, Rakep Patel, Maurice Ouma (w), Jimmy Kamande (c), Thomas Odoyo, Nehemiah Odhiambo, James Ngoche, Elijah Otieno
New Zealand Martin Guptill, Brendon McCullum (w), Jesse Ryder, Ross Taylor, Scott Styris, Jacob Oram, James Franklin, Daniel Vettori (c), Tim Southee, Nathan McCullum, Hamish Bennett
Team news As you've just read, big news from the Kiwi camp is that Kyle Mills is out with an injury.
The skippers Jimmy Kamande: "It looks a good pitch to bat and we would like to put some runs on the board. I am happy with the way we performed in the warm-up matches."
Daniel Vettori "The wicket is expected to deteriorate later. Mills misses out due to a back injury he suffered in the warm-up games. We're happy with the way we performed in the warm-up games."
Pitch report Robin Jackman says: "There is no breeze in the middle and the pitch looks like a good one to bat on. No grass on the track. There are some cracks, but it won't disintegrate. The spinners likely to have some success."
Toss Kenya skipper Jimmy Kamande has won the toss and elected to bat first.
Upset on the cards? This is the first proper minnow versus big Test playing nation match of the World Cup. After their heroics at the 2003 World Cup in South Africa, Kenya have struggled in recent years. Good news for them though is that New Zealand have also fallen on tough times in recent months. The Black Caps cannot get a consistent run together. Will be an interesting clash. Will the Kiwis bring their A game or will Kenya cause an upset.
Get in touch Before we talk about anything else, why don't you drop me an email about what you expect from today's match or maybe Saturday's opener between Bangladesh and New Zealand. shahida.jacobs@teamtalkmedia.co.za is the address.
Greetings Good morning/afternoon/evening (delete where appropriate) and welcome to our live over-by-over coverage of the Group A opener between Kenya and New Zealand.
Sky Bet Odds:
Click Here for Your Free Bet