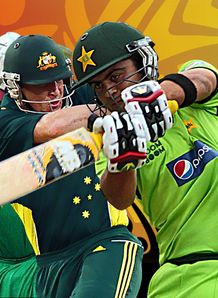 South Africa Win By 206 Runs Massive victory for the Proteas, who followed up an all-round batting performance with a great showing with the ball, fronted by Peterson. The left-arm spinner landed his ODI career-best figures and South Africa finish top of their group and will play one of New Zealand or Pakistan in their quarter-final. You can now focus your attention the clash of the big guns - Pakitan versus Aussies - currently on the go in Colombo.
Over 28 Peterson 0-0-0-4-0-W 78-10 - Peterson concedes a boundary with a rank long-hop, but soon thereafter has the final say, which beats Islam cut shot to zip through the gate and topple the stumps. Game, set, match.
Over 27 Tahir 0-2-1wd-1-4-0-0 74-9 - Having been thoroughly upstaged by fellow spinner Peterson today, Tahir goes through the motions of another average over. Can't help but feel that half-crocked finger of his is more of an issue that he or the Proteas brains trust would like to admit...
Over 26 Peterson 0-0-0-0-0-4 66-9 - Searching for a four-for and with a host of close-in fielders hugged around to aid his cause, Peterson isn't obliged by the tail-enders' defiance.
Over 25 Tahir 0-0-0-1-0-W 62-9 - Close-in fielders all over the place now, including two slips and a short-leg. So gaps across the outfield are plentiful, with the toothless Tigers left to pick the gaps on offer. Wicket! Having played along the ground for the bulk of the over, Razzak belatedly fancies a dip over midwicket. Not enough carry though, and Peterson swoops around the fence to take a great catch on the slide. The man can do nothing wrong. Rubel the last man in.
Over 24 Peterson 2-0-0-W-0-W 61-8 - Wicket! Having lived by the cut for the most part of his 30 runs, Shakib perishes to his favoured shot. The ball was a touch too close to his body for the stroke through point and the bounce got a bit big on him. Nothing more than a thick edge the result, with wicketkeeper van Wyk managing to hang onto it at second grab. Bangladesh's lone hope mopes off, Shafiul comes in and promplty departs too. Wicket! His fat heave-ho across the line in attempt to go large over midwicket succeeds only in having the ball snipe through the gate and into the leg-stump. Tigers circling the drain. Razzak in now. The Fat Lady, meanwhile, is warming up her voice.
Over 23 Tahir 0-1-0-0-0-0 59-6 - So a change of ends rather than an exit from the attack for Tahir, who promptly concedes the single that sees Bangladesh go past that number 58. Slip and short-leg in place, and both Naeem and Shakib playing shakily enough on the forward-defence to have the close-in fielders in with a chance at every turn.
Over 22 Peterson 0-0-W-0-0-0 58-6 - Tahir not having the greatest day with the ball thus far, so his opening spell is cut short as Peterson returns to the attack. When it rains it pours, the old adage says, as a needless run-out adds to the Tigers's woes. Wicket! Shakib puts in another cut to short thirdman, where Botha puts in the dive, fields well, gets the return throw to the wicketkeeper in a flash and ultimately has Mahmudullah short of his ground by enough of a margin for the third umpire to press the 'out button. Naeem in now. South Africa have been very sharp in the field today.
Over 21 Botha 0-4-0-0-1-0 58-5 - A huge cheer rings out around the ground as Bangladesh make it to 58 - the total they were all out for against the Windies earlier in the tourney. Shaky cut through thirdman for four from Shakib to get to the landmark. Doesn't matter how they fetch their fours, as long as they get them.
Over 20 Tahir 1wd-0-1-4-1-0-0 53-5 - Whereas he was a touch too short in the previous over, Tahir tosses up something far too full, which Al Hasan is more than happy to clout away through extra cover. Up comes Bangladesh's collective half-ton and at least they've made it this far. Next stop: 59.
Over 19 Botha 0-1-0-0-0-1 46-5 - Single apiece for Shakib and sidekick, who are pretty much the last recognised partnership before the tail. One more wicket and the Proteas will have all but wrapped up an easy win...
Over 18 Tahir 0-0-0-0-1-2 44-5 - An okay opening over from the leg-spinner, if a bit short on occasion. He, unlike Peterson, doesn't require any practice deliveries to mid-on mid-over. Meanwhile, Renier Potgieter doesn't agree with me one bit in any event: "I don't see anything wrong with practising your bowling during the over, as long as it doesn't waste time. If the batsman is still getting into position, for instance. And just quickly on your opinion of Parnell... I think he's got tremendous potential, he was out quite a while with an ankle injury, but he used to be a wicket-machine. At his best, he should be a permanent member of the team, but Tsotsobe has put his hand up, so after the World Cup on faster wickets I can't see Parnell winning his place back, which is a real shame. But competition for place is what keeps us strong"
Over 17 Botha 0-2-1-0-1-1 41-5 - Rather than introduce leg-spinner Tahir into the attack, Smith asks for another spell from off-spinner Botha. Sensational work from wicketkeeper van Wyk, who fields a return throw from in front of the wickets, with his swift back flick and subsequent toppling of the bails a mere milli-second too late to have a scampering Shakib short of his crease.
Over 16 Peterson W-0-0-0-0-0 36-5 - Wicket! Smith snapples a blinder at slip, moving swiftly to his right to snare Rahim's ege with one hand. Absolute cracker, that. Peterson drew the wicketkeeper-batsman into the shot with a bit more additional flight than is his norm and, unable to get his feet moving well enough, the right-hander succeeded only in feathering behind. Mahmudullah in now. Meanwhile, England are all smiles as the impending result will see them through to the quarter-finals.
Over 15 Parnell 0-1-1-0-0-0 36-4 - The bowling Powerplay ends - seven for nought from it - ends with another decent over from Parnell. Single apiece for Rahim and Shakib, who can't take many chances but are digging themselves into a whole with some over-circumspect strokeplay. No need for big shots, but they must at least turn the singles.
Over 14 Peterson 0-0-1-0-0-1 34-4 - Peterson goes and does something I don't agree with at all, which is bowl a practice delivery to mid-off in the middle of his over. I'm all for it at the start of the over, but in the middle of it seems against the spirit of the game. You don't see the batsman getting a dolly delivery thrown at him mid-over in order to practise his forward defence or sweep... Any takers on my hypothesis? Mail me at: jon.wilson@365.co.za.
Over 13 Parnell 0-1-1lb-0-0-0 32-4 - South Africa's progress was always going to be slowed by the introduction of their first-change bowlers and it looks as though Bangladesh will avoid landing a repeat of the 58 all out they endured against the Windies at this ground earlier in the tourney.
Over 12 Peterson 0-0-0-0-0-0 30-4 - More spin, with the left-armer into the attack. Maiden for him, afforded entirely by some great fielding through the off-side rather than his rogue line. That's five maidens from 12 now for the Proteas. Boring, Bangladesh? Amen.
Over 11 Parnell 0-0-1-0-0-0 30-4 - Right on cue, the Proteas go for their bowling Powerplay. Parnell gets it going with some big bounce outside Rahim's off-stump and the wicketkeeper-batsman is right on top of it with a lovely little steer down to thirdman for one. Left to the strike, Shakib takes in a string of sighters to the left-armer to close the over on the quiet. Parnell might yet make me eat my words about his ineptitude. In my defence, he's meant to be a wicket-taker, not play a holding role.
Over 10 Tsotsobe 0-4-0-0-4-0 29-4 - A rare full delivery from the fast bowler, as Shakib looks it straight in the face to drive his first boundary of the day straight back past the umpire. And then he resorts to the short stuff, which is too short, so Al Hasan rocks onto the backfoot to club that away for four more. Tsotsobe trying a touch too hard to force his fourth wicket here. So ends the mandatory opening Powerplay.
Over 9 Parnell 0-0-0-0-0-0 21-4 - The weak link in an otherwise wonderful squad, Parnell into the attack with his oft-ineffective southpaw seam. At least he's gone and racked up a token maiden to start, with Rahim's best efforts to beat the fielder at point undone by some smart work on the ground. Four maidens in nine overs - Bangladesh gunning it here. Sarcasm entirely intended, thanks.
Over 8 Tsotsobe 0-0-0-0-0-W 21-4 - At 21 for three and with two new batsman at the crease, circumspection and plenty of it is the order of the day. But Nafees is having none of it, instead looking to go large on the pull, which he misses by a Country Mile. Wicket! And then an expansive drive, which doesn't work either. Instead a fat edge has him chop onto his stumps and Bangladesh are imploding quickly here. Droves of fans already leaving the stadium... or perhaps they're off to collect some rocks. Captain Shakib in now and another wicket-maiden for Tsotsobe, who is giving the Proteas brains trust somewhat of a selection headache.
Over 7 Botha 1-0-4-0-1-W 21-3 - Not for the first time today, Botha errs in width, with Nafees offered four easy runs on the cut. If he's going to bowl there, the spinner needs to be afforded cover on the fence. Wicket! Botha has the last laugh though, trapping the left-hander lbw dead in front. Siddique opts for a review but there is no way on earth the third umpire is going to give that not out. It pitched in line, was going onto hit middle- and leg-stump and height was not an issue at all. Not quite sure what Siddique was thinking with that gamble. Wicketkeeper-batsman Rahim in now.
Over 6 Tsotsobe 0-1-0-W-0-0 15-2 - Siddique fends off a short ball awkwardly, leaving Kayes to fall prey to a terrible lack of good judgement. Wicket! He thinks Tsotsobe's line is wide enough to leave alone, but listens in dismay as some inward movement off the seam crashes into his stumps. Shame. Nothing much worse than getting out without having played a shot. Bangladesh in an early spot of bother. Nafees, another left-hander, in now.
Over 5 Botha 0-0-0-0-0-0 14-1 - Solitary slip still in place for Both, who probes away outside the left-hander's off-stump in a bid to have his defensive approach tickle one to the wicketkeeper or Smith. Kayes is resolute with the straight bat, though his lack of foot work causes the odd alarm for the Tigers. And that's two maidens on the trot.
Over 4 Tsotsobe 0-0-W-0-0-0 14-1 - Tsotsobe and team-mates are convinced they've got Iqbal out caught-behind, with the left-hander's pull seemingly done nothing more but feather a bottom edge to wicketkeeper van Wyk. Umpire Harper isn't buying it, and keeps his finger at bay. South Africa opt for a review, which after a string of television replays reveals there was, indeed, an edge. A small one, but an edge nonetheless. Harper reverses his decision and off mopes the dangerman. Big blow for Bangladesh. Massive boost for the Proteas. Siddique in now.
Over 3 Botha 0-0-0-0-1-0 14-0 - Iqbal eventually gets a single away, leaving his fellow left-hander to face the spinner for the first time today. Kayes, in turn, is flummoxed by some rare sharp bounce, which on another day could've seen his leading edge bobble to short cover. No short cover, though, with no-man's land left to field the plug.
Over 2 Tsotsobe 4lb-0-0-1wd-0-0-4 13-0 - Patience brings reward for the southpaw seamer, who eventually gets his first bowl of the World Cup. Not the greatest starts, however, as Kayes is left to spoon a rogue leg-side delivery through fine-leg for the easiest of extras off his pads. Tsotsobe quickly learns from his mistake, adjusting his line to something more threatening to the left-hander. Until, that is, Kayes offers himself room to his right to spank four high and hard over extra cover. Something quite Sehwag-esque about that shot. Meanwhile, 12th man Ingram is on the field for Kallis, who is either nursing a niggle from the pavilion or just plain old lazy.
Over 1 Botha 0-0-4-0-0-0 4-0 - Spinner Botha gets first use of the new ball. No real suprise there, given the slow, low nature of this track. A touch too wide to begin with though, as the left-handed Iqbal cashes in on the cut for an early four. Other than that errant delivery, it's a pretty decent opening over from the bowler, with Tamim left to end it on the defence.
Bangladesh's Pursuit All and sundry out in the middle, including batters Tamim and kayes, umpires Dar and Harper and the Proteas XI, and good to go.
Bangladesh need 285 for victory Bangladesh will need a very good effort with the bat if they are to qualify for the quarter-finals. They didn't start too well with the bat but they dragged things back with three quick wickets. Jacques Kallis and Faf du Plessis then eased the South Africans back on track. 285 is a big score on this wicket so it will be tough. Do join us again in about 30m for the chase.
Over 50 Rubel W-4-3-W-0-4 284-8 - Rubel Hossain will bowl the final over of the innings. WICKET! Peterson just about manages to keep a full one out. It goes straight back to the bowler. Botha is halfway down the track but gets sent back. He has no chance. Peterson stays on the attack as he clears mid-off for four. He then gives himself plenty of room to the off-side before scooping it over short fine leg. WICKET! Wayne Parnell goes for a first ball duck as it goes onto his stumps via a deflection off his pads. Lonwabo Tsotsobe gets four down the ground off the final ball.
Over 49 Shafiul 1-1-4-4-1-4 273-6 - Shafiul returns for one final over. Good start as he limits them to singles but them he goes onto the legs and Peterson clips wide of short fine leg for four. Next one is a full toss outside off and it's put away through the covers. Botha cracks the final ball over extra cover for four more.
Over 48 Rubel 1lb-1-W-4-1-4 258-6 - Rubel Hossain will finish things off for Bangladesh. WICKET! Du Plessis perishes in the search for big runs. He backs away but hits a low full toss straight to mid-off. Robin Peterson, hero against India, is the new man in. Peterson goes for a pull but gets an inside edge for four. Botha looks to go over short fine leg but he just manages to clear the fieider.
Over 47 Shakib 1-1-2-W-0-2 247-5 - The South Africans are looking for the big runs but they can't get it away. WICKET! Van Wyk is rooted to the crease and the ball deflects off his pads onto his stumps. Johan Botha is away with a couple through extra cover.
Over 46 Razzak 0-6-4-4-1-1 241-3 - Long hop from Razzak and Du Plessis helps himself to six over the long-on bounary. Another poor ball and this time it's four through the midwicket region. Luck is on Du Plessis's side as an inside eges runs away for four. That takes him to 50 from 48b, 4x4, 1x6.
Over 44 Mahmudullah 1-1-1-4-2-1 221-3 - This is Mahmudullah's final over. A score in excess off 200 has only been changed down twice in a day game in Mirpur. That's bad news for Bangladesh. Another sweep shot from Kallis and this time it's four to deep backward square leg.
Over 43 Naeem 0-1-1-6-1-1 211-3 - Hello, hello! Jacques Kallis decides to step up a gear and goes for a slog sweep for six. Looks like he's warming up for that impending batting Powerplay.
Over 42 Mahmudullah 1-1-1-0-1-1 201-3 - Kallis glances it fine and the single takes him to 50 from 64b, 4x4. Mahmudullah is both sides of the wicket and they go to 200 with a couple of easy singles.
Over 41 Naeem 0-0-1-1-0-wd-1 196-3 - Naeem was poor in his comeback over but he gets another one. Better over but still four easy runs, including a wide down the leg-side.
Over 40 Mahmudullah 1-1-wd-1-1-1-0 192-3 - This is now a perfect platform for a launch. These two milk more singles to take their partnership to 51 runs from 60 balls.
Over 39 Naeem 4-0-0-1-0-1 186-3 - Naeem Islam gets another bowl. He starts with a rubbish ball down the leg side and Du Plessis punishes him with four down to the fine-leg boundary. He bowls a wide one outside off but Kallis fails to make contact. Lucky boy.
Over 38 Razzak 0-1-1-0-0-1 180-3 - The average score on this track is about 218 and South Africa are well on course to go past that. It's a difficult track to bat on and the visitors look like they're building a nice score here.
Over 37 Shakib 0-4-0-0-1-4 177-3 - Too short from Shakib and Du Plessis hammers it through the covers for four. This partnership is developing nicely for the South Africans. Shakib's frustration grows as a misfield at backward point gives Kallis four.
Over 36 Razzak 0-2-0-1-0-0 168-3 - Shakib still has plenty of bowling options. The three main spinners, himself, Razzak and Mahmudullah, all have three left. Then the fast bowlers have nine between them. Du Plessis keeps the scoreboard ticking with three to the off-side.
Over 35 Mahmudullah 1-1-1-1-1-0 165-3 - Mahmudullah returns to the bowling crease. It's back to milking from the South African batsmen.
Over 34 Rubel 0-0-0-1-0-0 160-3 - Rubel is back after a three-over break. Du Plessis struggles to get it away for a single and Kallis decides to have a word. He immediately gets one to the leg side.
Over 33 Shafiul 0-2-1-0-2-0 159-3 - Shafiul has been really disappointing with the ball today. He bowled well against the Netherlands, England and Ireland but he hasn't shown up today. Not yet anyway. Du Plessis picks up a couple wide of fine leg. Kallis also picks up two with a flick through square leg.
Over 32 Shakib 1-2-0-0-1-1 154-3 - Shakib returns to the attack. The 150 comes up as Du Plessis turns it to the leg-side. Kallis runs it wide of the keeper for a couple.
Over 31 Shafiul 3-1-0-0-4-0 149-3 - More pace as Shafiul Islam comes back into the attack. Kallis beats midwicket and comes back for a third. Du Plessis is up and running with a quick single to cover. Lovely drive from Kallis brings him four past the bowler.
Over 30 Rubel 1-0-0-4-1-W 141-3 - Kallis plays an excellent shot off the back foot but the fielding is equal to the task in the covers. Another beauty and this time there's no stopping it. WICKET! Bangladesh get another wicket. Duminy hangs his head as he really gave that one away. It was done the leg side from Rubel and he was looking to help it on its way but got glove to it. The keeper makes no mistake with the catch.
Over 29 Mahmudullah 1-0-0-4-0-1 135-2 - Shakib is keeping that slip in for the spinners. Duminy backs away and gets it through the covers. The man on the boundary puts the dive in but it goes over his arm. Some confusion between the batsmen again.
Over 28 Rubel 1-0-2-1-0-1 129-2 - Bangladesh are not happy with the ball. The umpire agrees that it's no longer good enough and they call for a new one. The fans entertain themselves with the Mexican Wave. Back to the game in the middle and Rubel Hossain returns to the attack. Duminy gets it to the right of fine leg for a couple.
Over 27 Mahmudullah 1-1-0-0-0-1 124-2 - Mahmudullah comes back into the attack. Razzak has done his job. Couple of sloppy singles given away by Bangladesh.
Over 26 Shakib 1-0-0-1-1-1 121-2 - Duminy is using is feet to almost every delivery here. He's not looking for a big shot, just looking for the singles. Some confusion in the middle as Kallis shouts 'yes' followed by 'no'.
Over 25 Razzak wd-1-0-1-1-2-1 117-2 - Duminy sweeps but finds the man and then uses his feet. Both these will probably drop anchor for the next 10 overs or so. Duminy hits it powerfully through cover and comes back for a second. Again uses his feet but this time it's a chip over the bowler's head.
Over 24 Shakib 1-0-1-0-0-1 110-2 - Bangladesh will feel they're well in the game now. There's no AB de Villiers or Colin Ingram. It's just Faf du Plessis and Morne van Wyk still in the hut. After that it's all-rounders and bowlers.
Over 23 Razzak 0-1-W-0-0-0 107-2 - Abdur Razzak comes back into the attack. WICKET! Shakib's bowling change works like a charm as Razzak does the business. Amla backs away and looks to cut but he gets an inside edge onto his stumps. Promotion for JP Duminy with AB de Villiers not in the team.
Over 22 Shakib 1-0-1-0-4-1 106-1 - That wicket has woken up the crowd. Shakib knows he needs more wickets so he's keeping the slip in. South Africa's 100 comes up with one down the ground. Kallis cuts and gets four. That was too wide from Shakib.
Over 21 Mahmudullah 1-0-0-W-0-1 99-1 - Amla tucks it to the leg side to go this 50 from 56b, 6x4. WICKET! Smith's search for a big innings goes on as he throws his wicket away again. He charges down the track but gets beaten by the flight. The wicketkeeper gathers the ball cleanly and whips off the bails. The umpire sends it upstairs and Smith's bat is on the line as the bails are dislodged. No surprise to see there's a change in the South African batting line-up as Jacques Kallis comes in ahead of Morne van Wyk.
Over 20 Shakib 1-0-0-1-0-1 97-0 - A tiny bit of pressure is building now as it's getting really difficult to get the ball away at the moment. Still looking a bit overcast in Mirpur.
Over 19 Mahmudullah 0-0-1-0-0-2 94-0 - The South African openers are struggling a tad to get the ball away here. Pitch looks like it's very slow here.
Over 18 Shakib 0-0-0-0-0-1 91-0 - Amla uses his feet but he's forced to play a defensive shot when he gets to the pitch of the ball. Big shot from Shakib as Amla goes back into his creased. Looked like it was going down leg.
Over 17 Mahmudullah 1-0-0-0-1-1 90-0 - The England players, who I'm sure are watching this game, will be happy with procedings so far. Tidy start to the spell from Mahmudullah. The bad news for Bangladesh is the other two spinners also started very well.
Over 16 Shakib 1-1-1-1-0-0 87-0 - Only 32 runs were scored in the bowling Powerplay. Double bowling change as Shakib brings himself into the attack. Worrying signs for Bangladesh as the South Africans are just picking off the singles at will. They're not even trying very hard.
Over 15 Mahmudullah 0-0-1-1-1-0 83-0 - Mahmudullah replaces Naeem Islam in the attack. This is the final over of the second Powerplay. Smith tucks it to the square leg region for a single while Amla goes down the ground.
Over 14 Razzak 0-1-0-1-1-0 80-0 - The South African openers are starting to get used to the spinners and it's starting to look ominous for the hosts.
Over 13 Naeem 1-1-1-1-4-4 77-0 - This is danger time for Smith. He's going well but looks like he wants to move up another gear. In the previous games he has lost his wicket when he tried to up the tempo. The South Africans are happy to milk the singles. Amla backs away to the leg-side and gets it through cover for four. He repeats the shot next ball and it's four more.
Over 12 Razzak 1-4-1-1-1-1 65-0 - The run rate was over eight to the over earlier but it's now just above five. Good stuff from the spinners here. Bangladesh can still call on Shakib and Mahmudullah to bowl. Smith plays a late cut for four. Sloppy stuff at mid-on gives the South African captain a single. The South Africans are just picking off the singles.
Over 11 Naeem 2-1-0-1-0-1 56-0 - The spinners are tightening the screws here and Smith are starting to look a little uncomfortable. Little bit of pressure building. Shakib decides to get the bowling Powerplay out of the way. Amla gets two through cover.
Over 10 Razzak 0-0-0-0-0-0 51-0 - Bangladesh's spinners have done well to slow the South Africans down but they need a couple of wickets. WICKET! The bowler pleads for the lbw after Smith misses an attempted sweep. Umpire Harper thinks about it and sticks him. Smith has a long chat with Amla before going for the review. Replays show it pitched outside and just hit him outside the line. Smith escapes. That's South Africa's fourth successful challenge this World Cup. They've had 12 reviews in total. You do the math for how many they got wrong. Smith again goes for a sweep shot but doesn't make contact.
Over 9 Naeem 1-0-1-0-1-0 51-0 - Smith uses his feet but there's protection on the long-on boundary so it's just one. The 50 comes up as Amla also takes one down the ground.
Over 8 Razzak 0-0-1-0-0-1 48-0 - Right, Smith has had another decent start so he'll probably go out very soon. Change of ends for Razzak. Some excitment behind the stumps as Amla goes right back into his crease. Amla takes a quick one to mid-on. Direct hit and the umpire wants a second look. Amla's home though.
Over 7 Naeem 1-0-1-0-0-0 46-0 - Productive start for South Africa. That won't please the president of Bangladesh who is attending this important game. Another bowling change sees Naeem Islam into the attack. Shakib Al Hasan needs to halt this South African train. A bit of turn for the spinner. That will bring a smile to Shakib's face.
Over 6 Rubel 0-0-4-2-1-4 44-0 - Rubel will continue. Smith finally founds the middle of the bat as he moves down the track to go through cover for four. Next one is pulled for a couple. Amla gets a lucky four after a thick edge. There's no slip there but it wouldn't have carried anyway.
Over 5 Razzak 1-0-0-0-2-0 33-0 - Change in plan for Bangladesh as spinner Abdur Razzak comes into the attack. The hosts need to stem the flow of runs here and Razzak has done the job for them on several occasions. He drops a couple short but Amla can't put it away. He's not so lucky third time as a fumble at cover gives the opener two.
Over 4 Rubel 0-0-0-3-0-0 30-0 - Smith goes onto the back foot to ease it past backward point. The man on the boundary does well to cut off the field. Ouch! Smith runs into keeper Mushfiqur Rahim while he turned. Rahim is down and needs treatment. I wouldn't want to run into Smith. He's a big, big unit. Plenty of big units in the South African team. Actually that's a lie. Only Smith and Jacques Kallis are massive. Back to the cricket. First false shot as Amla flashes at a wide one.
Over 3 Shafiul 0-4-0-1-4-wd-0 27-0 - Another poor delivery on Smith's pads and he flicks it past short fine leg. You just cannot bowl there to a left-hander, especially inside the first Powerplay. Shot of the morning as Amla hammers it through cover. Not a very good start from Bangladesh' two opening bowlers. Some excitement for the hosts as Amla nearly chips it to backward point.
Over 2 Rubel 0-2lb-4-0-1-4 17-0 - Rubel Hossain will share the new ball. Chants of 'Rubel, Rubel' coming from the crowd. Great to hear. Smith pulls but it's not short enough. Play gets held up as Smith requires a new bat. AB de Villiers, he with the sore back, is the 12th man and he's out with about four bats. On the hips and Smith gets it between keeper and leg slip for a couple of leg-byes. Again too straight and this time the contact between bat and ball is sweet and it's four. Big shout for lbw as Smith misses one. Looked high. It was going over the stumps and pitched outside leg stump. Amla drives through the covers for four.
Over 1 Shafiul 0-1-0-1-0-4 6-0 - Widish slip in. Shafiul Islam will open the attack and he gets a bit of swing first ball but the bounce is not very high. That will be a concern for all the batsmen. Amla is away with a punch wide of backward point. Smith is off the mark with a quick run to mid-off. Amla rocks back and then works the wrists to get it through cover point for four.
Will Smith find some form Graeme Smith has been rubbish so far in the tournament to be honest. Will he finally score some big runs today? Hashim Amla, on the other hand, has been brilliant.
Formalities out of the way The anthems and handshakes are over and down with and things are about to get very heated out in the middle. A very good crowd in today. They're looking for a Bangladesh victory.
History in Mirpur The opening match took place here and India scored 370 as they won by 87 runs. Bangladesh then beat Ireland by 27 runs after hitting 205. Then there was the 58 all out drama as the Windies destroyed the hosts. So it's been a mix bag so far.
Starting XIs: Bangladesh Tamim Iqbal, Imrul Kayes, Junaid Siddique, Shahriar Nafees, Shakib Al Hasan(c), Mushfiqur Rahim(w), Mahmudullah, Naeem Islam, Abdur Razzak, Shafiul Islam, Rubel Hossain
South Africa Graeme Smith(c), Hashim Amla, Morne van Wyk(w), Jacques Kallis, Jean-Paul Duminy, Faf du Plessis, Johan Botha, Robin Peterson, Imran Tahir, Wayne Parnell, Lonwabo Tsotsobe
Team news South Africa have made several changes. Fast bowlers Dale Steyn and Morne Morkel get a breather and Lonwabo Tsotsobe and Wayne Parnell coming into the team. Colin Ingram is also dropped after his impressive knock and Imran Tahir takes his place. AB de Villiers is still absent through injury. Bangladesh bring in Naeem Islam.
Toss The people doing the pitch report are not having too much luck. Graeme Smith wins the toss and immediately decides to have a bowl first.
Pitch report Some moisture in the track means there will be some movemenet early. Whoever wins the toss might have a bowl first.
Get in touch You're welcome to send an email to shahida.jacobs@teamtalkmedia.co.za.
It's huge! Today's encounter is massive as it will affect England, the West Indies and India's chances of qualifying. A win for South Africa and the other three qualify for the play-offs, but if Bangladesh come away with a victory it will throw all sorts of permutations into the equation.
Greetings Welcome to our live coverage of the World Cup Group B encounter between Bangladesh and South Africa in Mirpur.
Sky Bet Odds:
Click Here for Your Free Bet