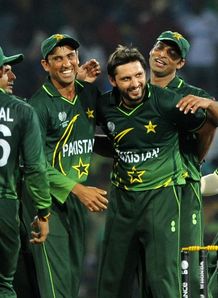 Summary It was far from convincing, however Pakistan have made it three wins from three and top Group A with a 46-run victory over Canada. Shahid Afridi (5-23) continued his tournament to remember and took his World Cup wickets tally to 14 from three fixtures! If it wasn't for his wizardry, I could well be writing about another famous shock triumph. Thanks for your company and make sure you tune in on Friday for coverage of New Zealand v Zimbabwe and Bangladesh v West Indies.
138 all out - WICKET! It only needed a straight delivery and Riaz eventually got one on target to end the match! Osinde's middle stump is in tatters and Pakistan have won by 46 runs.
Powerplay Canada have taken the batting powerplay
136-9 - WICKET! You just cannot keep Boom Boom out of this game! He may have finished bowling, however he has just produced a dead-eye direct hit to run out Balaji for one. The end is nigh for the Canucks, who require 49 further runs for victory
Over 41 Afridi 0-0-0-0-0-1 132-8 - Chohan carefully negotiates Afridi's final over and he finishes with fantastic figures of 10-0-22-5. Afridi has now become the first Pakistan bowler to take two five wicket hauls in a World Cup.
Over 40 Gul 0-0-0-0wd-0-0-0 131-8 - Seamer Gul is back in the attack looking to polish off the tail. Big Balaji is on strike and he is certainly not going to die wondering. A few words are exchanged between he and some of the Pakistan players after a huge play and miss. Gul then, rather needlessly, fires down a short ball which Balaji wears on the shoulder. Ouch! Plenty of chatter out there at the moment and the umpires have to step in and intervene.
130-8 - Boom Boom loses his radar early in the over, firing down back-to-back wides down the leg side. WICKET! Afridi has five! Gordon becomes his fifth victim of the day but Riaz must take the credit for a stunning catch. Gordon was outfoxed by a googly and the ball sliced high in the sky towards Riaz, who still had plenty of work to do running backwards before hurling himself forward to take the catch. Afridi gets greedy next ball, opting to challenge a rejected lbw appeal from umpire Llong which hit Chohan well outside off stump. Pakistan have no reviews remaining, but are well in control.
Over 38 Ajmal 4-0-1-0-1-4wd-0 125-7 - Tyson Gordon shows some fight and delivers a counter-punch of his own by launching Ajmal over midwicket for four first ball. Ajmal mixes up his off-breaks and doosras, however Kamran can't pick them either it seems and one drifts down leg for four wides. Canada need 60 from 72 balls.
114-7 - WICKET! Afridi is bowling his side to victory here! Another flatter in-ducker does the damage and it is key man Hansra who makes way. The ball wasn't there to cut and he could only wait for the death rattle as the ball crashed in to the top of off stump. He walks back having made a gutsy 43. Baidwan is the new batsman. WICKET!! Or rather he was... Afridi cleans him up first ball with a quicker ball which was simply far too hot to keep out. Not another hat-trick, surely?? Chohan walks sheepishly to the middle to face hat-trick ball... he somehow gets some bat on it and keeps it out. Afridi has 4-18 from eight overs.
Over 36 Ajmal 0-1-0-0-0-1 113-5 - All the onus is on Hansra now. He and new man Gordon pick up a single apiece off Ajmal's latest over. Required rate is now just over five runs an over.
111-5 - Afridi returns, presumably to bowl his remaining four overs straight through. Cheema signals his intent though, planting his front foot and heaving Afridi over midwicket for a boundary. WICKET! But his fun is over promptly. A perfectly pitched wrong 'un from Afridi nips back through Cheema's wide open gate and crashes into off stump. That is a huge wicket in the context of this match.
106-4 - WICKET! Well, this match has now had more reviews than the Kings Speech. This time Kamran and bowler Ajmal are spot on to question Harper's latest not out decision on an lbw. Replays showed that the ball just struck Surkari's pad before his bat and he storms off the field having made a well-crafted 27. Pakistan desperately needed that strike. Big-hitting Cheema is the new batsman. Only two wides from the over.
Over 33 Hafeez 0-6-0-0-0-0 104-3 - Six!! The first of the innings, and what a fine blow from Hansra! Riaz was back on the long-off fence but the right-hander backed himself to clear him, and he did. Hafeez comes back well though and no further runs are added. Canada require 81 further runs for victory
Over 32 Ajmal 0-1lb-0-0-1-1 98-3 - Ajmal's latest over starts with two strong lbw appeals. The second looks much closer than the first, however both are rejected without appeal. Afridi has enough when the third appeal in four balls is screamed by Akmal behind the stumps. He reviews, however replays back up the on-field decision. That was close but Surkari breathes again.
Over 31 Hafeez 0-1-0-1-0-1 95-3 - Singles continue to be the order of the day for Canada. When will Afridi get more men inside the circle?? The partnership between these two is now 51. How much longer can they continue together??
Over 30 Ajmal 0-1-0-1-0-1 92-3 - Only four men inside the circle. What is Afridi playing at? There is a huge let off for Hansra first ball when a leading edge lobs between bowler and fielder. Hansra laughs it off and gets off strike with a single next ball. Surkari, sweeping purposefully, is then denied four by a diving stop from Riaz on the square-leg fence. Canada require another 93 runs with 20 overs remaining
Over 29 Hafeez 0-4-0-2-0-1 89-3 - Super shot from Hansra. Backing away, he takes the ball off middle stump and crashes it through extra cover for four! He follows that up with a cheeky paddled sweep for two before finishing the over with a single. Fine over for Canada.
Over 28 Ajmal 0-1-0-1-0-1 82-3 - Not a lot of turn for the Pakistan spinners. Three singles are picked up without any danger. 103 required for victory
Over 27 Hafeez 0-0-0-0-1-0 79-3 - A much tighter over from Hafeez, who puts the pressure on Hansra with four successive dots. There are still plenty of gaps inside the circle, Canada just need to find them.
Over 26 Ajmal 1-0-2-0-0-1 78-3 - A beautifully pitched doosra from Ajmal outfoxes Hansra and catches his edge past Kamran. Afridi had just disposed of a slip and will be kicking himself now. The slip is back in, however that play has gone and Canada survive. Drinks are back out and Afridi calls a team meeting
Over 25 Hafeez 0-4-0-0-0-0 74-3 - The part-time off-spin of Hafeez is introduced in place of Riaz. Canada have a fantastic chance here if they can hold their nerve. Hansra finds the rope two balls in, leaning back and cutting hard through point. Afridi has his hands on his hips, he's getting worried...
Over 24 Ajmal 0-0-1-0-1-3 70-3 - Afridi brings himself out of the attack and gives off-spinner Ajmal a first bowl in the World Cup. It's another great over for Canada though, who pick up five thanks to some inventiveness from Surkari and Hansra. 115 required for victory.
Over 23 Riaz 0-4-0-0-1-4 65-3 - Frustration all around for Pakistan as Hansra edges past Younis at third slip and away to the boundary. Another single brings Surkari on strike and he ends the over with a flourish, hooking Riaz to the fine leg fence for four more! Canada are inching ever closer to their 185-run target.
Over 22 Afridi 0-0-1-1-0-0 56-3 - Boom Boom is racing through his overs now. Just two singles off his latest. The run rate is still well below five-an-over and Canada are well in this provided they keep wickets in hand.
Over 21 Riaz 3-0-0-0-0wd-0-0 54-3 - A fantastic diving stop on the third man boundary by substitute fielder Asad saves a run, however Surkari still picks up three for his flashing edge over gully. Runs are still hard to come by for the Canucks
Sunny Cyprus Kevin, tuning in all the way from sunny Cyprus has been in touch. He comments: "Looking at the batting line-up the Canadian side looks more like a President's XI made up of the 12th men from the other competing nations. Not sure how many of them are actually Canadian! Good luck to them anyway." Good luck to them indeed. The more countries competing the better in my opinion. After all, it is the World Cup.
50-3 - Surkari brings up the Canada 50, but not before he is beaten perilously close to the outside edge by Afridi. The Pakistan captain has been almost unplayable in this competition and now boasts figures of 1-10 from five overs.
Over 19 Riaz 1-0-0-0-0-0 49-3 - Surkari, who has to bat all the way through now you would have thought, squeezes a single first ball to let Hansra have a first look at Riaz. The Canada all-rounder shows plenty of attacking intent, however he can't pierce the infield.
48-3 - WICKET! Afridi gets his 10th wicket of the World Cup as Canada captain Bagai heads back having made 16! Harper rejected another strong lbw appeal, Afridi reviewed it immediately, and the decision was overturned. Just what Pakistan needed and Canada did not. Hansra, who took two wickets earlier in the day, is now in. He has a look and then exquisitely lifts Afridi over midwicket for a boundary. Top shot my man!
Over 17 Riaz 0-1-1-1-0-0 44-2 - Some questionable field-placings from Afridi at the moment. He only has one man in front of square on the leg side and Canada can pick up singles at will.
Over 16 Afridi 0wd-0-0-0-0-0-0 41-2 - Just an Afridi wide to report from the 16th over. Drinks are called on to the field with Canada requiring 144 further runs for victory at 4.23 an over.
Over 15 Riaz 4-0-0-0-0-0 40-2 - Riaz replaces Razzaq and is immediately flayed through cover point by Bagai for a boundary. Not a memorable first World Cup delivery for the left-armer... he drags it back well though with five successive dot balls. Fielding powerplay over.
Over 14 Afridi 0-1-0-0-0-0 36-2 - Bagai keeps the scoreboard ticking over before another strong lbw appeal on Surkari is turned down. The impact looked just outside off stump and Afridi opts not to review. Just one off the over.
Over 13 Razzaq 4-0-0-0-1-0 35-2 - Bagai shows some attacking intent first up, moving across his stumps and flicking Razzaq fine to the long leg boundary. Canada need more of that positivity if they are to win this. Simply digging in will not do. Bagai follows up his first boundary with a streaky single down to third man
Over 12 Afridi 0-0-0-1-1-1 30-2 - The first bowling change sees the skipper bring himself on in place of Gul. A strong lbw appeal is turned down almost immediately, Harper getting this one right as Bagai got some bat on it. Three singles finish Boom Boom's opening over.
Over 11 Razzaq 2-0-0-0-0-0 27-2 - Ajmal gets an ear-full of abuse from Kamran behind the stumps for allowing Surkari to pinch two runs down to third man. That, though, is the only drama from over 11
Powerplay The bowling powerplay is taken by Pakistan
Over 10 Gul 0-0-0-0-0-0 25-2 - Incredibly disciplined bowling from Gul here. He is peppering the top of off stump and there two batsmen really have to be on their mettle here. Shehzad saves another boundary, diving to his left at point, and ensures a maiden for Gul.
Over 9 Razzaq 0-0-0-2-0-0 25-2 - A few too many short balls sent down from Razzaq this over and he is lucky only to concede a couple. A smart diving stop at backward point stopped a certain boundary for Surkari.
Over 8 Gul 0-2-0-0-0-0 23-2 - Umpire Harper is having a shocker! That has to be the worst decision I have ever seen. Bagai is given out lbw despite the ball hitting him on the thigh pad whilst jumping. Replays confirm the ball was going way over the top of the stumps and the decision is reversed. Bagai then stands tall and punches a couple through the covers for the only runs of an eventful eighth over.
Over 7 Razzaq 0-0-0-0-0-0 21-2 - Another threatening over from Razzaq nearly brings a wicket when Surkari drives uppishly in to the covers, however the ball just drops short of the fielder. Maiden.
Over 6 Gul 0-0-0-0-4-1 21-2 - If ever a captain's innings was ever required, now is that time. Bagai joins Surkari in the middle with 169 more needed for victory. Gul continues to attack the stumps, however Surkari is more than up to the challenge and clips him through midwicket for a timely boundary.
16-2 - Surkari is the new batsman, however he is at the non-striker's end for the start of the fifth over. Pakistan are celebrating again when umpire Llong adjudges Kumar lbw second ball, however a fantastic review from the youngster saves his bacon - the ball was just missing leg stump. WICKET! But there is no doubt this time! Kumar's stumps are a mess after Razzaq gets a full delivery to nip back into middle stump. Both Canada openers are back in the hutch now and the ball is nipping around all over the shop.
Over 4 Gul 0-1lb-0wd-0-0-1-W 16-1 - Appeals for a catch are quickly mooted when Kamran spills a one-handed diving effort behind the stumps. Replays showed the ball struck Gunasekera's thigh, and not his bat. A couple of extras follow before Gul beats Kumar with a snorter outside off stump. Canada pinch a single off the penultimate ball and... WICKET! Gul gets the breakthrough! Gunasekera has gone for eight. A fantastic review from Afridi and a howler from umpire Harper. That was the plumbest lbw you will ever see and Pakistan have the breakthrough.
Over 3 Razzaq 0-2-0-0-1-0 13-0 - Gunasekera uses his feet and whips Razzaq through midwicket for a couple as Riaz gives chase. The outfield isn't the quickest now as the night dew sets in. Huge let off for Canada! Gunasekera gets his pull shot all wrong and top-edges in between three converging Pakistan fielders. Could it be their day??
Over 2 Gul 0-2-0-0-1-2wd-0 10-0 - There is plenty of early swing for Gul, who will be looking to boost his wickets tally here. He is too straight early on though and left-hander Gunasekera flicks him off his hips for a couple through square leg. Gunasekera has his heart in his mouth later in the over, though, as Gul catches his edge and the ball lobs over gully for a single. Pakistan lose their rag next ball when Gul fires down a leg-side wide. Kamran fumbles behind the stumps allowing an extra run and then he throws past the stumps for an overthrow. Pakistan are rattled!
Over 1 Razzaq 0-1-0wd-0-1-1lb-0 4-0 Gunasekera is away second ball with a firm push on the off side. A leg-side wide follows before young Kumar eases any early nerves with a single of his own. Solid start from Canada.
Openers Gunasekera and 16-year-old Kumar are opening up for Canada.
Here we go... Razzaq has the ball...
Sit tight This feels like the longest 'half-time' break ever, maybe because my lunch was a major disappointment... hopefully we'll be back underway in the next 5/10mins.
Stat attack Just a reminder, 187 is the lowest one-day total ever defended at this ground. Canada need just 185
"Surely even England could chase down a total requiring 3.7 an over. Or am I being optimistic?" Satch - Ha, nice to see the England digs coming through but let me point out that it's their bowling which is a shambles, not their batting...
Mighty minnows Michelle, quite rightly, looks at the broader picture. She remarks; "just goes to show that it was a correct decision to include these teams in the WC. Just as long as they wipe out SA's competion .... we will be happy :):):) Well done to both Ireland and Canada."
Great minds Ian is thinking along the same lines as me. He predicts: "I would love for them to get the runs but i think 120 all out."
Causing a Storm Johnny Storm, a South African reader I presume, says: "Pakistan is gonna lose this one with 2wickets. Go Canada. This world cup is South Africa's world cup."
On the Marc Marc Edwards has more faith in the Canucks. He says: "Simply because anything could happen with yesterday's events I fancy - 185/6."
Dream on dreamer Sally, quite simply says: "78!!!!! Miracles don't happen twice in 2 days!!!"
Predictions? So, how many will Canada get? Send your views my way at Joe.drabble@bskyb.com
Well, well, well... Can Canada pull off the second massive shock of the competition? 187 is the lowest one-day total ever defended at this Colombo venue, Pakistan made just 184. Join me in 10 minutes or so for the chase
184 all out - Gul chips the first ball of the batting powerplay to midwicket for an unconvincing single. Canada are up next ball with a huge lbw appeal on Riaz. Umpire Llong turns it down and, despite a review, the decision remains. Gul, who is no mug with the willow, then drives for a single. WICKET! Superb Yorker from Baidwan! Pakistan have been bowled out for 184. Ajmal had no answer and Baidwan finishes with 3-35 from eight overs.
Powerplay Pakistan have taken the batting powerplay
181-9 - WICKET! Un-believ-able! Pakistan have lost their second six-hitter in the space of three deliveries as Hansra raps Razzaq on the pads plumb in front of middle stump. 200 looks a long way now as Riaz comes in to bat. WICKET!! Two in the over! Begai brings in a slip and is rewarded as Balaji somehow clings on at the third time of asking! He caught it between his legs in the end! Riaz goes for a duck! Ajmal is in and he survives the rest of the over. Double-wicket maiden!
181-7 - The gentle medium pace of Cheema replaces Balaji. He keeps Afridi quiet early on, however he is unlucky to see a thick outside edge from Razzaq sail away to third man for a boundary. WICKET! Afridi gone! Kumar takes his second catch at backward point as Boom Boom slices a wide straight to him. Cheema can hardly believe his luck. Afridi is furious with himself and departs for 20. Gul has flown to the middle...
Over 40 Hansra 0-1-1-1-1-1 175-6 - Canada are not letting Pakistan get away from them here, however this last 10 overs are where it matters most. Afridi and Razzaq are getting themselves used to the pitch ready for a late dart. If they fail, though, this total could look very modest.
170-6 - WICKET! Balaji is celebrating again as he claims his second wicket! He owes his captain a big pat on the back though as Begai takes a brilliant leg-side catch to remove Misbah for 37 off 68 balls. It was a rank delivery, however Misbah got a little tickle and Begai did the rest. Razzaq is in and away. Belaji finishes with credible figures of 10-0-2-50.
Over 38 Hansra 1-1-1-1-1-1 165-5 - Off-spinner Hansra is back. There is plenty of attacking intent from both Misbah and Afridi in this over, however Hansra holds his nerve and concedes just six singles.
Over 37 Balaji 1-4-2-1-1-0 159-5 - Groans of disappointment as Afridi manages just a single first ball. Misbah then hits his first boundary of the innings with a cute reverse sweep. It took him 60 balls, but he has eventually found the rope! The runs continue to flow and only a superb diving stop at short fine leg prevents another Misbah boundary.
Over 36 Baidwan 1-0-4-4-1-0 150-5 - 'Boom Boom' as arrived!! The fans have come alive now as Afridi finds the rope off back-to-back Baidwan deliveries. First, he rocks back and slams a short ball over midwicket, then he plants his front foot forward and drives over mid-off for a one-bounce four. 10 off the over and the Pakistan 150 has been brought up.
140-5 - WICKET! Huge strike for Canada and a deserved wicket for Balaji. Akmal heads back to thje pavilion for a well made 48, becoming the third Pakistan batsman to be trapped lbw in the innings. Back on his stumps, he played all around a flatter delivery and the ball was destined for middle stump. Afridi marches out to the middle...
Over 34 Hansra 0-0-0-3-0-1 137-4 - Another very good over for Canada, whose only blemish is an overthrow midway through. Captain Afridi just came out on to the balcony and signalled to Akmal and Misbah that he is pleased with the way things are going and that there is no need to take the batting powerplay yet. I think old 'Boom Boom' wants that saving for himself...
Over 33 Balaji 4-0-0-2-1-0 133-4 - Bosh! Akmal is moving through the gears now. Once again he charges at Balaji, this time getting right to the pitch and launching him straight back down the ground for four. That boundary also brings up his 1000th one-day run. Just signs that Pakistan are upping the ante now.
Over 32 Hansra 3-1-0-1-1-0 126-4 - Finally some improvisation from Misbah, who gets down on one knee and deftly reverse sweeps Hansra for three. Three singles follow as Hansra over-pitches.
Over 31 Balaji 1-0-4-0-0-0 120-4 - The 50 partnership between these two comes up at a rather leisurely rate of 90 balls. However, the manner in which it came up was quite superb. Dancing down the pitch, Umar gave himself room and flayed Balaji over extra cover for a one bounce four. He looks in great touch here...
Over 30 Hansra 0-1-0-1-0-0 115-4 - The off-spin of Hansra is on display for the first time. He starts very nicely too, conceding just a couple of singles off his opening over, bowling around the wicket. Very strange tactics from Pakistan here, they are not showing much urgency and the overs are disappearing at a quick rate. Maybe they think they already have enough??
Over 29 Balaji 1-0-0-1-1-0 113-4 - Another fine over from the rotund leg-spinner. Umar is playing him far better than Misbah, who is beaten by a ripping leg-break last ball of the over.
Over 28 Cheema 1-0-0-0-1-1 110-4 - The run rate remains under four-an-over however Pakistan stay patient. 22 overs to go...
Over 27 Balaji 1-1-1-0-0-0 107-4 - Pakistan seem to have worked out a total they will be happy with and are currently laying the platform for an Afridi/Razzaq assault late in the innings. Just three singles yielded from the 27th over.
Over 26 Cheema 2-1-0-0-1-1 104-4 - Pakistan bring up their 100 at the start of the 26th over, it's been tough going against a resilient Canada attack. Umar is on 25, Misbah is unbeaten on 13.
Over 25 Balaji 0-0-0-4-1-0 99-4 - Umar takes off his helmet in a move that screams 'I mean business'. He then pounces on the only short ball on offer from Balaji and cuts him powerfully through point for a boundary.
Over 24 Cheema 1-1-0-0-1-0 94-4 - The medium-pace of Cheema returns as Begai holds Osinde back. Umar and Misbah exploit the wide gaps with three singles off another tight over. Assessing the pitch, i'd say Pakistan would be more than happy with anything over 250.
Over 23 Balaji 6-1-1-0-0-0 91-4 - Six! Out of nowhere, Umar clears his front leg and dispatches Balaji over midwicket for six. That woke everyone, myself included, up! A couple of singles follow as Balaji quickens his pace.
Over 22 Osinde 0-0-0wd-0-0-0 83-4 - Osinde continues to probe away on and around off stump. He is doing a great job for his side here. Only a wide to report.
Over 21 Balaji 1-0-0-1-1-0 82-4 - Spin is introduced for the first time in the form of leg-spinner Balaji Rao. He gives the ball plenty of flight and rip, however I feel Pakistan will prefer this to the dibbly-dobblies they have been contending with for the past two hours. The singles flow as the field disperses.
Over 20 Osinde 1-0-0-0-0-0 79-4 -Osinde is given the all-clear to return and he produces an absolute peach of an away-swinger midway through his comeback over that so nearly catches Umar's outside edge. Pakistan are having to dig very, very deep here.
Over 19 Baidwan 0-1-0-1-0-0 78-4 - Massive let-offs for Pakistan in this over! Firstly, a suicidal run gifts Baidwan a guilt-edge run-out opportunity which he misses with Misbah stranded. Drop! Then, just two balls later, Misbah is handed another let off when his mis-timed hook lobs Jimmy Hansra leaping high at square-leg!
Over 18 Cheema 1-1-0-0-2-0 76-4 - Canada's attempts to bring Osinde back into the attack are thwarted by an alert Daryl Harper who notes that the opening bowler has been off the field too long to return. Misbah plays the shot of the day back down the ground, however the stumps at the non-strikers end deny him a boundary. Cheema got a touch onto them so Harper checks upstairs for a run out, however Akmal was safely back in his crease.
Over 17 Baidwan 0-0-0-0-0-0 72-4 - Fantastic maiden from Baidwan, who has been extremely impressive so far today. He didn't give Umar anything to hit and his figures now read 2-21 from five overs.
72-4 - WICKET! More joy for Canada as Kamran departs for a scratchy 16! It was a short, wide ball from Cheema which Kamran could have slapped absolutely anywhere, however he somehow contrived to cut it straight into the hands of 16-year-old Kumar at backward point. Brother Umar is the new man and Canada are well in this match! Umar signals his intent first ball, though, with a crisp drive back down the ground for four. An edge to third man then completes another great over for the Canucks.
Over 15 Baidwan 0-2-0-0wd-0-1-4wd-0
67-3 - Not nearly enough singles being manipulated by Pakistan's batsmen here. The ball is not coming on to the bat at all and boundaries are at a premium. That said, Kamran places well through point for a couple to keep the scoreboard ticking over. Baidwan then nearly takes his captain's head off with a surprise bouncer down the leg-side which beats everyone and goes for four wides. The keeper clearly didn't pick up the signal...
Over 14 Cheema 0-0-0-0-0-2 58-3 - A heart in the mouth moment for Misbah as the third umpire is called to check on a stumping appeal from Begai. He is safe, though. Cheema is denied a maiden on the final ball when Misbah delicately clips a couple through square leg off his toes.
56-3 - Pakistan's batsmen are getting increasingly frustrated here and Younis eventually breaks the shackles with an unconvincing heave over midwicket for a boundary. WICKET! What a huge strike for Canada! Baidwan keeps it full and straight and Younis plays all around it and is given out lbw! To make matters worse for Pakistan, Younis then wastes his side's final review of the innings! Game on. Misbah is in, and immediately up and running with a single.
50-2 - Some more military medium pace is called upon as Cheema gives Osinde a well-earned rest. He takes a while to find the right line and length as wides continue to flow. Canada have bowled seven in total now. A single from Kamran off the final ball brings up the Pakistan 50 off 72 balls.
Over 11 Baidwan 0-0-0-1-0-0 45-2 - Canada have pulled it back well here. Baidwan is getting a hint of movement both in the air and off the pitch and is causing the odd problem. Just an Akmal single off over 11.
Over 10 Osinde 0-0-0wd-0-0-0-0 44-2 - A solid end to the mandatory powerplay from Osinde. A wide the only blemish as Younis takes time to play himself in.
43-2 - Shehzad says enough is enough as the floaty medium-pace of Baidwan is introduced. First, he gives himself room outside off-stump and is so nearly bowled as the ball misses leg stump and the wicketkeeper before sailing to the boundary. Undeterred, he tries exactly the same tactic next ball and flashes the ball through backward point for another four. WICKET! But Baidwan gets his man when Shehzad tries his luck again. Moving across to off-stump this time, Shehzad only succeeds in chipping the ball to Gordon who takes a smart catch diving forward at mid-on. Shehzad trudges off having made a disappointing 12 off 23 balls. Younis comes in, however there is another delay as it is revealed that Begai twisted his ankle amongst the celebrations! Comical. Younis is away first ball with a single.
Over 8 Osinde 0wd-0-0-0-1-4-0 34-1 - Far too many extras being offered up by Canada here. First slip is in danger the way Osinde is bowling at the moment! Shehzad pinches a single before a dramatic end to the over. Akmal clips a leg-stump half-volley in the direction of short fine leg, however the ball just bounces short of the fielder and squeezes past him for a boundary. So close.
Over 7 Chohan 0-0-0-0wd-0-0-0 28-1 - A real blow for Canada and Chohan here. After three successive dot balls the pace bowler crumples to the floor in agony after appearing to pull/tear a muscle in his leg. Chohan is forced to leave the field and medium-pacer Tyson Gordon completes the over, which yields just a wide.
Over 6 Osinde 0wd-0-0wd-4-0-0-0-1 27-1 - A rather erratic over from Osinde this one. He starts off with a bouncer which nearly lobs wicketkeeper Begai and is correctly called wide. Another wide follows, this one way outside off stump, before Akmal seizes on some width and cuts him hard through the covers for a boundary. A sloppy misfield in the covers ends the over.
Over 5 Chohan 0-0-0-4-0-0 20-1 - Chohan spoils a great start to his third over by offering up a juicy half-volley which is elegantly dispatched to the extra cover boundary by Shehzad. Kumar, fielding at backward point, then prevents another certain four with a superb diving stop.
Over 4 Osinde W-0-0-0-0-0 16-1 - WICKET! Skipper Begai persists with Osinde and is rewarded! Hafeez is guilty of playing across his front pad and is trapped lbw! Hafeez reviewed umpire Harper's decision, however replays backed up the on-field decision. Canada celebrate! Kamran Akmal is the new man and Osinde has his tail up. The big fella is extracting plenty of bounce and almost catches the outside edge of Akmal's flashing blade. Wicket maiden.
Over 3 Chohan 1-2-0-0-0-0 16-0 - Shehzad, wielding his fetching 'Boom Boom' bat clips a classy couple off his pads as Chohan finds some appreciable movement into the right handers. Another probing over from the Canada opener.
Over 2 Osinde 0-4-4-0-1-0 13-0 - Strapping Uganda-born right-armer Osinde shares the new ball, but fails to back up a strong start from opening partner Chohan. He bowls far too short and on this slow pitch the ball just sits up and asks to be smacked away for four. Hafeez does not miss out and takes nine off the over.
Over 1 Chohan 0-1nb-1-0-0-1lb-0 4-0 - A decent start from Pakistan-born Chohan, who bounces back well after overstepping second ball. a free hit is signalled as a result, however Hafeez cannot capitalise and only slices high towards third man. Interestingly, Chohan used to attend Pakistan net sessions in his younger years and bowl at the national side.
Here we go... Hafeez and Shehzad are opening up for Pakistan. Lively medium-pacer Chohan has the ball...
Get in touch Fire all views/predictions/tips on today's match my way at Joe.drabble@bskyb.com. I'm also eager to pick the bones out of England's shock defeat to Ireland yesterday. Any views on that one? Send them my way
Changes So, Pakistan have made two changes from the team which defeated Sri Lanka and Kenya in their opening Group A fixtures. Fast bowler Wahab Riaz and off-spinner Saeed Ajmal make their World Cup debuts, replacing Shoaib Akhtar and Abdur Rehman.
Canada have replaced veteran batsman John Davison with paceman Henry Osinde.
Teams Pakistan: Mohammad Hafeez, Ahmed Shehzad, Kamran Akmal, Younis Khan, Misbah-ul-Haq, Umar Akmal, Shahid Afridi (captain), Abdul Razzaq, Wahab Riaz, Umar Gul, Saeed Ajmal.
Canada: Nitish Kumar, Ruvindu Gunasekera, Zubin Surkari, Ashish Bagai (captain), Jimmy Hansra, Rizwan Cheema, Tyson Gordon, Khurram Chohan, Harvir Baidwan, Henry Osinde, Balaji Rao.
Toss News from the middle is that Pakistan have won the toss and they will bat first. No hesitation at all from Afridi.
Preview Shahid Afridi's Pakistan can top Group A with a win today, while Canada will be hoping to emulate Ireland's shock victory over England yesterday in order to pick up their first points of the tournament.
Welcome Hello one and all and welcome to live, interactive commentary of the match we have all been waiting for - Canada v Pakistan in Colombo
Sky Bet Odds:
Click Here for Your Free Bet