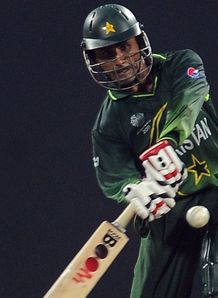 Pakistan progress Afridi's men seal their place in the last eight of the World Cup with a routine win. Shafiq was the star of the show, the right-hander finishing on 78 not out to see his side home. Zimbabwe are out of the tournament having lost four of their five fixtures. Thanks for your company throughout the day and make sure you tune in tomorrow for Ireland v South Africa from 8:30am GMT
Over 35 Cremer 4- 164-3 - There it is! Pakistan win by seven wickets after Shafiq cuts the first ball of the 35th over away to the boundary!
Over 34 Masakadza 1-1-0-1-1-1 160-3 - Pakistan require two more for victory as the singles continue to flow. Shafiq will want to hit these winning runs himself to cap a day to remember. The 50 partnership between these two has also been brought up
Over 33 Price 1-0-0-0-0-0 155-3 - Price returns to bowl the last of his eight-over allocation. He concedes just a single and finishes with credible figures of 2-21.
Nerves... Pakistan require eight runs from six overs to qualify for the quarter-finals
Over 32 Masakadza 0-0-4wd-2-2-1-0 154-3 - A last throw of the dice for Zim as Masakadza returns. Well, well, well, now I have seen everything. The highest bouncer, possibly of all-time has just been bowled. Wicketkeeper Taibu, standing at 5ft, 5in, doesn't have a hope and the ball sails over his head and away for four wides. Shafiq then brings up the Pakistan 150 with a couple through point, and follows that up with a well-timed clip off his pads for two more.
Over 31 Cremer 3-2-0-0-0-0 144-3 - Brilliant running from Younis turns two into three first ball when Cremer strays down leg. Another cute tickle around the corner takes Younis into double figures, however he nearly departed next ball with a loose chip which nearly landed back in the bowler's grasp.
Over 30 Lamb 0-1-1-4-4-1 139-3 - Shafiq has been in a hurry since bringing up his 50. He sprints down the pitch at Lamb and just gets enough of it to lob mid-on and reach the boundary. That's his fifth four of the innings. And here is No.6! This one is a little edgy, but it beat backward point and raced to the fence. The drama does not finish there, Shafiq should have been run out off the final ball but Lamb could not collect the throw and the chance was gone.
Over 29 Cremer 0-1-0-1-0-1 128-3 - I'm sure all of these last few overs have been the same! Three singles off this one. 34 required for victory from nine overs.
Over 28 Lamb 1-0-0-1-1-1 125-3 - It's a World Cup debut to remember for Shafiq who raises his bat to acknowledge the applause as a result of his second ODI 50. He is the eighth Pakistani to score a half-century on his WC debut. It took him 76 balls.
Over 27 Utseya 1-2-0-1-1-0 121-3 - Bowler and captain take an age to agree on a field they are happy with. When they finally do, Younis uses his experience to knock the singles which Shafiq bludgeons a couple down the ground.
Over 26 Price 1-0-1-1-0-0 116-3 - Pakistan seem content to do this in singles now Afridi has been and gone. Another 46 required from 12 overs.
Over 25 Utseya 0-0-1-0-0-1 113-3 - Another attacking over from Utseya. Younis gets off the mark with a quick single behind square on the leg side
111-3 - All of a sudden Pakistan have remembered they have somewhere to be tonight! Shafiq leans back and cuts Price through point for a classy-looking boundary first up. A single brings 'Boom Boom' on strike and... WICKET!! Price cleans him up! The off-spinner sets off on a mad sprint after sneaking one through and into off stump. A woeful shot from Afridi in truth and he trudges back to the pavilion having made just three. Younis is the new batsman...
105-2 - WICKET! Utseya strikes!! A gem of a delivery from around the wicket, holding it's line as Hafeez played for the non-existent turn. The ball caught the edge and Price held a sharp catch low to his left at slip. Hafeez made 49 and will be disappointed not to have finished the job. Afridi has promoted himself up the order, presumably looking to finish this in a hurry. Younis and Misbah may have been hoping for a bat, but the skipper uses his authority and marches to the middle. His arrival sparks some more urgency with the runs flowing either side of the wicket.
Scenario Pakistan require another 64 runs at 4.0 an over
Over 22 Price 0wd-0-1-0-1-0-0 98-1 - Fiery Ray is back into the attack looking to manufacture something, anything. He returns on his attacking line, however Pakistan, who are well up with the rate, are content to block the ball back to the bowler.
Over 21 Cremer 1-0wd-1-1-1-4-1 95-1 - A heart-in-the-mouth moment for Shafiq when he so nearly lobs an attempted extra cover chip straight down long off's throat. The ball drops short of the fielder, rather summing up Zimbabwe's fastly-fading hopes of victory. Hafeez pours more salt and a bit of vinegar into the opposition's wounds when he plays an exquisite extra cover drive away to the boundary later in an expensive over.
Over 20 Masakadza 0-0-4-0-0-0wd-0 85-1 - Burly pace bowler Masakadza returns looking to end this ever-growing partnership. While he was too short and too wide in his first spell, he is too full and too wide at the start of this, allowing Shafiq to fling his bat at the ball and drive to the cover boundary. I've not given him much credit there for a glorious cover drive.
Drinks The players are grabbing a well-earned drink. Pakistan require 82 more runs to reach the quarter-finals at 4.3 an over.
Over 19 Cremer 1-0-1-0-1-2 80-1 - The match is drifting away from Zimbabwe and they seem powerless to prevent it. They are on the cusp of a speedy exit from the World Cup unless someone can produce some magic. Masakadze does diving in the outfield, saving two runs for his side after Hafeez sweeps firmly.
Over 18 Lamb 2-0-1-4-0-1 75-1 - Just the first signs that the spinners are struggling to grip the ball. The dew is playing its part now and Lamb drags a couple down in his latest over. Hafeez is on to the loose deliveries quickly, pulling hard over midwicket for four.
Over 17 Cremer 0-0-1-0-1-0 67-1 - Another tight over from Cremer. The 50 partnership for the second wicket comes up off 79 balls after another Hafeez single. He looks set for the long-haul...
Over 16 Lamb 1-1-1-1-1-3 65-1 - Productive over for Pakistan as Lamb fails to keep a lid on things. Shafiq ends the run of singles with a deft dab past short third-man for three. Hafeez (34 not out) has now made his highest score of the tournament, beating the 32 he made against Sri Lanka.
Over 15 Cremer 0-1-0-0-1-0 57-1 - I would also like to add leg-spinner Cremer to that exception - I think this guy is a big talent. He is a trifle short in his opening over though, and Pakistan pick him off for a couple of singles.
Over 14 Lamb 1-0-0-0-1-1 55-1 - Only Pakistan can defeat themselves here and I can't see that happening. Zimbabwe's attack, with the exception of Price, is just too weak.
52-1 - Interesting tactics from Shafiq. He has made a mockery of the powerplays here, waiting for them to end before he opens up. A classy four through backward point gets him going before a flurry of singles.
Over 12 Lamb 1-1-1-0-1-0 45-1 - Plenty of flight and varied pace from Lamb, however not enough turn to really trouble either batsman. Four singles off over 12. Pakistan require another 117 runs at 4.5 an over.
Over 11 Utseya 0-1-0-0-0-1 41-1 - Pakistan are playing the waiting game here. Shafiq has clearly been watching too much of my colleague Rob Lancaster out in the middle. He is three not out off 23 balls.
Over 10 Lamb 0-4-1-0-1-0 39-1 - Spin to win as Lamb replaces the economical Price. He starts poorly though, offering up a short, wide delivery which Hafeez cuts clinically through point. Eight off the over.
Over 9 Utseya 1-0-0-0-0-0 33-1 - Zimbabwe are building plenty of pressure here. Only three runs have been scored off the last four overs.
Powerplay Zimbabwe take the bowling powerplay
Over 8 Price 0-0-1-1-0-0 32-1 - Only a couple of singles conceded from Price as the opening powerplay comes to an end. Pakistan require 130 runs to win from 30 overs
Over 7 Utseya 0-0-0-0-0-0 30-1 - Chigumbura opts for spin at both ends as Utseya comes into the attack to bowl the penultimate over of the mandatory powerplay. It's a shrewd move, too, as Prosper starts with a maiden.
Over 6 Price 0-0-0-0-0-0 30-1 - Price continues to hold up one end. Shafiq plays out a probing maiden from the left-armer.
Over 5 Masakadza 0-0wd-0-4-4-0-4 30-1 - I was very surprised to see Masakadza given another over after his last effort, however I don't think we will be seeing him again. He is far too short and Hafeez simply rocks back and slams him through square leg and point in back-to-back deliveries. Then, after cracking Hafeez on the fingers with a ball that reared up, the bowler drops in a half volley which is punched straight back along the ground for four more.
17-1 - WICKET! Price is pumped! Shehzad falls for eight after a huge rush of blood. Dancing down the pitch, he completely missed his attempted heave over the top and Taibu whipped off the bails. Big breakthrough, Shafiq is the new man.
Over 3 Masakadza 4-0-1-0wd-0wd-0-0-4 15-0 - Hafeez follows his partner's lead with a crunching boundary through midwicket. He waited for the ball to drift into his pads and elegantly flicked Masakadza over the infield for his first runs of the day. A powerful pull brings him one more before the bowler completely loses his radar. A terrible over for Zimbabwe ends when Masakadza drops one short and wide and Hafeez slashes him away over point for four.
Over 2 Price 0-0-0-0-0-4 4-0 - The most aggressive spinner in world cricket shares the new ball with Masakadza. Price has a very attacking field, no easy singles on offer at all for Shehzad. With that in mind, the young Pakistan opener dances down the pitch and launches Price for a one-bounce four over mid-off. Shot!
Over 1 Masakadza 0-0-0-0-0-0 0-0 - Plenty of movement for Masakadza early on. He has a huge lbw appeal on Hafeez rightly turned down, the ball sliding well past leg. Two smart stops at backward point then ensure he starts with a maiden.
Get set Pakistan openers Hafeez and Shehzad are out in the middle taking guard. Where is your money??
Latest Zimbabwe's innings is over, Pakistan's target is 162 in 38 overs
Im the mood Immy from London is in a jovial mood despite the rain. "Caught kamran bowled razzaq? joe have you not realised the difference between umar akmal and kamran akmal? they look alike so i'll let you off. What! it is kamran! where's darrel hair when you need him, surely he would have exposed the glue put on kamrans gloves by waqar younis. you said you expect more play but do you also expect more rain or was that the last forecast rain? please reply! thanks." Kamran has caught two from two, yes miracles do happen! I expect more play, but then again, probably more rain too...
Deadline 3.52pm GMT is the cut-off point for the match. That is 9.22pm local time. There is still plenty of work for the groundstaff to do but I am confident we will get more play.
Weather update Good news the rain has stopped and the covers are coming off. We still have a wait before play can resume though.
Rain Bad news ladies and gents, the rain has returned! The groundstaff are covering the whole outfield again and we are going to lose yet more time. I'll keep you updated as best I can.
Over 40 Gul 0-1-1lb-W 151-7 - Gul reverts to Yoker mode as Zimbabwe attempt to exploit the two-over fielding restrictions. He is right on the money early in the over, nearly breaking Chigumbura's toe in the process! WICKET! Gul surprises Utseya with a short ball and he can only pull the ball straight up, where Kamran runs round to take a simple catch. He goes for 18.
Powerplay Zimbabwe have taken the batting powerplay. It will last two overs.
Over 39 Afridi 1-1-1-0-4-0 149-6 - Chigumbura clears his front leg and finds the rope with a lusty blow straight down the ground. The Zim skipper is on 32 from 45 balls now. Afridi finishes with 1-33 from eight overs.
Over 38 Gul 1-1-1-1-1nb-1lb-0 142-6 - It's not much fun facing old Umar at the moment. He is bowling with plenty of aggression and hitting the pitch hard. He nearly takes Utseya's head off with a well-directed bouncer but then oversteps for the first free-hit of the match. Utseya fails to cash in as he goes for touch rather than power. A decent over nevertheless, nine off it.
Over 37 Afridi 0-0-0-1-1-1 133-6 - 'Boom Boom' returns as Pakistan bowl their big guns at the death. A couple of obligatory strangled lbw appeals are heard during the over. Nothing doing, apart from three singles.
Over 36 Gul 4-1-1-1-1-1 130-6 - Gul returns and immediately cuts a disgusted figure when Chigumbura edges/guides, depending on how you view it, the ball through the vacant slip cordon for four. He reponds with some sweet chin music, however the two Zimbabweans dig in and take nine off his comeback over
Over 35 Rehman 0wd-1-0-0-1-1-0 121-6 - Rehman, who has been bang on target so far in this spell, continues to pitch the ball on a spot on off stump after an early wide. He is 0-24 off eight overs.
Over 34 Hafeez 1-1-1-1-0-0 117-6 - Patient batting from Zimbabwe, if nothing else. Four more singles take the score on to 117-6 with nine overs remaining. My maths tells me that's 54 balls, they will be hoping for eight-an-over from here on in. But that looks unlikely.
Over 33 Rehman 0-1-0-0-1lb-1 113-6 - An almighty mix-up almost ends with Utseya losing his wicket. He would have gone if Afridi had hit the stumps direct. Singles remain the order of the day, can Zimbabwe finish with a flourish??
Over 32 Hafeez 0-1-1-1-1-0 110-6 - Zimbabwe are running out of overs - 11 left now. Four singles are added in the latest over and it's all on Chigumbura to find/clear the rope
Over 31 Rehman 0-0-0-1-1-0 106-6 - Kamran is making plenty of noise behind the stumps, presumably asking for catching advice. Only two singles off a tight Rehman over. Zim need 180 to make this interesting...
104-6 - WICKET! Off-spinner Hafeez strikes in his first over! Great change by Afridi. Ervine played back when he should have pushed forward and the ball skidded on and crashed into middle stump. The Zimbabwe left-hander played well for his 52 but will be annoyed he didn't push on. New man Utseya gets off the mark with a deft paddle-sweep. Fine start by Hafeez.
Over 29 Rehman 1-0-2-0-0-0 101-5 - Just to let you know, it is now 43 overs per side after the rain. Zimbabwe's batting Powerplay is reduced to two overs. When Pakistan bat, their mandatory powerplay is for the first nine overs, and four overs each for the batting and bowling Powerplays. Pakistan's target will be adjusted by the D/L method. Ervine brings up his third ODI 50 and the Zimbabwe 100 with a couple through extra cover.
Over 28 Gul 1-2-0-0-1-0 98-5 - Well, the umps have thrown me a dummy there! I return from my lunch to see Gul steaming in. Just a Chigumbura single added to the rain-interrupted 28th over.
Lunch I am going to use this opportunity to refuel. Back in 10.
Ireland chances Jim from Dublin askes; "Can Ireland beat South Africa and should K.O'Brien go further up the order maybe get in with his brother?!" - Hello Jim. Well, Ireland beat England and England beat South Africa... surely that makes Ireland favourites?!? I think O'Brien is perfect at No.6. Plus Gary Wilson batted well against West Indies until he was wrongly given out. I'll certainly be cheering on the Irish tomorrow!
Update The umpires have spoken on the state of play in Kandy. It looks like it will take another 40 minutes or so to clean up the mess. Overs will be lost and we are now looking at a 44/45 over showdown. I'll keep you posted. How frustrating!
Draining Simon Weids has been in touch to add his two penneth on England. He says: "I agree with what you say, I also think that it is not only physical tiredness but also mental as well. With only a 3 day break at home in between Australia and then India/Bangladesh it must be pretty depressing, especially when a number of players have young children." - Why play seven ODIs in Australia? It makes no sense at all. Anyway, they are still in with a shout of making the quarter-finals and from there on anything could happen.
Question time Neil Radburn, slacking at work, asks: " 1) Englands bowling is obviously in need of a pep up but what do people think about the smaller sides ability to raise their game for England yet capitulate against others?
2) Do you think the 2 groups should have been more even? Canada and Kenya are a waste of space and Zimbabwe not much better!!!
Answers: Good questions Neil, thanks for those. Well, in terms of England, they look dead on their feet at the moment. I had the pleasure of watching them in Australia in the winter and I have only just recovered from that so I dread to think how they are feeling in the sub-continent humidity!
2) Maybe, but then again who would have predicted Ireland and Bangladesh to have beaten England? If England win both of those matches it looks the same as Group A.
What do the rest of our readers think? Get in touch
Rain pain Pakistan fan Hassan Azam has been in touch. He says: "Hey Joe, first of all, great work as always. Its great to see what you have to say about how the game is going. I am so gutted that its raining. I think this game is crucial for Pakistan to get a winning combination going. We are struggling to find our top 11 and the quarters are around the corner. Hopefully the play will resume soon and the match goes on!" - Thanks Hassan. Well the rain has stopped so the restart shouldn't be much longer. I agree about Pakistan not seeming to know what their best XI is. They appear to tinker with their team too much, however they have plenty of match-winners in Afridi, Gul and Younis. I think they have a great chance of going all the way (as long as Kamran gets his act together behind the stumps).
Mopping up The clear-up operation is underway in Kandy. Fingers crossed we will be back underway fairly soon. In the meantime, feel free to send your views on today's game and any other my way at Joe.drabble@bskyb.com
Good and Bad The good news is that the rain has eased and the sun is creeping out. The bad news is that we have had an almighty downpour and this could take some time to clear up. Bear with me.
Wet Wet Wet Still throwing it down here. Covers are strewn across the whole ground. Sit tight and i'll keep you posted of any developments in Kandy
Rain stopped play Well, that is rather frustrating. Hopefully it's not a long delay. Pakistan are in control here with Zimbabwe struggling on 96-5. However, Ervine is well set on 48 not out and Chigumbura is no mug with the bat so Zimbabwe will be praying these two can help propel them up to a competitive total.
Over 28 Gul 1-2- 96-5 - Afridi takes a break as Gul returns. He is welcomed back with a cracking cut shot by Chig which is cut off well on the point boundary. RAIN! Oh no, it has arrived, in its bucket-load too. The players sprint off the field and the covers come on.
Over 27 Rehman 0-0-0-1-0-0 93-5 - Rain could be on its way here. The groundstaff think so and are bracing themselves on the boundary rope with covers in hand. Lets hope it's only a sharp shower if it comes. Just an Ervine single off over 27.
Over 26 Afridi 2-0-4-0-1-0 92-5 - Afridi only has himself to blame as a healthy edge flies at a catchable height through where first slip would have sat and away to the fence. At 90-5 surely he has to go in for the kill?? A huge caught behind appeal follows on Ervine, however it is more an attempt to con the umpire than anything. Umpire Llong is having a good match/tournament though and holds firm.
Over 25 Rehman 0-0-0-0-0-0 85-5 - Maiden for Rehman as Chig gets used to the pace (or lack of) in the pitch. This partnership is crucial for Zimbabwe
85-5 - WICKET! Lamb goes for 16! Boom Boom gets in on the act and it's a canny piece of bowling too. Lamb didn't pick the googly and only chipped his drive straight back to the bowler who made no mistake. A useful 41-run partnership comes to an end. Zim captain Chigumbura comes to the middle on his birthday and avoids a dreaded duck with a quick single
Over 23 Rehman 0-0-1-1-1-2 83-4 - Zimbabwe deploy the sweep to useful effect. Three consecutive singles and a couple through midwicket are acquired as Rehman struggles to stem the flow of runs.
Over 22 Afridi 0-0-0-1-0-0 78-4 - Better control from Afridi this over. It won't surprise you to hear that Pakistan have made the most umpire reviews in the WC so far. 15 to be precise, four of which have been correct. Just one run off the latest over.
Over 21 Rehman 1-2-2-1-0-0 77-4 - The left-arm off-spin of Rehman is introduced as Zimbabwe grow in confidence. Plenty of improvisation from Ervine brings him a couple of couples either side of the wicket.
Over 20 Afridi 0-0-0-4-0-0 71-4 - Younis receives a tongue-lashing from his skipper as tensions begin to fray. Ervine's top-edged sweep gave Younis a hint of a chance of a catch at short third-man, however he could not get there in time and the ball bobbled away for a boundary. Afridi, clearly rattled at his lack of personal success, then appeals in vein for an lbw on Ervine. Umpire Llong turns it down, Afridi challenges, the decision stands.
Over 19 Riaz 0-4-0-0-1-0 67-4 - Pakistan have lost their way a little here. After an overthrow in the previous over, a sloppy piece of out-fielding now gifts Ervine a boundary. He struck the ball well after Riaz offered up a little width, however the attempted slide-tackle stop from Abdur Rehman was comical.
Over 18 Afridi 1-0-0-2-0-1 62-4 - Afridi is not having the joy many might have predicted at this stage. Lamb and Ervine are playing him well here on a slow deck
Over 17 Riaz 2-1-0-W-0-0 58-4 - There is some concern for Lamb, who, after picking up a couple down to fine leg, cops a blow straight on the box. He crumples in a heap on the floor and requires some attention. That knocked the wind out of him but he is back up on his feet and ready to continue
Over 16 Afridi 4-0-0-1-0-0 55-4 - The skipper brings himself on, keen to add to his 15-wicket tally in the tournament so far. He starts poorly, though, looping up a full toss which Lamb slams down the ground for a boundary. He is back on target thereafter
50-4 - Riaz looks a lot more threatening bowling to the left-hander. He beats Ervine with a cracker outside off peg. Two singles bring up the Zimbabwe 50. End of bowling powerplay.
Over 14 Razzaq 0-0-0-3-0-2 48-4 - Everything rests on the shoulders of Ervine now. That's Craig not Sean for the record. He continues to drive with purpose through the off side, his latest effort bringing him three after a diving stop on the boundary. Razzaq, mixing up his pace, then comes within a whisker of cleaning up Lamb when an inside edge squirms past leg stump and away for a streaky couple of runs.
43-4 - WICKET! Memories of that drop are soon erased though as Riaz claims the wicket of Taibu! After playing beautifully to reach 19, Taibu then inexplicably lofts a full, wide delivery straight to Afridi at mid off. Massive blow for Zimbabwe. Lamb is the new man. A Lamb to the slaughter you could say...
Over 12 Razzaq 0-1-0-0-0-0 41-3 - DROP! Well, well, well. After taking a stunning slip catch earlier on, Misbah is guilty of dropping an absolute sitter to let Ervine off the hook. Razzaq found the edge, however Misbah made a complete mess of the chance and Zimbabwe breath again. Razzaq is furious.
Over 11 Riaz 0-0-4-1-0-0 40-3 - Another productive over for Zimbabwe, who are fighting back well here after falling to 13-3 early on. Taibu continues his promising innings with a one-bounce four over mid-off. A single follows for the diminutive right-hander, Riaz looks distinctly unthreatening at this stage.
Powerplay No surprises as Afridi takes the bowling powerplay
Over 10 Razzaq 1-1-0-0-0-4 35-3 - It's a change of ends for Razzaq as Gul takes a breather. Things are beginning to settle down out in the middle as wickets make way for singles. Ervine then pounces on a full delivery and drives crisply past short extra cover for four more. The mandatory powerplay ends with Zimbabwe perilously poised on 35-3 having won the toss.
Over 9 Riaz 1-0-0-0-0-3 29-3 - Afridi makes his first change as left-armer Riaz replaces Razzaq. Riaz is more of a 'bag-in' bowler and Zimbabwe will be pleased with this move I would have thought. The outfield is quick here despite a bit of moisture on top and Ervine collects three with a neat clip off his pads.
Over 8 Gul 0-0-0-4-0-1 25-3 - Patient batting from Taibu, who waits for a hint of width before freeing his arms and flaying Gul through the covers for a welcome boundary. The Zimbabwe gloveman looks assured here and moves into double figures with a drive through mid on.
Over 7 Razzaq 1-0-0-1-1-0 20-3 - Razzaq continues to probe away outside off stump but Taibu and Ervine are up to the task. Three singles behind square are collected off over number seven.
17-3 - WICKET! Stunning catch from Misbah and Zimbabwe lose their third wicket in the sixth over! Gul extracted some extra bounce and Sibanda, pushing forward, could only edge in between first and second slip. Misbah took responsibility, claiming beautifully to his right at a tricky height. Pakistan are on fire here! Left-hander Ervine is the new man and he immediately gets off the mark with a firm drive through extra cover - fine shot. Gul responds with a bouncer which grazes Ervine's nose before rapping the pads to no avail.
Over 5 Razzaq 0-0-0-0-0-0 13-2 - Zimbabwe have gone into survival mode. An interesting ploy in the powerplay period... In fairness, the ball is hooping around all over the shop and defence is probably the best strategy at this stage. Maiden for Razzaq.
Over 4 Gul 0-0-4-0-0-0 13-2 - The small contingent of Zimbabwe fans are on their feet singing and dancing when Sibanda seizes on a floaty half volley outside off stump and drives firmly through point for a boundary. Gul comes back strongly and so nearly nips the ball back through Sibanda's defences last ball up. A thick inside edge saves the day.
Over 3 Razzaq 3-0-0-0-0-1 9-2 - A miscued drive brings Taibu three behind square on the leg-side - another far from convincing stroke from a Zimbabwe batsman. Sibanda is his new partner, and he too gets away with a quick single to end the over.
5-2 - This looks a fantastic toss to lose as the ball continues to nip around all over the place. WICKET! It comes as no surprise when the second wicket falls, Gul this time the man to strike. Both openers are back in the hutch as Chakabva departs for a six-ball duck. The ball nipped back in appreciably and struck the right-hander on the knee around middle and leg. I thought it may have been sliding down but instead of opting for the review, Chakabva turns around and walks back to the pavilion. Wicket maiden!
5-1 - After drifting way outside off stump, Razzaq responds with a beauty which nearly catches the edge of Taylor's blade. The lively opening continues when Taylor punches elegantly through the covers for four before then surviving a mini lbw shout. WICKET! Disaster for Zimbabwe as star man Taylor falls in the first over! A wonderful away-swinger from Razzaq finds the edge and Kamran takes a simple catch behind the wicket. Taibu is the new batsman.
Opening up Taylor, fresh from his impressive knock of 80 against Sri Lanka at the same venue on Thursday, and Chakabva will once again open for the men in red. Razzaq has the ball...
All set Afridi leads out Pakistan as the cloud makes way for sunshine. There is a decent crowd in, let's hope they are treated to a competitive game
Delay A slight one at that as the covers have only just come off the field. We should be away in around 10/15 mins (9:10-9:15amGMT)
Weather There is plenty of cloud around in Pallekele and Pakistan captain Shahid Afridi remains upbeat despite losing the toss. With Duckworth-Lewis and heavy dew set to play a major part later on, Zimbabwe will fancy their chances if they can post a competitive total
Get in touch Send all World Cup predictions, tips, gripes my way at Joe.drabble@bskyb.com. We will start a sweepstake on how many catches Kamran Akmal will drop today...
State of play We will know five of the eight quarter-finalists if Pakistan win today. It's win or bust for Zimbabwe
Teams Two changes for either side. Pakistan have rested fast bowler Shoaib Akhtar and are without injured batsman Umar Akmal, who has a finger injury. Wahab Riaz and World Cup debutant Asad Shafiq come in.
Zimbabwe have brought in batsman Vusi Sibanda and fast bowler Shingirai Masakadza in place of pacemen Chris Mpofu and Tinashe Panyangara.
Toss News from the middle is that Zimbabwe have won the toss and they will BAT first
Welcome Good morning everyone and welcome along to today's interactive over-by-over commentary of Pakistan v Zimbabwe from Kandy
Sky Bet Odds:
Click Here for Your Free Bet