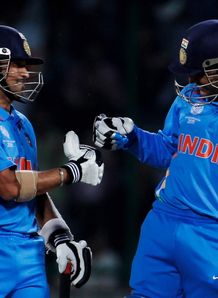 South Africa win by 3 wickets Another absolutely stunning game of World Cup cricket that swung dramatically from India's rollicking start, to their batting collapse at the death which ultimately cost them. The Proteas chase was reserved for the most part but Amla and Kallis kept their side in it with measured half-centuries before AB de Villiers hit a crucial fifty of his own to up the ante. Harbhajan then made a telling impact with three key wickets to put India back on top but cameos from Johan Botha, Faf du Plessis and then Robin Peterson saw South Africa find the 13 required off the final over to claim a victory which sets their World Cup campaign back on track. India will rue not scorin more after they were on track for 400 at one stage, and MS Dhoni will perhaps regret his decision to give Nehra the final over. Thanks for joining us today for another cracker, and we'll be here to take you through two more Group A games tomorrow - New Zealand against Canada and Australia versus Kenya.
Chokers? certainly not today and Robin Peterson was the most composed of the lot hitting the 13 needed from the last over.In his words: "I'm extremely ecstatic at the moment. To have a great game with so many great innings was such a good advert for the world cup. I've got to give Johan [Botha] credit, he put them under pressure with that cameo. We were quite calm in the changing room, but it was nice to come out on the winning side!"
Over 50 Nehra 4-6-2-4 300-7 - It's the perfect start for South Africa - the first ball squirts off the inside edge of Peterson and away for four. Boom! SIX FROM ROBIN PETERSON! Has Dhoni got this wrong by using Nehra - that was an ordinary length delivery. Peterson shovels two from the inside edge again and they hussle the second to put the scores level - Tendulkar totally committed in the field does outstanding work but his return is just too late.One to get from three and Peterson smokes through the field for four more! South Africa clinch a remarkable victory by three wickets!
Over 49 Zaheer 1-1-0-0-1-0 284-7 - Oh heavens, it's a Klusener-Donald moment for the South Africans with both batsmen ending up at the wrong end after Peterson shovels into to off side. They escape though with the ball scrambled back to Zaheer after Peterson's made his ground with a despairing dive. Two dot balls to the left-hander are like pure gold for India. After a single du Plessis can't get the last delivery of the over away either and that means that South Africa require 13 runs from the final over to be bowled by Ashish Nehra...
Over 48 Munaf 1-2-4-6-W-1 280-7 - du Plessis picks a full toss but he's also picked out deep cover on the bounce for one. Botha then blasts the Proteas into favourite with a boundary swiped through midwicket despite the valiant effort of Kohli on the fence and a smart hit over long on for six! But, OUT! After doing more than required from the over Botha's played a shot too many, sliced a high ball to deep cover where Suresh Raina - on as a sub - has taken a grand catch! This tension is overpowering really, South Africa require 17 from 12 with three wickets in hand...
Over 47 Harbhajan 1-1-1-0-0-2 267-6 - The South Africans are doing it along the ground for now with three singles and then a drive out to long off from Botha adding two more. Bhajji slide in a corker which beat Botha and somehow missed off stump. South Africa require 31 from 18 with four wickets in hand.
Over 46 Munaf 0-4-2-1-2-1 261-6 - Munaf has men back straight but dishes up short and wide and Botha takes advantage with a boundary before pitching wide of long on for two - great running making it happen. Botha then takes a single and du Plessis adds two more with the running again sharp. India have two men parolling the leg side fence and the over ends with a single - that's ten from the over and 36 runs required off 24 deliveries.
Over 45 Harbhajan 1-0-1-0-1-1lb 251-6 - Things are really heated and Johan Botha has entered the fray, thanks to Shahida Jacobs for her commentary stint - she's now off to cover Six Nations rugby in what is terrible timing for her. Anyways, back to the action, it's Bhajji into Botha and it's just singles which simply won't do for the South Africans. Excellent over from Harbhajan - just three runs from it and South Africa require 46 runs from 30 balls.
Over 44 Patel 0-1-4-1lb-1-1-W 247-6 - Time for pace again as Munaf Patel is back into the attack. Surprise choice as van Wyk likes the ball to come onto the bat. Powerful sweep from van Wyk and he top edges it and Gambhir runs in but he slides past it and it rolls away for four. He got there in time, but his left leg gave way. WICKET! Van Wyk looks to reverse paddle it but he misses it and there's a big shout for lbw and the umpire sticks it. Van Wyk reviews it but the original decision stands.
Over 43 Harbhajan 1-1-0-wd+W-0-1-1 240-5 - South Africa need 62 from 48 balls. It's getting very tense out in the middle. Sensible cricket from these two as they take a couple of easy singles. Duminy looks to change things with a reverse sweep but it goes straight to short third man. WICKET! Silly, silly stuff. I just praised him and does that. He walks down the track but it goes behind his legs. Dhoni fumbles it but he manages to take the bails off and Duminy is short of his ground. Morne van Wyk is the new man in.
Over 42 Yuvraj 0-0-1-1-2-6 235-4 - The Powerplay is out of the way so back on comes Yuvraj Singh. Du Plessis takes a couple of balls before he gets off strike. The required rate was eight just now but it's climbing to nine again as they struggle for boundaries. I take that back as du Plessis uses his feet to go over the long-on fence for six.
Over 41 Harbhajan 1-4-W-0-1-1 225-4 - Big decision here from Dhoni as he brings Harbhajan into the attack with one more over of the Powerplay left. Duminy uses his feet for one while AB goes for a reverse pull for four. That takes him to his 11th 50 off 38b, 6x4, 1x6. WICKET! Massive wicket as de Villiers departs. He looks go over the square leg fence but he played it almost straight to the fielder. Harbhajan is really pumped after that as the momentum swings back in India's favour. Faf du Plessis is the new man in and he has struggled so far in this tournament.
Over 40 Zaheer 1-4-4-1-6-1 218-3 - Inside edge from Duminy, but it misses the stumps and they take a single. Reverse sweep from De Villiers. It actually came off the back of the bat. Next one is sliced over point. The fans have gone quiet. They are getting worried. They'll be very concerned now as Duminy tonks Zaheer straight down the ground for six. He needs a new bat after that shot.
Over 39 Patel 1-1-4-1lb-4-0 201-3 - Smith is very annimated in the dressing room, giving plenty of signals to the batsmen. Ah, De Villiers looks like he needs a runner. Hashim Amla is coming out. Munaf Patel is back into the attack. De Villiers hammers it down the ground for one and sets off for the single. He forgot about his runner. He's in pain after each shot. Duminy just clears the man at cover for four. Much needed four for the South Africans. The 200 comes up as De Villiers goes between deep midwicket and long-on.
Over 38 Zaheer 1lb-1-1-2-1-1lb 190-3 - Will the game be settled in the Powerplay. We know the game changed during India's batting Powerplay. Both players look for the big shots but they can't get hold of it. Duminy gets an inside edge. A slower one is smashed down the ground and Harbhajan does well to cut it off from long-off.
Over 37 Nehra 1-4-0-1-4-0 183-3 - Dhoni is sniffing at another wicket here and he brings Harbhajan back into the attack. Surprise, surprise! South Africa have decided to take the batting Powerplay. They're looking to bring that required rate down. Dhoni responds by giving the ball to Nehra. Duminy glances it past the wicketkeeper for four. Duminy takes a quick one and he gets himself in trouble after his bat gets stuck in the turf. No harm done though but it could've been nasty. De Villiers gets another inside edge and this time it beats the keeper.
Over 36 Zaheer 1-1-0-1W-0-0 173-3 - Full and straight from Zaheer, but Kallis digs it out for a single. De Villiers cracks it past point for one. Big shout for lbw as Kallis walks down the track and gets hit on the pads. The Indians want to review it. Replays show the impact was more than 2.5m down the track and it was just clipping the stumps. The original decision stands. WICKET! Short and Kallis pulls. He doesn't get hold of it properly. They come back for a second, but Kallis really struggles. It's an okay throw but Dhoni does brilliantly as he stretches back to whip the bails off. The umpire sends it upstairs and Kallis is short of his ground. JP Duminy is the new man in and India are getting on top now.
Over 35 Yuvraj 0-4-2-0-1-1 170-2 - South Africa still have the batting Powerplay to come but that required run rate has climbed to 8.5 to the over. Something's gotta give soon. Dhoni has a slip in. Yuvraj will continue after the drinks break. De Villiers goes inside out over extra cover for four. Worked to the vacant square leg region and he comes back for a second.
Over 34 Zaheer 0-0-0-1-0-0 162-2 - India's premier fast bowler Zaheer Khan is back in the attack. He's around the wicket straightaway and mixes it up with a slower ball. The pressure is building with each dot ball. De Villiers finally gets to the other end with a dodgy inside edge. Superb comeback over from Zaheer.
Over 33 Yuvraj 1-2-1lb-0-0-1 161-2 - The next few overs may well decide the outcome of the game as De Villiers is looking to take the attack to the Indians. Kallis sweeps a couple of times, but on both occasions he doesn't make good connections. Some excitement after an excellent piece of fielding from Virat Kohli. De Villiers was back in his crease. Big turn from Yuvraj.
Over 32 Harbhajan 6-0-1-1-0-1 156-2 - Dhoni has a leg slip in. De Villiers looks to step up the gas and he uses his feet to hit it over the midwicket fence for six. De Villiers is down the track again next ball, but he doesn't get there and has to defend. He uses his feet final ball as well. He gets there but he doesn't get hold of it and it falls just a few metres short of the man at deep midwicket.
Over 31 Yuvraj 1-0-1-1-0-0 147-2 - AB de Villiers is finding the gaps with ease here, going at a run a ball, while Kallis needs a ball or two to get it away for a single. Looks like this will turn into a 20/20 slog out later this evening.
Over 30 Harbhajan 1-2-0-0-4-4 144-2 - Some imagination from Kallis brings him good fortune, a shuffle across to the off-side catching his glove on it's it's way fine for a couple. The reverse-sweep doesn't pay off with Tendulkar fielding well but Kallis then brings out a powerful sweep and a delicate scoopfor back to back boundaries!
Over 29 Munaf 0-1-1-0-1-1 133-2 - Metronome Munaf is back for another spell and right on the mark from the start - Kallis will benefit from de Villiers' energy and they rush through for a batch of singles. There are still batsmen that can play shots to come but it's vital for South Africa that one of these two batsmen go through if they are to get close.
Over 28 Harbhajan 1-W-1-0-0-1 129-2 - OUT! Massive breakthrough for India! That's the end of Amla, beaten by the extra bounce from Bhajji he's got a fine nick to a back foot shot with skipper Dhoni holding onto a good catch. Amla's 60 came from 72 balls and Harbhajan's brought this crowd to life! The partnership was worth 86 runs and Kallis goes his fifty with a scampered single, the milestone coming off 68 balls. AB de Villiers meanwhile is off the mark with a single.
Over 27 Yuvraj 0-1-1-2-0-1 126-1 - Kallis has changed his approach with the paddle coming out and it's back to ones and a couple to a fine paddle. The rate required is now up to seven and a half - time to up the ante for the South Africans.
Over 26 Harbhajan 1-1-0-2-1-1 121-1 - Dropped! Yuvraj at extra gives Amla a let-off of not with an aerial drive going through his grasps and away for a couple. Kallis adds a reverse-sweep which has Tendulkar at short fine leg running in circles and another single added to the total.
Over 25 Yuvraj 1-1-1-0-4-0 115-1 - Yuvi is just being allowed to settle into a rhythm here with just pushing and nudging but then Kallis whips out a sweep shot of note and the ball scoots between the two men on the fence and that's the first boundary in more than ten overs!
Over 24 Harbhajan 1-0-1-0-1-1 108-1 - The good news is that Harbhajan is into the attack, the bad news is that the score is still edging up in ones. Not to worry, there's a potentially thrilling end to this game brewing.
Over 23 Yusuf 1-2-1-0-1 104-1 - Two more for Kallis brings up three figures for South Africa who have taken roughly double the amount of overs to get there than India did earlier.
Over 22 Yuvraj 0-0-1-2-1-1 98-1 - A couple of booming drives from Kallis bring a couple to deep cover and a single to long off - both batters choosing to play with the spin into the off side. Amla meanwhile has collected another half-century - coming from 58 balls.
Over 21 Yusuf 1-0-1-1-1-0 93-1 - Singles and more singles, Kallis and Amla bringing up their fifty stand from 72 balls. The last boundary was in the 14th over and with four from the over the required rate has crept up to seven for the first time.
Over 20 Yuvraj 2-0-0-1-1-1 89-1 - The man with the golden arm, Yuvraj Singh is into the attack and driven hard to extra cover by Kallis, the South African allrounder taking a couple of runs after Virat Kohli's half-stop. Yuvi is not scared to give it air but then drags short to allow singles out to deep cover for either batsmen with five runs the outcome of his opening over.
Over 19 Yusuf 0-2-1-1-1-1 84-1 - Hashim Amla uses the spin from Yusuf to turn a couple and then one out to deep backward square, Kallis choosing long off for his single. Amla again picks out the man square on the leg side with the deep midwicket brought into play by Kallis. Six from the over and still the Proteas batsmen don't need to do anything rash just yet.
Over 18 Munaf 0-1-1-0-1-1 78-1 - A pitch map of Munaf's previous over shows just how consistent his line and length has been with six pitch-marks in a very tight bundle. Kallis attempts to unsettle his line by shuffling to the off side and flicking for one to deep square leg and Amla finds one off the back foot into the off side. Zaheer Khan is fielding at a very square long leg and both batsmen are looking to exploit the gap fine of him but Amla can only flick square for a single.
Over 17 Yusuf 0-1-0-1-1-1 74-1 - This is a big moment now with spin introduced for the first time in the form of Yusuf Pathan who's first ball is short and cut away for one by Amla. Kallis also gets a short delivery and shapes for the big pull but he's deceived by the turn and skid and hit on the pad. Three more singles are worked from the last three balls of the over in what is a decent start for Yusuf. He'll be wanting to just pitch the ball up a touch though.
Over 16 Munaf 1-1-1-1-0-0 70-1 - The required rate is still below seven and as long as the Proteas keep wickets in hand they'll be happy with it remaining around seven per over. The batting pair keep doing it in singles - a combination of nudges and thick edges bringing four from the over.
Over 15 Nehra 1-2-0-0-0-1 66-1 - India's slow bowling legion lie in wait for South Africa - this track is not going to be easy to score off against the slower men, and right now Ashish Nehra is proving particularly miserly too with his tight line cramping both right-handers. Four runs come from the over and that is drinks.
Over 14 Munaf 1-1-1-4-1-1 62-1 - What a chance for India, Hashim Amla punches to cover where Virat Kohli swoops one-handed and shies inches wide with Amla well short of his ground. That was golden but the Proteas opener lives on. A couple more singles and boom, Kallis unleashes with his first boundary just clearing cover! Two more singles - kallis again driving handsomely but straight to a fielder - bring nine from the over.
Over 13 Nehra 2-1-0-1-0-1 53-1 - Two to fine leg brings up the Proteas fifty in the same over that the Indian openers reached their 100 partnership. Kallis meanwhile strokes another elegant drive straight to cover and then finds the gap to deep square leg as he and Amla do it in ones.
Over 12 Munaf 0-0-0-1-0-1 48-1 - To be honest Kallis is starting to look good. He's middled pretty much everything so far and just needs to start finding gaps instead of fielders. He manufactures one to midwicket and Amla adds another to thirdman as the Indian attack apply the squeeze rather effectively. Worryingly for South Africa another ball scoots through rather low to Dhoni too.
Over 11 Nehra 1-0-0-1-0-1 46-1 - Now some extra bounce from Nehra who's changed ends here, Kallis riding the bounce to fetch a single to third. This run rate is dragging itself down rapidly and Amla looks to address the issue with a big swipe and finds an inside edge with just the result. Kallis, who still needs to find the form he was in before his injury, then eases to the man on the cover fence.
Over 10 Munaf 0-0-1-0-1-0 43-1 - Jacques is the new man and he's set to face Munaf Patel who's into the attack for the first time. Munaf starts well and, with a lack of bounce for assistance, limits the Proteas to a run each from his over.
Over 9 Zaheer 0-4-W-0-0-0 41-1 - OUT! Smith had battled so hard to survive against his nemesis and he'll be livid with the way he's gone out here to Zaheer - for the 13th time in his career. After hitting semi out of the middle for four over mid on the skipper's gone again and this time picked out Sachin Tendulkar fielding at at that mid on position. The delivery was right in the slot and Smith's fallen tamely to a change of pace.
Over 8 Nehra 0-0-0-0-4-4 37-0 - Ashish Nehra is right on the money for four deliveries in a row with Amla not able to free his arms. Just a hint of width on the fifth and Amla pounces, driving overs the covers for a welcome boundary. A tidy over turns nasty with the second consecutive boundary as Amla flicks off his pads - that's meat and drink for him.
Over 7 Zaheer 1-0-0-1lb-1-0 29-0 - Amla is starting to middle the ball but his partner at the other end is finding it hard to get easy runs. He looks to change that by coming down the wicket but still he can't get hold of it. The whole World Cup has been a struggle for Smith.
Over 6 Nehra 0-0-4-4-0-1 26-0 - Amla makes solid contact with the ball a couple of times, but he finds the fielder on both occasions. His 'luck' finally changes as he goes after a wide one and clashes it down to third man for four. Next one is timed wide of mid-off. Good chase there from Tendulkar and the crowd goes mad. Replays show the Little Master touched the rope as he stopped the ball.
Over 5 Zaheer 0-1-1-0-0-0 17-0 - The South Africans are struggling to get the ball away cleanly, but they won't mind that as long as they keep the wickets in the bank for later on. Smith gets himself in a bit of bother after looking to run it down to third man, but he doesn't make contact.
Over 4 Nehra 2-0-0-0-1-0 15-0 - Full on the pads and Smith gets it wide of square leg for a couple. This has been a gentle start from both teams. South Africa not losing early wickets and India not leaking too many runs.
Over 3 Zaheer 0-0-0-0-0-1 12-0 - Zaheer has a nack of getting rid of Smith in all forms of the game so this will be an interesting tussle. Smith struggles to get the left-armer away. He manages to get a single past the stumps off the final ball.
Over 2 Nehra 0-0-2-0-4-1 11-0 - It will be Nehra from this end. Can he get some swing early on? Smith on strike for the first time and there are two slips in for him as well. Smith hits it hard into the ground and the bounce beats the backward point. Slightly too short and Smith times it through midwicket for four.
Over 1 Zaheer 0-4-0-0-0-0 4-0 - No tinkering with the South African line-up with Hashim Amla and Graeme Smith the two openers. Zaheer Khan has the new ball in his hand. Two slips in and Zaheer is on the mark straight away. Amla is away second ball as he stands tall to crack it through point for four. Zaheer draws a false stroke from Amla with a wider one, but he doesn't get a nick.
Here we go again MS Dhoni had a long chat with his players after they came out. He won't be happy, but good news for him is that Nehra apparently swung the ball during the warm-up.
India 296 all out What a spectacular collapse from India. They were looking good for 350, maybe even 400, but once Sachin Tendulkar and Gautam Gambhir departed the wickets continued to fall. Steyn ripped the heart out of the middle order and then finishes off the tail as India were all out for less than 300. The chase will be interesting. Join us in about 35 minutes for the chase.
Over 49 Steyn 1-0-W-W 296 all out - Final over for Steyn. Dhoni is happy to take the single through cover off the first ball. WICKET! It was a mistake from the Indian skipper as Nehra punches it straight to Smith at cover. Munaf Patel is the last man out but he lasts only a single ball as Steyn hits the stumps with a full one. Wow! That's all I can say.
Over 48 Peterson 0-1-0-W-1-0 295-8 - Dhoni just cannot get the ball away here. He looks for a pull but doesn't middle it and it's only a single. WICKET! Another one bites the dust! Zaheer uses his feet and he looks to smash it through midwicket, but he skies it and Morkel runs around from long-on to take the catch. Ashish Nehra is the new man in. Slip in for Nehra and Peterson just misses his edge and the off-stump.
Over 47 Steyn 0-0-1-0-W-0 293-7 - Steyn returns for his final two overs. The South Africans have done well here as they are also looking to save the singles inside the circle. Dhoni finally gets it down the ground for one. Wide outside off, but it's a slower one and Harbhajan is too early. WICKET! Number seven goes down for India. Full and straight. Harbhajan misses and the ball crashes into his stumps. Zaheer Khan digs out a full one but he can't get a run. Another excellent over for the South Africans.
Over 46 Peterson 0-1-1-1-1-1 292-6 - India are struggling to pick up the singles at ease in the previous over, but Dhoni and Harbhajan finally works it around the park this over.
Over 45 Kallis 0-1-0-0-0-1 288-6 - Dhoni's looking a bit tense at the moment. His team have lost their way completely. Harbhajan Singh is the new man in but he can't rotate the strike with ease. Kallis mixes thigns up and one keeps low to Bhajji.
Over 44 Peterson 1-1-1-1-0-W 286-6 - Well, well, well. Suddenly things are very interesting again. The Powerplays are out of the way and India's top five are back in the hut. India have lost four wickets for 30 runs. WICKET! Virat Kohli is the new man and he departs for one off three balls after meekly chipping one straight to the bowler. The momentum has shifted to the South Africans.
Over 43 Kallis 1-0-1-1-1-W 283-5 - Kallis returns for the final batting Powerplay over. Yuvraj goes down the ground for one. Dhoni also takes a quick one to a deepish mid-on. Yuvraj looks for the big shot, but he only gets a single through midwicket. WICKET! The South Africans are on fire and they get rid of another dangerman in Yuvraj Singh. The left-hander doesn't get hold of a slower ball and skies it to the man at long-on.
Over 42 Botha 6-0-0-2-1-0 279-4 - Interesting bowling change from Smith as he brings the spinner back into the attack. Johan Botha has been known to bowl in Powerplays. Tossed up and Yuvraj smashes it straight down the ground for six. That was a pressure reliever. Review! The South Africans are convinced it's lbw after Yuvraj gets his sweep wrong. They send it upstairs, but replays show he got a massive inside edge. It really was a big nick. How did the bowler not see that?
Over 41 Steyn W-0-W-1-1-0 270-4 - WICKET! South Africa are on a roll here and they get the set batsman. Gambhir gives himself room and he looks to clear mid-off, but he it's a slower ball and he doesn't get hold of it properly. The man at mid-off dives forward to take an excellent catch. Here's Yuvraj Singh, but he's not facing. WICKET! South Africa will feel they have a foot hold in this game as Pathan goes without troubling the scorers. That powerplay is getting to the Indian batsmen. Pathan looks to go over the infield, but he finds the man at cover. Smith is delighted. MS Dhoni is the new man in.
Over 40 Morkel 4-4-1lb-W-0-1 268-2 - Morkel offers width and Gambhir slaps it through point for four. Wow! Next one is lofted over midwicket and it falls just short of the boundary. WICKET! South Africa at last get another wicket and it's the big one of Tendulkar. He looks to go over midwicket, but gets a top edge and skies it to backward point. Promotion for Yusuf Pathan.
Over 39 Steyn 0-2-1-1-1-0 258-1 - India have taken the batting Powerplay and Steyn returns. The South Africans miss a chance for a wicket. Gambhir plays it to extra cover and there's a shy at the stumps. It would've been tight if there was a direct hit. They decide to take the overthrow and AB de Villiers has another chance. This time he would've been gone if he hit the stumps. Another run out chance, but the fielder fumbles. The South Africans are losing it. Actually they've lost it a long time ago.
Over 38 Morkel 2-4-2-1-1-1 253-1 - Tendulkar changed his bats between the overs. It nearly brings South Africa a wicket as he just clears the man at midwicket. No harm done and next ball he slaps it through extra cover for four. He goes again, but this time it's a little straighter and it's just two.
Over 37 Kallis 0-4-0-0-1-1 243-1 - With the milestones are out of the way, will Tendulkar and Gambhir climb into the South African attack? Gambhir looks to for a big shot, but it's a swing and a miss. Yep, the game plan is to attack. He connects second ball and goes over deep midwicket for four.
Over 36 Morkel 1-1-1-0-1-1 237-1 - Morkel returns and he needs to follow up Kallis' two-run over with a good one to build some pressure. Three singles off the first three balls mean Sachin Tendulkar is on strike on 99. The fans go mad. He eases it through the covers to go his 48th ODI century off 92b, 7x4, 3x6. The fans stay on their feet as Gambhir goes to his 23rd ODI 50 off 59b.
Over 35 Kallis 0-0-0-1-0-1 232-1 - The mandatory ball change has taken place. Will this open a window for the South Africans? They need to pick up a wicket or two or three or four. You get the picture. After three dots, Tendulkar works it to square leg for one. Gambhir also gets one through square leg. That's an exceptional over in the circumstances. Only two in the over.
Over 34 Duminy 0-4-4-1-1-1 230-1 - It's one-ver spells for the bowlers at the moment as Duminy returns. Gambhir uses his feet to go inside out over ecover for four. Duminy feels the pressure and he slips it down the leg-side. Gambhir gets a faint touch and it rolls away. The fielder, du Plessis, took a knock while attempting to stop the boundary. He nearly went face first into the advertising board. Big noise as Tendulkar is on strike as he needs only four to reach another ton. He can onlyl get a single though.
Over 33 Kallis 0-1-1-1-0-2 220-1 - Drinks are something of the past and the South Africans have had time to rethink their strategy. Back into the attack comes Jacques Kallis. He went for 24 in his first three overs. The Indians milk a couple of singles. Smith will be happy with that. Kallis gets it slightly wrong with one on the hips and it's pulled for a couple.
Over 32 du Plessis 4-wd-1-1-1-0-4 215-1 - Du Plessis returns, but he starts with a half-tracker that's pulled away for four by Gambhir. Smith must wish he had Tahir in his team today, because he's proven himself to be a wicket-taking option and has broken up some key partnerships. Du Plessis is a handy option to have but often his control can let him down, and he lets slip another short ball to end the over, with Tendulkar rocking back to pull to the wide midwicket fence. Thirteen from the over.
Over 31 Botha 0-4-0-0-1-1 203-1 - A rare slip from botha as he gives one too much air, and Tendulkar advances down the pitch to meet it on the full and place it in the gap at extra cover for four. That brings up the 200 in just the 31st over.
Over 30 Steyn 0-1-1-1-0-1 197-1 - Steyn steaming in here, and he manages a relatively cheap over of four runs. The run rate has dropped to 6.5 per over, but there are 20 left and India have nine wickets and a batting powerplay to come. 350 is most certainly on, and quite possibly several more than that.
Over 29 Botha 0-0-0-0-1-0 193-1 - South Africa would love 20 overs from Botha at the moment, but he'll have just three more after this. Gambhir is struggling a bit with the ball turning across him - not in the sense that he looks like getting out but certainly from a scoring perspective. Just a single from that over, and South Africa are doing well to claw things back here.
Over 28 Steyn wd-1-1-0-1-0-0 192-1 - Steyn returns, presumably in the hope of finding some reverse swing. There's a hint of it, but not enough to trouble tendulkar in this kind of form. An inswinger is driven beautifully back at the bowler, who does well to get a foot in the way and prevent a possible boundary.
Over 27 Botha 0-0-1-0-2-1 188-1 - Another quiet over from Botha, with tendulkar only managing a single, and Gambhir grabbing a couple to deep point for driving out to long-off for a single. Botha doing his chances of inclusion in the rest of South Africa's matches no harm at all at the moment.
Over 26 Peterson 0-1-6-1-1-1 184-1 - After a run of 38 balls without a boundary, Tendulkar ends it in style, coming down the track to smash Peterson miles over long-on. These are big boundaries but there was never any doubt that he would clear it there. After that Tendulkar is content to get inside the line and dink singles to square leg.
Over 25 Botha 0-0-1-0-0-0 174-1 - Botha doing a really good job here, racking up the dot balls as South Africa whizz through the overs. Just one from that one, as Tendulkar is tied down for three balls. The run rate drops below seven per over for the first time in the innings.
Over 24 Peterson 1-1-1-0-0-1 173-1 - Four more singles with long off and deep cover brought into the play. The rate is slowing but India won't mind that one bit at this stage.
Over 23 Botha 0-1-1-1-wd-0-1 169-1 - Botha's introduction was the over before the Sehwag wicket and the rate has obviously slowed since then. The question then is why did Smith bring Botha on so late, especially with Duminy and Peterson being given a go before him. Back to the present, more singles, and a wide from Botha - the attempted quicker ball sliding down the leg side.
Over 22 Peterson 1-1-0-0-1-1 164-1 - No more from Faf right now as Robin Peterson returns under a little less pressure than he was in the 11th over. Sachin and Gambhir start with a single each, and end with a single each to take four from the over. The ball is getting softer and coming onto the bat slower with the spinners on so the Indian pair will be more than happy to work the ones and twos.
Over 21 Botha 1-1-wd-0-1-1-0 160-1 - Accumulation time with singles galore and a wide thrown in from Botha. The scoring rate is still massive but has come down a touch after the wicket. 23 runs from the last five overs.
Over 20 du Plessis 1-1-1-2-0-1 155-1 - Sachin cuts to cover for a single to bring the 150, just a reminder that it's still the 20th over, and the batsmen trade ones and twos including a fine tickle from Gambhir which draws a chase from Steyn down to the fine leg fence. The average first innings score in day-night games at this venue is 316 which will just slightly ease the the Proteas pain at this stage - it's an absolute road this track.
Over 19 Botha 0-1-0-0-0-4 149-1 - Sachin finds a single and new man Gautam Gambhir is then tied down by Botha, with a loud but unsuccessful lbw appeal. The left-hander though can trust the bounce on this flat track and he takes on the final ball of the over with a skip down the track before lifting Botha over midwicket for four!
Over 18 Du Plessis 1-1-0-W-1-1 144-1 - WICKET! South Africa have finally broken this destructive opening stand and it's none other than Faf du Plessis and his leg spin that's done the job. The ball was darted in flat, found the edge as Sehwag backed away and crashed into the stumps. The field stays the same for the new man Gautam Gambhir and he gets off the mark first up with a single. Sehwag by the way out for a typical 73 from 66 balls.
Over 17 Botha 0-0-1-0-1-1 140-0 - Here's a man with something to prove: Johan Botha. He starts with two dot balls which is promising, especially as the second of them caught the outside edge but was dropped by van Wyk. In truth it was a thickish edge, so it didn't really deserve to be bolded like that. It was a half-chance if anything. Just three from the over though, so that's an excellent start from Botha.
Over 16 Peterson 2-1-1-4-0-1 137-0 - So the bowling powerplay is done, and the Proteas will hope that they can slow things down a bit now. Sehwag shows his deft side with a lovely late dab to third man for two, then cashes in on a long-hop as he drives off the back foot over extra cover for four. Not so sure that the middle overs will be boring today.
Over 15 Duminy 1-1-1-0-6-0 128-0 - Tendulkar's in some mood today - now he runs at Duminy and smashes him over long-on for six. His 33-ball fifty was the third wquickest in the tournament thus far by the way. India are still cruising along at 8.5 runs per over, which would give them a score of 425...
Powerplays Anthony has a question regarding power plays: "If the fielding team opted to postpone the bowling powerplay after the first 10 overs, could the batting team impose there power play then, if they were playing well, or can the batting power play only be imposed after the bowling power plays have finished?" The batting team can take their powerplay at any time, including before the bowling one.
Drinks The drinks break has come after just 14 overs, mostly because a lot of time has been taken up fetching the ball! Another chance for the Proteas to chat about how they can quieten things down. To some extent they have to expect to be hit for boundaries on this pitch, and the important thing is to not get frustrated.
Over 14 Peterson 4-2-0-1-0-1 119-0 - The runs continue to flow, as Peterson tosses one up, and Tendulkar accepts the invitation as he runs down the pitch to meet it on the full and drive past mid-on. However he nearly offers a chance next up as he lofts a drive to wide long-off, where AB de Villiers sprints round and dives but can't quite pull off the catch. South Africa's desperation is clear when they waste a review for a delivery that hit Tendulkar on leg stump and was quite clearly sliding down the leg side, but it does give Smith a chance to call everyone in and have a chat, because they need to regroup here. A quick single to short fine leg take Tendulkar to fifty in 33 balls (5x4s, 1x6), which is some going from him.
Over 13 Duminy 4-2-1-1-1-1 111-0 - JP Duminy on now, but his first ball goes for four as Sehwag gives himself room to cut away. He tries to repeat the shot next ball, but this time gets a bit lucky as the delivery climbs on him and takes a thick edge towards third man for two more runs. It's very noticeable how much India are willing to trust this pitch as they walk around the crease without any concern over the ball misbehaving.
Over 12 Peterson 1-4-1wd-0-1-0-wd-0 101-0 - Big test for Robin Peterson as he comes on, and after Tendulkar takes a single Sehwag gets stuck in, backing away to loft a drive over extra cover for four and go to his half-century in just 44 balls (10x4s). Peterson slowly improves through the over though, and it does look as if pace off the ball will help. India already have a three-figure score.
Over 11 Kallis 0-4-wd-0-1-0 93-0 - Despite the carnage, South Africa take the bowling powerplay. And there's more carnage as Tendulkar spots the slower ball and whips it over mid-on for four. Just a wide and a single follow, which could probably be termed 'respite' for South Africa.
Over 10 Steyn 1-0-6-0-0-3 87-0 - Tendulkar strikes the first six of the match, taking on a Steyn bouncer and clearing fine leg. That flew onto the bat, so a hint of top-edge just took it over the rope. A clip through midwicket brings three more for Tendulkar, and means India have scored the highest number of runs for the mandatory powerplay in this tournament, comfortably beating their own score against the Netherlands.
Over 9 Kallis 1-3-1-0-1-1 77-0 - Slower ball from Kallis, but Tendulkar picks it and waits for it to come onto the bat before pushing it through cover-point for three. Top-class shot that. He gets another bonus run later in the over when Amla's throw hits the stumps and deflects away for an overthrow. There's just no stopping the runs right now.
Over 8 Morkel 0-4-1-0-4-4 70-0 - Four more - this time as Sehwag drives an overpitched delivery and beats mid-on, and than as Tendulkar times one superbly through cover. That raced off the bat and through the crowded offside field. But he gets even better as he finishes the over with a supremely straight drive back past the bowler. There seems to be no way of containing, and I would say that even 350 will be chaseable on this pitch unless it deteriorates, which at this stage seems unlikely.
Over 7 Kallis 0-2-0-4-1-4 57-0 - Smith turns to Jacques Kallis for some control and also a bit of pace off the ball. He bowls a much tighter line and length - angling into the right-handers to cramp them for room - but then makes the mistake of trying to bounce Sehwag, who hooks merrily over square leg for four. With no man back for the shot I'm not quite sure why Kallis tried that. It becomes another expensive over when Tendulkar steps inside the line to pull away fine for four. The Proteas desperately need to stop this runaway train.
Over 6 Morkel 4-0-4-0-4-1 46-0 - Stand-and-deliver stuff from Sehwag as he throws his hands at a slightly wide delivery and cracks it through the offside for four. Then he stands dead still again and pummels a half-volley straight down the ground for four more. This is a belter of a pitch - tailor-made for someone like Sehwag, and he's making the Proteas pay for not being clinical early on. A third boundary follows as he slashes a wide one over backward point, which leads Smith to post a man at deep point. He comes in handy when Sehwag drives the next ball out there for one. Big over, and South Africa are looking a little overwhelmed byt the cauldron of noise.
Over 5 Steyn 1-0-4-0-1-0 33-0 - Well well well! Replays now show that the lbw shout at the end of Steyn's last over would have been overturned by Hawkeye had the Proteas reviewed it - the ball was hitting the inside of leg stump. So that's two chances Sehwag has survived, and now he slashes a wide delivery just past Morkel at third man for four.
Over 4 Morkel 0-3nb-1-0-0-0-0 27-0 - Morkel oversteps, but Tendulkar can't get the free hit away for any more than a single as a short ball hits high on the bat and squirts to midwicket. That's a much quieter over, and South Africa will be grateful for it.
Over 3 Steyn 0-5-0-4-5wd-0-0 23-0 - Bonus runs for Tendulkar, and this time Botha is left to regret an errant shy at the stumps which beats the men backing up and runs away to the boundary. The VCA Stadium goes absolutely wild. Cracking atmosphere in the ground, and it erupts once more as Sehwag whips one off his toes for four through square leg. Steyn loses the plot somewhat and fires five wides down the leg side - think he got the inswinger wrong there - but then has a big shout for lbw turned down off the last ball. Smith thinks it was going down leg, and so Steyn has to collect his cap rather than ask for a review. It's all happening.
Over 2 Morkel 1-0-4-0-0-0 9-0 - Morne Morkel opens from the other end, and some more good fielding from Botha saves more runs as Tendulkar drives through extra cover. Just the one thanks to Botha's timely dive. Chance! How South Africa might live to regret this as Sehwag edges between keeper and first slip. It was Morne van Wyk's catch but for some reason he didn't go for it despite the fact that Smith was standing wide. Four runs are the result and Sehwag lives to batter some more runs.
Over 1 Steyn 4-0-0-0-0-0 4-0 - Boom! The match is up and running in style as Steyn gets some away swing but overpitches, and Sehwag nonchalantly whips him over wide mid-on for four. Cracking start, and it's followed up by a hopeful lbw shout from Steyn which was too legside-ish. He beats Sehwag with the third ball though, swinging it away as the right-hander tries to clip through midwicket. Sehwag drives the penultimate ball but it's very well fielded by Botha at mid-on to save a certain boundary.
All set Virender Sehwag and Sachin Tendulkar stride out to the middle to huge cheers. They'll be facing Dale Steyn, who ran riot in a Test match here early last year.
Feedback So who do you think this game is bigger for? India have just about qualified but will be under pressure to produce the goods in front of their home crowd. Meanwhile Bangladesh's win last night has put South Africa in a slightly iffy position given that they still need to travel to Bangladesh for a tough assignment. Defeat for the Proteas today would heap the pressure on going forward. Send your thoughts on this or anything World Cup related to Tristan.Holme@365.co.za.
India Sachin Tendulkar, Virender Sehwag, Gautam Gambhir, Virat Kohli, Yuvraj Singh, MS Dhoni (capt, wk), Yusuf Pathan, Harbhajan Singh, Zaheer Khan, Ashish Nehra, Munaf Patel
South Africa Graeme Smith (capt), Hashim Amla, Jacques Kallis, AB de Villiers, JP Duminy, Faf du Plessis, Morne van Wyk (wk), Robin Peterson, Johan Botha, Morne Morkel, Dale Steyn
Teams Changes to both sides, with India opting for three seamers. That means Piysuh Chawla is left out and Munaf Patel returns. South Africa decide not to risk Imran Tahir, and so Johan Botha reclaims his place in the side.
Toss News from the middle os that India have won the toss and elected to bat first. no surprise there.
Hello And welcome to coverage of India v South Africa from Nagpur. It's the big one, with two of the tournament favourites going head-to-head on what it expected to be a cracking pitch.
Sky Bet Odds:
Click Here for Your Free Bet