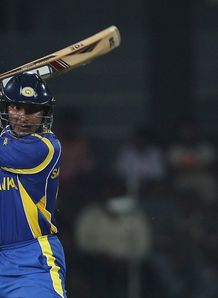 Sri Lanka win by 139 runs You won't often see one player dominate a game as much as Tillakaratne Dilshan did today. He and Upul Tharanga both hit hundreds to set the tone with their opening stand of 282 as Sri Lanka posted 327 for six. Zimbabwe made a positive start to their chase thanks to Brendan Taylor but after an opening stand of 116 the Zimbo's fell apart to be bowled out for 188 - Murali claiming three wickets on his own ground and Dilshan picking 4 for four, including two wickets in two balls. Sri Lanka qualify for the quarters and Zimbabwe will have to go back to the drawing board. Thanks for joining us and we'll be with you again tomorrow as Ireland tackle the West Indies and England fight Bangladesh.
Over 39 Muralitharan 1lb-1-0-1-0-W 188 all out - Murali denies Dilshan the chance at a five-for by bowling Chris Mpofu around his legs. That's the 150th ODI wicket on home turn for Murali and it could possibly be his last game on Sri Lankan soil so a fitting end to the game. Sri Lanka win convincingly by 139 runs and qualify for the quarter finals.
Over 38 Dilshan 0-0-0-W-0-0 185-9 - Would you believe it Dilshan has four! Panyangara caught plum lbw by the off-spinner, the batsman expecting the ball to turn but instead it's slid on and caught him right in front. Two slips are brought in with Dilshan going in search of a five-for to go with his hundred.
Over 37 Perera 0-0-0-2-W-0 185-8 - OUT! Ray Price has a good old swing at a couple of deliveries and eventually middles a pull shot which picks out Thilan Samaraweera on the square leg fence!
Over 36 Kulasekara 0-0-0-wd-0-0-0 183-7 - Other than the wide - the 12th from Sri Lanka - it's a very tidy over from Nuwan Kulasekara. It brings the end of the batting powerplay which yielded 20 runs and one wicket.
Over 35 Malinga 0-1-0-0-0-4 182-7 - Malinga is searching for the yorker but slightly short and Cremer drives out to mid off for one. Ray Price then gets barraged with short balls, but wears a smile and then picks the slowerball and powers Malinga back over his head for four!
Over 34 Muralitharan 0-2-0-0-1-0 177-7 - At the comparative stage Sri Lanka were 205 for 0 - nevertheless Price and Cremer are fighting on with two via a cut from Cremer and one via a misfield from Dilshan at midwicket.
Over 33 Malinga 1-1-1-0-wd-wd-0-4 174-7 - Malinga's into his seventh over and yet to pick up a wicket. You wouldn't bet against it though with Ray Price and Graeme Cremer at the crease. Price does really well to dig out a couple of yorkers and gets off the mark with a single scrambled to Sangakkara. Malinga lashes down a leg-side wide - he has been far too wayward today - and young Raymond Price gracefully strokes the final ball of the over through extra cover for four!
Over 32 Muralitharan 1-0-1-0-W-0 165-7 - Dilshan took two wickets in his last over, endured a drop catch too, but has now been taken out of the attack by his skipper who brings back Murali for the first over of the batting powerplay. A couple of singles and then OUT! The Zimbabwean skipper goes on the sweep and he's hit straight to Perera in the deep! Another disappointing effort from Chigumbura.
Over 31 Malinga 0-1-0-0-4-2 163-6 - DROPPED! Another chance grassed by Sri Lanka - it's Murali in the deep this time who spills a high ball from Chigumbura. Cremer then has a massive slice of luck himself, a full toss from Malinga which he gets the faintest on insides edges to, somehow missing leg stump on the way to the fence.
Over 30 Dilshan 0-1-W-W-0-0 156-6 - OUT! It's Dilshan's day today, as he strikes a second time with his off spin, Craig Ervine trapped leg before on an attempted sweep. The Zimbabwean review come back with confirmation for umpire Marais Erasmus. CAUGHT! It's two in two for Dilshan thanks to Jayawardene's stunning catch at slip. Dropped! And the hat-trick is on the cards but Jayawardene has put down the chance at first slip! Incredible - a wry smile from Dilshan - the chance at a hundred and hat-trick combo goes a-begging!
Over 29 Malinga 0-0-0-0-1-wd-1 155-4 - Malinga's back, and dishes up a full toss first up. Ervine can't cash in and is beaten by the pace, with the next three deliveries also beating his bat and the fifth catching the edge and running down to third man for one. Elton Chigumbura will be under pressure after a poor run in the tournament, and he sees a wide go by before an on drive which yields a single to midwicket.
Over 28 Dilshan 0-1-W-0-2-0 152-4 - OUT! Utseya is stumped in strange circumstances. He charges down the track, the ball goes on with the arm from Dilshan and Sangakkara has fumbled with the ball falling on the wickets before Utseya could make his ground. Nearly a hash by the Sri Lankan skipper, but instead it's another blow for Zimbabwe who now have skipper Elton Chigumbura at the crease and off the mark with a thick outside edge.
Over 27 Mathews 1-0-1-2-4-1 149-3 - Ervine is riding his luck but he's playing postively which is a good sign for Zimbabwe. He drives down the ground for a couple and then adds a boundary by way of a thick edge. A single keeps the strike and collects the ninth run from the over.
Over 26 Muralitharan 0-1-1-0-1-0 140-3 - Murali beats both batsmen and he's piling on the pressure with these two batsmen looking to rebuild as briefly as they can before upping the rate. Ervine survives a loud lbw shout with Sri Lanka deciding against a review.
Over 25 Mathews W-0-0-4-0-1 137-3 - OUT! Unfortunately for the contest Taylor hits straight to Jayawardene at midwicket who is very grateful to take the chance. That's due to the build-up of pressure imposed largely by Murali. Craig Ervine is the new man and he gets off the mark with a boundary, a periscoped edge down to fine leg for four.
Over 24 Muralitharan 0-1-1-2-1-0 132-2 - Five off the over from Murali, the Zimbo pair have to rebuild the innings but they need to do it in a bit of a hurry too with the rate required now edging towards eight. Taylor is known for his often questionable running between wickets and he and Utseya nearly get in a tangle off the final ball of the over.
Over 23 Mathews W-0-0-1-1-0 127-2 - OUT! Brilliant catch from Sangakkara behind the wicket, he's gone the wrong way and then launched himself full stretch to his right to complete a one-handed grab. The end of Taibu, he edged a straight delivery which just seamed a touch. Taylor and new man Prosper Utseya each collect singles with the latter winning an unfamiliar batting role up the order.
Over 22 Muralitharan 1-1-1-0-1-1 125-1 - Taibu is intent on using his reverse-sweep against Murali and does so on three occasions, picking a single every time. Taylor uses the conventional version effectively for one but is also beaten by the doosra, worryingly for the Zimbabweans they are not reading Murali very well.
Over 21 Perera 0-0-2-1-1-0 120-1 - Perera now back with Mathews taking a break. A short ball has Taylor dangling a bat and fortunately for him he's avoided a touch through to Sangakkara. Taylor works off the hip for two to fine leg and then drives handsomely through the covers for one more - his is a real key wicket in this game. Taibu, who will be relishing the contest, is off the mark with a steer to third man.
Over 20 Muralitharan 4-1-0-0-W-0 116-1 - A great start to the over for Zim - Taylor absolutely middles a sweep shot for four and then gets a single. BOWLED! Murali produces a beauty, the doosra which totally flummoxed Chakabva, beating the bat and clipping off stump. Murali's eyes are full of fire and he beats Tatenda Taibu with another doosra to end the over.
Over 19 Mathews 0-1-1-1-1-1 111-0 - This is now Zimbabwe's highest opening stand in all World Cups, Taylor flicks infront of his pad while Chakabva again cuts well for a single - he's extremely strong in that area and the Sri Lankan attack cannot afford to put anything in short to him. Tidy enough over from Mathews with the five singles meaning that at the comparative stage the two teams have exactly the same score - Sri Lanka were also 111-0 after 19.
Over 18 Muralitharan 0-0-1-1-1-0 106-0 - Murali has taken 56 wickets against Zimbabwe, more than any other bowler, but they're playing him well here with the sweep in use and Murali straying in line to allow Taylor to flick a single to the on side. Evens-Stevens as far as the innings comparisons are concerned.
Over 17 Mathews 0-2-0-4-1-1 103-0 - Such clever cricket from the Zimbabweans, this is fantastic watching - they've picked off couple behind square on the off side and a pair of singles and added the boundary from Chakabva - a cut shot cracked away to the fence. The hundred is up and there've been two awesome opening stands today in Pallekele. And that is drinks.
Over 16 Muralitharan 0-0-1lb-1-4-1 95-0 - Much to the delight of the Pallekele crowd Murali is into the attack and has a major lbw turned down by Marais Erasmus. Good call with the ball missing leg stump and there's no review. Chakabva cashes in with a late cut which rolls away to the fence and the Zimbabwean pair have made a positive start against the record-breaking leg-spinner.
Over 15 Malinga 0-0-1-wd-0-1-0 88-0 - Malinga returns to the attack, maybe he can redeem himself for those errors in the field. In the air and just over the top of midwicket. It was a slower delivery Chakabva checked his shot and the ball looped over the head of short midwicket.
85-0 - Taylor nudges the ball for a single and that's his fifty, a great little knock, let's hope he can build on from this. Super shot from Taylor as he bisects the fielders in the covers and the ball runs away off the fast outfield. A fumble in the deep from yes, you guessed it, Malinga, allows the batsmen to pick up two to long on when there should have been just one.
Over 13 Perera 4-0-0-1-0-0 76-0 - Taylor really is looking in great form as he clips the ball wide of mid on for four. Dropped! Malinga makes a mess of it in the deep. Taylor slices the ball down to third man here Malinga sticks up a hand to take the catch but can't hold on. He should have been on the ropes but wasn't and paid the price.
Over 12 Kulasekara 0-1-0-0-0-1 71-0 - Big shout from Kulasekara as Taylor is hit as he tries to swivel the ball into the leg side. The review is called for and hawkeye shows it would have just clipped the top of middle but it remains the on-field umpire's call so Taylor lives to fight another day.
Over 11 Perera 1-1-0-0-6-4 69-0 - What a shot! Taylor plucks the ball from outside off and deposits into the stands behind square leg. He follows it up with another great shot, this time driven down the ground.
Easy does it Zimbabwe have got off to a good start, led by Taylor who has played some great shots. Hopefully there is a lot of fight still left in them.
Over 10 Kulasekara 4-0-0-4-1-0 57-0 - Nicely played by Taylor as he takes full advantage of a delivery that is in the slot, heaving it over mid off. Four more, great stuff from Taylor! He picks the slower ball and heaves it into the leg side with ease.
Over 9 Perera 1-1-0-0-0-4 48-0 - Ooh, Taylor is nearly caught short as he scampers through for a quick single to mid off. A direct hit and he would have been gone. Chakabva gets down on one knee and looks to flash the ball through the covers but makes no contact. Chakabva picks up his first boundary of the innings in rather fortuitous fashion as he slashes the ball down to third man where Malinga somehow lets the ball get through him.
Over 8 Kulasekara 0-0-0-0-1-0 42-0 - I think Chakabva's slow start (10 off 28) is starting to get to him as he shuffles down the crease looking to do something different. There's no need to panic just yet.
Over 7 Perera 2-0-1-0-0-1 41-0 - We have our first change with Thisara Perera coming into the attack. A touch wide first up and Taylor cuts behind square for two runs as Kulasekara at third man slides in to cut it off. This time it's Perera who beats Chakabva outside off.
Over 6 Kulasekara 1-0-0-0-0-0 37-0 - Another pearler from Kulasekara as the ball begins to shape away before holding its line and it only just flies past the edge of Chakabva's bat. How did that miss?! Chakabva only just manages to dig out a yorker and the ball just jumps over the stumps as it bounces up.
Over 5 Malinga wd-1-1-4-0-4-1 36-0 - Ooh! Malinga misses out on a tough chance. It came off the leading edge but the fast bowler couldn't get to it. A good thing he didn't get a hand on it too as it hits the off stump and Chakabva the non-striker was out of his ground. Two lovely boundaries from Taylor, first he strokes it through the covers for four and then makes great use of a bouncer, helping it over the 'keepers head for four more.
Over 4 Kulasekara 0-0-3-lb-0-0 24-0 - Ooh, a great delivery from Kulasekara as it jags back off the track and narrowly misses both the edge of the bat and off stump. Nicely played by Chakabva as he jabs the ball through the covers for three.
Over 3 Malinga 0-0-0-0-4wd-0-1 20-3 - A wild delivery down the leg side from Malinga and it's four wides, although Sangakkara may feel he could have got down to field it.
Over 2 Kulasekara 2-0-1-0-2-2 14-0 - It's Kulasekara to share the new ball with Malinga. He strays onto the pads first up and Chakabva whips the ball into the leg side for two. A big shout for lbw as Taylor is rapped on the pads as he looks to work the ball to leg. Umpire Erasmus isn't interested and for good reason, it would have missed leg stump. Sloppy stuff from Dilshan as he throws a poor throw to Sangakkara behind the stumps as the batsmen trot through for a single at it allows them to get an overthrow
Over 1 Malinga 0-1b-wd-0-1-4-0 7-0 - The ball keeps low on Sangakkara as Taylor pushes tentatively and misses, allowing the batsmen to pick up a bye. Regis Chakabva turns the ball into the leg side to open his account with a single. A poor full toss from Malinga and he pays the price with Taylor clipping the ball behind square for the first boundary of the innings.
We're back The players are back out in the middle and the Zimbabwe chase is about to begin.
Zimbabwe chase 328 All about the opening stand really. Tillakaratne Dilshan and Upul Tharanga shared the biggest opening partnership in World Cup history with 282 runs, each collecting hundreds to fire Sri Lanka to 327 for six. Zim fought gallantly until the death, with six wickets in the last six overs, but their bowlers posed very little threat after Elton Chigumbura had opted to field first. We'll be back in a bit to take you through the rest of the game.
Over 50 Mpofu 0-1-4-1-4-1lb 327-6 - Mpofu is in search of a fifth wicket - you wouldn't have believed it just five overs ago when he cam back into the attack. He approaches from around the stumps and Sangakkara steps inside and uses the angle to flick to the leg side for four. Samaraweera takes aleaf out of his skippers book, moving inside the line to turn away for four with a leg bye ending the over and the innings. Good fightback at the end from Zimbabwe but Sri Lanka will be extremely happy with their efforts in 327 for seven.
Over 49 Panyangara 1-1-1-wd-2-1-1 315-6 - There are better options to bowl the penultimate over than Panyangara but great to see Chigumbura using the occasion to give his seam bowler a chance for the experience at bowling at the death after the clutch of wickets. One wide but otherwise a decent enough over with just ones and one pair on offer.
Over 48 Mpofu W-1-wd-W-wd-1-4-W 308-6 - WICKET! No wickets for 44 overs and now we've had four in the last three overs. Jayawardene looks for the maximum over long on but can't clear the fielder Chikabva on the fence and he's on his way for nine. OUT! Another catch for the skipper, Chigumbura collects a skier after Mathews played too early on a slowerball, and he's out first ball. Great fight back from the Zimbos. Chamara de Silva shows Mathews how it's done and waits on a slower ball before helping it on it's way to the leg side fence. OUT! But then de Silva does exactly as the man before him, and mistimes a change of pace from Mpofu to perish to the man on the leg side fence, Panyangara safe under the catch.
Over 47 Price 4-1-W-wd-0-2-1 300-3 - Jayawardene kicks off the over with an exquisite cut short for four, pure class. OUT! Perera it is who perishes for the cause, lobbing up an attempted pull shot which Chigumbura accepts at midwicket. The Zimabwean skipper has taken all three catches! A massive cheer now greets the Sri Lankan captain on his way to the crease.
Over 46 Utseya 0-1-4-W-1-1 291-2 - Perera wisely takes one to give Dilshan the strike, the centurion rushing down the track and playing an exceptional extra cover drive which races away for four. WICKET! The end has finally come for Dilshan, he was rightly going for everything and holed out to Elton Chigumbura on the midwicket fence! He's out for 144, one short of de Silva's World Cup record and he exits to grateful applause from the Pallekele crowd. That's a tonic at this stage for Zimbabwe to get two new men at the crease, Mahela Jayawardene starting his knock with a single.
Over 45 Mpofu 2-1-1-W-1-1 284-1 - The highest World Cup score by a Sri Lankan is 145 by Aravinda de Silva against Kenya, also in Kandy. These two are now second and third on that list. Dilshan has midwicket in mind as he opens up his stance and and frees the arm but it's just one to the man on the fence. OUT!!!! Finally Zim have a wicket and it's Tharanga who charged Mpofu and then lofted up to Chigumbura at extra cover! He's gone for 133 off 141 balls and that was the second highest partnership in World Cup cricket. Thisara Perera is the new man and he starts with a single to get off the mark.
Over 44 Utseya 0-1-4-1-1-2 278-0 - Dilshan down the track and Boom! He smashes Utseya over cover for four! With all three fielders on the ring in the leg side that's four every time if he gets it right. Kumar Sangakkara and Mahela Jayawardene are still sitting in their pads in the dressing room and looking rather grumpy that they've been kept out of the action for so long. A couple more singles and then Dilshan crashes the ball to long on for two more.
Over 43 Mpofu 1nb-2-1-4-0-0-1 269-0 - Christopher Mpofu is back on and this could spell danger for Zimbabwe. It's a nightmare start for the seamer with a no-ball but Dilshan, who is running out of steam, can only shovel two to the leg side. Another mis-hit on the pull saves him from being caught square leg before Tharanga gives himself room and edges past the keeper Taibu for four. Mpofu does well in the last three balls of the over, conceding just a single to restore respectability to the over.
Over 42 Lamb 4-1-1-4-4-1 259-0 - The Sri Lankan are going to throw everything at it now and Tharanga gets thick edge from the first ball of the over. Ray Price is not on the edge of the circle at short fine leg and that'll be a boundary. Cover sweeper Panyangara wears a ball in the midrift to prevent four for Dilshan but Tharanga gets stuck in with two elegant boundaries over cover to bring 15 from Lamb's offering!
Over 41 Price 4-4-1-1-1-0 244-0 - Batting Powerplay taken! Tharanga immedaitely uses the feet and drives through cover for four to go to his 10th ODI hundred! that's the first time that both opening batsmen have reached three figures in a World Cup game. Four more! Tharanga plays an even better shot now, against the spin hitting over cover and on the bounce towards the fence. Three singles follow down the ground and 11 runs kick off the powerplay.
Over 40 Lamb 1-1-0-1-4-0 233-0 - Just 21 runs from the last five overs with Tharanga approaching three figures. With 11 overs left Price and Utseya will bowl five of those, leaving Chigumbura with some tough decisions over the remaining six overs. The spin of Cremer and Lamb has a combined eight overs left between them and the Zimbabwean skipper opts for Lamb now, the off spinner pushed around for a couple of singles and then swept away by Dilshan for a boundary to concede seven from the over.
Over 39 Price 0-1-0-1-1-1 226-0 - Price gets in a tangle with Dilshan while fielding at the bowlers end and the two share a good natured wrestle led by the Zimbabwean. The Sri Lankan batting approach here is also good-natured, Tharanga plugging down the ground for a single as four runs come off the over.
Over 38 Utseya 0-0-0-1-0-0 222-0 - Dilshan is tired, too tired to get any more than a single off Utseya's eighth over. It's a wide delivery too from which he can only pick one and Zim will be very happy with the couple of overs after drinks.
Over 37 Price 0-1-1-1-0-1 221-0 - Zim's one trump card left is Ray Price who has five overs left and is into the first of those five now after an extended drinks break. Dilshan is looking a little fatigued. No need for risks against Price from the Sri Lankan pair and they duly push about for four singles. The run rate meanwhile is below six for the first time in the innings.
Over 36 Utseya 2-1-0-0-0-1 217-0 - Dilshan steers through the covers for a couple and then swings a sweep shot out to the leg side fence for a single which makes this the highest ever opening stand in World Cup cricket. Time for the second drinks break.
Over 35 Cremer 0-4-2b-1-0-1 213-0 - Elton Chigumbura is understandably scared to use his seamers and has reverted back to spin in the form of Graeme Cremer. He drops just slightly short to Tharanga who exquisitely cuts, full of control, away for four more. Another single sees him creep up to 92, while Dilshan collects one to short fine leg.
Over 34 Utseya 0-2-1-0-wd-4-1 205-0 - Utseya comes back and is pulled into the leg side by Dilshan - a misfield from Ray Price allowing a second run. Even Ray is feeling the pressure now. Utseya slips in a wide and then Tharanga delicately steers away to the fence before finishing with a single to move to 87.
Over 33 Panyangara 4-1-1-0-2-4 196-0 - This is a massive moment with Panyangara re-introduced. He'll no doubt be targetted and if he's canned by Dilshan and Tharanga then it could be the moment that Sri Lanka take as their cue to kick on. Immediately Tharanga is on the offensive, hitting the first ball of the over mid on for four! The left-hander adds two to third man and then blasts a short ball over his shoulder and down passed fine leg for another boundary. 12 runs from the and ominous for Zimbabwe.
Over 32 Lamb 0-1-1-1-3-wd-1 184-0 - Upul Tharanga is taking liberties on teh off side beacuse, well, he can. Long off is back and a miscue travels safely on the bounce for a single. Having just gone to three figures a juicy full toss is not the ball to bowl to Dilshan and he clubs away for three with a wide and a single to finish meaning it's eight from the over.
Over 31 Chigumbura 0-4-1-0-1-4 176-0 - Hundred for Dilshan! He beats away four - this is now the highest opening stand in the tournament so far - and then pushes for a quick single to go to the mark. His celebrations tell a story - this ninth ODI century of his career clearly means plenty to him and now that he's got it there's likely to be an acceleration in the innings. The crowd are lapping it up and they cheer again with Dilshan clipping a leg side delivery away for four to end the over.
Over 30 Lamb 0-0-1-0-1-1 166-0 - Tharanga gets a fortunate leading edge which finds it's way to long off. It's one of just three single from the over as the Zimbabweans continue to pull things back bravely. When will the Sri Lankan onslaught begin though?
Over 29 Chigumbura 2-0-0-0-1-0 163-0 - The skipper has taken it upon himself try and end this opening stand, Sri Lanka's highest ever against Zimbabwe. It was the right time to take Cremer out of the attack and the switch to pace has worked adequately with just three runs from the over. The Sri Lankan batsmen showing as little intent up ante against seam as they were against spin.
Over 28 Lamb 0-0-1-1-1-1 160-0 - Four from the over, all in ones, as Kumar Sangakkara watches on, possibly contemplating whether to give one of his other batters a chance up the order when the first wicket falls.
Over 27 Cremer 1-0-1-1-1-1 156-0 - More singles, easy as you like. Dilshan is on to 88 and chances are that when he gets to three figures then he'll put his foot down. For now though the opening pair are still bidding their time.
Over 26 Lamb 2-4-0-1-1- 153-0 - Dilshan cuts late for two and then steers the next to the fence for a boundary. Job done for the over then and the batting pair add three more bonus singles to take Sri Lanka passed the 150 mark.
Over 25 Cremer 0-1-1-1-1-4 143-0 - Four singles and then the first real loose delivery in a while which Upul Tharanga pounces on with a cut in front of square for four!
Over 24 Lamb 0-0-1-0-0-1 135-0 - It's just more of the same with Lamb milked for two singles. Zim are just waiting for something to happen and trying to sneak in as many cheap overs as they can while Sri Lanka are waiting for the right time to unleash. Once again the Zimbabwean spinners are proving their worth.
Over 23 Cremer 1-2-1-2-1-1 133-0 - Dilshan and Tharanga look like they've got the measure of Cremer here with six scoring shots in the over bringing a combination of ones and twos.
Over 22 Lamb 1-0-1-1-0-1 125-0 - Utseya is replaced by the off spin of Greg lamb who finds his line straight up but is plugged about for ones. Upul Tharanga clips the last ball of the over down to long on and that brings up his fifty! It's come off 67 balls and included six fours.
Over 21 Cremer 0-1-1-1-1-wd-2 121-0 - Dilshan comes down the track and has a heavy at the leg-spinner, but a miscues brings just one. A misfield at cover allows for another single and with a wide plus two swatted away by Dilshan off a short delivery,m it's a comfortable seven from the over.
Over 20 Utseya 1-0-1-0-0-1 114-0 - The batting pair have clearly decided just to consolidate their fantastic start and will keep wickets in hand for the bash at the end. Three more singles keeps the score ticking along slowly.
Over 19 Cremer 0-0-0-1-0-1 111-0 - There's just a hint of turn for Cremer who is not shy to flight it in. Each batter collects a single in a subdued over.
Over 18 Utseya 0-1-0-0-1-1 109-0 - Back from the drinks break and both sides will have had the opportunity to regroup and think about a somewhat frantic opening 17 overs. Crucial for Zimbabwe to fight their way back into the game with some tight over in the middle period while Sri Lanka will be determined to keep as many wickets in hand as possible for the onslaught at the end, but really they are sitting pretty. Just three singles off Utseya and there's no need for risks against him or Price.
Over 17 Cremer 4-1-0-0-1-1 106-0 - Horrid start from Graeme Cremer who's floated in a yard outside leg stump and Dilshan says thank you very much and sweeps away fine to the fence. The leg spinner quickly corrects his line and ends the over with both Tharanga and Dilshan escaping with singles off the edge. And that is Drinks.
Over 16 Utseya 4-0-0-2-0-1 99-0 - Having got to 50 Dilshan opts to free his arms and slashes outside off at a ball that's too straight to do so. fortune favours the brave though and a thick edge runs away for four. Dilshan picks up two more to cover and then another single down the ground.
Over 15 Price 0-0-0-0-0-1 92-0 - Ray Price from around the stumps is angling in to Dilshan, cramping him for room. The right-hander tries to free his arms but can only pat the ball back to the bowler until the final delivery which he punches down to long off for a single to go to fifty! It's come off just 43 balls!
Over 14 Utseya 1-0-0-0-1-1 91-0 - Tidy over from Prosper Utseya, mixing up his pace for an over worth just three runs. Tharanga is particularly tied down before easing a single to mid off and there's just a hint of pressure starting to build on the left-hander.
Over 13 Price 0-0-0-0-0 88-0 - Ray Price is back into the attack and he's bowled a maiden to Tharanga! Price floated one or two and darted the rest in, fielding off his own bowling and running around like a youngster.
Over 12 Utseya 0-1-0-1-1-1 88-0 - A double change with Prosper Utseya coming into the attack. Not a bad over either, just a handful of singles.
Over 11 Chigumbura 1-1-0-0-4-1 84-0 - The skipper Chigumbura decides to take responsibility for ending the carnage by bringing himself into the attack. He begins strongly before Dilshan bottom edges a cut to the third man fence.
Over 10 Mpofu 1-4-0-0-4-4 77-0 - Great fielding from Lamb on the midwicket fence keeps the batsmen down to one as Dilshan cracks the ball into the deep. Too short from Mpofu and it's easy as you like from Tharanga as he helps the ball over short fine leg for four. Mpofu decides to come from around the wicket but Tharanga isn't fazed by the change of angle and lofts the ball over long off for four. Smashes away for four more, this time through square leg. This is all looking rather bleak for Zimbabwe I'm afriad.
Over 9 Price 1-4-0-0-lb-0 64-0 - The Sri Lankans are being saved by a few mishits here as Tharanga looks to go over long off but the ball falls into no man's land. No mistake next up from Dilshan though as he heaves the ball behind square for four; too short from price.
Over 8 Panyangara 1-1-0-0-0-wd-1 58-0 - In the air and short! The ball flies off the splice of Dilshan's bat as he looks to hook a good short ball but again it drops in front of the fielder, this time at short fine leg.
Over 7 Price 0-1-0-wd-4-0-0 54-0 - Ooh, Dilshan looks to go over the bowler's head but doesn't connect, it flies in the air but drops short of the man at mid off. He's not swayed by the near chance though as he goes for the shot again and just clears the fielder. Price isn't letting Dilshan have it all his own way tough, he's making the batsmen think.
Over 6 Panyangara 0-0-2-4-1-0 48-0 - A misfield from Price at gully allows Tharanga to pick up two. Down the ground and four more! The outfield looks really quick as the ball beats a diving mid off.
Over 5 Price 0-1-1-4-0-0 41-0 - Time for some spin in the form of Ray Price, he really is a wily campaigner. Another beauty from DIlshan as he finds the gap at extra cover once more!
Over 4 Panyangara 0-1-1-0-0-0 35-0 - There's protection in the deep on the leg side for Panyangara and a good thing too as he comes into play early in the over. A much more subdued over, a good comeback from Panyangara.
Over 3 Mpofu 0-4-1-4-0-0 33-0 - The Zimbabwean bowlers are going to have to learn very quickly that they can't offer any width or it's going to be a very long day for them as Tharanga lashes the ball through point. Clipped wide of fine leg for four more to Dilshan. It;s raining runs!
Over 2 Panyangara 4-6-4-4-0-0 24-0 - Panyangara to share the new ball with Mpofu. Great timing from Dilshan as he opens the over with a boundary, punched down the ground. Six runs! Dilshan isn't messing around here, slapping the ball over the square leg fence for a maximum. Three balls, three boundaries as Dilshan drives through extra cover for four. It's four from four as this one flies through backward point.
Over 1 Mpofu 0-0-0-4-1-1 An lbw shout first up as Tharanga is rapped on the pads as he looks to turn the ball to the leg side. Not out is the call though, it would have clipped the very top of leg stump but had they reviewed it it would have stayed with umpire Llong's call. Tharanga opens the Sri Lankan account in style, slashing the ball through the covers for four.
Ready to go The players and umpires are out in the middle and play is about to begin.
Time for the anthems The two nation's anthems are being boomed out at present. It's an interesting thing that, while singing the national anthems is common place in other sport many people feel it's out of place at cricket.
Zimbabwe Taylor, Chakabva, Taibu, Utseya, Ervine, Chigumbura, Lamb, Cremer, Price, Panyangara, Mpofu
Sri Lanka Tharanga, Dilshan, Sangakkara, ayawardene, Samaraweera, Silva, Mathews, Kulasekara, Perera, Malinga, Muralitharan
Team news The previous game in Pallekele certainly favoured the quicks rather than the spinners and that's reflected in the team news with Sri Lanka picking just one specialist spinner, Muttiah Muralitharan.
Toss Zimbabwe have won the toss and decided to have a bowl first up.
Conditions There seems to be a fair bit of grass to bind the wicket together but the main worry for the teams today will be the dew that could become a bit of a problem for the team bowling second.
Welcome Hello and welcome to our live coverage of the Group A clash between Sri Lanka and Zimbabwe. Updates will appear here from 08:30 GMT
Sky Bet Odds:
Click Here for Your Free Bet