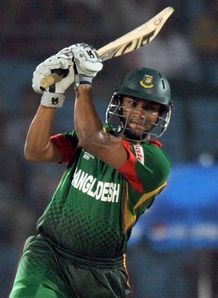 Bangladesh win by six wickets Bangladesh keep their hopes of qualifying for the quarter-finals alive with an emphatic win over the Netherlands. The Dutch batsmen weren't able to stand up to the spinners and they were bundled out for 160. Imrul Kayes anchored Bangladesh's chase and they reached the target without using their batting Powerplay. Thank you for your company.
Over 42 Cooper 4-6 160-4 - Rahim finally plays a confident looking shot as he uses his feet to slap it through the covers for four. Just one more needed. Wow! What a way to end it. Short and it's pulled for six. That's how you end a match.
Over 41 Raja 0-1-0-0-0-1 156-4 - Seelaar is bowled out so back on comes Raja. Kayes takes one to midwicket. Just six more needed, but Bangladesh are making a meal of it. Rahim has been in poor form so it's not a surprise to see him struggle to get the ball away. He finally gets off the mark with a pull.
Over 40 Cooper 0-0-0-0-0-1 154-4 - The spinners have done an excellent job here. Bangladesh just cannot get the singles at the moment. Cooper tosses a couple up but Kayes cannot get it past the in-field. The pressure finally gets to Kayes and he looks go down the ground but top edges it. Luckily for him it's out of the reach of the man running back from cover.
Over 39 Seelaar 0-0-0-0-0-0 153-4 - Bangladesh's march towards victory has been slowed down here. Rahim leaves a pretty straight one and it just misses his off-stump. The Dutch are racking up the maidens here.
Over 38 Cooper 0-0-0-W-0-0 153-4 - WICKET! What a catch from Ten Doeschate. Shakib looks to finish it rather quickly and he attempts to go over the top but he skies it. Ten Doeschate runs back from point and dives to take the catch. Mushfiqur Rahim joins Kayes in the middle.
Over 37 Seelaar 0-0-0-1-0-1 153-3 - Pieter Seelaar returns. Bangladesh require just 10 more runs for victory. Kayes has played another valuable knock here for Bangladesh. He also scored a half-century in the victory over England.
Over 36 Cooper 1-0-2-4-W-0 151-3 - Play gets held up because, yep you guessed it, problems with the sightscreen. A full toss is punished through midwicket for a couple. Next one is down the leg side and Nafees helps it on its way to the boundary. WICKET! Another one down the leg side and Nafees again looks to sweep but it crashes into his stumps. Shakib Al Hasan comes in with his side on the verge of victory.
Over 35 Raja 1-0-4-0-0-2 144-2 - Adeel Raja returns. Swept powerfully by Nafees and he gets four. That brings up the 50-run stand from 82 balls. Dragged wide and Nafees gets it through extra cove rfor two.
Over 34 Cooper 0-0-0-4-0-0 137-2 - Cooper gets some turn and bounce. It nearly draws an edge off Nafees' bat to the keeper. Nafees isn't bothered by that close shave as he goes down the ground for four.
Over 33 Ten Doeschate 0-0-2-0-1-1 133-2 - I'm not sure I understand Bangladesh's thinking here. They need to improve their run rate as it might come into equation later on. Yet they are not taking the batting Powerplay. Kayes works it down to third man for a couple while his partner gets one to square leg.
Over 32 Cooper 0-0-0-0-0-0 129-2 - Cooper bowls a couple well outside off stump and Nafees is looking to crack it through the covers but he finds the fielders every single time.
Over 31 Ten Doeschate 0-1-1-0-1-0 129-2 - Final throw of the dice for the Netherlands as Ryan ten Doeschate comes back into the attack. Unfortunately the Bangladesh batsmen just pick off the singles.
Over 30 Cooper 2-0-0-2-1-2b 126-2 - Nafees opens the face of the bat and works the ball past slip for two. A risky shot but he played it with confidence. The wheels may just be starting to fall off as a misfield in the covers allows for two runs when there shouldn't have been any. That was all luck though! Kayes drives wildly at the ball but makes no contact and the 'keeper is distracted enough to miss it too. Two byes result.
Over 29 Bukhari 0-0-0-4-1-0 119-2 - Super shot from Nafees as he drives powerfully through the covers for four. good running as the batsmen sneak a single with the fielders back on their heels, a frustrating sight for the fielding team.
Over 28 Cooper 0-1-1-1-2-1 114-2 - A double change with the off-breaks of Cooper brought on. Cooper s coming from around the wicket and he really does come from around the wicket, coming between the umpire and the stumps as he trundles from one end of the crease to the other. Nafees is starting to find some flow as he slaps the ball through extra cover for two.
Over 27 Bukhari 1-0-0-0-0-0 108-2 - In search of wickets Borren has turned to his premier fast bowler, Mudassar Bukhari back into the attack. The big man stops the immediate flow of runs, just a single from it, but it's wickets that the Netherlands need.
Over 26 Seelaar 1-0-0-2-0-0 107-2 - Oh, that's unlucky for Seelaar. He tossed it up and drew Nafees into the drive, the batsman got an inside edge that flew past leg stump and away for two runs.
Over 25 Borren 0-1-1-2-0-1 104-2 - Kayes angles the ball wide of third man and scampers through for two. The runs are coming fairly easily at the moment, Peter Borren seems unsure of how to plug the gaps.
Over 24 Seelaar 1-0-1-0-0-1 99-2 - Nafees eventually gets off the mark, slapping the ball into the off side for one. We go upstairs for a stumping chance as Kayes is beaten pushing forward. His foot stayed firmly planted in the crease though.
Over 23 Borren 0-2-1-0-0-0 96-2 - Slapped through point by Kayes and he picks up two. Not the most convincing of starts for Nafees as he takes one hand off the bat as the ball sprays short of point.
Over 22 Seelaar 0-1-0-0-0-0 93-2 - Nafees is the new man and there is nearly a run out as he looks to get off the mark. The ball was well stopped at extra cover leading the batsmen to hesitate as they trotted through for what looked an easy single. No harm done though.
Over 21 Borren 0-1-1-1-W-0 92-2 - Kayes works the ball into the off side and that's his fifty, back to back fifties in fact. Well played! Wicket! Soft dismissal! Siddique has bunted the ball straight to short extra cover. The end of a good little partnership.Borren had been struggling a touch but he's made the breakthrough nonetheless.
Over 20 Seelaar 1-1-0-1-0-1 89-1 - This partnership of 88 is the highest for the second wicket by Bangladesh in a World Cup. Kayes and Siddique are working the ball around well.
Over 19 Borren 0-1-0-2-1-1 85-1 - Will Bangladesh step it up now as they look to build up their net run rate? Kayes really took a liking to Borren in the previous over. He gets a thick edge but the keeper can't hang on and he comes back for a second.
Over 18 Seelaar 0-0-0-0-2-0 80-1 - The Tigers are marching towards victory now. You just cannot see the Netherlands picking up wickets at the moment. Kayes runs it down to third man for a couple.
Over 17 Borren 4-4-2-1-1-1 78-1 - The Bangladesh worm is now edging well clear of the Netherlands one. Change in bowling for the Dutch as Peter Borren comes into the attack. They desperately need a wicket but they are not going to get it with balls wide outiside off stump. Kayes slaps both through the covers for four. Deliberate late cut gives Kayes two more.
Over 16 Seelaar 0-0-0-1-0-0 65-1 - The bowling Powerplay is out of the way and Bangladesh scored 34 runs in the five overs. Just a single to midwicket for Kayes.
Over 15 Ten Doeschate 0-wd-0-4-0-1-2 64-1 - Problems here for the Netherlands (not they didn't have any since they started bowling) as their trump cards with the ball, Ten Doeschate and Seelaar, haven't really troubled the batsmen. Kayes runs down the track but gets a top edge over point for four. Too straight again from Ten Doeschate and Siddique glances it fine for a couple.
Over 14 Seelaar 1-1-1-1-0-4 56-1 - Long hop from Selaar and Siddique pulls but it's straight to the man patrolling the midwicket fence. The 50-run stand comes up with one through square leg. Dragged wide from the bowler and Siddque slaps it through cover for four.
Over 13 Ten Doeschate 0-1lb-0-0-4-0 48-1 - Big shout for lbw from Ten Doeschate as hits Siddique with a pretty full one. The umpire shakes his head but the bowler wants it to be reviewed. It pitched just outside leg. Thick edge but it drops just short of the wicketkeeper and runs away for four.
Over 12 Seelaar 0-0-1-0-0-0 43-1 - Big moment in the game as Pieter Seelaar comes into the attack. If he doesn't pick up any wickets then it is game over for the Netherlands. Tidy start from the spinner
Over 11 Ten Doeschate 2-1-1-0-1-4+nb-wd-wd 42-1 - The Netherlands have done well in the first 10 overs so they take the bowling Powerplay straightaway. The bowling Powerplay is almost mandatory after 10 overs anyway as teamsrarely delay it. Siddique flicks it to the right of fine leg for two. A full toss is dispatched over backward point for four. It was waist high so it's a no-ball as well. He follows it up with a wide down the leg side. Poor stuff from Ten Doeschate. Another wide.
Over 10 Raja 1-3-1-0-2-0 30-1 - Raja stays on and he's a little unlucky not to pick up a wicket as Siddique just chips it over short extra cover. Kayes picks up three through midwicket. Selaar does well to cut off the boundary. Raja bowls a buffet ball (as Sir Geoff Boycott likes to call it) but Kayes can't quite help himself to four.
Over 9 Ten Doeschate 0-0-0-0-0-0 23-1 - Ryan ten Doeschate comes into the attack. Bukhara might change ends as Raja is starting to leak runs. Big appeal from Ten Doschate as he hits Kayes on the pads. It pitched outside and was going down. He looks devastated by that decision. Not sure why as they're not even reviewing it.
Over 8 Raja 1-0-0-4-0-0 23-1 - Raja gets away with a poor ball down the leg side. Kayes sweeps but the man at short fine leg manages to keep it down to one. Raja's starting to lose it as a full toss is dispatched through square leg.
Over 7 Bukhari 0-0-0-0-0-4 18-1 - Siddique looks for a big booming drive a couple of times but he finds the fielders. Bukhari refuses to be unnerved, but it is Siddique that has the final laugh of the over as he marches down the track to pull for four.
Over 6 Raja 4-0-0-1-0-0 14-1 - The supporters in the stands are starting to make some noise. Raja offers some width and Kayes slaps it through the covers for four. That should please the home fans.
Over 5 Bhukhari 0-4-0-0-0-0 8-1 - Still a slip and short cover in the catching positions. Ooh! Siddique gets a thick inside edge but it goes into his pads. Siddique takes the pressure off with a pull down to the deep backward square leg fence for four. It was a tad on the short side. That should settle some nerves.
Over 4 Raja 0-0-0-0-1-0 4-1 - Raja has slipped the odd one down the leg-side but he has settled into a nice rhythm here. He even tosses up a couple as the confidence grows. Siddique is off the mark with a flick through midwicket.
Over 3 Bhukhari 0-0-0-0-0-0 3-1 - Kayes lines up a big shot but he doesn't make contact. And again! Kayes decides to change his approach and shoulder arms.
Over 2 Raja 0-0-0-0-0-3 3-1 - Adeel Raja will share the new ball. It's a common theme at the World Cup. A fast bowler and a spinner opening the bowling. Slip in. Kayes, Bangladesh's hero with the bat against England on Friday, defends the first couple of balls. Big grunt from Raja every time he delivers a ball. Too straight and Kayes flicks it through midwicket for the hosts' first runs.
Over 1 Bukhari 0-0-0-W-0-0 0-1 - Mudassar Bukhari will open the bowling. Starts with a tidy line and gets one to jag back into Tamim Iqbal. It goes past the inside edge. WICKET! What a ball and what a start for the Netherlands. Some seam movement, but it's pretty straight. Tamim's bat is not straight enough and the ball crashes into his off-stump. Bukhari is over the moon. Junaid Siddique is the new man in. Wicket maiden from Bukhari.
Welcome back This should be an easy chase for Bangladesh, right? Well you don't always know which Bangladesh batting line-up will pitch up. Remember their effort against the West Indies? A few early wickets, including that of captain Shakib Al Hasan, and we could have a real game on our hands.
Netherlands 160 all out Another poor batting effort from the Netherlands. They never got going as Shafiul Islam and Abdur Razzak strangled them at the top. Razzak got the wickets and the Dutch weren't able to stop the rot. Poor running between the wickets didn't help and there were four run outs. Shakib will be delighted wiht the bowling display but it's now up to the batsmen to finish the job.
Over 47 Shafiul 0-W 160-10 - Change of ends for Shafiul. He's been brilliant without getting rwards. Dropped! Spare a thought for him though as he should have one. Ten Doeschate clips it straight to backward square leg but Razzak spills it. WICKET! It doesn't matter in the end as a dreadful mix-up in the middle results in another run-out. Ten Doescahte slams it hard to cover and there's a fumble. Raja is halfway down the track but his partner is not interested and it's an easy run out in the end.
Over 46 Razzak 4-0-0-1lb-0-0 160-9 - Razzak returns for his final over. Can he wrap it up here for the Tigers? Ten Doeschate goes to 53 from 65b, 2x4, 1x6 with a cut wide of point. Ten Doeschate looks to work it to the leg-side but he misses. Appeal for lbw but the umpire turns it down. Bangladesh will review it. Replays show it just clipped the leg stump so the original decision will stand.
Over 45 Rubel 2-2-0-6-1-0 155-9 - Ten Doeschate gets a couple through midwicket and down the ground. Ten Doeschate finally middles one and clears the rope. That one was 96m. Big over for the Netherlands in the context of this game.
Over 44 Shafiul 2-0-1-0-0-0 144-9 - Adeel Raja is the final man in. Will Ten Doeschate take the Powerplay? Yes is the answer. Shafiul Islam returns as Bangladesh look to wrap up this innings. Full toss and worked through midwicket. Ten Doeschate is looking for two and the fielding's a little on the slow side.
Over 43 Rubel 0-0-0-1-0-W 141-9 - Shakib takes himself out of the attack after one over and back on comes Rubel Hossain. There has been 170 dot balls in this innings. They continue to pile as Ten Doeschate struggles to get the singles. He finally gets off strike with to third man. Maybe he doesn't trust the man at the other end? So why wait with that Powerplay. WICKET! Straight from Rubel and Selaar looks to work it to fine leg but he misses the ball and there's a big shout. It was right in front so there's no need to review that one.
Over 42 Shuvo 0-0-0-0-1-0 140-8 - Still no Powerplay from the Netherlands despite Ten Doeschate being their only batsman left. Why wait? This is Shuvo's last over and he finishes with one for 33 as he concedes just the single.
Over 41 Shakib 0-1-W-0-0-0 139-8 - The Netherlands still have a Powerplay left and with no proper batsmen left in the hut perhaps it's time to take it. Skipper Shakib returns for another spell. Borren takes one to square leg. WICKET! Oh dear! The Dutch lose another wicket through a run-out. Ten Doeschate looks for a quick single to the off but Shuvo picks it up cleanly and almost releases it one motion. Borren dives, but the bails are off by the time he makes his crease. Pieter Selaar is the new man and Shakib immediately employs a slip.
Over 40 Razzak 0-2-1-1-2-0 138-7 - Slides down the leg-side from Shuvo and ten Doeschate glances it fine for a couple. Another one strays but this time it's just a quick single. Ten Doeschate uses his feet to go down the ground and he comes back for a second.
Over 39 Rubel 3-0-1-0-1-0 132-7 - Rubel returns. Ten Doeschate and Borren work the ball around wells. Borren is no mug with the bat, these two can still build a partnership.
127-7 - Wicket! De Grooth is gone! Hit in front going for the sweep, they review the decision hoping it would have spun down leg but it would have hit the middle of middle! Wicket! Another one! Buurman lasts just two balls before tamely turning the ball to Imrul at short midwicket. A double wicket maiden!
Over 37 Shafiul 0-0-2-1-0-1 127-5 - Ten Doeschate uses the natural angle of the ball to flick it into the leg side for two. Shafiul continues to impress, he really has led the line well today, you would never imagine he is just 21.
Over 36 Razzak 0-1-1-0-0-0 123-5 - It's Razzak to continue after the break. He continues in a similar fashion to that of the game thus far, conceding two singles but not giving the batsmen any boundary balls to dispose of.
Over 35 Shafiul 1-0-0-4lb-1lb-0 121-5 - Shafiul strays down leg and is punished as the ball deflects of the pads of de Grooth and down to the fine leg fence. Time for the drinks break.
116-5 - Another good piece of fielding from the hosts as Kervezee is made to stretch as he scampers through for a quick single. Wicket! No let off for Kervezee this time as he comes down the track and looks to slog sweep but misses completely. Mushfiqur has all the time in the world to whip off the bails and makes no mistake. An unnecessary shot that, the partnership was looking good and the batting powerplay was still to come.
Over 33 Rubel 0-1-4-0-4-0 112-4 - A well played boundary from Kervezee as he gives himself room and hits the ball into the ground, bounding over the infield and to the extra cover fence for four. Another boundary to Kervezee! This time it's a touch short and the batsman is onto it in a flash, pulling to the fence with aplomb. A good over from the Netherlands.
Over 32 Shuvo 1-0-1-1-2-1 103-4 - Kervezee drives the ball down the ground for a single to bring up the Dutch 100, not much to celebrate though really. Dropped! That's a big one! Ten Doeschate goes on the pull but it's too close to Imrul at short midwicket who gets two hands to it but can't hold on.
Over 31 Rubel 0-1-1-0-1-0 97-4 - Time for a bit of pace with Rubel returning to the attack. And he's on the mark straight away, conceding just three singles as the pressure continues to build.
Over 30 Shuvo 0-0-0-1-1-4 94-4 - Shuvo has justified his inclusion this far, bustling through his overs with very few runs against his name. Ten Doeschate somewhat dents them by coming down the track and lifting the ball inside out over extra cover for four off the last ball of the over, but nonetheless, the left-arm has looked good.
Over 29 Razzak 0-1-0-1-0-1 88-4 - Razzak is back. Some good running from this pair as they make good early calls after nudging the ball into gaps.
Over 28 Shuvo 3-0-0-0-0-1 85-4 - Kervezee comes down the wicket and chips the ball over mid on, the out field is fairly slow so it doesn't go all the way to the fence though. Tim for a referral as ten Doeschate pushes froward. Umpire Tucker gives it not out and the only thing that could see the decision reversed is if the impact was inside the line (it looked outside at first glance) but he was hit outside the line and unlike other umpires, Mr Tucker can tell whether or not the batsman is offering a shot...
Over 27 Shakib 1-0-0-0-1-0 81-4 - Shakib follows up the maiden wicket from Shuvo with another tight over.
79-4 - Wicket! Tragedy for the Netherlands! Cooper is run out! He cut in front of square and set off for the single the ball went straight to the fielder so Cooper was sent back by his partner and despite an awful throw, Mushfiqur is able to get the ball back onto the stumps wit the batsman short.
Over 25 Shakib 1-4-4-0-0-1 79-3 - There hasn't been a boundary in 14 overs but now we have two in one over as Cooper first lofts the ball over midwicket and then down the ground, picking up fours on both occasions.
Over 24 Shuvo 0-0-1-1-1-0 69-3 - Ten Doeschate nudges the ball behind square for a single to get off the mark. This partnership is mammoth for the Dutch if they are to post a total of any significance.
66-3 - Wicket! Oh boy, that's the last thing they needed! Szwarczynski is run out backing up. Good work from Shakib as he gets down low to half stop the ball and it deflects back onto the stumps with the opener out of his ground. Just as a partnership was starting to build it's back to square one. Out strides Ryan ten Doeschate, the Netherlands' big hope.
Over 22 Shuvo 0-0-0-1-0-1 61-2 - The singles are stating to flow a touch but wow, the Dutch coudl really do with a boundary!
Over 21 Shakib 0-1-1-0-3-0 59-2 - Nicely played by Cooper as he guides the ball past short fine leg, the fielder chases it down and Copper has to be satisfied with two. Just short! Szwarczynski gets to the pitch of the ball and dabs t into the covers where it falls in front of the man at short cover.
Over 20 Shuvo 0-2-0-0-0-0 54-2 - It's time for the left-arm spin of Suhrawadi Shuvo. Well played by Szwarczynski as he takes a few paces down the wicket and gives himself some room to bunt the ball to wide long off for two.
Over 19 Shakib 0-1-0-0-1-0 52-2 - Shakib is back and he fires through a quick over with the batsmen managing only two singles as the Bangladeshi skipper keeps the pressure on.
Over 18 Rubel 1-2-0-0-1-0 50-2 - Dropped! Mushfiqur has put down a fairly straightforward chance behind the stumps. Rubel found the outside edge of Cooper's bat, the ball was moving to the 'keeper's left and dying on him. He got a hand to it but couldn't hold on.
Over 17 Razzak 1-0-0-1-0-0 46-2 - Cooper and Szwarczynski exchange singles before the players take a drinks break.
Over 16 Rubel 0-0-1-0-0-0 44-2 - Frustration for Cooper as he is unable to put away a full toss off the last ball of what had otherwise been a tight over.
Over 15 Razzak 1-1-1-1-0-1 43-2 - Interesting stuff as the bowler deflects the ball onto the stumps as he tries to pull off a diving stop. The third umpire is called for but Cooper was comfortably in his crease. Much better from the batsmen as they rotate the strike well with a handful of singles.
Over 14 Rubel 0-0-0-1-0-0 38-2 - Cooper gets off the mark, turning the ball to deep square leg for one. Rubel cramps Szwarczynski for room as he looks to whip the ball into the leg side and the ball nearly deflects off the pads and onto the stumps.
37-2 - A double change with Razzak returning from the Pavilion End. Wicket!

Over 12 Rubel 1-0-0-1lb-0-0 37-1 - Having picked up a wicket, Shakib takes himself ff with Rubel Hossain the new bowler. Two half shouts from Rubel early on as he beats Bukhari for pace, but both would have missed leg.

Over 11 Shafiul 0-0-1-1-0-0 35-1 - The batsmen scramble through for a couple of quick singles, the Dutch need more of those, just to keep the scoreboard ticking over.

33-1 - Wicket! Barresi is rapped on the pads as he plays forward, looking to turn the ball into the leg side. Umpire Tucker gives it a moment of thought before raising the finger. The batsmen consider reviewing the decision before Barresi trudges off, resigned to his fate. Mudassar Bukhari has been elevated up the order, presumably to try a few lusty blows and he wastes little time, heaving the ball over wide long on for four.

Over 9 Shafiul 1-1-0-0-0-1 28-0 - The home side look really up for this today, with Shuvo at point making a great stop to remind the Dutch batsmen that there will be no easy runs on offer today.

Over 8 Shakib 2-0-0-0-0-6 25-0 - Szwarczynski shows some good positive intent first up to the new bowler, Shakib Al Hasan, as he gets to the pitch of the ball and places it wide of mid off for two. Ooh! the batsman is caught in two minds as he first looks to play forward and then back and in the end can only watch as the ball just travels over his stumps. Nicely played! Szwarczynski comes down the track and heaves the ball over long on for six!

Over 7 Shafiul 0-0-0-0-0-0 17-0 - Again after a few dot ball the batsman looks to go down the track and over the top in an effort to ease the pressure, but the tactic isn't working for the most part. Yet another maiden from Shafiul!

Over 6 Razzak 2-0-0-0-1-2 17-0 - Big shout for lbw as Barresi is hit on the pad attempted the sweep. He's hit outside the line of off stump though so he's safe on this occasion. Good use of the feet this time from Szwarczynski as he takes a few paces forward before driving wide of mid off for two.

Over 5 Shafiul 0-1lb-0-0-0-2 12-0 - Barresi escapes from the strike by smuggling a leg bye. Szwarczynski looks to come down the wicket to disrupt the bowler but almost appears to disrupt his own rhythm more! A slower delivery that offers some width and there is at last some respite for Szwarczynski as he cuts in front of square for two.

Over 4 Razzak 0-0-0-1-0-0 9-0 - Barresi turns the ball behind square for a single, the first run in nine deliveries. Another tight over from the Bangladeshis, they've started strongly.

Over 3 Shafiul 0-0-0-0-0-0 8-0 - Szwarczynski is struggling out there, playing and missing with great regularity. Two maidens on the trot from Shafiul, a great strat.

Over 2 Razzak 0-0-0-3-0-4 8-0 - Interesting as Shakib goes for spin up front with Abdur Razzak. While it's not unusual for Bangladesh to use the spinners early there should be something in it for the spinners early. Razzak introduces himself with a lovely delivery just outside off that goes on and beats the edge. Oooh! Lucky stuff for Szwarczynski as he dances down the track and looks to heave the ball to leg but gets an inside edge that only just avoids leg stump. Three runs result. Nothing streaky about that shot though as Barresi gives himself room and cuts powerfully behind square for four.

Over 1 Shafiul 0-1lb-0-0-0 1-0 - It's Shafiul to get matters underway and he begins with a good delivery in the channel outside off. He strays onto the pads next up and Szwarczynski picks up a leg bye. Some early movement off the seem for the bowler, he'll like the look of that. Beaten! Barresi is drawn forward and beaten as the ball flies past the outside edge.

Ready to go Right, the players and umpires are out in the middle and we're ready to get underway.

Team news Atse Buurman and Adeel Raja come in for the Dutch with Kruger Zuiderent dropping out. Two changes for the hosts with Suhrawadi Shuvo and Shahriar Nafees getting a run.

Netherlands Eric Szwarczynski, Wesley Barresi, Tom Cooper, Ryan ten Doeschate, Alex Kervezee, Tom de Grooth, Atse Buurman, Peter Borren, Mudassar Bukhari, Pieter Seelaar, Adeel Raja

Bangladesh Tamim Iqbal, Imrul Kayes, Junaid Siddique, Shahriar Nafees, Shakib Al Hasan, Mushfiqur Rahim, Mahmudullah, Suhrawadi Shuvo, Abdur Razzak, Shafiul Islam, Rubel Hossain

Toss The Netherlands have won the toss and decided to bat first.

Pitch report There is some moisture in the track so there will be some assistance for the seamers first up. The wicket will suit the batsmen the most with the spinners getting some assistance alter on. The skipper winning the toss will most likely look to field first.

Welcome Hello and welcome to our live coverage of the Group B clash between Bangladesh and the Netherlands.
Sky Bet Odds:
Click Here for Your Free Bet