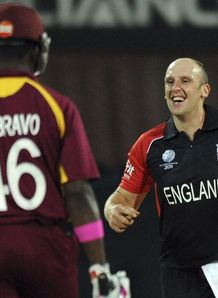 ENGLAND WIN BY 18 RUNS Yet another thriller involving England at this World Cup leaves them in good shape to make the knockout phase. For them to miss out now, Bangladesh would have to triumph over South Africa on Saturday and West Indies beat India on Sunday. Even if that scenario was realised, the final qualification place would come down to net run-rate between England and India. What a finish - spinners Tredwell (4-48) and Swann (3-36) were the heroes, sharing seven wickets as England successfully defended 243 for an 18-run win. Russell, who had earlier taken 4-49 with the ball, looked to be leading West Indies home before his dismissal for 49 in Tredwell's final over prompted a late meltdown. Time for a lie down after that I think, but you can join us again tomorrow for commentary on Ireland v Netherlands from 0400h (GMT) and New Zealand v Sri Lanka from 0900h (GMT). Later.
Over 45 Bopara 0-0-0-1 225ao - WICKET! Benn is run out coming back for two - ENGLAND WIN BY 18 RUNS. Benn inside edged a drive past his leg-stump and immediately was keen on two. Trott collected cleanly at fine-leg and returned his throw over the stumps, allowing Prior to do the rest - Benn was well short of his ground. Amazing collapse, West Indies went from 222-6 to 225 all out in the space of 21 balls. England remain alive in the World Cup.
Over 44 Swann W-0-W-0-1-0 224-9 - WICKET! Sarwan is gone, inside edging onto his hip to Bell at short-leg. Easy catch, kudos to Strauss for the field placing. Sarwan was just trying to work a single off his hip. WICKET! Roach follows two balls later, miscuing an attempt to drive over the top and Tremlett coming round to his right from mid-off takes a diving catch. His long arms came in useful there, held it about an inch above the turf. West Indies' last man Bishoo (first-class average of 9.93, top score 39) joins Benn with 21 still needed. The batsmen crossed so Benn is on strike. Surrounded by close catches he blocks once and then drives into the covers for a single to leave the left-handed Bishoo one ball to negotiate. He does so successfully, getting right forward in defence and dropping it down just in front of silly pont. Swann finishes with 3-36, England are out of spin options. West Indies require 20 friom 36 balls.
Over 43 Bopara 0-0-0-1-0-0 223-7 - Swann has one over left but Bopara continues for the moment so England's premier spinner can have his go from his favoured end now Tredwell has bowled out. Sarwan is not tempted to go on the attack just yet, instead continuing his policy of taking the singles on offer, this time one to midwicket from the fourth ball of the over. Benn survives the final two deliveries, inside edged the first one and he drives along the ground to the fielder at mid-off. West Indies require 21 from 42 balls. Beyond tense.
Over 42 Tredwell 0-W-0-0-0-0 222-7 - WICKET! Tredwell, in his final over, keeps England alive with the wicket of Russell. Umpire Davis raises the finger to an lbw appeal, Russell went back and tried to work it into the leg-side - looked plumb and West Indies are out of reviews anyway. Russell goes for 49, terrific innings but West Indies still need 22 and Sarwan has only the tail for company. REVIEW! Benn pads up to his first ball right in front of off-stump. Umpire Davis turns down a prolonged appeal from England, who waste little time in asking for a review. The bounce has saved Benn, Hawkeye showing it was only just clipping the top of the stumps - the call remains with the on-field umpire. Benn decides to start using his bat and blocks out the remainder of the over. Tredwell finishes with figures of 4-48. West Indies require 22 from eight overs.
Over 41 Bopara 0-0-0-1lb-0-4 222-6 - Another bowling change, this time Bopara back on. Russell gets off strike with a leg-bye to remain on 49. Good stuff from Bopara, again getting the ball to curve in late as he has done throughout his spells. Sarwan edges a drive down to the third-man boundary to end the over. West Indies require 22 from nine overs.
Over 40 Tredwell 0-0-1-0-0-0 217-6 - Change of ends for Tredwell. He beats Russell in the flight and is then taken into the leg-side for a single by the same batsman. Russell, now on 49, is playing a gem for his side, West Indies were on the rack when he arrived at the crease.
Over 39 Bresnan 1lb-0-1-1-1-1 216-6 - Trott initially claimed the catch, but once it was sent upstairs he did appear to signal to umpire Davis he wasn't sure if he'd touched the rope with his shoulder (that is credible because he was looking the other way as rolled over). There is no way Russell could be given out based on the television pictures, so the correct decision has been reached. Bresnan back into the attack, England getting close to the last roll of the dice. West Indies require 28 runs from 11 overs.
Over 38 Swann 0-6-0-0-0-1 211-6 - CONTROVERSY! Russell hits high in the air and Trott takes the catch tumbling backwards at wide long-on. Trott's shoulder is very close to the boundary marker but he immediately gets up claiming the catch. The third umpire (Simon Taufel) is asked to confirm he didn't touch the rope - replays are inconclusive, they don't settle the argument either way but Taufel tells his on-field colleagues to signal for six. Russell survives, England's World Cup hopes are now teetering on the brink.
Over 37 Tredwell 0-0-6-1-0-0 204-6 - Incredible shot from Russell, driving inside-out over cover for six - travelled flat, not much Tredwell can do about that. Russell follows up with a wild hack, the ball squirting into the leg-side for a single.
Over 36 Swann 1-1-0-3-0-0 197-6 - The ball was changed before the start of the last over, as per the ODI regulations. The spin twins resume with Swann now back into the attack with three overs left to bowl. Russell is in full control at the moment, steering down to third-man for three. West Indies require 47 runs off 14 overs.
Over 35 Tredwell 0-0-2-1-1-0 192-6 - Tredwell, who has four overs remaining after picking up 3-36 in his initial six-over spell, is back on. Bell in place under the helmet at short-leg. Sarwan waits until the last possible moment to cut for two and then turns the strike over with a single to long-on - he doesn't look in any trouble. Russell drops and runs into the off-side to steal a single - Bopara's throw at the non-striker's end is off target.
Over 34 Tremlett 1-0-0-1-2-2 188-6 - Russell just gets the bat down on a full delivery from Tremlett, the edge runs away to third-man for a single - would have been lbw if he'd missed. Russell is lucky again later in the over, a wild heave into the leg-side falls safely short of the fielders on the boundary for a couple.
Over 33 Wright 1-2-0-4-1-0 182-6 - Wright to continue. Russell deals with a short ball impressively, pulling for a couple and then drives an overpitched offering through the covers for four - he can definitely bat. At the final drinks break, West Indies require 62 runs from 17 overs.
Over 32 Tremlett 1-0-0-6-2-4 174-6 - Strauss sees it differently and opts for Tremlett. First sign that Russell is a more than useful batsman, pulling a short ball for six to midwicket. That one travelled 94 metres, right out of the screws. Russell then takes the ball from right in front of middle stump for a couple into the leg-side and finishes off the over with another boundary, helping a misdirected yorker down to fine-leg.
Over 31 Wright 0-1-0-1-4-1 161-6 - Sarwan leans into a cover drive, sending the ball racing away for his second boundary. Wright is also milked for a few singles, accurate but hasn't really threatened a wicket - I'd get Tredwell back on pronto.
Over 30 Swann 0-0-0-1-0-2 154-6 - The one thing in West Indies' favour from here is that the required-rate is not going to be a problem. They also still have the batting power play to use at some point. Sarwan pushes a single down the ground and Russell opens his account with a sweep for two, Tredwell pulling off a nice stop on the boundary to save a couple. No end to the man's talents.
Jamie Rossiter "Shame on all these people saying England are unfit or under prepared, these players have been non-stop since they left for Australia, except for 3 days at home in February how can they expect to put in top of the notch performances being in aeroplanes, hotels and nets for 5 months, in 3 or 4 different time zones, yes the performances have been poor but what can you expect when they're nonstop for so long, Giles Clarke STOP THIS MADNESS AND HELP THIS TEAM!!"
James Bleakman "I would have thought most people would read between the lines of my comment alluding to the reason they are 'unfit/injured' is because of the poor over scheduling by the ECB!"
Over 29 Wright 0-0-0-1-0-0 151-6 - At least England are keeping alive their 100 percent record of participating in thrilling matches at this tournament - this is shaping up to be their sixth in a row. Just a single to midwicket for Sarwan from the over.
Over 28 Swann 0-1-0-W-0-0 150-6 - WICKET! Pollard's reprieve was only brief, he is gone now, lbw after failing to get forward. He was looking to flick a straight ball it into the leg-side but made no contact. West Indies burn their final review, Hawkeye confirming the ruling on the field from umpire Steve Davis was correct - although it was only just hitting leg-stump. Russell, boasting a first-class average of 21.14 including a century, is the new batsman. He is well forward in defence to his first two balls.
Hannes Senekal "All the nations have played a lot of cricket doesn't depend where you play you will get tired maybe their morale is low for being away from home so long but that's it. They played the same amount as the Ausies and you don't hear them complaining so much. Even old Ricky is still going, so the English must be unfit."
Over 27 Wright 0-1-0-0-0-2 149-5 - Could Wright be the right man for England today? He did his bit with the bat and now has the chance to shine with the ball. Sarwan is playing the anchor, working a single off his pads to bring Pollard back on strike. Pollard almost plays on (a regular feature of West Indies' innings) and then is 'dropped' again, although this time it was not a proper chance - he under-edged a pull into Prior's stomach with the wicketkeeper stood up at the stumps. There was a big deflection, no hope for Prior. Pollard finishes the over with two down to fine-leg.
Over 26 Bopara 1-1-0-0-0-6 146-5 - Bopara fails to redeem himself with ball in hand, Pollard lifting the final delivery of the over for a huge six that landed on top of the sightscreen. That will hurt. West Indies require 96 runs off 24 overs.
Over 25 Swann 0-6-2-1-0-0 138-5 - Swann is back on and Pollard immediately pumps one over midwicket for six - IPL/Somerset fans have seen that plenty of times. DROPPED! Pollard gets a leading edge into the off-side attempting to repeat the dose but Bopara, who made good ground running back towards cover, sees the ball bounce off his fingers. Agonising. Tough chance as it was dropping over his shoulder, how costly will it be?
Over 24 Bopara 0-0-0-0-0-4 129-5 - Bopara's danger ball is the one that curves back in from his wide delivery position, cramping the batsman for room. Sarwan is looking to cut but it is probably not a great idea against this sort of stuff - he almost plays on before middling a second attempt at it to collect his first boundary.
Over 23 Bresnan 0-1-2-0-4-0 125-5 - Sarwan breaks the run of dots at 21 with a single to midwicket. Pollard digs an attempted yorker to midwicket to get off the mark with a couple. Bresnan hits Pollard in the gut with a short ball and is then unceremoniously driven back over mid-on for a one-bounce four by Pollard, with whom he then exchanges work. Awesome power.
Over 22 Bopara 0-0-0-0-0-0 118-5 - Pollard is very watchful in defence. England consider reviewing an lbw shout - they felt it might have been bat before pad but wisely opt not to as it struck Pollard outside the line of off-stump anyway. Another maiden, that's 19 balls without a run scored now.
Teddy Piper "Ravi Bopara, well done with the ball! Shows he can replace Colly in the bowling department now show us that you can do it with the bat!! That's if we go any further!?!"
Over 21 Bresnan 0-0-0-0-0-0 118-5 - Bresnan is following Bopara's lead, going wide on the crease and angling it in. Maiden, no runs off the bat for 13 balls.
Simon Pitman "James Bleakman's comments on fitness are wholly unfair. These blokes have been away since November and are knackered. They're drained, not unfit and you can blame the ECB scheduling for that."
Over 20 Bopara 0-0-0-W-0-0 118-5 - WICKET! Thomas does chop on, he was looking to cut a ball that was far too close to his off-stump, realised too late and ended up playing on via a combination of inside edge and pad. He throws his head back in frustration, terrible shot selection and he knows it. Decent bowling, though, from Bopara, who is getting it to curve in a bit late. England now favourites for me as Pollard strolls out - there not much else to come for West Indies.
Over 19 Bresnan 1-2-0-0-1-0 118-4 - Almost another drag on, this time Sarwan is lucky as the ball narrowly evades his leg-stump on the way for a single. Thomas cuts wide of third-man and turns one into two with some fleet-footed running.
Power Play With two new batsmen at the crease, Strauss decides now is the right time to take the bowling power play - hard to disagree with that logic. The fielding restrictions are, therefore, back in place for overs 19-23.
Over 18 Bopara W-0-0-0-1-0 114-4 - WICKET! First ball after drinks and Sammy drags a big carve at a wide ball back onto his stumps. It did not bounce as much as he expected, bringing an end to an interesting innings of 41 from 29 balls - all out aggression from the West Indies skipper has left his side in control of the required-rate but who is going to finish this off? Sarwan makes a belated entrance and misses with a cut at his second ball before opening his account with a steered single into the off-side.
Over 17 Tredwell 0-1-0-wd-1-1-0 113-3 - Tredwell's reputation in county cricket is of a man who can exploit favourable conditions to devastating effect. I wouldn't say conditions here are all that favourable but he is certainly getting it to turn and bounce, causing all sorts of problems. He drops his length too short a couple of times but West Indies fail to cash in. Time for drinks.
James Bleakman "Thanks for coming England...one of the more entertaining teams to watch at the expense of consistency...come back next time fitter and better prepared!"
Over 16 Bopara 1-1-1-0-0-0 109-3 - Bopara into the attack now, accurate start from the skiddy medium pacer, just three singles from the over. Both sides have still got a power play to take.
Over 15 Tredwell 6-0-1-0-0-4 106-3 - It was only a brief moment of calm for Sammy, who lifts Tredwell's bowling into the stand at midwicket for the second time - easy power from the West Indies captain but can he keep doing it? Thomas gets in on the act too, whipping the final ball of the over from well outside off-stump to the midwicket boundary, again a well-executed stroke but fraught with risk. This won't last the full 50 overs, if West Indies are going down, they will do so swinging. England must bowl them out.
Over 14 Tremlett 0-0-wd-1-1-1 95-3 - England are fired up in the field, Bell engaging in some pleasantries with Thomas. Tremlett almost takes Sammy's head off with a bouncer and follows through right into his face. Slower ball goes wrong, resulting in a wide, although Prior was lucky not to deflect it onto the helmet. Sammy seems to have calmed down a bit, working a couple of singles. West Indies require 149 runs from 36 overs.
Over 13 Tredwell 0-0-0-0-0-W 91-3 - WICKET! Tredwell is running riot, Bravo becomes his third victim courtesy of a nice slip catch from Strauss. Bravo played forward in defence and a low edge was held by a stooping England skipper just above the turf. West Indies continue to mix up their batting line-up, sending in wicketkeeper Thomas next ahead of Sarwan and Pollard. Wicket maiden.
Over 12 Tremlett 1-0-0-0-4-1 91-2 - Tremlett's second over at the World Cup is certainly better than his first.. Nevertheless Darren Bravo, younger brother of Dwayne, gets off the mark in wonderful fashion, rocking back and pulling all along the ground to the midwicket boundary. Cue comparisons with Brian Lara (they are both left-handed and from Trinidad)....
Over 11 Tredwell 6-0-0-1-0-0 85-2 - Sammy whips a full delivery from Tredwell just over the rope at midwicket - incredible shot, all from the wrists and it travelled 84 metres. Tredwell responds by passing the outside edge with his arm ball. Sammy is here for a good time, not a long time, I'd suggest.
Over 10 Bresnan 4-2-4-1-0-0 78-2 - Strauss decides to break up his spin twins and gets Bresnan back on. Sammy goes on the attack, driving over mid-off for four and then sending a wide ball racing away for another. Sammy is swinging at everything, possibly in an effort to justify his place in the team. It is not entirely convincing, a top-edged pull dropping safely for one. Frenetic stuff at the moment.
Over 9 Tredwell 0-0-6-0-3-W 67-2 - Sammy lunges forward in defence as Tredwell tosses the first couple up above the eyeline and extracts generous turn. Sammy's response is to attack, swinging the next ball into the stand at midwicket, easily clearing the rope. No short-leg in place as Sammy inside edges before getting off strike with three driven through the covers. WICKET! Prior almost fluffs a stumping chance but, after dropping the ball, still has time to leave Smith short of his ground. Smith overbalanced trying to work a full ball into the leg-side. He yorked himself and couldn't get his foot back behind the line. To add to the fun, the third umpire Simon Taufel initially presses the wrong button - NOT OUT comes up on the big screen before he swiftly corrects his error.
Over 8 Swann 0-0-0-0-0-0 58-1 - England's spinners are looking dangerous, Swann tying Smith up in knots during a maiden. Strauss needs to get some more close catchers in, now or never for England.
Over 7 Tredwell 0-1-0-4-W-0 58-1 - Tredwell's turn to enter the lion's den. And guess what? Gayle gets down on one knee to find the boundary at midwicket. But then.. WICKET! Gayle plays forward, bat half behind his pad and umpire Bruce Oxenford, after thinking about it for a while, raises the finger to Tredwell's lbw appeal. Gayle asks for the review but it only confirms Oxenford's judgment, the ball struck him in line with off-stump and Hawkeye shows it would have gone on to clip the top of middle-stump. Gayle on his way for a 21-ball 43 and Sammy has decided to promote himself to number three. Big turn from Tredwell, those Kent fans have seen this before, Sammy well forward in defence.
Over 6 Swann 0-0-2-0-1-0 53-0 - Despite his flowing blade, Gayle is clearly not fully fit - can hardly jog between the wickets. Think the ab strain is still troubling him - if so, this big shots he is unleashing have got to hurt. Smith playing an unobtrusive supporting role, picking off a couple into the leg-side and then turning the strike over in the same manner with a single. Swann also
Over 5 Tremlett 0-4-6-4-4-0 50-0 - Gayle welcomes Tremlett to the World Cup with another boundary-filled over. Four, six, four, four - all flat-batted into the leg-side as Tremlett plugs away on a good length. The six travelled flat and low onto a small roof on the lower tier of the stand at mid-on - some shot. Tremlett has a rethink, going round-the-wicket for the final two balls, finishing off with a full toss that Gayle misses out on. That over also goes for 18, England shell shocked at the moment.
Over 4 Swann 0-4lb-0-wd-0-1-1 32-0 - Swann gets his line wrong twice in the over, the first time Smith's pad helps it on the way to the fine-leg fence. The second is a regulation wide. Not going well for England at the moment.
Over 3 Bresnan 4-2-4-0-4-4 25-0 - Gayle explodes into life, he appeared less than enthused in the field but, put a bat in his hand and it's a different story. Four fours from the Jamaican left-hander as the over disappears for 18. The first is a poor delivery, helped on the way to fine-leg with the fielder up inside the circle. Then, boom, Gayle comes down the track and clubs Bresnan back over his head, follows up with a more conventional cover drive and finishes off with flashed edge to third-man. Take a rest Tim...
Over 2 Swann 0-1-1-2-0-0 7-0 - Quick single for each batsman before Smith whips a straight ball to midwicket for a couple. Wow, big turn and bounce from Swann, Smith pulling his bat away after missing it by some distance. This could be interesting if that is a sign of things to come. Swann caused South Africa all sorts of problems at this ground.
Over 1 Bresnan 0-1-0-1-1-0 3-0 - The floodlights are now illuminating proceedings as darkness falls in Chennai. Bresnan to start for England, on the spot straightaway, Smith defends on the back foot. Smith opens his account with a well-timed drive, cover fielder gets a hand on it to save a few runs. Gayle also away with a back-foot force into the off-side. Smith is lucky a genuine outside edge flies in the air through the gully for one. Gayle swishes at fresh air after giving himself some room to finish the over. Will Swann share the new ball?...
Odds update Our friends at Sky Bet still have faith in England, who they price as 4/6 favourites at half-time. West Indies are 11/10 to knock these off. Devon Smith is 4/5 in the Next Man Out market.
Innings break England's top four all wasted good starts after opting to bat first, collapsing from a promising 121-2 to 243 all out in 48.4 overs, only Luke Wright's 44 providing any lower resistance. Paceman Andre Russell led the way with 4-49 and rookie leg-spinner Devendra Bishoo announced himself on the international stage with 3-43. England defended a score of 171 at the same venue - albeit on a far worse pitch - against South Africa earlier in the tournament, can they repeat the trick to remain in the World Cup? Join us from 1315h (GMT) to find out.
Over 49 Roach 0-1-1-W 243ao - WICKET! Tremlett fends a short ball straight to wicketkeeper Thomas, ending England's innings with eight balls unused.
Over 48 Russell W-1-1-0-0-1 241-9 - WICKET! Swann backs away in an effort to unleash a booming drive through the off-side but only succeeds in getting himself bowled middle stump. It was through him before the shot. Last man Tremlett joins Bresnan in the middle. Russell tries his stumble trick again - against the spirit of the game according to Ian Bishop and David Lloyd. The umpires don't seem to mind though. Can England see out the 50 overs?
Over 47 Roach 0-1lb-1-4-0-4 238-8 - Bresnan finds the boundary twice with what appears to be his signature shot, the sliced drive to third-man. Roach is again off-target with those yorkers, serving up a succession of full tosses instead.
Over 46 Benn 1-1-0-0-1-4 228-8 - Swann advances down the track, turning the final delivery of Benn's spell into a full toss that disappears through the covers for four. Benn finishes with 0-56 from his 10-over allocation.
Power Play England have no choice but to take the batting power play now as there are only five overs left in the innings.
Over 45 Roach 0-1-1-0nb-1-0-1 221-8 - Roach is slightly off-target with his yorker throughout most of the over but is so quick that the tailenders can't really cash in. Even a free-hit almost ends in disaster for England, Bresnan and Swann find themselves looking at each other mid-pitch and are fortunate Sarwan misses with his shy at the stumps from extra cover.
Over 44 Bishoo 1-0-0-W-0-0 216-8 - WICKET! Wright misses out on a half-century. He gets down on one knee and tries to swat the leg-spinner for six over midwicket. Russell, on the boundary, doesn't have to move to take the catch. Wright departs for 44 off 57 balls. Bishoo finishes with figures of 3-43. England still have the batting power play to take.
Over 43 Roach 0-wd-0-1-0-0-1lb 215-7 - Roach is back on and can bowl through from here as he has four of his 10-over allocation remaining. Not his best over but only three from it including a wide. Wright got a single after trying to murder it into the leg-side and Bresnan missed out on a full toss. Leg-bye allows Bresnan to keep the strike.
Over 42 Bishoo 0-0-1-4-4-0 212-7 - Bishoo's return proves expensive, Wright twice smashing short balls for four on the leg-side. Not elegant but effective.
Over 41 Pollard 2-0-1-1-1-1 202-7 - Bresnan has joined Wright in the middle, England still not taking the batting power play. Presumably seeing out the overs is now the primary concern. Bresnan drops a single into the leg-side to get himself off the mark and bring up England's 200.
Over 40 Sammy 4-0-1-1lb-1-1 196-7 - WICKET! Horrible from England, gifting West Indies a run out just as they were starting to forge a useful partnership. Tredwell is the man who has to go but it is all down to Wright's ball watching. He middled a cut to Pollard, who made a good stop at backward point, Tredwell initially started to come before seeing Wright looking at the ball. Wright then finally looked up and, for some reason, set off in a mad dash for a single. Tredwell, who had turned back by this stage, eventually responded - there doesn't seem to have been any calling involved. Pollard, one of the best fielders around, gets the throw in over the stumps and Thomas whips off the bails.
Over 39 Pollard 2-0-0-0-1-1 188-6 - Further evidence that West Indies are starting to let things drift, Gayle's failure to back up in the covers results in an overthrow.
Over 38 Benn 1-2-0-1-1-1 183-6 - David Hibell has emailled in to remind England fans that Wright scored a 44-ball century for Sussex against Kent in 2007. He also got a rapid 50 on his ODI debut against India, although he opened the batting on that occasion.
Over 37 Pollard 1-1-4-0-0-0 177-6 - West Indies are just opening a door for England to get themselves back into this. More loose stuff from Pollard allowing Wright to drill a half-volley through the covers. Anything above 250 would not be an easy run chase under floodlights. (However, if Gayle or Pollard get going they could make the previous sentence look silly).
Alan Yates "Someone emailed his surprise that Shiv had been omitted from the WI team. I agree. But I'm even more surprised at half a dozen of the names in the England team........"
Karl in Grantham "Guess the back room staff should book the flights home for after the game! How silly of me to think England would get it together for this must win game, what was l thinking?"
Over 36 Benn 0-0-wd-0-4wd-1-1-0 171-6 - Benn donates some gifts to the England cause, a wide is bad enough from a spinner but is followed by five in wides, speared down the leg-side. Gayle has just given the Barmy Army the royal wave! West Indies have switched off slightly in the field.
Over 35 Russell 0-4-1-2-1-0 163-6 - The ball has been changed, as is now the custom in ODIs as they still can't make one that remains white for 50 overs. Russell has three wickets but has also served up plenty of loose stuff. Wright sends a savage cut searing away over point for his first boundary in 24 balls. Tredwell, who has three first-class hundreds to his name, does open his account this time with two punched behind point. Bizarre moment as Russell stumbles just before he gets to his delivery stride, umpire Steve Davis starts to move hims arms to signal a dead-ball and then Russell carries on and bowls. Wright leaves it alone outside off-stump with a slightly bemused look on his face and the dot-ball stands! Very odd.
Thomas Banken "I love watching Chanderpaul play and I can't think of a West Indian batsmen who's in his league. As for Luke Wright's selection I feel the jury is still out on him, he's been playing one day cricket for a number of years now and has never made a massive contribution. England need to start changing these bit part players they endorse so heavily in one day cricket and turn them into match winners."
Over 34 Benn 1-0-2lb-0-0-0 155-6 - Tredwell works the ball off his pads in a fashion familiar to Kent fans to get off the mark with a couple - hold that, there was no bat involved so Tredwell stays on nought for the time being. Mike Atherton confidently predicts Graeme Swann will open the bowling for England later on...
Over 33 Russell 0-W-0-0-0-wd-0 152-6 - WICKET! Oh dear, England lose another wicket to a nothing shot, this time Bopara playing onto his stumps with an inside-edged defensive prod. Russell put it in the right place and Bopara did the rest, pushing his wrists outside the line with a crooked blade. A tentative shot, just hung his bat out. Tredwell is the new batsman (England saving Tim Bresnan for the batting power play perhaps?) and just avoids steering his first ball to Gayle at slip. It was actually quite well played, standing tall to ride a short ball. Tredwell then fishes unsuccessfully outside off-stump and ducks under a short ball, so short in fact that Russell is called wide - he did the same thing in the last over.
Over 32 Benn 0-0-1-1-0-0 151-5 - Sanjay Manjrekar and David Lloyd in the TV commentary box are being very critical of England's approach to playing Bishoo, saying they showed him too much respect and should have looked to hit him down the ground rather than all this modern lap-sweep business. Bishoo is off after taking 2-23 in eight overs and Benn begins a third spell. Wright drives a single into the covers and Bopara also picks up one, worked behind square on the off-side by opening the face of the bat.
Over 31 Russell 0-0-1-0-1-wd-4wd-1 149-5 - Roach is whipped back out of the attack after his shock burst did the trick. Time for Russell to have another go - he is also lively but has less control than Roach and tends to overdo the short ball. Russell's back-of-the-hand slower delivery goes awry, disappearing down the leg-side for five in wides. Much needed gift for England. Wright has settled down a bit and retains the strike with a sharp single, dropped into the off-side after standing tall on the back foot.
Over 30 Bishoo 0-0-1-1-0-0 140-5 - England are now showing great respect to rookie leg-spinner Bishoo. Single apiece for Wright and Bopara, both into the leg-side.
Over 29 Roach 0-0-0-0-1nb-1-0 138-5 - West Indies are buzzing in the field, they know they're all over England at the moment. Wright slashes outside off-stump but makes no contact. Bopara gets off the mark from a free-hit (Roach overstepped), inside edging a yorker for a single, almost running himself out in the process.
Over 28 Bishoo 0-W-0-0-0-1 135-5 - WICKET! England are throwing away their earlier good work, Morgan the latest to go in what is becoming a procession. The left-hander was looking to unleash his trademark reverse sweep but played too early and only managed to get a thin edge (off back of the bat I think) to the wicketkeeper - tame way to go, he would only have got a single for the shot anyway. Luke Wright is all at sea against his first few balls, wearing one in the chest as he plays forward and then getting off the mark with a lofted drive into the covers - don't think it was meant to be lofted though.
Over 27 Roach W-0-0-0-0-0 134-4 - WICKET! Roach returns to the attack in some style, sending Bell's off-stump cartwheeling with his first ball. Bell looked surprised by a lack of bounce but also misjudged the length and was caught on the back foot, the delivery shaping away off the seam to hit the stumps about halfway up. Ravi Bopara jabs down late on his first ball to keep it out and is again almost gone later in the over, a thin inside edge saving him from being lbw - West Indies admit as much by not asking for a review.
Over 26 Bishoo 1-0-0-0-1-0 134-2 - Morgan puts everything into a pull as Bishoo drags it down but still only gets a single - hardly seems worth the effort. Bell also rotates the strike, eventually, finding a gap in the covers.
Over 25 Pollard 1-1-1-0-0-wd-0 132-3 - Very much a mixed bag from Pollard, a couple of woeful balls too far outside off-stump and a few decent deliveries angled in from wide on the crease. England content with singles at the moment - and why not? They are building nicely.
Over 24 Bishoo 1-1-1-1-0-1 128-3 - Bishoo finally drops one a bit short, first time he has done so in his spell, although Bell misses out, only managing to pull for a single. There is a leg-slip (Pollard) in place for Morgan, you don't see that often, let alone in the middle overs of an ODI.
Gareth Bateman "I have just seen that Shiv isn't in the team! Utter madness! What are they thinking? I was lucky enough to have trained with the West Indies squad a couple of years ago before the Test at Durham! He is probably only second best to Sarwan! He most certainly deserves his place in the team!"
Over 23 Pollard 0-1-0-0-1-0 123-3 - Wicketkeeper Thomas is standing up at the stumps with a helmet on - he almost needs it as Pollard gets one to climb alarmingly past Eoin Morgan's outside edge. Pollard's 6ft 5in, but still.
Over 22 Bishoo 0-0-0-1-1-W 121-3 - WICKET! Trott's masterclass is cut short in tame fashion, a leading edge looping to Gayle at midwicket. He just played too early in his attempt to work the ball off the stumps, it was a very full delivery and didn't turn much. Trott departs for 47 off 38 balls (7x4). Bishoo celebrates his maiden ODI wicket.
Over 21 Pollard 0-1-1-1-4-0 119-2 - Strauss followed convention at the toss by opting to bat first. Only once has a captain not done so in the nine previous day-night ODIs at Chennai - although history also suggests it does not make you any more likely to win. Bell collects his first boundary with a turn of the wrists to fine-leg, easy pickings as Pollard had strayed onto the pads. Pollard is again down the leg-side but this time he thinks Bell got a thin edge on it and Thomas spills the "chance". Replays suggests there was no bat involved - Pollard was certainly interested.
Over 20 Bishoo 2-0-1-1-0-0 112-2 - England's innings has now entered the phase where they are happy to pick up ones and twos and West Indies are happy to let them. Bishoo looks a prospect - he was man of the series in the 2010 Caribbean T20 - and almost gets Bell to chop a googly onto his stumps. Bell didn't pick it but adjusted well enough.
Over 19 Pollard 0-1-1-1-1-1 108-2 - Wicketkeeper Devon Thomas is not amused by his skipper Sammy, who is slow to react to a possible run out at midwicket and ends up throwing to the bowler's end with both batsmen comfortably home. Anyone else surprised West Indies couldn't find a place in their XI for Chanderpaul? I certainly am, have seen him score runs all over the world, doubt West Indies have five better batsmen than him.
Over 18 Bishoo 0-1-1-0-1-1 103-2 - Bishoo has made a good start to life in international cricket - pushing it through quite flat. Trott and Bell are content to wait on the back foot and work the singles, taking England past 100 in the process. Trott has also overtaken Strauss as England's leading run scorer in the tournament (330 to 329).
Mark Robinson "I find in very strange that there are Trott doubters out there as he averages a shade under 55 with a strike rate of nigh on 80 which surely puts him in the top few batsmen in the world! Ok thery may not be the classiest runs in the world but I dont see any of our so called 'stroke players' stepping up! Also with regards to team selection - i've never been a particular fan of Luke Wright and Tredwell's very ordinary but surely they deserve a go with how poorly we've been playing?"
Tony Holmes "Indeed, our team is a shock. Having only picked Swann as a spinner on that spin-friendly pitch v Bangladesh, I'd presumed Tredwell was dead. As for Wright, yes he's been out of form, but that makes him no worse a bowler than Collingwood, and at least he might score some, Collingwood would be good for what, 7 or 8? But, we've made a good start, let's hope for a big score, get Gayle out quickly (?!) and put the rest under pressure?"
Over 17 Pollard 0-0-1-0-1-0 99-2 - Kieron Pollard is on for the first time, he is a tall man who bowls medium pace - I always expect him to send it down much quicker than he does. Mixes his pace up all the time, lots of cutters and slower balls. Bell pushes a singles to long-on, Trott picks up one with a guide to third-man.
Over 16 Bishoo 0-0-0-1-1-1 97-2 - The fielding restrictions are now relaxed for the first time as England are opting to keep the batting power play up their sleeve. We are about to be treated to the first sight of Bishoo's bowling in an international game. He is a 25-year-old leg-spinner from Guyana who has played 21 first-class matches (86 wickets at 27.31). Bell immediately thinks the dab-sweep is the way to go, banking on a lack of bounce as Bishoo is quite short. Accurate start from the rookie, some gentle turn and just three singles, two of which were swept by Bell, the other turned into the leg-side by Trott.
Over 15 Benn 4-1-0-0-0-1 94-2 - Trott back on the boundary trail after a brief lull - this time a reverse sweep races away off the middle of the bat. He has 37 off 20 balls, firmly sticking it to the critics who say he is not suited to one-day cricket. Trott has yet to hit a six in ODIs, perhaps today will be the day?
Over 14 Russell 0-1-0-1-1-0 88-2 - Trott and Bell have batted together plenty over the years for Warwickshire and England - it shows in their running as they steal a couple of sharp singles. West Indies have removed all their slip fielders and now have the mandatory close catchers in front of square on either side of the wicket. Strange field but an indication of how good they think this pitch is for batting.
Over 13 Benn 1-1-1-1-1-1 85-2 - Ian Bell works a single to square-leg to open his account. That is the first of six in the over as Benn constructs a picket fence (1-1-1-1-1-1). There have been nine previous day-night ODIs at this venue - four have been won by the team batting first, four by the team chasing and one no-result. Make of that what you will.
Over 12 Russell 1-4-0-1-W-0 79-2 - Regulation stuff from Trott, easing another four off his pads, the man can do no wrong since walking out to the middle. WICKET! The short ball does for Strauss, miscuing a pull which is hauled in over-his-shoulder by Gayle running back at midwicket. The ball hurried onto Strauss a bit. Quality catch from Gayle, who does a half-forward roll on the floor in celebration.
Over 11 Sammy 0-2-1-2-4-4 73-1 - Trott has come out firing, he drives another two boundaries through mid-off to take his tally to 22 from eight balls (five of which have gone for four!). Sammy has just been described as the "West Indian Peter Borren" by one of my colleagues - don't think it was meant as a compliment. Be interested to hear from any West Indians as to what they make of him being captain - don't really see the thinking myself. West Indies have at least three superior all-rounders, why make yourself pick another by putting him in charge?
Power Play West Indies have taken the bowling power play immediately, therefore the fielding restrictions remain in place for overs 11-15.
Ben Hanbury "I think it's a great team selection. The bowling hasn't been at it's best and the selectors looked scared to change it, now they have and hope it's just not too late!"
Scott Woolley "I do agree that Anderson should have been dropped, but I cant see what good it will do us. No other team has had to drop their best players or lose them to injury, it's just us with our packed schedule. The team knew the World Cup was coming, but still were made to play all over the winter. And now were being made to pay by getting embarrassed by teams like Ireland and Bangladesh (no offence to them) who we should be beating. I also think we should get Jos Buttler in the team, its about time he had his go!"
Over 10 Russell W-4-0-4-0-4 60-1 - WICKET! Russell gets the breakthrough, bowling Prior middle stump via his inside edge. The England opener didn't move his feet at all and ended up just poking a crooked bat at it - ugly end to what had been a promising innings. Russell is delighted with that, jumping high in the air and flicking both his feet to one side at the same time. He is less delighted as Jonathan Trott starts with a flurry of boundaries - three of them! The first two eased through the leg-side as Russell strays onto the pads and the third driven between mid-off and extra cover.
Over 9 Sammy 0-6-0-0-1-1 48-0 - Sammy has brought himself into the attack. Not sure this pitch will suit his brand of very medium pace, we'll soon found out. Didn't have to wait long - Strauss leans back and dispatches the second ball from his opposite number over the midwicket fence for six. You really shouldn't be bowling short at Sammy's pace.
Aziz Abdul "Every single Bangladeshi cricket fan will have their eye on this game whether its watching it on Sky, SMS updates or like me in the office on your sky sports score centre! This game is huge not just for the teams involved but for Bangladesh too! ... England need to really improve their fielding which has been dismal!"
Over 8 Russell 0-2-0-0-4-1 40-0 - The Benn experiment is abandoned after four overs and Andre Russell, a seam bowler, is into the attack. Russell has Strauss ducking with a quick bouncer but the next one is also short and this time Strauss pulls it away behind square for four. Almost an action replay to end the over but Strauss finds the fielder at backward square-leg and only picks up a single.
Over 7 Roach 1-0-4-0-0-1 33-0 - Roach has 11 wickets in tournament so far but has not been feeling well for the last few days. The Barbados seamer seems well enough in this opening spell, good accuracy and rhythm - although not at his quickest. Lovely shot from Strauss, picked up off his pads to the midwicket boundary. The England skipper gets a bit carried away, stepping down and giving himself some room in an effort to carve the next ball through the covers - only makes contact with fresh air.
Over 6 Benn 1-1-2-0-4-1 27-0 - Runs are starting to flow for England. Benn is flustered after being milked for a few ones and twos and serves up a full toss which Prior gratefully slaps to the midwicket boundary. This is supposed to be a very spin friendly venue but at the moment Benn has not turned it much.
Over 5 Roach 0-0-0-4-0-0 18-0 - Roach keeps it full throughout the over in an effort to get Strauss driving. He succeeds but has to watch the ball skim away through the covers for four. Don't run for those. Strauss almost repeats the dose from the final delivery but this time hits it straight at the fielder.
Peter Clarke "I applaud England's decision to play two specialist spinners; I can't believe they've waited so long to do it in such a spin-friendly place as India. Horrified to see Luke Wright replacing Colly, though."
Simon Weids "It definitely seems like desperate times call for desperate measures, the England management seemingly have run out of the usual ideas so have thrown a few fastballs in to try and get a spark from somewhere. A bit like throwing a certain Solskjaer on...Hope it works."
Over 4 Benn 0-1-0-4-0-2 14-0 - Strauss sweeps for a single, bit top-edgy but safe enough. Prior latches onto a short ball, cutting it away in fine style for his second boundary. He gets two more with a similar stroke from the final ball, this time more of a steer. This pitch has a surprising amount of pace and bounce - absolutely no sideways movement, seam or swing, though. Hard to say what sort of score England should be looking for but, early guess, 250 is the minimum.
Over 3 Roach 0-1-1-1-0-0 7-0 - Strauss is also off the mark but it is far from convincing, a miscued pull just looping out of the reach of the man running back from square-leg. Onto him a bit quick. Prior looks more certain, driving for another single and then more like it from Strauss, clipping the ball to midwicket to again rotate the strike. Roach is getting it through, good pace and carry.
Karl Ward "Very happy with that line up. Anderson needed to be dropped. the only thing I can say is why is Prior at top of the order? He's failed so many times, why not Bopara or someone else?"
Over 2 Benn 0-0-0-4-0-0 4-0 - West Indies are sticking with their policy of opening the bowling with giant left-arm spinner Sulieman Benn. It has worked well for them in previous matches. Prior gets the outside half of the bat on a couple of drives before finally finding somewhere close to the middle to pierce the off-side field for England's first runs, a boundary no less. The outfield is lightning fast, that absolutely raced away.
Over 1 Roach 0-0-0-0-0-0 0-0 - Roach is on the spot straight away, angling the ball across the left-handed Strauss, who is happy to shoulder arms throughout most of the over. Roach generates a bit of bounce. Matt Prior is again opening with Strauss in case you were wondering.
Anthems "Rally Round the West Indies" is easily the best anthem in use at this World Cup, although the players look slightly bemused by all the pre-match formalities. Anyway, Kemar Roach is at the end of his run armed with a shiny white ball and we're ready to go...
Pitch The pitch is dry and bare, there is no grass on it - let alone live grass. It will get slower and lower as the day progresses. Strauss said it looked the same as the one England beat South Africa on - that was a low-scoring affair so perhaps we should again expect runs to be at a premium. The outfield at the MA Chidambaram Stadium is like "sand paper" according to Mike Atherton, who expects the ball to reverse swing later on.
Feeback Send in your emails throughout the day to graham.mair@bskyb.com - Bob Willis reacted with incredulity to England's team selection and, have to say, I am also fairly shocked to see both Wright and Tredwell playing. Any thoughts?
Maths Surprise defeats to Ireland and Bangladesh have left England in a do-or-die situtation today. If they lose they are going home. Victory will probably - though not definitely - be enough to qualify for the last eight. England can win and miss out if Bangladesh beat South Africa on Saturday and West Indies round off Group B on Sunday with victory over India. In that scenario, the final qualification place will be decided on net run-rate between India and England. West Indies need a win today or Sunday to guarantee their spot in the last eight.
England AJ Strauss (capt), MJ Prior (wkt), IJL Trott, IR Bell, EJG Morgan, RS Bopara, LJ Wright, TT Bresnan, GP Swann, JC Tredwell, CT Tremlett
West Indies CH Gayle, DS Smith, DM Bravo, RR Sarwan, KA Pollard, DC Thomas (wkt), DJG Sammy (capt), AD Russell, SJ Benn, D Bishoo, KAJ Roach
Teams England have thrown a few surprises into the mix with their team selection for this must-win fixture. Luke Wright, James Tredwell and Chris Tremlett all come into the starting XI for their first appearance of the tournament. Shahzad's injury means he obviously misses out, as do James Anderson and Paul Collingwood from the side that went down to Bangladesh. West Indies have made two alterations from the XI on duty during their win over Ireland last ttime out - Chris Gayle is fit again after an abdominal injury and replaces Shiv Chanderpaul at the top of the order. They also dropped Nikita Miller in order to hand an ODI debut to leg-spinner Devendra Bishoo.
Toss England captain Andrew Strauss has won the toss and opted to bat first on what looks the driest pitch I have ever seen. There is not a blade of grass in sight - rolled mud is a fair description. Strauss says it is the same as the one England beat South Africa on in a low scoring affair earlier in the tournament. West Indies skipper Darren Sammy has lost all five tosses at the World Cup so far, not enough to wipe the big smile off his face though.
Breaking news Ajmal Shahzad has been ruled out of the rest of the World Cup with a hamstring injury. England will only call up a replacement if they win today...
Welcome Good morning and welcome to over-by-over commentary from the World Cup Group B fixture between England and West Indies in Chennai. Play starts at 0900h (GMT), team news and toss shortly.
Sky Bet Odds:
Click Here for Your Free Bet