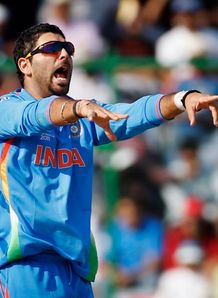 Top of the table India made a bit of a mess of chasing a modest 190 but eventually got home by five wickets thanks to Yuvraj Singh's 51 not out. The co-hosts are now top of Group B and on the brink of securing their place in the quarter-finals. Thanks for your company, join us again tomorrow from 0900h (GMT) for more commentary on Sri Lanka v Zimbabwe.
Over 36 Kruger 0-0-4 191-5 - Yuvraj whips a full delivery to the square-leg boundary to finish on 51 not out - his 48th one-day half-century - as India win by five wickets.
Over 35 ten Doeschate 0-1-0-0-0-0 187-5 - Yuvraj, on 46, tries to end it in style but can only pick up a single with his lofted drive to midwicket. Dhoni blocks out the remainder of the over, even turning down an easy single from the final ball, to leave the stage free for Yuvraj to complete a deserved half-century...
Power Play India have taken the batting power play.
Over 34 Kruger 4-0-1-4-1-4 186-5 - Rare moment of aggression from Dhoni, driving his 33rd ball faced through mid-on for his first boundary. Yuvraj almost decapitates his captain with a meaty drive of his own later in the over, which also disappears for four. Dhoni adds the third boundary of the over, tickled to fine-leg to leave India just four short of their target.
Over 34 ten Doeschate 0-1-1-0-0-0 172-5 - The final drinks break of the day at the Feroz Shah Kotla arrives with India 18 short of their target. India are doing it in singles at the moment. Yuvraj drives for one and Dhoni cuts another.
Over 33 Kruger 0-1-0-0-0-0 170-5 - The Netherlands seem finally to be resigned to the fact their wait for a ODI win over a full ICC member will continue for the time being. Judging by how close they have pushed England and now India at this World Cup they won't be waiting for ever. Single for Yuvraj, worked off his pads.
Over 32 Seelaar 0-1-1-0-0-0 169-5 - Seelaar concedes only a pair of singles from his final over to complete figures of 3-53. The three in question being Sehwag, Tendulkar and Yusuf in the space of nine balls. His team-mates rush in to give him a slap on the back for his efforts.
Over 31 Kruger 0-1-0-1-1-1 167-5 - With the match now slipping away, Netherlands skipper Borren brings on Kruger's medium pace for the first time. Dhoni and Yuvraj take a singular approach to scoring four runs in the over. India need 23 from 19 overs.
Over 30 Seelaar 0-1-0-0-0-0 163-5 - Yuvraj pulls another single to reduce India's requirement to 27. Dhoni remains content to play the supporting role, blocking out the remainder of the over. The India captain has six from 19 balls.
Over 29 ten Doeschate 0-1-0-4-0-2-1 162-5 - Yuvraj leans back to send a cut racing away to the backward point boundary as ten Doeschate drops too short. He flips a yorker to fine-leg for two and easily spots ten Doeschate's (even) slower ball to retain the strike with a single to square-leg. This has been a mature contribution from Yuvraj, not something he has always been accused of.
Over 28 Seelaar 0-4-1-1-1-1 154-5 - Seelaar, the man who started all the excitement, is back on with three overs remaining in his allocation. Yuvraj goes back and gives himself some room, squeezing the ball between extra cover and mid-off for his fourth boundary. Four singles follow to leave India needing 37 off 22 overs.
Over 27 ten Doeschate 1-1-1-0-0 146-5 - Yuvraj is fortunate as a leading edge falls safely behind square on the off-side for a single. The ball cut away off the seam and he found himself squared up. India are dealing in singles now - a sensible approach given the situation - Dhoni gets one to square-leg and Yuvraj cuts another.
Over 26 Bukhari 0-0-0-1-0-2 143-5 - Yuvraj turns the strike over again with another single into the leg-side. Dhoni works a back-of-a-length delivery to square-leg to get off the mark with a couple.
Over 25 ten Doeschate 0-0-0-0-0-1 140-5 - Yuvraj tries and fails to manoeuvre ten Doeschate's medium pace off the square until he finally succeeds from the final ball, helping a single to fine-leg to retain the strike - India's first run for 16 deliveries.
Over 24 Bukhari W-0-0-0-0-0 139-5 - WICKET! Bukhari's return immediately does the trick as Gambhir is bowled round his legs - the second time he has been dismissed in that manner in as many innings. The umpires tell Gambhir to hang around while their colleague upstairs checks if it was a no-ball - it clearly wasn't and he can resume his march back to the pavilion. The left-hander just got too far across and misjudged the line, the ball clipping his thigh pad on the way into the stumps. Watching the replay, the ball was actually dragged back onto the stumps by the underside of his thigh pad - it probably would have missed had it continued on its original path. Dhoni sees out a wicket maiden, India need 51 from 26 overs but have only five wickets remaining.
Over 23 Borren 2-0-0-0-0-0 139-4 - Borren has sold a dummy and will continue for the time being. Yuvraj chips a sand wedge over mid-off for a couple, the only scoring shot of the over. Borren has impressed, mixing up his pace and angle with commendable accuracy. India's record in Feroz Shah Kotla is mixed - eight wins from 14 matches.
Over 22 Cooper 4-1-0-0-1-0 137-4 - Gambhir is seeing it like a football, again coming down the pitch to drive over the off-side. He eases a single behind point to rotate the strike and Yuvraj also gets one, worked to midwicket.
Over 21 Borren 0-1-0-1-1-0 131-4 - Borren makes a mid-over signal to someone that they are coming on shortly, the skipper has had enough of his own bowling. Gambhir picks off a couple of singles on the off-side, either side of a similar stroke from Yuvraj.
Over 20 Cooper 1-4-0-0-0-0 128-4 - Part-time off-spinner Cooper is into the attack. Yuvraj helps himself to a freebie, drilling a short ball through the covers for his third four. India appear to have weathered the mini-storm and now need only 62 more from 30 overs.
Over 19 Borren 1-4-0-0-4-0 123-4 - Yuvraj follows his partner's example - driving on the up through extra cover and adding another four later in the over, this time by forcing a short ball in the same region. India are clearly not going to die wondering at this World Cup.
Over 18 Seelaar 4-2-4-0-1-0 114-4 - Gambhir is rewarded for his adventure - twice advancing down the track to find the boundary. The first goes to midwicket and the second is the Gambhir trademark - inside-out over extra cover. They've seen that before round these parts. I thought India might just knock it round for ones on twos from here but they are still intent on being positive.
Over 17 Borren 1-0-1-0-0-0 103-4 - Yuvraj slurps down a drink and then returns to action with a single cut to third-man. There is also a single for Gambhir, clipped to square-leg as India rebuild.
Over 16 Seelaar 0-1-0-0-1-0 101-4 - Gambhir is looking solid, working a single into the leg-side to reduce India's requirement to 90. Yuvraj gets off the mark with a turn of the wrists for a single. No need for India to panic, they still have Dhoni - an arch finisher - to come, but another couple of quick wickets and it will be time for the co-hosts to hit the red button.
Over 15 Borren 1-4-W-0-0-0 99-4 - WICKET! What is going on here? Kohli joins the procession, bowled between bat and pad attempting to drive. That one ducked in a bit off the seam and, with Borren also bowling from a wide angle, it found a way through. Yuvraj strolls out to join Gambhir with India in a precarious position.
Bad workman Rahul R has objected to my description of Tendulkar's bat change in over three, he says: "Such a comment is appalling particularly given you are talking about a man who has breathed cricket since he was four. And the only man walking on this planet to have scored 200 in the limited overs game." All very true - perhaps I'll use a smiley face in the text next time I attempt to make a joke (or give up misguided attempts at humour).
Over 14 Seelaar 1-0-4-0-2-0 94-3 - Kohli latches onto a short ball, pulling it to the midwicket boundary and picks up another two with a cover drive.
Over 13 Borren 0-1-0-1-0-1 87-3 - Nasty moment for Gambhir, who is sent back by Kohli after a mix-up over a second run. Had ten Doeschate's throw from the boundary not gone to the middle of the pitch, Gambhir would have been in trouble. Kohli was initially keen on the second but Gambhir wasn't looking so he stopped coming. Gambhir then looked up and set off like a hare before Kohli sent him back. Could have been embarrassing.
Over 12 Seelaar 0-0-0-0-0-0 84-3 - Kohli gets right on the front foot in defence during a Seelaar maiden. India need 106 from 38 overs.
Over 11 Borren 1-0-0-0-1-0 84-3 - Time for India's batsmen to rethink their scorched earth policy, rebuilding is now the order of the day. Gambhir opens the face for a single to third-man and Kohli opens his account with one to square-leg.
Power Play With Kohli having joined local boy Gambhir in the middle, the Netherlands have taken the bowling power play immediately. The fielding restrictions, therefore, remain in place for overs 11-15.
Over 10 Seelaar W-0-1-1-W-0 82-3 - WICKET! If the Netherlands take nothing else from today, Seelaar at least has a story to tell his grandchildren because the 23-year-old spinner has just dismissed the leading run scorer in the history of international cricket. Tendulkar danced down the track but skied his drive and a sliding Kruger took the catch at long-off. WICKET! Seelaar strikes again, Yusuf chipping back a tame return catch, prompting the bowler, arms outstretched and head back, to set off on a lap of the square. He has dismissed Sehwag, Tendulkar and Yusuf in the space of nine deliveries. Silence descends on the Feroz Shah Kotla.
Over 9 Borren 0-1-0-0-0-6 80-1 - Will it be a barren spell for Borren or will he perform like a baron? We'll soon find out. The skipper is another medium pacer. Yusuf misses out on a back-of-the-hand slower ball that was dragged down too short but takes full toll when Borren strays onto his pads, lifting it for six to square-leg. All timing.
Over 8 Seelaar 6-4-W-4-0-0 73-1 - Sehwag continues to cause damage, running down the track to drive over extra cover for six and then cutting late off the stumps for another four. WICKET! Sehwag pushes the boat out too far even by his standards, squirting a square drive straight to Kervezee at backward point. The good news for the Netherlands is Sehwag's out, the bad news? Here comes Yusuf with a bat in hand. He also starts with a first-ball boundary - obligatory for India's batsmen today it seems - helping a full toss to midwicket.
Over 7 Bukhari wd-0-0-6-1-1-1 59-0 - Bukhari bangs in a short one to Sehwag with a predictable outcome - the ball sails into the stand at midwicket. This is going to be over in a hurry if Sehwag hangs around much longer, he has that serene look on his face.
Over 6 Seelaar 0-1-1-0-0-4 49-0 - The ten Doeschate experiment is swiftly abandoned and, following India's example, spin is introduced early. Orthodox left-armer Pieter Seelaar ruins a decent start by allowing Tendulkar to give the final delivery of the over a wristy flick through the leg-side for four.
Over 5 Bukhari wd-0-0-4-0-4-4 43-0 - Bukhari, the quickest member of his country's attack with a top speed so far of 82mph, also comes in for some punishment, this time from Sehwag. The first of his three boundaries is the best, driven straight back past the bowler. He then charges down and heaves the ball to square-leg, ugly as you like. DROPPED! Sehwag pulls a short ball in the air towards mid-on, where Szwarczynski dives to his left and reaches across his body with his right hand but can't cling on - the ball deflects away for four. Very tough chance, someone like AB de Villiers or Paul Collingwood might have caught it.
Over 4 ten Doeschate 0-0-wd-wd-1-4-4-4 30-0 - Doesn't look like ten Doeschate is enjoying his new-ball reponsibility. He donates a couple of leg-side wides India's cause before Sehwag pushes a single to leave the stage free for Tendulkar to hit the next three balls for four, moving him past 2,000 career World Cup runs in the process. The first two are driven through the covers in regal fashion, holding the pose, and the third is lifted over mid-on. Seems to like his new bat.
Over 3 Bukhari 0-1-0-0-0-0 15-0 - Tendulkar is not happy with his bat, so he calls out the 12th man for a quick switch. A bad workman blaming his tools? Wouldn't suggest it to his face, he might point out how many international hundreds he's scored (98). Sehwag clips a single into the leg-side and Tendulkar hits a succession of drives straight to fielders to test out his new chunk of willow.
Over 2 ten Doeschate 4-0-0-0-4-0 14-0 - Essex's finest medium pacer, ten Doeschate, shares the new ball. He doesn't usually have that honour down at Chelmsford - not with Maurice Chambers and David Masters about. Tendulkar follows Sehwag's lead by hitting his first ball for four, helping a wayward delivery off his pads and down to fine-leg. He repeats the dose later in the over to make it a very ordinary start from ten Doeschate.
Over 1 Bukhari 4-0-0-0-2-0 6-0 - Sehwag introduces himself to Bukhari by clipping the first ball of the innings off middle stump to the midwicket boundary - he does love to make an early statement. As ever, minimal foot movement as he leans back to dispatch another couple through the covers. This is Sehwag's home patch - and Gautam Gambhir's, who is due in next.
Approach How do you expect India to go about this floodlit run chase? Will they try and get it over with as soon as possible or take a more measured approach? graham.mair@bskyb.com if you've got an opinion. Sehwag and Tendulkar are making their way to the middle...
Collapse The Netherlands have been bowled out for 189 in 46.4 overs after opting to bat first in Delhi. They had seemed in good shape at 56-0 on a flat pitch but collapsed badly in the middle overs as India's battery of spinners applied a stranglehold. Several batsmen got out after making starts and skipper Borren, who flayed 38 at number eight, was the top scorer. India's run chase starts at 1255h (GMT), join us then.
Over 47 Zaheer W-0-0-W 189ao - WICKET! A pre-meditated dab sweep brings an end to Borren's entertaining contribution of 38 from 36 balls. He was surprised by a shorter length from Zaheer, took his eyes off the shot and the resulting top edge looped to Nehra behind sqaure on the leg-side. WICKET! Bukhari keeps one yorker out but he can't repeat the trick, inside edging back onto his off-stump to end the innings with 20 deliveries unused.
Over 46 Harbhajan 0-1-1-0-6-wd-0 189-8 - Harbhajan has bowled accurately without much luck - on another day he might have had three or four wickets. He can't, however, do anything to stop Bukhari blasting another six, clearing the front leg to make room for his bat to come through and send the ball over the fence at square-leg.
Over 45 Zaheer 1-1-0-1lb-0-1 180-8 - Zaheer goes into yorker mode to good effect, restricting Borren and Bukhari to just four singles from the over. Can the Netherlands get past 200?
Over 44 Nehra 0-0-1-1-6-4 176-8 - Mudassar Bukhari gets in on the fun, drilling an attempted yorker from Nehra over long-on for six with a free swing of the bat. He edges an off-cutter through the vacant slip region for four more to end the over.
Over 43 Chawla 4-0-0-1-6-6 164-8 - Kruger slaps a full toss for four. WICKET! Kruger becomes the second run out victim of the innings, driving straight to Kohli in the covers and setting off for a single. He realises soon enough that there is no run on but can't regain his ground before Dhoni removes the bails. As you often see from tailenders, he started running on the basis of how well he hit the shot. Borren does some damage to Chawla's figures, hitting the final deliveries of the leg-spinner's 10-over allocation for consecutive sixes. The first went over long-on, the second more towards midwicket - both agricultural heaves.
Power Play The Netherlands decide the time is right to use the batting power play. The fielding restrictions are, therefore, back in place for overs 43-47.
Over 42 Yuvraj 0-1-4-2-0-4 147-7 - Borren sparks a mini-revivial of sorts for the men in orange. The skipper just clears the cover fielder for a welcome boundary and then adds four more with his trademark slog-sweep to midwicket (possibly no need for the word sweep in the description of that shot).
Over 41 Chawla 1-1-0-0-0-0 136-7 - Borren is in good company as he fails to pick Chawla's googly - inside edge saved him from being lbw. Good decision from India to play Chawla again today, he has taken some punishment earlier in the tournament but has been able to restore his confidence against batsmen who haven't looked to attack him.
Over 40 Harbhajan 1lb-1-0-1-0-0 134-7 - The Netherlands still have the batting power play up their sleeve - now or never I'd say but Borren doesn't agree. Again Harbhajan can't tempt Dhoni into using India's final review - and again with good reason, this time an lbw appeal against Bradley Kruger was rejected as the ball was turning far too much.
Over 39 Chawla W-2b-0-1-1-1 131-7 - Chawla is back on in search of some cheap lower-order scalps. WICKET! Oh dear, Kervezee pulls a long-hop straight to Harbhajan on the square-leg boundary. That should have disappeared for six, as it was Harbhajan hardly had to move.
Over 38 Harbhajan 1-0-1-0-2-0 127-6 - Harbhajan is worked into the leg-side for a total of four runs, a single for each batsman and two for Borren, who whipped a straight ball to midwicket.
Over 37 Yuvraj 0-4-1-1-1-1 123-6 - Kervezee produces a welcome boundary, skipping down and going aerial over the leg-side. India's well-known dislike of the UDRS is believed to stem from their senior batsmen (Virender Sehwag being the exception - he's not bothered either way).
Over 36 Harbhajan 0-0-0-1lb-1-0 115-6 - Dhoni is one-for-seven with his UDRS referrals in this World Cup and he is not willing to risk being wrong again despite Harbhajan wanting to review an lbw shout against Borren. Dhoni is probably right on this occasion, it might just have been clipping leg-stump but wouldn't have been overturned. Height also an issue.
Over 35 Yuvraj 1-0-0-0-4-1 113-6 - WICKET! Disaster for de Grooth, he is found well short of his ground after being called through for a single. Kervezee dropped the ball into the leg-side and set off straightaway. De Grooth was initially hesistant - with good reason as there was never a run on. Yuvraj pounced on the ball and got his return in to Dhoni right-handed. The bails were removed by Dhoni with a diving de Grooth well short. Horrible piece of running. No messing from new batsman Borren, who gets down on one knee to whack his third ball to the midwicket boundary.
Over 34 Nehra 0-2-0-0-1-0 107-5 - Two more for de Grooth, worked into the leg-side as Nehra overpitches. Tendulkar hits the stumps direct from midwicket later in the over but de Grooth is comfortably home for a single. Nevertheless a decent piece of fielding from the old boy. In line with ODI regulations, the ball will now be changed. Shame for India as the other one was reversing nicely for both Nehra and Zaheer.
Over 33 Zaheer 0-0-0-0-1-1 104-5 - I can't recall India's seamers bowling a single short ball so far today, they have been operating excusively on a full length in an effort to get the batsmen driving. Nehra strays onto the pads, allowing a single apiece to end the over for Kervezee and de Grooth. Only seven runs have been scored in the last six overs.
Over 32 Nehra 0-1-0-0-0-0 102-5 - Kervezee forces a single down the ground off the back foot, bringing new batsman Tim de Grooth onto strike. De Grooth is, understandably, content to take a cautious approach to defending his first few deliveries, meaning he misses out on a freebie on the pads.
Over 31 Zaheer 0-0-0-0-1-W 101-5 - Dhoni scents the kill and brings back his premier paceman Zaheer. Like Nehra in the previous over, Zaheer is also able to get the ball reversing through the air, more so than his team-mate. Kervezee hangs out his bat and is lucky the resulting edge goes down, allowing him to get off the mark with a single. WICKET! Zuiderent is not so lucky, gone lbw playing round his front pad. He asks for a review but, like Barresi before him, it only serves to confirm what appeared obvious to the naked eye. The ball pitched in line with leg-stump, hit him in front of middle and - according to Hawkeye - was going to hit the top of off-stump. Umpire Davis' judgment is upheld. Six-ball duck fo Zuiderent, who Ian Bishop in the commentary box claims to have never seen score any runs over the years. "I still haven't," he notes as Zuiderent trudges off. Three wickets in 17 balls for India.
Over 30 Nehra W-0-0-0-0-0 100-4 - WICKET! The collapse is on here as Nehra enjoys instant success at the start of his second spell. Cooper edges a drive through to wicketkeeper Dhoni, who stoops forward to take a low catch. Just a hint of reverse swing for Nehra. Veteran Bas Zuiderent, once of Sussex, joins youngster Kervezee, who is part of Worcestershire's squad. Zuiderent plays and misses at his first ball, again a small amount of sideways movement from Nehra, through the air rather than off the pitch of course.
Over 29 Yuvraj 0-W-0-0-1-0 100-3 - WICKET! Ten Doeschate's feet are certainly moving now, they are carrying him back to the pavilion after he holes out to Zaheer on the long-off boundary. Ten Doeschate again took a couple of steps down the pitch but was undone in the flight and, as he followed through with the shot anyway, his bat turned in his hand. It came off the outside half of the blade, nowhere near the middle. Zaheer judged the catch nicely, making some ground to his right to take it over his shoulder - made to look easy. Cooper sweeps for a single to bring new batsman Alexei Kervezee onto strike, he blocks his first delivery on the front foot.
Over 28 Yusuf 0-1-0-0-0-1 99-2 - Cooper pulls for a single as Yusuf is also guilty of dropping his length too short. Ten Doeschate appears to ghave got his feet moving now, dancing down to push a single down the ground.
Over 27 Yuvraj 0-0-4-2-1-0 97-2 - Cooper pulls the reverse sweep out of the bag for the first time, and it's a good one that finds the boundary. Yuvraj reacts by dropping the next one in too short and Cooper is able to cut for a couple more before rotating the strike with a single into the covers.
Over 26 Yusuf 0-0-1-1-4-0 90-2 - Chawla takes a rest after a seven-over spell of 1-26. Off-spinner Yusuf back on. More like it from ten Doeschate, seizing on a slightly short delivery with a back-foot force through the covers for four.
Over 25 Yuvraj 0-0-0-0-0-0 84-2 - Cooper is living dangerously, another early drive drops just short of Yuvraj in his follow-through.
Over 24 Chawla 1-0-0-1-1nb-1-0 84-2 - DROPPED! Chawla shells a tough chance in his follow-through after Cooper plays too early. The ball was still a couple of inches above ground when it reached Chawla, who went for it one-handed. Chawla's misery increases when he oversteps later in the over, although Cooper can only pick up a single into the covers from the subsequent free-hit.
Over 23 Yuvraj 0-0-0-1-2-1 79-2 - Ten Doeschate doesn't appear all that comfortable starting his innings against the slow bowlers. He is getting right forward and playing with his bat out in front of his pads - a bit like Kevin Pietersen does.
Over 22 Chawla 0-2-1-0-0-1 76-2 - India's fielding is not great at the best of times - and today hasn't been the best of times. Virat Kohli at cover gifts Cooper a single with a misfield in the covers.
Over 21 Yuvraj 0-0-0-1-0-1 72-2 - Suresh Raina misses the chance to run out Cooper by throwing to the wrong end. Cooper dropped the ball on the off-side and set off for a single that was never on. Ten Doeschate was having none of it and sent his partner back, Raina swooped on the ball from point but for some reason fired it at the non-striker's end, where Ten Doeschate was well home.
Over 20 Chawla 4-0-1-0-1-0 70-2 - Cooper, who has now been joined by the man known reverentially as the "Dutch Don" by the lone Essex fan in our office, leans forward and sends a drive racing through the covers for his opening boundary. Ten Doeschate is off the mark with a rare off-side shot, opening the face.
Over 19 Yuvraj 1-1-1-0-1-W 64-2 - After drinks in Delhi it is time for Yuvraj to turn his arm over. The man once described as a "pie chucker" by Kevin Pietersen is fresh from his maiden five-wicket haul in the victory over Ireland last time out and needs just one more for 100 in ODIs. Laughter all round as the ball slips out of Yuvraj's hand just prior to delivery. WICKET! Barresi is number 100 for Yuvraj, lbw after failing to get forward in defence to a full, straight delivery. The batsman asks for a review, perhaps thinking the ball had hit his bat first - replays show it was pad first, hit him in line and was going on take out middle stump.
Over 18 Chawla 0-1-1-0-0-0 60-1 - The pitch map shows Chawla is bowling noticeably fuller than usual today. Neither Barresi or Cooper appear to be picking him from the hand, instead they are waiting until the last moment to commit to their shots. Cooper, a fringe member of South Australia's squad who represented Australia at Under 19 level, boasts an ODI average of 63.63 from 13 matches, including six 50s and a century.
Over 17 Harbhajan 0-0-1-0-0-0 58-1 - Don't forget that Cooper - the Australian-born right-hander - is carrying the added burden of my wallet in the Netherlands Most Runs market today. He has made a tentative start, adding his second run with a single into the off-side as Harbhajan dragged it down a touch short.
Over 16 Chawla 0-W-0-0-1-0 57-1 - WICKET! Szwarczynski follows in the foosteps of Tendulkar - usually not a bad place to be, but not on this occasion as he is bowled after failing to spot Chawla's googly. He was expecting the leg-break and went back to cut, the ball followed him and brushed pad on the way into middle stump. He would have been lbw anyway. Cooper is the new batsman, missing with a drive at his second ball before opening his account with a single cut down to third-man.
Over 15 Harbhajan 1-0-1-0-1-0 56-0 - Harbhajan persists with his round-the-wicket approach to both right-handers. He gets a couple to bounce a bit but three singles are worked into the leg-side without any risk.
Over 14 Chawla 0-0-1-4-1-0 53-0 - Elegant from Szwarczynski, dropping his wrists late on a cut to send the ball racing away to the boundary - a nice way to bring up the 50 partnership. Chawla's main wicket-taking delivery is his googly - he first came to prominence after bowling Sachin Tendulkar with it in a practice match as a teenager. The great man was so impressed that Chawla soon found himself fast-tracked into the India squad.
Over 13 Harbhajan 0-0-0-0-1-0 47-0 - Barresi's preferred scoring shot against Harbhajan is the sweep and he is - finally - able to rotate the strike after missing with one earlier in the over.
Over 12 Chawla 0-0-0-1-1-1 46-0 - Time for leg-spin now in the shape of Piyush Chawla as Dhoni continues to ring the bowling changes in search of a wicket. REVIEW! Szwarczynski bundles the ball into the leg-side after appearing to miss with the sweep - India ask for a review of umpire's decision to turn down Chawla's lbw appeal. Replays show Szwarczynski gloved it down into his pad so the review is struck down and the ruling on the field stands.
Over 11 Harbhajan 1-0-0-wd-2-1-0 43-0 - Szwarczynski doesn't look too sure against Harbhajan, an inside edge squirts into the leg-side for a single to get him off strike. Harbhajan goes round-the-wicket to the right-handed Barresi in an effort to make something happen - initially he only manages to confuse himself with a wide and then Barresi chops a couple down to third-man and adds a single into the leg-side.
Power Play Dhoni has taken the bowling power play straight away, no doubt keen to get it out of the way. The fielding restrictions, therefore, remain in place for overs 11-15.
Over 10 Yusuf 0-0-4-0-0-0 38-0 - Yusuf drops short and Barresi pulls powerfully to the midwicket boundary - travelled in the air past Yuvraj Singh although it couldn't really be termed a chance. Maybe 10 years ago but not these days for Yuvraj. This is already the Netherlands' highest opening stand of the World Cup.
Over 9 Harbhajan 1-0-0-0-0-0 34-0 - Barresi is lucky when a leading edge falls safely on the off-side for a single. Harbhajan runs through his full repertoire, including a doosra as Szwarczynski blocks out the remainder of the over.
Over 8 Yusuf 0-1-1-0-0-1 33-0 - These sides have met just once before in an ODI - at Paarl during the 2003 World Cup. India won a low-scoring affair by 68 runs by bowling out the Netherlands for 136 after themselves being dismissed for 204. I'm confidently predicting there will be more runs scored today - probably about 250 more judging by the way things have gone so far.
Over 7 Harbhajan 0-0-1-1-0-2 30-0 - Harbhajan Singh is into the attack to make it spin at both ends during the power play, a clear indication of how little is on offer for the seam bowlers. Szwarczynski almost plays too early but his drive falls short of Harbhajan. Szwarczynski works a single into the leg-side and Barresi also picks up one with a sweep. The over ends with Harbahajan giving a dirty look to Nehra after a laboured piece of fielding allows Szwarczynski to turn one into two.
Over 6 Yusuf 0-0-0-0-0-0 26-0 - Slip and leg-slip are the compulsory close catchers for Yusuf, who mixes up his pace and flight nicely during a maiden. Not much turn though.
Over 5 Zaheer 0-0-4-0-4-0 26-0 - Szwarczynski saves himself from being lbw with an inside edge as he tries to work a straight ball into the leg-side. He celebrates that near miss with a pair of boundaries, taking a step down before driving through mid-on and then bottom edging a cut through the vacant slip cordon. India very much on the defensive already.
Selection Peter Panczyk asks: "Why would they exclude Munaf Patel. His has had an overall good performance so far. Are they resting him?" Yes, Dhoni indicated at the toss it was more a case of wanting to give Nehra a run out after his injury.
Over 4 Yusuf 0-1-0-0-1-0 18-0 - Dhoni's seen enough already and brings on Yusuf Pathan to bowl some off-spin in just the fourth over. Each batsman works a single into the leg-side.
Over 3 Zaheer 0-0-4-0-0-0 16-0 - This looks the flattest pitch I've ever seen - another full ball disappears through the covers, this time from Szwarczynski, prompting Zaheer to switch to round-the-wicket. Zaheer swung a couple in his first over but since then the ball has not moved off the straight.
Over 2 Nehra 0-2-0-0-4-0 12-0 - Left-arm seam at both ends as Nehra shares the new ball for his first bowl of the tournament. He also keeps it nice and full, allowing Barresi to open his account by driving through the covers for a couple and then whip a straight ball off the stumps the midwicket boundary. Too full from Nehra, who is now fully recovered from the groin strain that kept him out of India's first three matches.
Over 1 Zaheer 0-4b-2-0-0-0 6-0 - Huge roar as Zaheer ambles up to the wicket and unleashes a full, swinging delivery first up - Szwarczynski, only half forward, blocks comfortably. Zaheer then gifts the Netherlands their first runs, too much inswing to the right-handed Szwarczynski sees the ball disappear for four byes - not sure why umpire Steve Davis, who is standing in his 100th ODI today, didn't call that as a wide. Szwarczynski gets off the mark with two off his pads as Zaheer again overpitches when searching for swing.
Weather The sun is beaming bright and there is not a cloud in the sky in Delhi this afternoon as Netherlands openers Erix Szwarczynski and Wesley Barresi make their way to the middle to face up Zaheer Khan. Here we go...
Get in touch As ever, we are keen to hear your views throughout the day - drop me an email to graham.mair@bskyb.com if you have anything to say.
Odds update Our friends at Sky Bet offer in-play betting on a range of markets. They make India 1/50 favourites, while the Netherlands are 12/1. Perhaps the value is to be found in the Netherlands Most Runs market, where I will be having a small wager on Tom Cooper at 5/2.
Teams India have made just the one change, giving fit-again left-arm seamer Ashish Nehra his first outing of the tournament at the expense of Munaf Patel. The Netherlands make two alterations to their starting XI, Bradley Kruger and Eric Szwarczynski in for Bernard Loots and Berend Westdijk.
Netherlands ES Szwarczynski, W Barresi, TLW Cooper, RN ten Doeschate, AN Kervezee, B Zuiderent, TN de Grooth, PW Borren, BP Kruger, Mudassar Bukhari, PM Seelaar
India SR Tendulkar, V Sehwag, G Gambhir, V Kohli, Yuvraj Singh, MS Dhoni, YK Pathan, Harbhajan Singh, PP Chawla, Z Khan, A Nehra
Toss Netherlands skipper Peter Borren calls correctly at the toss and decides to bat first. He is keen to make use of a bare surface at Feroz Shah Kotla. His India counterpart MS Dhoni is not too disappointed at all - he predicts the wicket will get slower and lower as the match progresses so is happy his seam attack get first go on it.
Form Co-hosts India are the only remaining unbeaten team in Group B and victory today will take them to the brink of a place in the quarter-finals. The Netherlands caused England a few palpitations in their opening match but failed to defend their score of 292 that day and have since suffered heavy losses to West Indies and South Africa.
Good morning Welcome to over-by-over from the World Cup Group B fixture between India and the Netherlands at Feroz Shah Kotla in Delhi. Play starts at 0900h (GMT), team news and toss shortly
Sky Bet Odds:
Click Here for Your Free Bet