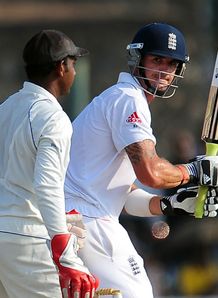 Close Strauss, who admits he's concerned about his own form (you don't say), reports that Broad has a tight calf, as well as a sore ankle. England will "have a think" about their side for the second Test, which takes place next week. Please join us then for over-by-over commentary. Thanks for your company through this match, another superb Test to watch even if the result might not be the one England supporters wanted.
Collapse England have lost their last six wickets for 31 runs - it seems a lifetime ago now that Trott and Prior were making serene progress towards that monumental target of 340. This collapse, though, is not the real reason for the loss. That is down to them once again failing to put first-innings runs on the board, as well as not taking opportunities in the field.
Over 99: Randiv 0-0-4-0-W-W 264 - WICKETS! - Anderson slog-sweeps a boundary (that's undoubtedly the right way for these last two wickets to play) but then perishes two balls later, pushing forward to get an outside edge off Randiv. Prasanna Jayawardene takes the catch behind the stumps and celebrates wildly - and they only have one ball to wait to finish off proceedings. Monty Panesar lunges forward and nicks to Dilshan at second slip, meaning England are all out for 264 and Sri Lanka have won their first Test on home soil since the retirement of Muttiah Muralitharan.
Over 98: Herath 0-0-0-0-W-1 260-8 - Anderson gets off the mark as Herath completes the 98th over that was broken up by tea. Did you know that Rangana is the first left-arm off-spinner to take 10 wickets in a match against England since 1952? No, neither did I until Tony Greig just told me, and I reckon somebody else probably told him that as well.
Tea Well what an amazing finish to the afternoon session. England have scored 82 runs but have crucially lost four wickets, three of them coming in a hurry in the closing stages. Now, with just Anderson and Panesar to come, the tourists know they are hoping for a miracle. They go in at tea needing another 81 runs to win. Sri Lanka need just the two more wickets.
Over 98: Herath 0-0-0-0-W- 259-8 - WICKET! - Swann can't even survive through to the tea break, attempting a sweep against Herath to a ball that pitched on off and was drifting in with the arm. After consultation with Broad he opts to call for a review, more in hope than anything else. Hawk Eye shows it was going on to clip the top of middle and leg, meaning Swann has to go on the stroke of tea.
Over 97: Randiv 0-1-1-0-0-0 259-7 - Questions now being asked via email of England's team selection. Kim doesn't think Patel should have played, while Daniel Oates wonders if Bresnan may have been a better option at seven. The bigger thing going through England's mind right now will be those missed opportunities in the field. Mahela Jayawardene had four, FOUR lives in his first-innings century, while Broad had that wicket off a no ball yesterday that would have wrapped up Sri Lanka's second innings for under 300.
Over 96: Herath 0-0-0-1-0-0 257-7 - Broad gets through for a tight single - it's clear his ankle isn't right and with the second Test starting next Tuesday, you have to wonder if he will be fit to play. The television coverage is now showing Dilshan's catches in this match, the best by a mile that effort to remove the stubborn Trott. It was off the face and yet he reacted in a flash, diving low to his left to cling on one-handed. England need another 83 - so do Broad and Swann stick or twist?
Over 95: Randiv 0-1-1-1-0-W 256-7 - WICKET! - Trott goes, and so too might England's hopes of winning this match. Yesterday Sri Lanka missed Pietersen at leg slip because they had the wrong fielder there. Today, when Trott turns one off his pads, Dilshan is able to take a sharp reaction catch diving low down to his left. Trott departs for an excellent 112, leaving the tail to try and take care of things. England's last four batsmen in their first innings contributed 88 runs. They need to do something similar here for the tourists to have any hope.
Over 94: Herath 0-1-0-1-W-1 253-6 - WICKET! - Patel goes, but only just. An ambitious cover drive is well struck but straight at Dilshan, who knocks the ball up in the air before seizing on the rebound before it hits the turf. There's a look of sheer relief on his face, while Patel trudges off wondering just why he was so aggressive at a decent ball when he should have been playing for Strauss. Sri Lanka firm favourites now, no question. Broad gets off the mark with a single from his first ball, the last of the over.
Over 93: Randiv 0-0-0-1-0-0 250-5 - England's 250 comes up to loud cheers from their supporters - 90 runs now and counting. Still, Jack's not happy in Huntingdon. He's moaning about Trott's "turgid" pace in this innings, while he also thinks Strauss simply isn't good enough to be in this Test team any more. Instead he feels Graeme Swann should be skipper. Yeah, because the man's ego isn't big enough already...
Over 92: Herath 0-0-1-0-0-1 249-5 - Since Ian Bell's dismissal just before lunch England have been allowed to pick up 60 singles, while in contrast they have hit just the five boundaries. Trott has managed 54 ones in his innings of 110 not out, but he'll have to make a fair few more yet if England are to get home here.
Over 91: Randiv 0-1w-0-1-0-1-0 247-5 - Jayawardene has now posted four close fielder for Randiv - there's a leg slip and a short leg, as well as two shortish midwickets. The field is making the bowler have to aim straighter, and in doing so he's offering far less of a threat. He's even called for a wide (with the crowd shouting for it in pantomime fashion) when a delivery pitches outside leg and turns even further away. Change of plan required me thinks.
Over 90: Herath 1-0-1-3-0-0 244-5 - Patel's beaten in the flight but still gets three runs courtesy of a thick edge that seems to gather pace after comfortably going past the slip fielder. "Dare we dream?" Asks David via email. Five wickets in hand and now 96 required? I think it'd be wrong not to believe England can win this game from here. You just know, though, that they won't do it in a straightforward fashion!
Over 89: Randiv 2-0-0-2-0-0 239-5 - Randiv returns to the attack but still Sri Lanka have not closed up some of the gaps on the off side, allowing Trott to firstly push two out towards point before bringing out a reverse sweep that nets another couple of runs, this time behind square. England now need another 101.
Over 88: Herath 0-0-0-0-0-0 235-5 - Patel sees out a maiden from Herath and now the tension has grown, not just out in the middle but also around the ground. That is the first maiden of the afternoon session. That wicket in Herath's last over means he's also taken 10 in the match, meaning he is just the fifth Sri Lankan bowler to achieve the feat. Murali did it just the 22 times.
Over 87: Welegedara 0-1-0-0-1-0 235-5 - Well, that wicket was a real stroke of good fortune for Sri Lanka, while it deflated the England fans so soon after they'd stood to applaud Trott's century. Patel comes out at No.7 with a chance to make himself an instant Test hero. He gets off the mark with a cut to point after driving his first two deliveries straight to the fielder at cover.
Over 86: Herath 0-4-1-0-0-W 233-5 - WICKET! - Trott sweeps...and sweeps hard enough to get four! That's his century! It's the slowest of his seven Test tons but does he care? Not a jot. The Warwickshire batsman had previously made one other three-figure score against Sri Lanka, a double ton in Cardiff. But there's a twist in the over! Prior also sweeps, only to see his shot go straight into the bread basket of short leg Thirimanne, who clings on for dear life to give Sri Lanka a breakthrough they so desperately needed. So who do you fancy now (in the cricket, not in general)?
Over 85: Welegedara 1-1-0-2-4-0 228-4 - Herath is taken off to give Welegedara a go with the new ball. Not sure this Test is going to be won by Sri Lanka's seamer's, though. Prior certainly likes the extra pace on the ball, getting his second boundary in as many overs by flicking away a half volley wide of the man at midwicket. He nearly comes close to giving that fielder a catch off the final ball before the DRINKS break. We're halfway through the afternoon session in Galle and England require a further 112 runs.
Over 84: Lakmal 0-1-4-1-0-1 220-4 - Prior ends the boundary drought in glorious fashion, leaning forward and driving Lakmal away through the covers for four. A good over for England finishes with a bouncer from the seamer that the wicketkeeper-batsman hooks away for a single. Meanwhile, Jonathan Trott is slowly but surely working his way towards another Test century. He needs just four more for his ton.
Over 83: Herath 0-0-2lb-0-0-1 212-4 - Perhaps time for Jayawardene to start thinking about cutting off some of these singles, bring a few of the boundary riders in and make life a little more taxing for the England batsmen. It's also time for him to tell Randiv to get over his problems with using the new ball and bring him back on. England need a further 128 runs to create history in Galle and go 1-0 up in this two-match series.
Over 82: Lakmal 0-0-1-0-0-1 209-4 - OHHH! Prior has a real dart at a wide ball from Lakmal - he simply couldn't resist but, with his eyes lighting up at the sight of a long hop, didn't make contact. He does get bat on ball in the middle of the over, cutting another single to deep point. Trott too has a waft outside his off stick, resulting in him coming down the wicket to have a look at the surface. Nothing wrong with the pitch there JT, that was just poor shot selection. The backfoot drive that finishes the over is a much, much better choice.
Over 81: Herath 1-1-0-1-0-1 207-4 - Herath gets the first over with the new ball, and you can immediately hear the difference it makes when it cracks onto the bat. Still, England continue to work away singles, the last of them in the over coming courtesy of a fielding mistake at backward point (it always spins on the second bounce).
Over 80: Lakmal 1-0-1-0-1-0 203-4 - Jayawardene turns back to Lakmal ahead of the second new ball. The half-century stand comes up between Trott and Prior, with the pair contributing 23 and 25 runs respectively. The landmark gets a loud round of applause from the many, many England fans inside the International Stadium, they've suddenly become a lot more vocal since the runs have started to flow. Another 137 needed by the tourists.
Over 79: Herath 1-0-0-0-1-0 200-4 - England's 200 comes up with a drive from Trott down the ground to long-on. This fifth-wicket partnership is now also worth 48. They require another 140 runs with six wickets in hand, so who are favourites now? Still get the sense Sri Lanka should, SHOULD win this Test, but then they are not used to winning Tests these days without the great Muttiah Muralitharan.
Over 78: Randiv 1-0-1-0-0-0 198-4 - Spencer has emailed in to say he's confident of an England victory. You've ever reason to think that since lunch, though this is England, so there will be plenty of twists and turns to come just yet.
Over 77: Herath 0-1-1-0-1-0 196-4 - More easy runs, courtesy of singles, Trott and Prior have decided they can get there in ones. Sri Lanka seem to be sitting and waiting for the second new ball, allowing both these batsmen to get themselves back 'in' after the break for lunch.
Over 76: Randiv 0-1-1-0-0-0 193-4 - Randiv starts his new spell from around the wicket. Prior, meanwhile, is growing in confidence out in the middle. He gets out the reverse sweep for the second time in the space of three overs, knowing that there is no fielder in close square on the off side to snaffle any miss-hit. This has been a cracking start to the afternoon session for the tourists; they've picked up runs comfortably and had no alarms whatsoever (so expect a wicket to fall in the next over).
Over 75: Herath 1-0-0-0-1-0 191-4 - This ball is so old now that any turn Herath gets is so slow that the batsmen can adjust and play it safely. Sri Lanka need to get through the next few overs in a hurry so they can get their hands on a nice new cherry. As expected, Dilshan is done for now. Randiv returns to the attack at the Fort End, which is so named because there's a fort at that end.
Over 74: Dilshan 1-1-1-1-1-0 189-4 - Dilshan's milked like a Jersey cow, both England batsmen picking up singles comfortably to the men in the deep. Surely Jayawardene won't persist with the all-rounder at the Fort End? If Randiv doesn't like to bowl with a newish ball, then why isn't he in the attack now? Meanwhile, Herath continues...
Over 73: Herath 2-0-0-0-0 184-4 - Herath gives up with the over-the-wicket experiment midway through the over, although Prior's sweep off the first ball showed he was happy to take a risk and play shots out of the rough. England need another 156 - so where's your money? Rob.Lancaster@bskyb.com or @SkySportsLanny. Mark Lumsden fancies an England win with Trott making 150 before refusing to leave the field so he can continue to mark his guard.
Over 72: Dilshan 0-0-0-2-0-0 182-4 - Dilshan carries on after the lunch break - perhaps Sri Lanka are saving Randiv for the second new ball. Trott at one stage contemplates getting the sweep out but changes his mind quite late on, getting the bowling jumping up and down with excitement. He's also got his hands on his heads when Trott instead decides to play the reverse, paddling a delivery away for a couple of runs safe in the knowledge that there is no slip in place.
Over 71: Herath 0-1-0-2-0-0 180-4 - Trott opens England's account in the afternoon with a push to deep point, while Prior picks up two with a delicate sweep against Herath, who has started the session bowling over the wicket. Nick Briggs in Nottingham sent in a passionate email during the lunch break about how England fans are "too quick to put our boys down". If you lap up the praise, Nick, you have to be ready to take some criticism, too. What's been frustrating with England this winter is that they simply haven't batted anywhere near their capabilities.
Lunch So despite Dilshan's best efforts to rattle through that over in a hurry, it is now lunch in Galle. England have added 66 runs to their overnight total but, crucially, have lost big guns Bell and Pietersen in the morning session. The tourists go in at the break on 172-4, needing another 163 for victory.
Over 70: Dilshan 0-0-0-0-4-0 177-4 - Dilshan is charged with the final over of the morning session, and he could have had a wicket. Prior gets an inside edge trying to defend a straight ball but, fortunately for him, Chandimal's reactions aren't sharp enough at leg slip to get close to the opportunity. To rub salt in the wounds for the bowler, the ball runs away to the fine leg fence for four.
Over 69: Herath 0-0-1-0-0-1 173-4 - There's an edge from Trott's bat...but it fall short of Jayawardene at slip! Not a lot the Sri Lanka skipper can do about that, if he gets any closer to the stumps he'll be in namesake Presanna's right pocket. Herath spent that over bowling over the wicket, negating any real chance of getting a lbw decision. That should be a little trial only used for just before the break, not for long periods after it.
Over 68: Randiv 1-0-0-1-1-0 171-4 - Prior opens the face to work a single to point from the fourth ball of the over, using that kind of bottom-handed shovel drive that he loves to get out against the spinners. The run also means England have reached the halfway stage in their chase. Time for possibly two more overs before the lunch interval.
Over 67: Herath 0-0-2-0-1-0 168-4 - Trott keeps eeking runs out, a pair coming from a delicate sweep before he pushes a single into the gap at cover. Television pictures flash up Strauss' figures since the start of 2011 - he averages 27.32 in that time, with three half-centuries in 19 innings. Some papers this morning in England are questioning his place in the team, particularly after his mode of dismissal yesterday. Looked a little scrambled, he was nowhere near the pitch of the ball yet still tried to attack it.
Over 66: Randiv 0-0-0-0-2-0 165-4 - Prior goes down the track - something we haven't seen too much from England's batsmen today, except for when Pietersen got out - and picks up two runs with a thick edge squirted away through backward square leg. England require another 175 runs - they're not even halfway to their target yet! Remember you can offer your thoughts via email to Rob.Lancaster@bskyb.com, or alternatively by tweeting to @SkySportsLanny.
Over 65: Herath 0-0-1-1-0-0 163-4 - Herath shows off his carrom ball, flicking it out the front of his hand. Sadly it's too full to see if it will go the other way, allowing Prior to drive to long-on for an easy single. Trott had got the sweep out two balls earlier, though (and Andy Tute should take note) unlike Bell he does it on line rather than length, meaning there's no danger of going lbw if he misses it.
Over 64: Herath 0-1-0-1-0-0 161-4 - This is a big innings, and a big series, for Prior. Many have talked about him potentially batting six on a permanent basis for England, allowing them to play five bowlers. The difference in that role is he has to be careful not to be too aggressive and get himself out. You can see he's desperate to take the attack to Sri Lanka's spinners, but the match situation and his position in the order mean he simply can't afford to take a gamble.
Over 63: Herath 0-0-0-0-0-0 159-4 - Trott sees out a maiden as lunch fast approaches. In truth, it is asking a lot for England to make 340 to win here - it's asking a lot for any touring side to win a Test in the subcontinent needing so many in the fourth innings - but they were given hope by that partnership between Trott and Pietersen last evening. Still a long, long way to go and they've lost two big wickets so far on the fourth day.
Over 62: Randiv 0-0-0-1-0-0 159-4 - Andy Tute takes to Twitter to tell me "England don't have a cat in hell's chance of winning this game". I do like a bit of optimism so early in the morning. He blames their over-reliance on the sweep, a shot that they can't even play that well. Prior's got it out of his locker early doors, though it's yet to get him any runs. Sri Lanka think they may have Trott courtesy of a bat-pad catch in the Randiv over, but umpire Rauf is unmoved. His bigger concern is that close fielder Chandimal has run all over the wicket during his appeal.
Over 61: Herath 2-2-0-0-0-0 158-4 - At least with Prior in the scoreboard should start ticking over a little quicker. He gets two through point with a thick-edged drive, then another couple of runs come courtesy of a flick through midwicket. Herath now has nine wickets in this match - tough to see how he doesn't get a 10-for. At last, Mahela Jayawardene is going to have spin from both ends, Welegedera taking a breather to allow Randiv to return to the attack.
Over 60: Welegedara 1-0-0-1-0-0 154-4 - Watching replays of that Bell dismissal and perhaps, on closer inspection, he didn't refer it because of an inside edge, instead believing that he was simply too far down the pitch to be given out leg before. It was just the speed of him making the 'T' signal that suggested he knew for certain it would be reversed. He swished his bat at the ground when he saw Tucker raise his finger for a second time. Meanwhile, new man Prior gets off the mark with a confident cut out to deep point for a single.
Over 59: Herath W-0-0-0-0-0 152-4 - WICKET! - Bell goes, not even a review saving him from an lbw decision against Herath. He's gone down to attempt a sweep and although hit a long way forward, it looked straight enough thanks to a hint of turn. Umpire Tucker agrees with Sri Lanka's appeal but Bell then immediately makes the 'T' signal, suggesting he thinks he's got some bat on it. Replays, however, prove inconclusive, and Hawk Eye shows that the ball was going on to clip off stump (it's an umpire's call, so the original decision stands). Bell is clearly not happy, shaking his head as he makes his way off the field. He should be too, because that was terrible shot selection.
Over 58: Welegedara 1-0-0-4-0-0 152-3 - After trying to beat the short cover fielder when driving the previous two deliveries, Trott makes it third time lucky when he pushes Welegedara with ease for a boundary that takes England's total past 150. The last 50 runs have been the slowest of the innings so far, taking 144 deliveries. They now require another 188 runs to take this series opener.
Over 57: Herath 0-0-0-0-0 147-3 - DROPPED! Trott can't resist in attempting to work a straight delivery to leg, resulting in a leading edge that Herath can only parry wide of the post. The bowler did superbly well to lay a finger on it but now looks distraught that he couldn't hang on. Trott did the same yesterday and got away with it, on that occasion the front edge looping high over the vertically-challenged Herath's head (meaning it went about 6ft off the ground).
Over 56: Welegedara 2-0-0-0-0-0 147-3 - Bell plays a rare poor stroke, trying to drive through the covers but instead getting a thick edge through mid-wicket. In the end, however, the fact it didn't go quite where he intended means he can pick up a couple of runs into the vast open spaces on the leg side.
Over 55: Herath 0-0-0-0-0-0 145-3 - Maiden from Herath, and a good one at that. Nearly every delivery forces Trott to defend, the only exception being a ball that is a little too full which allows the Warwickshire batsman to attempt whip it through midwicket. He has to be careful with that shot, however, as if he's not perfectly to the pitch there's a danger of making a mess of it. Just ask KP, as that's exactly how he got out this morning. Right, it's time for DRINKS after an absorbing first hour in Galle. Where's my King coconut and a straw?
Over 54: Welegedara 0-0-0-1-0-0 145-3 - Welegedara changes the angle, coming around the wicket to Trott who then immediately flirts away outside off stump. He goes back to leaving the ball after that, though one delivery is perhaps a little too close for comfort to his furniture. A more positive drive gets him a single, meaning England now require another 195 runs for victory in this match.
Over 53: Herath 0-0-0-1-0-1 144-3 - Now Herath poses a different type of threat to England's batsmen. While Randiv is much taller and gets more over spin, making him harder to sweep, little Herath will attempt to bowl nice and straight, getting most of his deliveries to drift in. Not only does it bring in lbw if the ball doesn't turn, when it does there's a chance of taking the edge through to the wicketkeeper or slip.
Over 52: Welegedara 0-0-1-0-0-0 142-3 - Welegedara is too wide to both batsmen, allowing them to leave the majority of deliveries. Bell does decide to reach for one of them, a cut shot giving him a single out to the man at deep point. Jayawardene is going to change his spinner now, Rangana Herath taking over from Randiv at the City End.
Over 51: Randiv 0-0-1-1-4-0 141-3 - Randiv seems to decide to change his line to the two right-handers, bowling wider of the off stump and with much more flight. Perhaps he should have informed his captain of the cunning plan, however, as there are huge gaps in front of square to pick up easy runs. Trott, who had a failed attempt at a reverse sweep from the first ball of the over when he could have just cut a short delivery instead, cashes in with a lovely cover drive that not only gives him a boundary but also takes England's target down to under 200 runs.
Over 50: Welegedara 0-0-1-2-0-0 135-3 - Trott drives nicely through the covers, but Sri Lanka have posted a sweeper out in the deep so it only nets the England batsman a lazy single. That fielder is in action again straight away when Bell plays a similar shot, though he's hit it a little straighter to allow him to get back for a comfortable second. Jayawardene's response? Post not one but two men catching on the drive. You reckon Strauss would do that? No, neither do I. Thinking outside the box isn't his strong point. Neither, it seems at the moment, is scoring runs.
Over 49: Randiv 0-1-0-2-1-0 132-3 - Trott gets what looks like a bonus couple of runs when umpire Tucker decides a deflection down past leg spin contains a bit of bat, when it seemed to the naked eye to just come straight off the pad. Jayawardene has decided to make a bowling change at the other end - Lakmal's super-tight spell is over, as Welegedara takes over from his fellow seamer. England require another 208 runs.
Over 48: Lakmal 0-0-0-0-0-0 128-3 - Lakmal has a go around the wicket to Trott, who responds by leaving the first five balls alone outside off stump before driving the last straight to mid-on - we've had three maidens in a row now, while the only 'run' conceded off Lakmal this morning has been the over throw that went down as a leg bye.
Over 47: Randiv 0-0-0-0-0-0 128-3 - A second successive maiden, Bell patting back four balls from Randiv, leaving one that turns far too much down leg and then also having a risky attempt at a sweep shot that sees him almost kill the ball into the pitch. Sri Lanka have now posted a man out at long-on to stop him hitting over the top, giving them a real in-out field that includes a short leg and a leg slip.
Over 46: Lakmal 0-0-0-0-0-0 128-3 - Maiden from Lakmal - Trott looks like he's trying to be a little forceful in defence, slamming a couple of balls hard into the floor as he tried to push through the line. Such a shame Pietersen fell early, and he had to drag himself off the field. And poor Matt Ward, logging on as he gets the train to work, had only just sent in an email proclaiming how KP would hit a big hundred to help England to victory!
Over 45: Randiv 0-0-4-1-0-4 128-3 - Trott gets through to his half-century in cheeky fashion, bringing out the reverse sweep to send the ball through an area where a slip should probably be. A single gets him down the other end where he watches on as Bell uses some nifty footwork to get down the wicket to Randiv and lift him high over mid-on for a boundary that gets him off the mark. England have to remain positive in this chase, even though KP has fallen early.
Over 44: Lakmal 0-0-0-1-0-0 119-3 - Everyone seems to be getting a little too excited out in the middle. Lakmal appeals loudly (and seemingly forever) for an lbw shout against Trott when it wouldn't have hit another set. Prasanna Jayawardene joins in from behind the stumps while also having a cheeky throw at the non striker's end, a throw that no one else has spotted him attempting. The over-throw is cheered by the large England contingent inside the ground, though Bell and Trott very nearly have a mix-up when deciding whether to risk a second or not. Ultimate chaos right now.
Over 43: Randiv 0-0-1-0-W-0 118-3 - WICKET! - There's no escape this time for Pietersen as he comes down the wicket to Randiv but doesn't quite get to the pitch of the ball, meaning his flick through mid-wicket is poorly timed. It's also straight at Sri Lanka skipper Mahela Jayawardene, who makes no mistake with the straightforward chance. Massive blow for England, and one that perhaps came about because Trott had survived two loud bat-pad appeals at the start of Randiv's second over. His response was to get the sweep out, with a top edge luckily landing safely.
Over 42: Lakmal 0-0-0-0-0-0 117-2 - It's a maiden from Lakmal, but it so nearly contained a wicket. KP pushes hard at the final ball of the over and must've been worried for a moment when he realised it was going in the air back towards the bowler. Lakmal, however, can't quite twist his body enough to the left to get a hand on it, meaning the ball lands safely before reaching the man at mid-off.
Over 41: Randiv 0-0-0-4-1-1 117-2 - Suraj Randiv starts proceedings and after three dot balls, gives Trott a delivery full enough for the England batsman to drive handsomely through the huge gap at cover for a welcome boundary. He flicks the next ball out past the short leg for a single, putting Pietersen on strike. KP has a man out at long-on already for some reason, allowing him to shovel a full ball to that fielder for a single. It won't be Herath at the other end, though, as Sri Lanka are going to give Suranga Lakmal an early chance at the Fort End.
Feedback Right, if you want to get in touch then send an email to Rob.Lancaster@bskyb.com. Alternatively, use 140 characters to get your point across by tweeting to @SkySportsLanny. All comments will be gratefully received and predictions are most welcome.
Pitch report Nick Knight says that "essentially" it's still a really good surface to bat on...unless you're a left-hander with a whole lot of rough outside your off stump. England, however, don't have another leftie until Stuart Broad comes in at number eight. If England knock these runs off it will be their highest chase ever - the previous best at the venue is a paltry 96.
No ball You do wonder if 340 might be a target just a little too steep for England, and of course it would have been nearly 50 less had Stuart Broad not over-stepped before taking Jayawardene caught and bowled yesterday. The foot fault could prove costly.
Equation England will resume their second innings shortly on 111-2 needing a further 229 runs for victory. Jonathan Trott and Kevin Pietersen did well on the third evening to raise hopes, but there is still a lot (and I mean A LOT) of work to be done.
Good morning and welcome to over-by-over coverage of what seems certain to be the final day of the series opener between Sri Lanka and England in Galle.
Sky Bet Odds:
Click Here for Your Free Bet