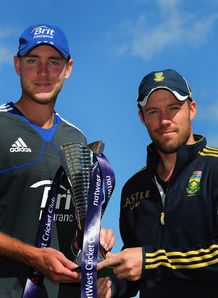 Match Abandoned A victory for the weather, so South Africa take a 1-0 lead to Wednesday's final game at Edgbaston. With that ground's record this season, there should be no problems getting a game in there.
Rain Stopped Play Looked like the rain would spare South Africa. Now it's spared England as it starts absolutely hammering down as Morgan walks out to the middle. We only need to get five balls in, but there's no chance in these conditons.
WICKET! Wright c M Morkel b JA Morkel 13 This could be the match. Wright hoiks a short ball to deep square-leg for a Morkel-Morkel dismissal. England's D/L target just climbed further, and they now have only five deliveries to get the runs they need.
Over 4 - England 29/1 (Hales 11, Wright 13) England's first respite from Steyn-Morkel as Johan Botha comes into the attack. England simply have to get after him, and Wright swats to leg for a two, a four and a single. Ten from the over; Englad will need more than that from the next one if it's the last of the match...
Over 3 - England 19/1 (Hales 9, Wright 6) Raining again. De Villiers quite rightly bowling out his best two bowlers in these first five overs. Just seven runs from the over, and a whack on the back for Hales as he takes a quick single and Morkel tries to throw down the stumps.
Over 2 - England 12/1 (Hales 9, Wright 1) South Africa got a huge chunk of their runs in the powerplay, but Engand need an outrageously streaky edged six over third-man from Hales just to reach a run a ball. England need to go some to get up to the 40-odd they need after five overs.
WICKET! Kieswetter c Peterson b Steyn 1 A horrible six-ball innings from Kieswetter ends thanks to a quite breathtaking diving catch from Robin Peterson runnin back from mid-on. Sensational. So much pace and carry in this pitch, by the way. The Ashes Test next year could be fantastic.
Over 1 - England 2/0 (Kieswetter 1, Hales 1) Given that this is essntially baseball, should it be three strikes and out? Kieswetter has an almighty mow at the first four balls of the innings from Morne Morkel without making contact before finally picking up a single to ironic cheers from the crowd. Hales off the mark first ball, but a terrible over for England a the start of the powerplay.
State of play It's raining quite hard as England start their innings. We need five overs for a game. If the players go off for rain at all, that's game over.
The Hover Cover... ...is hovering. Rain has stopped again. Englad are going to need their D/L sheets out in the middle to make sure they are ahead from five overs onwards.
South Africa 77/5 The Proteas probably 15 runs below par there, with only Amla's continuation of a ludicrous summer holding things together. England will be desperate to get back out there. They should chase this down on a good pitch and fast outfield.
Over 9 - South Africa 77/5 (Amla 47, Kallis 13) Kallis is deceived by Dernbach's slowrer-ball bouncer, but cracks the next ball to the extra-cover boundary. He moves to 13 from seven with a firm drive to mid-off, and you have to think South Africa made an error dropping him so far down the order. Steady rain falling as Amla clubs down the ground for two runs and scrables a single from the final ball of the innings and - I'll wager - the match.
Over 8 - South Africa 68/5 (Amla 42, Kallis 8) Amla has now scored his highest score in all three international formats on this tour. He picks up two more offside boundaries before hiting a no-ball down the ground for a single. Kallis clubs the free hit down the ground for two and then edges an attempted hack to the boundary behind the keeper. South Africa needed a big over. They've had one. Kallis gets two more with another thick edge that flies to third-man and short of Dernbach.
Over 7 - South Africa 50/5 (Amla 34, Kallis 0) Finally we do see Kallis. Just 18 runs in four overs since the powerplay. Excellent from England.
WICKET! Ontong c Kieswetter b Dernbach 1 Ontong tries to paddle a Dernbach slower ball over short fine-leg. Not enough pace on the ball for that shot, and either Kieswetter or Alex Hales could take the catch. Kieswetter grabs it.
Over 6 - South Africa 47/4 (Amla 32, Ontong 0) Ontong promoted above Kallis. Great man doesn't look happy up on the balcony. Meanwhile, I can only think the England players really enjoy watching Amla's elegant batsmanship. Only explanation for the amount of chances they've given him in this series.
WICKET! Duminy c & b Swann 5 Crazy scenes. Amla skies to cover, and Morgan drops the easiest of chances. The very next ball, Duminy skies the ball back past the bowler Swann, who runs back, settles himself, realises he's in the wrong place entirely yet somehow still manages to throw his hand backwards and take a ridiculous caught and bowled.
Over 5 - South Africa 41/3 (Amla 28, Duminy 3) Kallis sliding further down the order as JP Duminy joins Amla in the middle. He flips to long-leg for two runs and then keeps the strike with a single to midwicket, but that's an excellent over from Wright. A wicket and, more importantly in this Nine9 format, just four runs from it. Nine runs in the last two overs - that's a big chunk of the innings to not really score from.
WICKET! JA Morkel c Bairstow b Wright 3 Luke Wright into the attack to remove Albie Morkel, who slices an attempted shot down the ground into the hands of Bairstow at cover.
Over 4 - South Africa 37/2 (Amla 27, JA Morkel 3) Albie Morkel is in at numbe four for South Africa, and he's off the mark with a single down the ground off Swann's first delivery. Just four more singles from the over, though. That's excellent stuff from Swann, who's just bowling flat darts here. My Threepointfour0 prediction already proven to be pessimistic. How much more play will we get before the game gets washed out? Can't wait to find out.
Over 3 - South Africa 32/2 (Amla 25, JA Morkel 0) Amla picks up another boundary, scything the ball over cover and beating the sliding Jos Buttler, before Finn's second stump-clattering results in a dead ball. Amla continues to show that class is class regardless of format by getting across his stumps to fick the ball off his hip and down to the fine-leg boundary for four more. A swing and a miss at the next ball from Amla, but Finn gives him another chance to go over the offside, and he accepts the gift with another boundary carved over point. Powerplay over. Finn now bowled out.
WICKET! De Villiers c Dernbach b Finn 1 De Villiers tries and fails to clear Jade Dernbach at mid-on, the Surrey paceman back-pedalling and clinging on at the second attempt. Finn clattered the stumps at the non-striker's end, but no dead ball given this time and AB has to go.
Over 2 - South Africa 20/1 (Amla 13, De Villiers 1) Stuart Broad shares the new ball, and Amla flays him over point for four and over extra-cover for three more. Call me a controversial old thing, but I reckon he's better than Faf du Plessis. De Villiers runs across his stumps and tries to sweep Broad, somehow managing to send the ball flying down to third-man for a single. Amla adds two more with a big top edge over Keiswetter's head that is well saved by Jonny Bairstow at fine third-man.
Over 1 - South Africa 10/1 (Amla 4, De Villiers 1) De Villiers promotes himself above Jacques Kallis in this shortened game and hits through the legside for a single first ball. A wide long-hop is eased through point for four by Amla, and South Africa get four more as Finn over-corrects next ball and the ball finds its way to the fine-leg boundary via the pad. Anther leg-bye takes South Africa into double figures from an eventful first over.
WICKET! Levi c Kieswetter b Finn 0 Success first ball as Richard Levi fends at a legside short ball from Steven Finn and gloves it through to Kieswetter.
Ready to go Players and umpires out in the middle. Three-over powerplay...
Prediction So it wasn't Twenty20. Or Eighteen18. It probably won't be Nine9. What will this match be? I predict Threepointfour0.
Nine9 I'm enormously looking forward to this hugely innovative new Nine9 form of the game tonight. What a shame that it won't actually happen.
Silly It's not raining right now, but there is more on the way. So we've got another 15 minutes of sitting around waiting before play starts. Players warming up on the outfield...
Start time Play will start at 8.45pm (usual caveats apply). Nine overs a side.
Race against time Can we get an irrelevant amount of cricket in before the next band of rain hits? So exciting.
The dance continues Rain stops. Covers coming off...
Heavy Raining heavily at the moment. Cut-off point for a game of Five5 cricket is 9.10pm. There are some gaps in the rain on the radar; whether any of them are large enough for us to get any play in I'm not so sure.
Covers Announce start time, rain starts again, covers come on. Rinse and repeat.
Try again Now planning a 7.26pm start and an 18-over-a-side game.
Covers Should've tried for a 7.10pm start time. Raining again now, covers back on. This band of rain looks a bigger one on the radar.
Start time Play will begin at 7.15pm. Still 20 overs a side at this stage. Lookng at the radar, this extra 10-minute delay should be just enough to allow the next band of rain to arrive just as play is about to begin.
The Covers... ...are coming off at Old Trafford. Wouldn't recommend moving them too far. RainToday.co.uk paints a gloomy picture.
Frustrating Still, at least we got to see the ball being parachuted into the ground. That was the real quiz.
Rain Stopped Play The rain isn't particularly heavy. Finn and Eoin Morgan are still on the outfield chatting to the umpires rather than scurrying for the changing rooms. Forecast isn't too flash, though.
Rain Stopped Play It rained seconds before the toss, and it's started raining again seconds before the stat of play. Richard Levi and Hashim Amla walk out to the middle along with the England team, and everyone promptly turns round and walks off again before Steven Finn can bowl a single delivery. Covers coming back on.
Delivery The match ball has been delivered to the ground by a load of RAF parachute chaps. It's the easiest way, apparently.
England C Kieswetter (wk), AD Hales, LJ Wright, EJG Morgan, JC Buttler, JM Bairstow, SR Patel, GP Swann, SCJ Broad (capt), ST Finn, JW Dernbach.
South Africa RE Levi, JH Kallis, HM Amla, AB de Villiers (capt, wk), JP Duminy, JL Ontong, JA Morkel, J Botha, RJ Peterson, DW Steyn, M Morkel.
Start time Still under way at 6.30pm if it doesn't rain again...
Teams England bring Luke Wright in for Bopara. Wright slots straight in at three. AB de Villiers has got confused about his team. Morne Morkel is in for Lonwabo Tsotsobe, and we think Hashim Amla comes if for Faf du Plessis - or the Out Of Form Fa du Plessis to give him his full etc. AB appears to have forgotten that Justin Ontong played in the first game. Understandable, to be fair.
The Toss Stuart Broad wins the toss and chooses to bowl. Obvious decision: D/L massively favours side batting second in T20 cricket, and neither of these sides has been able to set a proper total since the first ODI.
Movement Picture changing by the minute here. The rain has stopped, there's plenty of blue sky around, and the covers are starting to come off again. Rumour doing the rounds is that Ravi Bopara - or Out Of Form Ravi Bopara to give him his full name - is not in the England XI.
Told you Mere moments before the toss was due to take place at Old Trafford, the groundstaff have scampered out with covers to protect the pitch and square. The current rain is only light - players still warming up and milling around on the outfield - but the radar shows a big mess of rain coming soon and the groundsman wants the pitch covered before it arrives. More as we get it.
Welcome It's game two of the Twenty20 series between the Writers' Guild and South Africa from Old Trafford, where it may or may not start raining shortly (resist the easy jokes, you're better than that). England are looking to hit back after a thumping in game one.
Sky Bet Odds:
Click Here for Your Free Bet