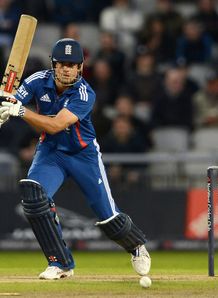 Match abandoned Well, that's the end of that. They've called it off as a lost cause. We'll be back on Tuesday for the second ODI in Southampton.
Match abandoned And that's the end of that. The game has been called off, about two hours later than it should have been. We'll be back on Monday for the next one
Over 5.3 - Eng 37/0 (Cook 10, Bell 26) Cook's happy to take the singles and leave the shots to Belly, changing strike off the first ball. Bell flicks one off his hips to fine leg for four, walking across his stumps, the ball not as fast onto the bat as before. And they're off, the rain is back. Bell looks annoyed. We have 20 minutes or so until the game has to be abandoned.
Over 5 - Eng 32/0 (Cook 9, Bell 22) BANG! Six for Bell first ball, hoicking it over long on, before adding another three via an inside-out drive through cover off Morkel. Duminy does well to chase it down and save one. Cooks adds one, and then Bell drives Morkel T20-style straight back over long off for six. Very good from England.
Over 4 - Eng 16/0 (Cook 8, Bell 7) Cook gets the first boundary of the innings, driving it past the covers to the ropes. He then swings at a wider one and gets a looping top edge, but it falls safely. It doesn't reach the boundary though as the outfield is soggy, and they run three. Bell punishes a half-volley by driving it back over Lopsy's head for four. They only get two off the next one as Dean Elgar, on debut, makes a diving stop at mid-on.
Over 3 - Eng 4/0 (Cook 1, Bell 2) Morkel's getting it up there in terms of speed, just under 90mph, and he's bowling a tight line. Bell gets a scampered single, knocking it to mid-on, before Cook almost gets run out. Parnell makes a hash of the under arm flick though and he's safe.
Over 2 - Eng 2/0 (Cook 0, Bell 1) Lonwabo Tsotsobe takes the new ball from the other end, and starts with a dot ball, Bell also blocking into the covers. Bell then swings at a wider one, which moves nicely in the air. He gets off the mark with an angled shot down to third man. Cook plays and misses off the final ball, so just one off it.
Over 1 - Eng 1/0 (Cook 0, Bell 0) Morkel continues, and Cook can't get him away, either playing and missing or pushing it to the covers. It would have been a maiden but for the earlier wide.
It's been reduced again, now to 23 overs per side.
At least the ground staff are getting some exercise. The hovercraft is being dragged off now.
Over 0.1 - Eng 1/0 (Cook 0, Bell 0) Morne Morkel starts with a wide down the leg side first ball to Cook. This isn't a Test, Morne! Aaaand then they leave the field. The crowd is not impressed, and neither am I. Just call it off. It's all about money, they don't want to pay the fans back for their tickets!
The players are on the field, but so is the hovercraft pitch cover thing. It's very grey though, and the lights on fully on. I predict a few misfields and the ball not reaching the ropes if hit along the ground.
It's 10 minutes to go and they haven't called it off yet... touch wood. To recap: SA will bowl first after winning the toss and have handed a debut to Dean Elgar, while Dale Steyn is rested. England have chosen Ravi Bopara ahead of Jonny Bairstow. We'll have 24 overs of T20-like action.
One more time, just for fun. Play's scheduled to begin at 4pm SA time, and will be for 24 overs a side.
Feedback Mark Lumsden has the solution: "Why not play the game at millennium stadium and if it rains then close the roof!!!! I remember Shahid Afridi hitting the roof once in a 20/20 there I think and getting 5 for it. "
Feedback Craig Davies, hilariously from a company called Umbrella, emails: "Complete farce playing in Cardiff again....always rains - fact!!. The welsh are not interested in English cricket (no matter what the official title is)...just wrecks it for English fans trying to watch a game nearer home!!"
Right, and we're under way at last! Kidding. It's raining and the covers are back on for what is the heaviest downpour of the day.
Ok. Rain has stopped again, and play is set to start at 2:45 SA time (1:45 UK). It will be 32 overs per side. Maybe. We hope.
Guess what... That's right! The rain is back! Just call it off and be done with it.
They've raised our hopes again by saying play will start at 2:15 SA time (1:15 UK time). We'll see about that.
It's raining again, covers are back on and brollies are out again.
We will have 38 overs per side, everyone!
Well, it seems play will start at 12:45 UK time, assuming the rain stays away. No idea how many overs we've lost yet, will keep you informed.
Oh jokes. It's raining again. We'll continue this dance until 3:30pm UK time, which is the cut off for a 20-over game to be played. In the meantime, get back to work!
The umpires are out on the field again, as the rain has ceased. Fingers crossed!
There was a field inspection a few minutes ago when the rain eased, but it came back again so the umpires took their brollies inside. Meanwhile, the Kiwis are four down against India for 55.
Feedback Ken Clifford reckons Straussy should hand over the armband, emailing: "Personally I think Strauss should be replaced as captain due to his lack of form over the last twelve months and also because of the whole Pietersen affair. I know that it wasn't strictly his fault but it would draw a line under it and England can start afresh."
Meanwhile, In Hyderabad, India are rollicking along and gave taken three New Zealand wickets for 35 runs. Only 403 more runs to go then...
No further news to report as to the weather. As you were.
The start has been delayed, because just as play was about to begin, the rain arrived. Let's pop off to the pub for some Welsh beer named after a cerebral organ, shall we?
Another question: What do you make of Ravi Bopara cracking the nod ahead of Test sensation Jonny Bairstow, given that Ravi hasn't played in a while, and when he did play he looked out of sorts? Or is it better to stick with the tried and tested?
Weather Bad news... The weather is not playing along, people. The covers are on, and most pundits at the ground are predicting a wash-out. But stay tuned, maybe the band of storms will magically bypass Cardiff. Because, in my experience, Cardiff is lovely and sunny most of the time... oh wait...
Alternatively, do you think Cook is ready to take over from Strauss as Test skipper? Should Straussy step down, or is he the man to take England to and beyond the Ashes?
So, what do you reckon? Will South Africa continue on from the Tests and claim the number one ODI ranking too? If they win this series 3-2 or better, they will be the best side, rankings-wise, in all three formats. Or, will England find their mojo under Alastair Cook and do what they did to the Aussies? Tell us what you think here: cricket@365.co.za
Teams! England: Cook (c), Bell, Trott, Bopara, Morgan, Kieswetter (wk), Bresnan, Woakes, Swann, Anderson, Finn.
South Africa: Smith, Amla, Elgar, De Villiers (c & wk), Duminy, Du Plessis, McLaren, Parnell, Petersen, Morkel, Tsotsobe.
Toss This just in: Visiting captain AB de Villiers triumphs at the flip of the coin and South Africa will bowl first.
Meanwhile Let's have your initial opinion as the makeup of the XIs. Can England squeeze Ravi Bopara, Eoin Morgan and Jonny Bairstow into the same team? Is there merit in South Africa opting for Ryan McLaren ahead of Albie Morkel, or perhaps Justin Ontong sports an outside chance? Mail us at: cricket@365.co.za
Greetings Hello and welcome to our over-by-over commentary of the first match of the ODI series between England and South Africa at Sophia Gardens (or Swalec Stadium, for the corporate stiffs) in Cardiff, Wales. We've got another battle for number one on our hands - this time in the one-dayer rankings - and this should be a cracker.
Sky Bet Odds:
Click Here for Your Free Bet