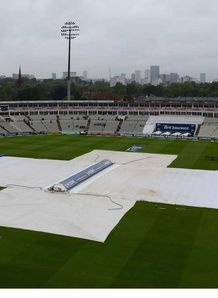 15:12 Everyone can go home now - the third Test between England and the West Indies has been abandoned as a draw. We bid you farewell for now and will return on Saturday for the opening one-day international in Southampton
15:03 And yes, it's still raining...if anything getting heavier
15:00 Hard to imagine this chat between the umpires and groundstaff is about anything else than what to have for dinner tonight. Surely there is zero chance of play, and would there be a point to it anyway??
14:15 There are still a few hardy souls sat in the Edgbaston stands where it is still raining. No sign of the inevitable abandonment quite yet though
13:40 These highlights will also remind you what the sun looks like!
13:38 More highlights on Sky Sports 1 HD - this time it is the Tino Best show from Sunday. Chance to watch one of the most fun innings you will ever see
13:30 Looks like the inevitable is on the way with rumours the presentation area is being set up. And yes, it is still persisting down
12:55 As if you didn't know already, lunch has been taken. Looking more and more likely that the West Indies will next be in action against Middlesex on Wednesday. The one-day series starts at the Ageas Bowl in Southampton when Chris Gayle will be back in contention.
12:19 Oh yes, and still absolutely no sign of play. Wouldn't be surprised if we get an early 'go home' call
12:15 Lara was such a classy player - brilliant stuff to watch. Moving on to something more recent now; England v Pakistan in the 4th ODI from Dubai earlier this year
11:45 If you fancy some highlights from 2004 - Harmison, Lara and company - they are on Sky Sports 1 HD right now...we'll keep you updated on the weather here
11:20 Wish we could give you a positive update, but all we've got at the moment is some punditry of the highest order from Bumble, Nasser and co. Lots of interesting stuff about KP
10:45 Barely a hardy soul in the stands, and who would blame them. Most of England has some kind of flood warning covering it.
Fancy a bet? Our colleagues at Sky Bet have a few options to mull over while the rain falls - Bell is 9/4 to be the next man out and over 2.5 runs in the next over bowled comes in at 5/4. www.skybet.com/cricket for many more
Starting Postion Should we ever get any play, England will start on 221-5 with Ian Bell 76 not out and night-watchman Steve Finn yet to score. That's 205 adrift of the Best-inspired West Indies total of 426
10:30 Now to that forecast - rain, then some more rain and perhaps a little bit of sun, and then some rain. Who would seriously think it was Flaming June? Not quite!
10:20 Welcome to coverage from the final day of the Tino Best Show, otherwise known as the third Investec Test at Edgbaston. We'll be back with you shortly with a (not very positive) weather forecast
Sky Bet Odds:
Click Here for Your Free Bet