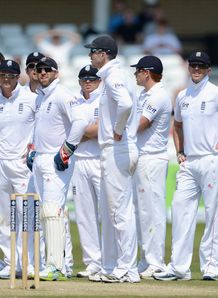 Eng 111-1 (Cook 43, Trott 13*) 30 overs, target 108: ENGLAND WIN! And it's a bit of an anti-climax as a quicker ball from Samuels glances off Trott's pad and runs away for four leg byes. England win by nine wickets and take an unassailable 2-0 lead in the three-Test series. That's it from Trent Bridge, join us for live updates from the third Test at Edgbaston, starting on 7 June.
Eng 107-1 (Cook 43, Trott 13*) 30 overs, target 108: Cook refuses to be hurried and works Shillingford to mid-wicket for yet another single, and Trott's elegant clip through mid-wicket earns three and brings the scores level.
Eng 103-1 (Cook 42*, Trott 10) 29 overs, target 108: Classy stroke from the classy Trott, who rocks back and drives Samuels through the covers for an effortless boundary. Just five to win now.
Eng 99-1 (Cook 42, Trott 6*) 28 overs, target 108: Cook chips uppishly towards mid-on, who is too deep to have any chance. Otherwise, four comfortable singles bring the target down to single figures.
Eng 95-1 (Cook 40*, Trott 4) 27 overs, target 108: Cook looks content to chip away in singles, and a chop into a gap in the covers moves him into the 40s. Samuels beats Trott's errant waft, and a quicker ball fails to sneak through.
Eng 94-1 (Cook 39*, Trott 4) 26 overs, target 108: Tidy over from Shillingford, yielding only a Cook jab to mid-on for a single. Trott gets away with a bat-pad looper, but it's nowhere near short-leg.
Eng 93-1 (Cook 38*, Trott 4) 25 overs, target 108: WICKET! A tame end for Strauss, who doesn't get to the pitch of a flighted ball from Samuels and drives straight to Bravo at extra cover. Strauss gone for 45, 72 balls, seven fours. Trott takes only three balls to get off the mark, cutting a buffet long-hop to the fence at point.
Eng 89-0 (Strauss 45*, Cook 38) 24 overs, target 108: Inspired by the part-timer Samuels, Shillingford extracts some turn and bounce that beats Cook and Ramdin and trundles to the rope for four byes. But that's as good as it gets for the spinner as Strauss slogs him over mid-wicket for another boundary.
Eng 79-0 (Strauss 40, Cook 37*) 23 overs, target 108: Samuels gets another chance to display his off-spin prowess, and he beats Cook with one that spits out of a foothold. But Cook had already cut for two and a firm drive to the cover sweeper brings a single.
Eng 76-0 (Strauss 40, Cook 34*) 22 overs, target 108: Strauss and Cook look as relaxed as they ever have as the final session resumes. Shillingford knocks another one of the target with a no-ball, and Cook steals a sneaky single to mid-on.
Eng 74-0 (Strauss 40, Cook 33*) 21 overs, target 108: TEA! Sammy keeps himself on, and Strauss and Cook nudge and nurdle three singles and a two to fine leg. Off they go, and England will resume needing just 34 to wrap up the series.
Eng 69-0 (Strauss 39, Cook 29*) 20 overs, target 108: Shillingford to Strauss, three firm drives and three solid blocks. That's a maiden and it's time for t ...... no it isn't, it's only 3:39.
Eng 69-0 (Strauss 39*, Cook 29) 19 overs, target 108: Lucky escape for Strauss as he edges a wild cut off Sammy. Ramdin and first slip watch the ball fly in between them, and Sammy offers them his unprintable opinion. His mood doesn't improve when Cook whips him through mid-wicket for two more.
Eng 62-0 (Strauss 34*, Cook 27) 18 overs, target 108: Shillingford drags another one short, Cook cuts behind square and a sliding Rampaul can't prevent the boundary. England, cruising = understatement.
Eng 56-0 (Strauss 33, Cook 22*) 17 overs, target 108: Strauss opens the face again and picks up three with a classy guide past gully. Cook glances a straight ball from Sammy to the fine-leg boundary, and the Windies shoulders sag a little bit further.
Eng 48-0 (Strauss 30*, Cook 17) 16 overs, target 108: The Samuels experiment lasts only one over, now it's Shillingford's turn. But he starts with a woeful half-tracker that Cook cuts away for four, and Strauss sweeps a single last ball. Too easy.
Eng 42-0 (Strauss 29, Cook 13*) 15 overs, target 108: Short, wide filth from Sammy, Cook cuts hard and looks to have his first boundary until sub fielder Fudadin intervenes with a superb diving stop. Strauss runs hard to pick up two from a clip to leg, and that's an effortless five from the over.
Eng 37-0 (Strauss 27, Cook 10*) 14 overs, target 108: Time for spin, but it's part-timer Samuels who gets the nod and not specialist offy Shillingford. Two rank long-hops slapped to deep cover-point for singles.
Eng 35-0 (Strauss 26*, Cook 9) 13 overs, target 108: Four dot balls and two singles to the sweeper at deep point. Just another average Sammy over really. Perhaps the Windies skipper wants to get the game over with before tea.
Eng 33-0 (Strauss 25, Cook 8*) 12 overs, target 108: The Windies best chance of a wicket could be a run-out, and a direct hit from Powell at cover would have accounted for Cook. Strauss, unruffled, glides the next ball from Rampaul beyond gully for another boundary.
Eng 28-0 (Strauss 21, Cook 7*) 11 overs, target 108: From the raw pace of Roach to the nagging trundlers of Sammy. Cook snatches a single via a misfield at point, and a delicate open-faced dab from Strauss races through the empty slip cordon for four. Empty slip cordon? Defending 108? Hmmm!
Eng 23-0 (Strauss 17, Cook 6*) 10 overs, target 108: Strauss and Cook exchanges singles to the point area before Rampaul beats Cook's defensive stab and there's a half-shout for caught behind. But there's nothing doing, and Cook strokes the last ball to the cover sweeper and pinches the strike again.
Eng 20-0 (Strauss 16, Cook 4*) 9 overs, target 108: Roach is still steaming in and finding excellent pace, but Cook looks far more in control of his footwork now. A back-foot block into the covers earns a single and nicks the strike.
Eng 19-0 (Strauss 16, Cook 3*) 8 overs, target 108: Nice drive from Strauss off Rampaul, but he's restricted to two as the cover sweeper swoops. Strauss waves to the balcony, it appears he needs some running repairs to a hand problem.
Eng 17-0 (Strauss 14*, Cook 3) 7 overs, target 108: Cook gets in a bit of Barney with a sharp lifter that he fends off behind square-leg with the bottom hand off the bat. Strauss scampers a single and just beats the throw from cover, which missed anyway.
Eng 14-0 (Strauss 12, Cook 2*) 6 overs, target 108: Rampaul seems determiend to tempt Cook with some wide fodder, and Cook obliges but swings and misses twice. Another maiden for RR.
Eng 14-0 (Strauss 12, Cook 2*) 5 overs, target 108: Roach cuts Strauss in half with a shortish inswinger, and the ball pings off the left-hander's hip and goes for four through the slips. Umpire Rauf signals four runs, and Strauss and Cook become the fifth pair to put on 5,000 Test runs together. Strauss celebrates this landmark with two thumping pulls that fizz to the square-leg boundary. What slow start?!
Eng 2-0 (Strauss 0*, Cook 2) 4 overs, target 108: Rampaul has found an extra yard of pace, and Cook doesn't look entirely comfortable at the moment. But he does at least get off the mark with a firm, back-foot push for two through the covers.
Eng 0-0 (Strauss 0, Cook 0*) 3 overs, target 108: Roach has his pecker up and is working up some good pace. He gets one to jag back at Strauss from short of a length, but he's lucky to avoid a wide signal with a wayward bouncer. Another maiden.
Eng 0-0 (Strauss 0*, Cook 0) 2 overs, target 108: A hint of inswing to the left-hander from Rampaul, but the pace is lacking and Cook plays out a maiden - his only blemish an inside-edge onto his boot last ball.
Eng 0-0 (Strauss 0, Cook 0*) 1 over, target 108: Roach manages to get through the first over without a no-ball. Strauss leaves one which takes off and gives Ramdin some strife, but otherwise it's an uneventful maiden.
WI 165 all out, lead by 107, 60.1 overs: WICKET! Rampaul can't resist hanging out a bat to Anderson, and he edges to Bresnan at third slip. Samuels walks off to a warm ovation, unbeaten on 76, and England need 108 to win the Test and the series.
WI 165-9 (Samuels 76*, Rampaul 0) lead by 107, 60 overs: BANG! As predicted, Samuels targets the off-spinner. A slog over mid-wicket for four, and two huge straight sixes. But he can't get one off the last ball and Rampaul is exposed to Anderson.
WI 149-9 (Samuels 60*, Rampaul 0) lead by 91, 59 overs: Bowler Anderson, Prior and two slips are the only men not on the boundary, and Samuels takes a single fifth ball after inside-edging a big heave towards Derby. Rampaul leaves well, and Samuels could have a few swings at Swann now.
WI 148-9 (Samuels 59*, Rampaul 0) lead by 90, 58 overs: WICKET! Samuels takes a single off Swann's first ball, but it proves a bad move as Shillingford departs. An uncertain prod results in a thick edge which is safely pouched by "Safe-Hands" Anderson at slip. Shillinford gone for a 22-ball duck.
WI 147-8 (Samuels 58*, Shillingford 0) lead by 89, 57 overs: Shillingford looks a very similar batsman to Sammy. He does well to dig out a skidder from Anderson, while a solid forward defence helps him survive the over. Maiden.
WI 147-8 (Samuels 58, Shillingford 0*) lead by 89, 56 overs: Samuels nurdles another couple off Swann behind point, but he can't pinch the strike as a leg-side flick hits Cook in the chest at short-leg, and he stabs a yorker straight back to Swann.
WI 145-8 (Samuels 56*, Shillingford 0) lead by 87, 55 overs: Field spread far and wide for Samuels, who refuses a single first ball but takes one with a clip off his legs. Shillingford sees off the last two balls of Anderson's over with ease, and a straight bat.
WI 144-8 (Samuels 55*, Shillingford 0) lead by 86, 54 overs: Swann around the wicket to Samuels, who dabs a wide ball behind point for two and mis-times an on-drive into the covers for a single. Stout defence from Shillingford.
WI 141-8 (Samuels 52*, Shillingford 0) lead by 83, 53 overs: Players back out at Trent Bridge, and Strauss immediately turns to Swann for the first time today. Samuels to face, how well can he protect young Shillingford? We're about to find out ... game on.
WI 141-8 (Samuels 52*, Shillingford 0) lead by 83, 53 overs: LUNCH! Anderson almost deflects a straight drive from Samuels onto the timber with Shillingford short of his ground. Shillingford digs out a decent yorker and gets through the the interval unscathed. Join us back here at 1.40 as England look to wrap up the innings before the lead reaches three figures.
WI 140-8 (Samuels 51*, Shillingford 0) lead by 82, 52 overs: Samuels strokes a single to the cover sweeper, and Shillingford's defence looks sound as he keeps out the last three balls of a probing Bresnan over.
WI 139-8 (Samuels 50*, Shillingford 0) lead by 81, 51 overs: WICKET! Samuels raises his bat for a half-century, but Roach goes two balls later after a successful review by England. Roach shuffled across to Anderson and is hit halfway up his pad in front of middle and leg. Aleem Dar says no, but the DRS does for Roach - leg stump would have been cartwheeling.
WI 138-7 (Samuels 49*, Roach 14) lead by 80, 50 overs: Roach squeezes a thick inside edge past square-leg for one, and Samuels helps himself to a single with a nudge into the vacant mid-wicket area. More banter at the end of the over, hard to tell if Samuels is being angry or sarcastic!
WI 136-7 (Samuels 48*, Roach 13) lead by 78, 49 overs: Anderson seems to have beaten Samuels at least once an over, and this one is no different as he finds a touch of extra bounce to fizz one past the outside edge. Tidy maiden.
WI 136-7 (Samuels 48*, Roach 13) lead by 78, 48 overs: Samuels clips Bresnan to long leg and is happy to take the single. And his faith is justified as Roach plays out the remaining four balls with relative ease.
WI 135-7 (Samuels 47*, Roach 13) lead by 77, 47 overs: Samuels chases a wide half-volley from Anderson and gets enough wood on it to earn four past backward point. But he then gets away with an errant drive that flies off the edge and past Strauss at first slip. Second slip had been removed, Sir Ian not happy!
WI 126-7 (Samuels 38*, Roach 13) lead by 68, 46 overs: Tidy over from Bresnan, but he ruins it with a poor leg-side last ball that Samuels glances to fine leg to retain the strike. Bresnan berates himself before anyone else can!
WI 125-7 (Samuels 37*, Roach 13) lead by 67, 45 overs: Roach merely blocks a Broad half-volley, and it pings off the middle of his willow and fizzes past mid-off. A gloved hook just evades Prior's desperate dive, and a classy, controlled pull clears short fine-leg and earns a third boundary of the over. Handy!
WI 113-7 (Samuels 37, Roach 1*) lead by 55, 44 overs: Close call for Samuels, who steps across and misses a whip towards long leg as he tries to retain the strike. Aleem Dar dismisses Bresnan's hearty appeal and Strauss reviews. But the excellent Dar is proved right again, too high by an inch.
WI 113-7 (Samuels 37*, Roach 1) lead by 55, 43 overs: Samuels takes a single off Broad's first ball and exposes Roach, who helps a short ball down to long leg to get off the mark. A leg bye keeps Samuels on strike.
WI 110-7 (Samuels 36*, Roach 0) lead by 52, 42 overs: WICKET! It's that man Bresnan again. Sammy is pinged on the back pad above the knee-roll, and Aleem Dar upholds the appeal. Sammy calls for a review, the Windies' last, and Hawkeye suggests the ball would have clipped the bail. Umpire's call stands, Sammy gone for 25. That's Bresnan's fourth lbw of the innings, and ends a stubborn stand of 49.
WI 110-6 (Samuels 36, Sammy 25*) lead by 52, 41 overs: A moral victory for Broad as he beats Samuels' walking prod, and he competes a tidy maiden as the beverages arrive. Excellent first hour for the Windies.
WI 110-6 (Samuels 36*, Sammy 25) lead by 52, 40 overs: Bresnan returns and gets one to lift and catch Sammy on the glove, but the ball falls short of gully. Sammy celebrates with a back-foot slap for four behind point, and another textbook off-drive by Samuels brings three more.
WI 102-6 (Samuels 33, Sammy 20*) lead by 44, 39 overs: Sammy will be grateful he's wearing an inner thigh pad as Broad gets one to nip back. Samuels then brings up the hundred in style as he punishes a half-volley with a well-timed drive past mid-off.
WI 97-6 (Samuels 29, Sammy 19*) lead by 39, 38 overs: A couple of chancy singles as Trott and Bairstow are both off target, but there's nothing chancy about a flowing drive by Samuels that beats point and races to the boundary.
WI 91-6 (Samuels 24*, Sammy 18) lead by 33, 37 overs: Samuels whips Broad to deep square from off stump, and Sammy jabs down on another length ball that keeps a little low. Plenty of hustle and bustle from Broad, but the pitch is generally lifeless.
WI 90-6 (Samuels 23*, Sammy 18) lead by 32, 36 overs: Samuels prods into the gap at extra-cover, Cook does well to keep it to a single. Anderson gets one to nip away from Sammy and finds the edge, but it's all along the ground and flies to the third-man rope.
WI 85-6 (Samuels 22*, Sammy 14) lead by 27, 35 overs: Broad replaces Bresnan and finds a hint of inswing. Sammy does well to dig out one that keeps low, and he then adds two to the total with a thick edge past gully.
WI 83-6 (Samuels 22, Sammy 12*) lead by 25, 34 overs: Too full and too straight from Anderson, and Samuels finds the mid-wicket fence with an elegant, wristy stroke. Bowler and batsman exchange words at the end of the over.
WI 79-6 (Samuels 18*, Sammy 12) lead by 21, 33 overs: Sammy's technique seems to improve every innings, and a drive through extra cover for four off Bresnan looks handsome. Pair of singles to end the over, Bresnan looking perplexed.
WI 73-6 (Samuels 17, Sammy 7*) lead by 15, 32 overs: A firm straight push gives Sammy another two past mid-off. But he's beaten by pace and inswing three balls later and scampers a leg bye.
WI 70-6 (Samuels 17, Sammy 4*) lead by 12, 31 overs: Sammy punches Bresnan through the covers and thinks he has four, but Bairstow is quick and beats the ball to the rope. Bresnan strays onto leg stump again and Sammy nudges for a single.
WI 67-6 (Samuels 17, Sammy 1*) lead by 9, 30 overs: Testing over by Anderson, Samuels missing with a tentative dab before being beaten all ends up by an absolute jaffer that nipped away off the seam.
WI 67-6 (Samuels 17*, Sammy 1) lead by 9, 29 overs: Good lines from Bresnan, making Samuels play five out of six. Big shout for lbw last ball, but Umpire Rauf not interested. Height an issue there, confirmed by Hawkeye.
WI 66-6 (Samuels 17*, Sammy 1) lead by 8, 28 overs: Anderson on from the Pavilion End, and he beats Sammy's uncertain waft with a nifty leg-cutter. Sammy plays out a maiden, and it's as you were.
WI 66-6 (Samuels 17, Sammy 1*) lead by 8, 27 overs: Sammy gets off the mark with a confident forward prod into the gap at cover. Bresnan takes a tumble in his follow-through, and he pays for a leg-stump half-volley as Samuels clips neatly away for a boundary.
WI 61-6 (Samuels 13, Sammy 0*) lead by 3, 26 overs: OK then, players and umpires are ready, and yesterday evening's England hero Tim Bresnan will open from the Radcliffe Road End. Play.
Welcome to day four from Trent Bridge, still bathed in sunshine. The West Indies will resume their second innings on 61-6, a lead of only three runs, and they need snookers to get out of this one. However, first-innings centurions Marlon Samuels and Darren Sammy are at the crease and will hope to emulate their opening-day heroics. Having said that, England are overwhelming favourites to wrap up victory, and the series, today. Join us here for the first ball at 11am.
Sky Bet Odds:
Click Here for Your Free Bet