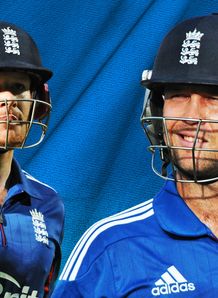 India win by five wickets!! And win the one-day series!! Jadeja hits the winning runs to end on 21 not out. Raina played superbly alongside him and finishes unbeaten on 89. England were probably 30 runs short of where they wanted to be and another rather toothless bowling display followed. Plenty for Giles, Cook et al to ponder ahead of the fifth and final ODI on Sunday. Make sure you join us again for that one
Over 47 - India 255-5 (Raina 89, Jadeja 18) Bresnan receives a ticking off from the umpire after a variation i've not seen before - throwing the ball with his left hand, catching it with his right and then bowling. Worth a try I suppose... Seems to have all been done in good humour. Just three more required for victory
Over 46 - India 251-5 (Raina 86, Jadeja 17) Just seven more required as Raina and Jadeja settle for two singles apiece off Dernbach's latest set of six. It's been another disappointing match for Dernbach and you can't help but wonder what the outcome of the series would have been had Anderson, Broad, Swann been available...
Over 45 - India 247-5 (Raina 84, Jadeja 15) Raina has cashed in superbly on his life, it must be said. He piles into Bresnan, for whom the word superb cannot be used in any way, taking him for six more over mid-off. The over costs eight and the end is nigh for England
Over 44 - India 239-5 (Raina 77, Jadeja 14) Tredwell finishes with credible figures of 2-54. They are tarnished somewhat in his final over when Jadeja sweeps for a boundary and four further singles are added. The Kent man has 11 wickets in the series with one match to play. Just 19 more required for victory
Over 43 - India 231-5 (Raina 75, Jadeja 8) A tight Root over is ruined final ball when Raina deftly tickles a quicker delivery past fine-leg and away to the boundary. So many runs have come in that region today - a reflection of how poorly England have bowled
Over 42 - India 225-5 (Raina 70, Jadeja 7) Tredwell's ninth over slips by without reward. Five singles added by India, who are cantering towards a series win out in Mohali. Another 33 needed
Over 41 - India 220-5 (Raina 67, Jadeja 6) Close! Root returns and thinks he has Jadeja lbw! Umpire Asnani disagrees but that looked mighty close. Jadeja rubs salt into England's wounds with a thin edge next ball which sails through the vacant slip region at catchable height and away for four. 'Ifs' 'buts' 'maybes' for England
Blame game Lee Kearley has some words of advice for Finn. He says: "This has been a problem for Finn for a long time now. He needs to sort it out. No one else to blame but himself." My thoughts exactly Lee!
Over 40 - India 215-5 (Raina 66, Jadeja 2) WICKET! Hope! Out of nowhere! Dhoni will be kicking himself after slapping a short, wide delivery from Dernbach straight to Morgan at backward point. The India skipper trudges off having made 19. Jadeja is the new man and he gets off the mark in confident fashion with two through midwicket. Better from Dernbach though and India need 43 from the last 10ovs...
Over 39 - India 213-4 (Raina 66, Dhoni 19) Bresnan has a slip but Cook might be inclined to move him to leg slip the way he is bowling. The line is far too straight and Raina milks him behind square on the on-side and to the boundary on two occasions. Truly dreadful bowling. The partnership between these two passes 50 and the victory target is just 45 runs away
Over 38 - India 201-4 (Raina 56, Dhoni 18) India take an unofficial drinks break at the start of Finn's last over. England watch Dhoni & Raina drink, change gloves, talk about this evening's plans... When play finally resumes another five runs are added to take India past 200. Finn ends with 1-39 from his 10 overs. You can debate amongst yourselves whether he should have finished with two in the end tally
Bresnan is back but he can't stop Raina reaching his 27th ODI 50. In fact, he aids him if anything. The India No.5 tucks two, twos through the leg-side and then gets to his landmark with a thick edge which sails through gully and down to the third-man fence. England's body language is not good. The phantom wicket has really rocked them. 14 off a poor over from Bresnan
Over 36 - India 182-4 (Raina 43, Dhoni 13) What was I saying about it not being England's day?? Well I think this pretty much sums it up. Finn draws Raina into a loose drive and the edge sails straight to Cook at first slip and he gobbles up the catch. The only flaw - the umpire gives deal ball. Finn had disturbed the stumps with his knobbly knees! England are furious, I think that's the first time it's happened all day. Cook protests with umpire Davis, but he's having none of it. Raina was halfway off the field but comes back for a second go. Four singles off the over
Over 35 - India 178-4 (Raina 41, Dhoni 11) Root returns in an attempt to fill some of these spare overs. He's doing a sterling job, too. Raina drives him for four through extra cover but the young Yorkie comes back well, beating him on the outside and conceding only a further single. Batting powerplay time...
Over 34 - India 173-4 (Raina 36, Dhoni 11) Best way to respond to someone trying to knock your head off? On-drive them down the ground for four. Superb batting from Dhoni and funnily enough no stare from Finn afterwards...85 required from 96 balls. England's main problem is finding five more overs from their 'fifth bowler'
Over 33 - India 168-4 (Raina 35, Dhoni 7) Very tense out in the middle now. Raina and Dhoni look intent on running each other out. Pietersen's shy at the stumps is off target with Raina diving to make his ground and the India batsmen then almost shake hands in the middle before Raina retreats back to the non-striker's end! Gotta love this game. Bresnan is the new bowler by the way and his comeback over costs just three runs
Over 32 - India 165-4 (Raina 34, Dhoni 5) WICKET! Finn strikes! First ball back! And it's Rohit! A rather questionable lbw verdict it must be said but England don't care one jot. Rohit trudges off for 83 after getting pinned by a delivery which nipped back sharply off the seam. It looked high and leg-sideish and replays confirm it's not umpire Davis' best decision... It's given England a sniff though and in comes Dhoni...Four first ball! He means business. MSD shuffles across his stumps and tickles the ball fine to the boundary. Appeal! Close! Finn thinks he has Dhoni lbw next ball but replays show he just got outside the line. Good decision from the ump this time. It's all happening here! Finn is pumped!
Over 31 - India 158-3 (Rohit 83, Raina 33) There has been a boundary in each of the last seven overs now as the game and continues to drift away from England. Rohit adds another with a cheeky sweep off Tredwell. Samit gives chase and even throws in a dive but his efforts are in vain. Exactly 100 required. Time for Finn?
Over 30 - India 151-3 (Rohit 77, Raina 32) Can Dernbach pull a rabbit out of the hat for England here?... No. Another double-figure over as Raina ups the ante. The left-hander was slightly fortunate to see a swipe land just over mid-on, but there was no luck in his final shot of the over, a powerful pull over midwicket for four more. This partnership is now worth 61 off 44 balls and is developing into a match-winning one
Over 29 - India 141-3 (Rohit 76, Raina 23) Rohit is playing an absolutely blinder here and every boundary will be hurting Pietersen, who put him down when on just 12. The right-hander is now worth 75* and showing no signs of slowing down. A crisp cut off Tredwell sails through point for four in an over which costs seven. India need another 117 to win the series and they have plenty of time to get them...
Over 28 - India 134-3 (Rohit 71, Raina 21) Different bowler, same outcome. England just cannot stop this India onslaught at the moment. Dernbach's comeback over costs 11 as Raina pulls and then drives through midwicket for two boundaries. Any of you fancy a bowl?
Over 27 - India 123-3 (Rohit 71, Raina 10) Rohit is threatening to take the game away from England now. He takes his boundary count to nine with a well-timed push off the back foot off Tredwell which pierces the infield and races away to the fence. The required run-rate is just 5.86 for India now, England desperately need a wicket...
Over 26 - India 116-3 (Rohit 66, Raina 8) Hmm, Cook's gamble to bring back Patel is not looking the wisest now... Rohit and Raina both help themselves to swept boundaries off the left-armer spinner, who is bowling too straight. 10 off his comeback over and India beginning to seize control
Over 25 - India 106-3 (Rohit 61, Raina 3) Rohit makes his move! After walking down and delightfully chipping Tredwell down the ground and all the way over the rope, he then gets down on one knee and swats the England off-spinner over square-leg for four more. 11 off the over, Rohit ticking at the halfway stage...
Rohit reaches his 13th ODI 50 off 73 balls with a single off Root, who is doing a decent job for England here. Just four singles conceded as India remain undecided on whether to stick or twist. With Dhoni still to come they are probably playing this just right
Over 23 - India 91-3 (Rohit 48, Raina 1) WICKET! Tredwell gets Yuvraj again! Attempting a deft sweep, Yuvraj played all around it and the umpire deemed it straight enough to be troubling the stumps. Tredwell celebrates his second wicket and England are clawing their way back into this very nicely. In comes Raina...
Over 22 - India 89-2 (Rohit 47, Yuvraj 3) Cook throws the ball to Root, who will be looking to build on his career-best innings earlier in the day with a wicket or two. Already a hint of turn for the young Yorkshireman, who then sees his over interrupted by a rogue worker perched behind the sightscreen. Not the best place to sit... Just four runs off the bat, five in total
Over 21 - India 84-2 (Rohit 43, Yuvraj 3) Cheeky improvisation from Rohit breaks the shackles. He gets down and scoops a flighted Tredwell delivery over short fine-leg for a welcome boundary. The crowd enjoyed that one. Pietersen's dropped catch when Rohit was on 12 is proving costly...
Over 20 - India 79-2 (Rohit 38, Yuvraj 3) Dernbach continues to steam in and is bowling mostly flat out, no sign of those slower balls I know you all enjoy seeing him bowl... Just four runs conceded, Root doing well on the fine-leg fence to prevent a Rohit boundary
Over 19 - India 75-2 (Rohit 35, Yuvraj 2) Tredwell has dismissed Yuvraj in every match of the series so far and Cook brings in a slip for the left-hander. After four dots Yuvraj pushes a single down the ground, the only run added. Match finely poised...
Over 18 - India 74-2 (Rohit 35, Yuvraj 1) Right Dernbach, England need you now... He is getting the ball to tail back nicely to the right-handed Rohit who would be in major trouble if he missed a couple of clips off middle stump. Just two singles added and England are beginning to assert some pressure on the Indian batsmen
Over 17 - India 72-2 (Rohit 34, Yuvraj 0) WICKET! Tredwell strikes! Kohli becomes his eighth wicket of the series after chipping a return catch straight back to the Kent spinner. He departs for 26. Great move from Cook. In comes local hero Yuvraj...Game on
Over 16 - India 70-1 (Rohit 32, Kohli 25) Cook persists with Dernbach and his faith is almost repaid when the Surrey seamer induces a thick edge from Kohli, only for the ball to sail wide of a diving Buttler and through the vacant slip cordon for four. It's shaping up to be one of those days for England...
Over 15 - India 64-1 (Rohit 32, Kohli 20) A better over from Patel, who mixes up his pace to keep the batsmen honest. Not much spin about though, which is what may be keeping Cook from introducing Tredders. Just four runs added
Over 14 - India 60-1 (Rohit 30, Kohli 17) Very concerned... Dernbach starts with another short, wide delivery and it's meat and drink for a player of Kohli's class and he cuts through point for four more. Two singles for either batsman follow and England are really struggling to stem the flow of runs. What can Cook do next? Tredwell?
Over 13 - India 52-1 (Rohit 29, Kohli 12) Patel comes on and this is a big period in the match. India will fancy their chances of tucking into he and Dernbach. Kohli quickly gets after Patel, skipping down the pitch and dispatching him over long-on for four. The left-armer's opening over costs seven. I'm concerned...
Over 12 - India 45-1 (Rohit 29, Kohli 5) The much-maligned Dernbach comes into the attack in place of Bresnan. He has a few critics to silence today. He doesn't start well though and his opening over costs nine and includes a rank short, wide delivery which Rohit carves over point. Gulp.
Over 11 - India 36-1 (Rohit 22, Kohli 3) Finn could and perhaps should have got rid of Kohli in that over. After beating him comprehensively with a full ball outside off stump, he then rushes the right-hander, who pulls the ball straight up in the air. Buttler sets off after it, Bresnan rushes in from long leg, but in the end neither can reach it and the ball lands between them! Frustration for Finn but I don't think either had a chance. It was easier for Bresnan running in, but it would have been some catch diving forward
Over 10 - India 35-1 (Rohit 22, Kohli 2) I don't think my memo has arrived...Rohit collects his fourth boundary, and yep, it's off another short ball, pulled through midwicket. Bresnan does not have the pace to trouble the batsmen on this pitch and needs to be a good foot fuller at least. Mandatory powerplay comes to an end
Over 9 - India 31-1 (Rohit 18, Kohli 2) I'm just writing a memo to England's bowlers. It reads: Rohit Sharma loves the short ball. Finn drags down once more and the India right-hander rocks back and pulls him with gusto over square-leg. All too easy. Captain Cook may be pondering a change...
Over 8 - India 26-1 (Rohit 13, Kohli 2) Drop! Noo! Pietersen puts down Rohit at mid-off. Looked for all the world like he was set to take the catch, but he misjudged the flight a little and in the end went with one hand above his head and put down the chance. Hands on heads all round for the men in blue. It could be costly... Kohli then gets off the mark, driving in the air towards Pietersen but just short of him. You can't keep KP out of the game!
Over 7 - India 23-1 (Rohit 12, Kohli 0) Finn is too short this time and Rohit pulls him over square-leg for three. He didn't get all of it but England must know by now that he loves the short ball. Kohli remains on nought after failing to get the Middlesex seamer away later in the over
Over 6 - India 20-1 (Rohit 9, Kohli 0) WICKET! Bresnan strikes! Gambhir can't believe the umpire has given him out. England went up for a loud caught behind appeal after a loose waft outside off stump and up went the finger. Replays are inconclusive but England are certainly due some luck. First catch behind the stumps for Buttler. Gambhir goes for 10, Kohli comes in. Wicket maiden
Over 5 - India 20-0 (Gambhir 10, Rohit 9) Finn looks set to register back-to-back maidens to Rohit before the India right-hander works the final delivery through midwicket and the timing and outfield permits it to reach the fence. Glorious stroke
Over 4 - India 16-0 (Gambhir 10, Rohit 5) Samit, Samit, Samit! A horrible piece of fielding sees Patel's day go from bad to worse. He makes a complete mess of his underarm throw in to Buttler, lobbing the wicketkeeper and gifting India two runs. Bowler Bresnan's mood worsens when Gambhir pounces on a wide delivery and drives firmly through point for four more
Over 3 - India 10-0 (Gambhir 4, Rohit 5) Finn is bang on the money to Rohit, who has no option but to play out a maiden. Both Rohit and Gambhir are stroke-makers and maidens to these two are like gold dust
Over 2 - India 10-0 (Gambhir 4, Rohit 5) Bresnan, not Dernbach, shares the new ball and he will have an early go at Rohit, back in the side in place of Rahane, who guided India to victory the last time these two met here in an ODI back in 2011. After a few early sighters, Rohit can't resist a short ball from Bresnan and pulls powerfully over square-leg for a one-bounce four. This is a big match for Bresnan, who has gone off the boil dramatically of late
Over 1 - India 5-0 (Gambhir 4, Rohit 0) Finn starts with a couple of wide deliveries, the first called so, the second lucky not to be. Gambhir, after swishing and missing a short ball, then gets off the mark with a confident drive down the ground for four. Plenty of movement on offer for Finn but he has to get it in the right area
Back in business Right folks, I'm pleased to report a solid sarnie at the interval and also that the players are back out in Mohali. Gambhir and Rohit to open for India, Finn has the ball. Will 257 be enough? We shall see...
Interval I'm taking a quick break. Bacon buttie on the cards I think. Have England got enough? Tweet all your views on the match to @skycricket and @skysportsdrabs. Stay tuned for the run-chase...
India require 258 to win Well, what a bizarre innings that was! It started brightly through Cook and Pietersen (both 76) but the shocking lbw decision on the England captain threatened to derail the innings. Root rescued it, finishing with a career-best 57 not out off 45 balls to give England a chance of levelling the series. Jadeja (3-39) was once again the pick of the India bowlers.
A gem of a 50 from Root!! Down the pitch to Ahmed he reacts well to a short ball and pulls over square-leg for four. That's the first of many ODI half-centuries for him I'm sure. He makes it back-to-back boundaries with a powerful club past mid-on. He's giving England a real chance here. Dhoni re-jigs his field... Ahmed comes back well with a yorker but an overthrow allows a single. Tredwell makes it a costly one by freeing his arms and cutting past point for a boundary and the innings ends with a bye
Over 49 - Eng 242-7 (Root 48, Tredwell 1) Sixer!! Buttler does join the party! Stunning blow back down the ground. He then clears his front leg and pummels Jadeja over midwicket, the ball just bouncing before the rope. Dhoni and Jadeja have a conference... WICKET! Whatever they said does the trick! Jadeja fires the ball wide and Buttler can only scoop it to backward point, where Yuvraj takes his second catch. A useful 14-run cameo off nine balls from Buttler. Bresnan is the new man in. WICKET! But not for long! Bres cuts Jadeja straight to Yuvraj and goes for a second-ball duck! Tredwell the next cab off the rank, he ends the over with a single, Jadeja ends with 3-40
Over 48 - Eng 231-5 (Root 48, Buttler 4) Root really is playing a blinder here! He brings out a reverse-sweep off Ishant and dissects the field beautifully to find the rope once more. Can Buttler get involved? He tries but his clip through midwicket is cut off by the fielder. Ishant's last over costs seven and he finishes with 2-47 from his 10 overs
Over 47 - Eng 224-5 (Root 43, Buttler 2) Drop! Unbelievable! Raina drops an absolute dolly at midwicket. Root and the rest of Mohali cannot believe what he's just done! England can't get Jadeja away though and only four runs are added off his comeback over
Over 46 - Eng 220-5 (Root 42, Buttler 1) Root is just plain showing off now! He gets down on one knee and dinks Ishant over short fine-leg for another boundary. Intelligent and incredibly skilled batting. He then brings Pietersen back on strike with a single and KP carves a length ball over extra cover for four more. England on the charge! It doesn't stop there, either! Pietersen clears his front leg and sends a length ball from Ishant way over midwicket and into the stands! That went miles! WICKET! Brilliant reply from Ishant! Pietersen is undone by a yorker and looks back to see two stumps out of the ground. KP goes for an invaluable 76 and is replaced by Buttler, who gets off the mark with a single first ball. Can England get up past 250/260?
Over 45 - Eng 205-4 (Pietersen 66, Root 37) Six! Cracking shot from Root! He launches Ashwin's first ball back over midwicket for England's first maximum of the innings. Fine blow. He doesn't stop there, either, sweeping behind square for two more before cutting through cover for another boundary. Quite a cameo this from the young Yorkshireman. Begs the question: Why did he drop down the order? Pietersen then joins in, dispatching the final ball over mid-off for a boundary. 17 off Ashwin! Partnership 63 from 51...
Over 44 - Eng 188-4 (Pietersen 62, Root 24) Yep, he's certainly ticking now! Ahmed offers up a bit of width and Pietersen crunches him through extra cover for four more. He and Root then exchange singles before KP muscles another boundary through midwicket. An excellent over for England yields 12
Pietersen reaches 50! It's the slowest of his 24 in ODIs (83 balls) but could be a vital one. He gets there with a thin edge off Raina and then pinches the strike last ball with a single. Time for KP to go nuts??
Over 42 - Eng 168-4 (Pietersen 47, Root 20) Root shimmies down the pitch and drives Ahmed's first ball back through extra cover for a classy boundary, his third. The young Yorkshireman needs to rotate the strike though but instead pinches it with a single last ball
Over 41 - Eng 161-4 (Pietersen 47, Root 13) A left-field bowling change from Dhoni as Raina replaces Jadeja. The part-time off-spinner almost removes Pietersen but his strong lbw decision is rightly turned down - the ball was just missing leg stump. The consensus in the Sky Sports commentary box is that England need at least 250...
Over 40 - Eng 157-4 (Pietersen 46, Root 11) I can't recall ever seeing Ishant bowl this well. His eight overs have cost just 24 so far today and he has had every batsman he's bowled at in trouble. You would say England need at least 80 runs off these last 10 overs to stay competitive
Over 39 - Eng 154-4 (Pietersen 45, Root 9) The onus may be on Pietersen but Root is playing his part here and gets down on one knee and sweeps Jadeja crisply to the square-leg fence. Five off the over in total, just one powerplay over remaining
Over 38 - Eng 149-4 (Pietersen 44, Root 5) Drop! Root gets off the mark in inauspicious fashion. Ishant found his edge, Kohli failed to take a sharp low chance at first slip, the ball bouncing off his left hand and away to the boundary. England needed a bit of luck and will need plenty more if they're to post a target which will really trouble India
Over 37 - Eng 142-4 (Pietersen 42, Root 0) WICKET! The wheels have completely fallen off this England innings now! Patel is the latest to depart, chipping the ball straight back to Jadeja, who takes a simple low catch. The wicket of Cook has completely changed the momentum of this innings. Root joins Pietersen and India are all over England at the moment. Wicket-maiden in the powerplay...
Over 36 - Eng 142-3 (Pietersen 42, Patel 1) Ishant is brought back for the powerplay period - only two fielders allowed outside the circle remember. Pietersen picks out one of them at deep cover and is then relieved to see the ball bounce over the top of middle stump after being cut in half by a nip-backer. Patel gets off the mark last ball but only four runs off the over
Over 35 - Eng 138-3 (Pietersen 39, Patel 0) Jadeja whizzes through a maiden to Patel in the blink of an eye. Batting powerplay coming up for England. Make or break you feel...
Over 34 - Eng 138-3 (Pietersen 39, Patel 0) WICKET! Ashwin strikes and Morgan departs for only three. Terrible shot in truth from the left-hander, who just chipped the ball straight up and Yuvraj took a smart catch over his shoulder at mid-on. Big blow for England. Patel is the new batsman and England need to regroup quickly
Over 33 - Eng 136-2 (Pietersen 38, Morgan 2) Still disbelief that the umpire has given that. Focus. Morgan gets off the mark and Jadeja's latest over costs four. England have been knocked off course a little here but are still in a decent position to launch a late assault
Expert view Beefy: "I've seen some bad 'uns but that's right up there."
Nasser: "If you are using local umpires you need DRS but Cook will be sitting in the changing room now saying you don't even need DRS for that decision. Very poor."
Over 32 - Eng 132-2 (Pietersen 36, Morgan 0) Aswin has been off colour today and Cook picks off another leg-side delivery, sweeping firm and fine to the fine-leg fence. Ishant then makes up for his earlier error with a tumbling stop at backward point to stop four. WICKET! Cook gets a shocker! I'm speechless. Ashwin, bowling over the wicket to the left-hander, pitches the ball a good two inches outside leg stump and Dhoni half-heartedly goes up for an appeal. The umpire can't raise his finger quick enough and Cook trudges off. Unbelievable. He made 76 and only the umpire's incompetence stops him making three figures. Morgan is the new man
Over 31 - Eng 127-1 (Cook 72, Pietersen 35) Much better from Pietersen, who contributes four of the six runs scored off Jadeja's latest over. The boundaries have dried up though and England need to address that...
Over 30 - Eng 121-1 (Cook 70, Pietersen 31) India's spinners have come back well here and have wrestled back the momentum. With 20 overs left you feel something has to give. Surely the onus is on Pietersen to attack with Cook batting through?
Over 29 - Eng 117-1 (Cook 67, Pietersen 30) Jadeja persists with his left-arm darts and England are content to work him for singles.Three more added here. If England score at an attainable eight an over from here on in they will get to 285 - a decent target you would say
Over 28 - Eng 114-1 (Cook 66, Pietersen 28) Taxi for Ishant! Schoolboy fielding from the India bowler out on the square-leg boundary - and that is being harsh to schoolboys! Dhoni is furious when the ball squirts through his leg and gifts Pietersen, who was just feeling the pressure against spin, four runs when there should have only been one
Over 27 - Eng 108-1 (Cook 65, Pietersen 23) Jadeja quickens his pace in his latest over and forces Pietersen to smother the ball with his pad when skipping down the pitch. The most ludicrous appeal of all time follows. Just two singles added and India will certainly take that
Over 26 - Eng 106-1 (Cook 65, Pietersen 22) Superb batting from Cook, who pounces on two fractionally short, wide deliveries from Ashwin and cuts both through point for boundaries. The runs continue to flow against spin and Dhoni may be ruing bowling Kumar out so soon
Over 25 - Eng 97-1 (Cook 57, Pietersen 21) The left-arm 'spinner' has enjoyed plenty of success against England of late but Cook ensures he has no immediate joy by sweeping firmly through square-leg. Sub fielder Rahane cuts the ball off but then touches it when spread-eagled against the boundary rope and four is given after a quick check. England are laying a solid foundation here. All in agreement that Morgan should come in next ahead of Root?
Over 24 - Eng 90-1 (Cook 52, Pietersen 19) Ashwin comes back well here, beating Cook outside off stump first ball with a delivery which just held its line from round the wicket, angling in. Cook and Pietersen exchange singles but only two runs are added. Jadeja set to come on next...
A single takes Cook through to his 50 from 74 balls - his 15th in ODIs and sixth against India. He'll be looking to bat through and go big here. Kumar finishes his day's work wicketless, conceding exactly 30 runs in the process. A great effort
Over 22 - Eng 85-1 (Cook 49, Pietersen 17) It's taken him 33 balls, but Pietersen finally shows some intent, driving Ashwin imperiously down the ground for his first boundary. A really classy stroke and totally out of sync with the rest of his innings! Pressure on Ashwin now, who concedes eight off his third over
Over 21 - Eng 77-1 (Cook 47, Pietersen 11) Dhoni brings back Kumar and it looks like he'll bowl out his final two overs. He deserves a wicket and appeals for one in hope rather than expectation. His lbw cry on Cook is quickly and correctly dismissed by the umpire. Just two singles off his ninth over
Over 20 - Eng 75-1 (Cook 46, Pietersen 10) Singles continue to flow off Ashwin and I expect they will do for some time. With the field spread it's the start of that rather predicatable period in an innings. Cook is closing in on 50 though and will be eyeing a big score here
Over 19 - Eng 70-1 (Cook 43, Pietersen 8) Ishant (1-10 off five) takes a break and Ahmed returns. He is off line on his return and Cook takes advantage with a fine clip off his hip down to the fine leg boundary before farming the strike with a single final ball. Hard to know what total England are thinking here but they don't want to leave the lower-order too much work to do at the death...
Over 18 - Eng 64-1 (Cook 37, Pietersen 7) India introduce spin for the first time today in the form of Ashwin. Pietersen rocks back and cuts his first ball for two before pinching a single to cover. Five runs added in total and little spin to report
Over 17 - Eng 59-1 (Cook 37, Pietersen 3) Hard to describe this Pietersen innings... He has crawled along to three from 22 balls and this is a very curious contribution from England's No.3. Batting conditions are tough but not nearly as tough as he is making out. Just a single off Ishant's latest set of six
Over 16 - Eng 58-1 (Cook 37, Pietersen 2) Ishant is bowling beautifully here. Operating at just back of a length, he has beaten Pietersen and Cook outside off stump on numerous occasions. He's just getting the ball to wobble away. As I type that he inevitably coughs up a wide... and then a rank short ball which Cook swats over square-leg for four! I'll take the credit for those five runs!
Over 15 - Eng 53-1 (Cook 33, Pietersen 2) Pietersen gets off the mark at the 13th time of asking when a thick inside edge squirms past square-leg for a couple. He is really toiling out there at the moment. Kumar has bowled eight overs straight through for the cost of just 25 runs. He's put India in a strong position as the players take drinks
Over 14 - Eng 51-1 (Cook 33, Pietersen 0) A rare loose delivery from Ishant is seized upon by Cook, who tucks it fine off his hip and finds the fine-leg fence. Cook's seventh boundary brings up the England 50. The average first innings score in the five previous ODIs at this venue is 287. England have a long way to go to reach that but it's not out of the question
Over 13 - Eng 47-1 (Cook 29, Pietersen 0) England just getting bogged down a bit here. Pietersen is yet to score off 10 balls faced and if I was in the field I'd certainly be reminding him of that. Just a Cook single off the 13th over. India on top
Over 12 - Eng 46-1 (Cook 28, Pietersen 0) A lengthy delay in proceedings as Pietersen receives treatment for a painful blow on the inner thigh area. Not particularly warm in Mohali today so that will sting even more than usual! KP then survives a huge lbw appeal - excellent decision too, contact was just outside the line. Ishant was convinced. The chaos continues when a shy at the stumps gifts England a couple of overthrows - the only runs from the over. Ishant has figues of 1-1 from three overs
Over 11 - Eng 44-1 (Cook 28, Pietersen 0) The mandatory powerplay period comes to an end and India will be the happier of the two sides. Pietersen is beaten by his first ball faced however Dhoni, standing up to the stumps, can't gather cleanly and England scamper a bye. Cook then whips Kumar through leg for a couple more before ending the over with a push down the ground which somehow goes all the way to the fence! This outfield is so quick. Time for a blow, Kumar
Over 10 - Eng 37-1 (Cook 22, Pietersen 0) WICKET! Bell goes! The pressure was just getting to the England right-hander, who advances to Sharma but can only send a high top-edge spiralling down to third man, where Kumar runs in and takes a smart catch. Just 10 off 25 balls for Bell and in comes Pietersen! He has to wait for the strike though as the batsmen crossed and Cook sees out a wicket-maiden from big Ishant!
Over 9 - Eng 37-0 (Cook 22, Bell 10) More glorious timing from Cook, who leans forward and pushes Kumar through extra cover. The fielders give chase but the ball gathers pace and crashes into the boundary rope. The bowler comes back well though and they are the only runs conceded off the ninth over
Expert view Nasser Hussain: "It looks a 300 pitch to me."
Over 8 - Eng 33-0 (Cook 18, Bell 10) Dhoni responds to England's onslaught by bringing on Ishant in place of Ahmed. He starts well, hurrying Cook with his pace and extra bounce. Only a single from his opening over and almost a wicket last ball. Bell just gets an inside edge on an inswinger which was crashing towards middle and leg
Over 7 - Eng 32-0 (Cook 17, Bell 10) Bell joins the party! England make it five boundaries in eight balls when the Warwickshire right-hander flicks Kumar off his pads and then drives through point to reach double figures. I'm revising my total... 300+
Over 6 - Eng 24-0 (Cook 17, Bell 2) Just call me Mystic Meg! Cook puts his foot on the accelerator, taking Ahmed for three boundaries in England's most productive over yet! After pulling a short ball over midwicket, he then drives through the covers and clips off his pads to find the rope twice more. Fine response from the England skipper
Over 5 - Eng 12-0 (Cook 5, Bell 2) A rather quiet start in Mohali it's fair to say. Both teams still finding their feet. Cook nudges a single off Kumar and a leg-bye ends the over. The ball is not swinging as much now and i'd expect the England openers to up the ante shortly
Over 4 - Eng 10-0 (Cook 5, Bell 2) Cook drives England's first boundary through the covers in an over which costs four when it could have yielded 12 had the England skipper not found fielders. The ball is coming on to the bat nicely and the outfield is quick. I'm already thinking 270+
Over 3 - Eng 6-0 (Cook 1, Bell 2) Maiden! Bell is happy to see out Kumar's second over rather than attack it. While not particularly impressed with a maiden during the powerplay overs I can understand England's caution considering their last two batting performances. It's imperative they bat out the full 50 overs today
Davey's dismay Tuning in from under his duvet (jealous) - Davey asks: "I'm not even out of bed yet, just read the team sheet and my first thought is...Why on earth are they still persisting with Dernbach? Too clever for his own good with the amount if variation he uses. Cook doesn't know what he's going to bowl next so can't set fields to him. The result is a very expensive bowler who takes the odd wicket at the end. Now I've said that watch him bowl a blinder today." - He certainly divides opinion! One thing is guaranteed today - he'll either be sublime or ridiculous!
Over 2 - Eng 6-0 (Cook 1, Bell 2) Ahmed shares the new ball with Kumar and the second over follows a similar pattern to the first. Bell squirts a single through gully after a leg-side wide from the bowler. The pitch looks a belter but there is still plenty of movement in the air to keep England's batsmen on their toes
Over 1 - Eng 4-0 (Cook 1, Bell 1) Cook and Bell, England's top run-scorers in the series, both get off the mark with singles. There is uncontrollable swing on offer for Kumar, who sends down two massive wides outside off stump. The fog remains thick and these first 10 overs are crucial for England
Here we go... The players are out in the middle. Cook and Bell to open for England. Kumar has the ball in what look perfect bowling conditions
England order We believe: A Cook, I Bell, K Pietersen, J Root, E Morgan, J Buttler, S Patel, T Bresnan, J Tredwell, S Finn, JW Dernbach
Get in touch Looking forward to hearing all your views on today's match. Can England hit back or will India wrap up the series this morning? Have both teams got their sides right? Get in touch by e-mailing Joe.drabble@bskyb.com or tweet me @skysportsdrabs
Pre-match talk Cook: "Clearly we would have liked to bowl first but hopefully we can survive the first 10 overs and then put a decent total on the board. The conditions are familiar. When I turned up and saw the fog at the ground this morning it was like being back in Chelmsford!"
Teams One change for either side. England, as expected bring Jos Buttler in to keep wicket in place of Somerset colleague Craig Kieswetter. Rohit Sharma replaces Ajinkya Rahane at the top of the order for India.
Toss India have won the toss and will BOWL first
Preview It's win or bust for Alastair Cook's men in northern India today. They trail 2-1 in the series with two matches to play. News of teams and toss to come very shortly
Welcome Hello everyone and welcome to text coverage of the fourth one-day international between India and England in Mohali
Sky Bet Odds:
Click Here for Your Free Bet