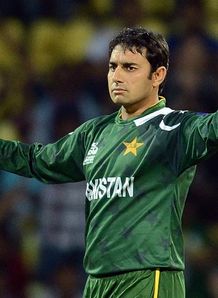 Pakistan Win By Eight Wickets This is Paksitan's highest successful chase in T20I cricket, and affords them graduation to the Super Eights stage of the World Twenty20. Bangladesh, meanwhile, crash out - and will rue a torrid day in the field after doing so well with the bat. Thursday's fixtures see Sri Lanka lock horns with New Zealand and England take on the West Indies. Catch you then. Cheers.
Over 18.4 - Pak 178/2 (K Akmal 22, Jamshed 29) Islam is back into the attack too, soon slapped down the ground by Akmal, who finishes the one-sided chase with a typical flourish for four.
Over 18 - Pak 171/2 (K Akmal 17, Jamshed 28) Razzak returns to the attack, at least keeping the boundaries at bay and prolonging the forgone conclusion to another over.
Over 17 - Pak 167/2 (K Akmal 15, Jamshed 26) Mahmudullah back into the attack. Jamshed eager to finish this quickly, smearing four and then six down the ground. The long-off fielder almost held onto the latter, but his backfoot touched the boundary. Shame, good effort.
Over 16 - Pak 150/2 (K Akmal 10, Jamshed 15) Jamshed lambastes four through the off-side and follows it up with six nailed over midwicket and, with that, Bangladesh are officially out of the tournament and Pakistan are through to the Super Eights. The Tigers must fight on, though, there is consolation in the form of victory in this match to achieve. Hasan can't find a consistent length, however, with Kamran crashing him through the on-side and then the off-side for back-to-back boundaries. 19 runs off the over. So arrives Pakistan's 150.
Over 15 - Pak 131/2 (K Akmal 2, Jamshed 4) Pakistan can really afford to take it relatively easy from here on in, and Jamshed and Kamran are fully aware of this, duly milking the punctuation of singles on offer. Al Hasan completes his four-over complement. 45 runs from 30 balls to win the match, or nine runs from 30 balls to gain a berth in the Super Eights.
Over 14 - Pak 126/2 (K Akmal 0, Jamshed 1) Hasan back into the attack, and quickly heaved across the line, with Nazir fetching four at midwicket thanks to somewhat of an agricultural hack. Then a couple swatted down the ground, and those are his last runs of the day, with his latest loft falling into the hands of the substitute fielder - Reza - at long-off. 16 more runs and Nazir would have achieved the highest score in T20I cricket by a Pakistani, but Misbah-ul-Haq's 87 not out against Bangladesh four years ago keeps pole position. Jamshed in now, watching from the non-striker's end as his captain falls. WICKET! A fat drive, but a thin edge to the wicketkeeper, ends Hafeez's stay. The bowler is delighted with his brace, screaming in jubilation. Kamran to the crease now. Perhaps there is a late twist in this tale after all...
Over 13 - Pak 118/0 (Hafeez 44, Nazir 66) Shakib continues. Bangladesh can't even keep it together in the field now, conceding easy singles, misfielding and missing run-out opportunities. A game last two halves, and no matter how good their first was, the Tigers haven't match it with an appropriate second section. They will exit the tournament, soon. Pakistan will clinch a berth in the Super Eights.
Over 12 - Pak 112/0 (Hafeez 41, Nazir 62) Hafeez leads by example, orchestrating a short-arm flick up and through midwicket for four, following it up with four more, a lot squarer. Razzak is bowling far too short to be taken seriously.
Over 11 - Pak 101/0 (Hafeez 32, Nazir 61) The off-spin of Mahmudullah into the attack, and soon thrashed to the cover fence for four by Nazir, whose 60 not out is now the highest score of his T20I career. The century partnership arrives too. This is one-way traffic. No coming back from Bangladesh. Surely. This pitch has been really, really good for batting.
Over 10 - Pak 92/0 (Hafeez 29, Nazir 56) Al Hasan continues. HALF-CENTURY! Nazir graduates to his 50, from just 25 deliveries, seven fours and a trio of handsome sixes included. It's the second-fastest half-ton by a Pakistani in T20I cricket. That surely answers his critics, who wanted him dropped from the team and Jamshed promoted to the top of the order.
Over 9 - Pak 84/0 (Hafeez 28, Nazir 49) The man who dropped what would have been an important catch, Abul, is into the attack. The man he dropped, Nazir, keeps going, pasting four to the fence on the pull. There is just no bowling short successfully to this man. The bowler quickly cleans up his act, though, managing to send down the rest of the over on the relative quiet.
Over 8 - Pak 77/0 (Hafeez 26, Nazir 45) Razzak continues. Stroke of the Day this, as Nazir dances down the track to meet the ball at its pitch, duly following through with a full flow of the bat. That races to the fence, no stopping it, ever. Four well earned runs. This is getting away from Bangladesh now.
Over 7 - Pak 68/0 (Hafeez 25, Nazir 37) Shakib into the attack with his left-arm spin. He almost traps Nazir lbw, but the line is missing the leg-stump by enough to keep the umpire's finger in his pocket. This is a key juncture in the contest. If Pakistan can get through the next three or four overs relatively safely, they'll win the match, or at least score the required 140.
Over 6 - Pak 64/0 (Hafeez 24, Nazir 35) Right on cue, it's time for some spin, inside the last over of the Powerplay. It's the left-armers of Razzak. Immediately, the scoring rate is slowed, with Hafeez and Nazir's collective ambition to find the fence stifled. Mere singles have to suffice for the duo, until Nazir slices a shorter delivery through point and cover for four.
Over 5 - Pak 58/0 (Hafeez 23, Nazir 30) Too full from right-arm seamer Mortaza, with Hafeez happy to punish the rubbish over mid-off for four. Nazir then planks for over cover to bring up the half-century stand in less than five overs, with six more heaved over fine-leg adding to the feat. Bangladesh must bring a spinner into the attack, they need to slow this rapid response down.
Over 4 - Pak 43/0 (Hafeez 18, Nazir 20) Islam is convinced he has trapped Hafeez lbw, but the umpire isn't buying the appeal, for the line was headed down the leg-side entirely. Nazir later dances down the wicket, flatbatting four over mid-off. Then five wides, which Bangladesh really cannot afford. They've done all the hard work with the bat, and must keep it together with the ball here. But they don't yet, with Nazir's four and six on the pull instead closing a very expensive over.
Over 3 - Pak 23/0 (Hafeez 17, Nazir 6) Only marginally wide from Mortaza, but Hafeez punishes it to the fence with full disdain. The fielder threw himself in the line of the ball, but didn't really stand a chance of stopping that bullet. Nazir, meanwhile, almost has his block knocked off by a scary bouncer.
Over 2 - Pak 18/0 (Hafeez 12, Nazir 6) Right-arm fast bowler Islam shares the new ball with Mortaza, and almost makes a break through straightaway, but Abul grasses a sitter at mid-off. DROPPED! Nazir looked to pull a short ball, but miscued it far too straight, but gets away with his error. That's three dropped catches today, and later might prove the most costly of the lot.
Over 1- Pak 10/0 (Hafeez 9, Nazir 1) Unlike Pakistan, Bangladesh don't open their attack with a spinner, instead the seam of Mortaza. The choice almost enjoys immediate success, with Hafeez riding a fortunate edge wide of first slip for four, and then fetching another lucky boundary thanks to another thick edge.
Pakistan's Pursuit All and sundry back out in the middle for the resumption of play. Nazir and Hafeez to open the batting. Strap in for the ride, folks, it's going to be a great one.
Bangladesh End On 175 For Six Bangladesh need to win this match by 36 runs more in order to clinch a berth in the Super Eights stage of the tournament ahead of Pakistan. So Pakistan, in effect, only have to reach 140 to reach the next round. They can afford to lose this match, but not by a hefty margin. Shakib was sublime, Pakistan's seamers were poor, bar Arafat, while their spinners have enjoyed better days at the office. Stick around for the pursuit, it should be entirely intriguing.
Over 20 - Bang 175/6 (Rehman 1) Arafat is told to bowl the last over, and sure to start it with a couple of restrictive yorkers. WICKET! Shakib's record-breaking effort has to end eventually, and it does, with one last big hit holing out to long-off. It was a full toss, and there is some question about a possible no-ball, but television replays soon reveal it was below waist height, so Shakib has to go. WICKET! Rahman in now, watching from the other end as Hossain slices four through the off-side before being bowled by another yorker.
Record Effort Shakib now has the highest score by a Bangladesh batsman in T20I cricket, surpassing the 81 Mohammad Naziumuddin against Pakistan in 2007.
Over 19 - Bang 168/4 (Al Hasan 83, Hossain 11) Shakib deploys that premeditated paddle of his again for three, with a diving stop on the fine-leg fence from Jamshed preventing the fourth. Hossain, meanwhile, lofts four over cover with the greatest of confidence to close the over. This is Ajmal's toughest game this year, arguably. None for 32 from his four overs.
Over 18 - Bang 156/4 (Al Hasan 77, Hossain 6) Gul returns to the attack, and Shakib immediately manipulates a full toss to the fine-leg fence for four thanks to a deft piece of anticipation and timing. Gul bites back with a yorker, though, which the batsman fails to dig out, but breathes a sigh of relief as it whizzes past his off-stump. The bowler is quick to let the batsman know he has beaten him, with a bit of verbal shtick ensuing. A misfiled by by Umar Akmal at mid-off, though, doesn't help the bowler's bid to outdo Shakib, neither does four heaved over backward square-leg. Al Hasan played that from deep in his crease - such exquisite T20I batting, indeed.
Over 17 - Bang 142/4 (Al Hasan 63, Hossain 6) Ajmal back into the attack, approaching the right-handers from around the wicket, and happy to concede mere singles. With just four wickets down, and only three overs to go, Bangladesh can really afford to throw the bat at anything and everything from here on in.
Over 16 - Bang 136/4 (Al Hasan 60, Hossain 2) WICKET! Mahmudullah tries to get on the big-hitting act without first taking in a couple of sighters on the defence, duly slapping the ball straight downt the throat of Umar Akmal on the long-on fence. He was too early on the shot, and his foot slipped. Nasir Hossain to the crease now. DROPPED! Wicketkeeper Akmal drops an easy catch, with Hossain's defence off the backfoot only succeeding in offering the edge, which enjoys undue survival. The new batsman then pulls, managing a mere top edge, which again enjoys luck, plugging into no-man's land next to the square-leg fielder.
Over 15 - Bang 133/3 (Al Hasan 60, Mahmudullah 0) We haven't seen many slower balls today, but Arafat is determined to get in a couple of 'em during his bid to slow this ballooning run-rate. WICKET! He enjoys success, forcing Rahim to hole out at midwicket. The diminutive wicketkeeper-batsman got under the bounce, but didn't have enough carry. Comfortable catch on the fence for Nazir, showing Tanvir how it is done. Shakib, meanwhile, moves to his highest score in T20I cricket - 60 not out - by banging four over the top of the cover ring.
Over 14 - Bang 127/2 (Al Hasan 55, Rahim 24) Afridi back into the attack, again slipping down the leg-side for a wide before dropping short to be pulled to the fence for four by Rahim. Pakistan have conceded an extra over and two deliveries worth of wides today. Shakib gets in on the pulling act too, again, but his placement is lacking, so just a single to the fielder on the fence.
Desperate Times Hafeez is sick and tired of this pummeling, so calls his time in for a huddle and an unscheduled talking-to. With that, play resumes, and perhaps we will see the tables turned for the next seven overs.
Over 13 - Bang 118/2 (Al Hasan 53, Rahim 18) DROPPED! Arafat into the attack and would have enjoyed immediate success, had Tanvir not grassed an absolute dolly at midwicket. Rahim took on the short ball, but the bounce got big on him, yet he lives to tell the tale thanks to Tanvir's severe inadequacies. HALF-CENTURY! Shakib later takes advantage of the lifeline on his captain's behalf, yanking four to fine-leg and pulling six more to bring up his half-century from just 33 balls. Afridi, later, and with plenty of commitment, puts in a fine diving stop to prevent four. Pakistan in deep trouble.
Over 12 - Bang 106/2 (Al Hasan 42, Rahim 17) Hafeez toys with bringing Tanvir back into the attack, but Ajmal gets another over. The choice almost pays off, with Shakib's pull shot amounting to nothing more than a top edge, which fortunately plugs into no-man's land behind the bowler. A straighter mid-off or mid-on would have got under that. Just four runs off the over in the end, and Pakistan will enjoy that brief respite.
Over 11 - Bang 102/2 (Al Hasan 40, Rahim 16) Gul back into the attack, eager to rectify his earlier expense, which brought 17 runs from one over. Not a great return for the right-arm seamer, though, with a short-arm jab from Al Hasan powering the day's second six high and hard over midwicket. That's arguably the Shot of the Day. He anticipated the length so early. He keeps going, slicing the next delivery for four as the team 100 arrives. Pakistan feeling a bit of pressure here.
Over 10 - Bang 90/2 (Al Hasan 29, Rahim 15) Now is the time of the reckoning, with Ajmal - and all his variations - into the attack. Rahim is troubled immediately, almost spooning a catch to short thirdman. Shakib, too, struggles, not getting the ball off the square despite his finest intent to do so. The shackles, to an extent, are eventually released, when Al Hasan fetches a couple on the cut. A fortunate bottom edge, as well, serves Shakib well, past the wicketkeeper and all the way to the fence, in fact. So marks the halfway mark of the innings, with the Tigers gunning it at a rate of nine runs per over.
Over 9 - Bang 78/2 (Al Hasan 18, Rahim 14) Afridi continues, enjoying some aid from team-mate Gul, who puts in a full-length dive at short thirdman to prevent a thick edge from going for four. Rahim will have to find the middle again if he wants to find the fence. Afridi really does race through his overs, delivering this string of six deliveries in under two minutes.
Over 8 - Bang 74/2 (Al Hasan 17, Rahim 11) Hafeez commences his third spell, each of them just one over long. Rahim quickly welcomes him back into the attack, dropping to one knee and lifting the first six of the match over midwicket thanks to some tremendous bat speed. Shakib, meanwhile, is caught napping in the face of a slightly slower ball, which he almost plugs straight to the shallow-ish mid-off fielder.
Over 7 - Bang 65/2 (Al Hasan 17, Rahim 2) Time for some leg-spin, that of Afridi. The batsmen milk him for the singles on offer, which are not many, and welcome a leg-side wide. But, needing to post a hefty total and win this match by 36 runs or more in order to secure a Super Eights berth ahead of Pakistan, they really can't afford a drop in momentum for more than this over and, perhaps, the next.
Over 6 - Bang 61/2 (Al Hasan 16, Rahim 0) Tanvir afforded a third over on the trot, but perhaps he has overstayed his welcome, as Al Hasan carts back-to-back boundaries through point and cover off the backfoot. An overcorrection in line is then dragged down the leg-side, with Al Hasan again happy to oblige four to the fence - this time on the glance. WICKET! Pakistan eventually enjoy a breakthrough, with a severe mix-up in communication between Shakib and Iqbal resulting in the run-out of the latter. The former captain pushes to the on-side, sets off for a single, but then sends Tamim back. Turning on his heels, desperate to get back to his crease before the fielder swoops into the non-striker's stumps, Iqbal slips. He is not even in the frame as the bails topple. Shame, his team-mate really sold him down the proverbial river. Rahim in now, and the Powerplay is finished.
Over 5 - Bang 49/1 (Iqbal 24, Al Hasan 4) Hafeez back into the attack, and soon cut to the fence for four by Iqbal. Backward point put in the dive, but didn't get close to stopping the ball. He then works four more off his hips, and that's some superb timing. With two boundaries secured at the start of the over, the batsmen are content to play out its remainder with mere singles.
Over 4 - Bang 37/1 (Iqbal 14, Al Hasan 2) Ashraful rides a lucky inside edge for four - and those are his last runs for the day. WICKET! Tanvir keeps calm, sticking to his line, which he tweaks to something a touch straighter. It easily beats Ashraful's latest heave, crashing through the gate to castle the stumps. Al Hasan in now, so two left-handers at the crease, and he is quickly off the mark with two lofted over cover. That hung in the air, but no fielder in sight to get under it.
Over 3 - Bang 30/0 (Iqbal 14, Ashraful 10) Change of bowling. Gul into the attack. Too short to start, from the right-arm seamer, who cops four on the pull at the hands of Iqbal. The batsman then dances down the track, throws the kitchen sink at a wide delivery, but doesn't have to connect as five wides do the rest. Plenty of risky shot selection from the left-hander, who later closes the over with four carved through backward point and four more pasted across midwicket for the same result. Anything marginally wide or short is going to travel at this rate.
Over 2 - Bang 13/0 (Iqbal 2, Ashraful 10) The left-arm seam of Tanvir shares the new ball with the spinner. He starts with a fat no-ball, leaving Ashraful to manipulate the subsequent free-hit over the head of short thirdman for four - it almost carried for six. The next couple of drives, though, he battles to get off the square. Timing not quite on cue for the right-hander. Tanvir finding some marginal swing.
Over 1 - Bang 7/0 (Iqbal 1, Ashraful 6) The captain and off-spinner opens the attack, with one slip in place. Ashraful immediately tries to attack on the sweep, missing the first and connecting the second all the way to the backward square-leg fence for four. This pitch is pretty dry, and offering quite a bit of purchase for the spinners. Ashraful then goes again, on the slog-sweep, fetching a couple on the bounce to the midwicket fielder. Not much harm when striking with the turn.
Bangladesh's Innings National anthems, handshakes, team huddles and other pleasantries finished, umpires Steve Davis, Ian Gould, batsman Mohammad Ashraful and Tamim Iqbal and the Pakistan XI head out for the start of play.
Conditions Pakistan captain Mohammad Hafeez and pseudo pitch pundit Simon Doull reckon the seamers will enjoy some help from this deck. Weather-wise, it's typically hot and humid, with a bit of rain forecast for later. Hopefully the inclement weather will stay away long enough for a full match to be completed, though.
Pakistan XI Mohammad Hafeez, Imran Nazir, Nasir Jamshed, Kamran Akmal, Shoaib Malik, Umar Akmal, Shahid Afridi, Yasir Arafat, Sohail Tanvir, Umar Gul, Saeed Ajmal.
Bangladesh XI Tamim Iqbal, Mohammad Ashraful, Shakib Al Hasan, Mushfiqur Rahim, Mohammad Mahmudullah, Nasir Hossain, Abul Hasan, Ziaur Rahman, Mashrafe Mortaza, Abdur Razzak, Shafiul Islam.
Team News Pakistan have opted for an unchanged XI, while Bangladesh have picked seamer Abul Hasan ahead of spinner Elias Sunny.
Toss Captain Mushfiqur Rahim triumphs at the flip of the coin and Bangladesh will bat first, so they must win the match by 36 runs or more in order to reach the Super Eights stage of the competition.
Greetings Hello and welcome to our over-by-over commentary of the World Twenty20 Group D clash between Pakistan and Bangladesh at the Pallekele International Cricket Stadium.
Sky Bet Odds:
Click Here for Your Free Bet